Betting on Twitter Verifying O.J. Simpson's Account in 2019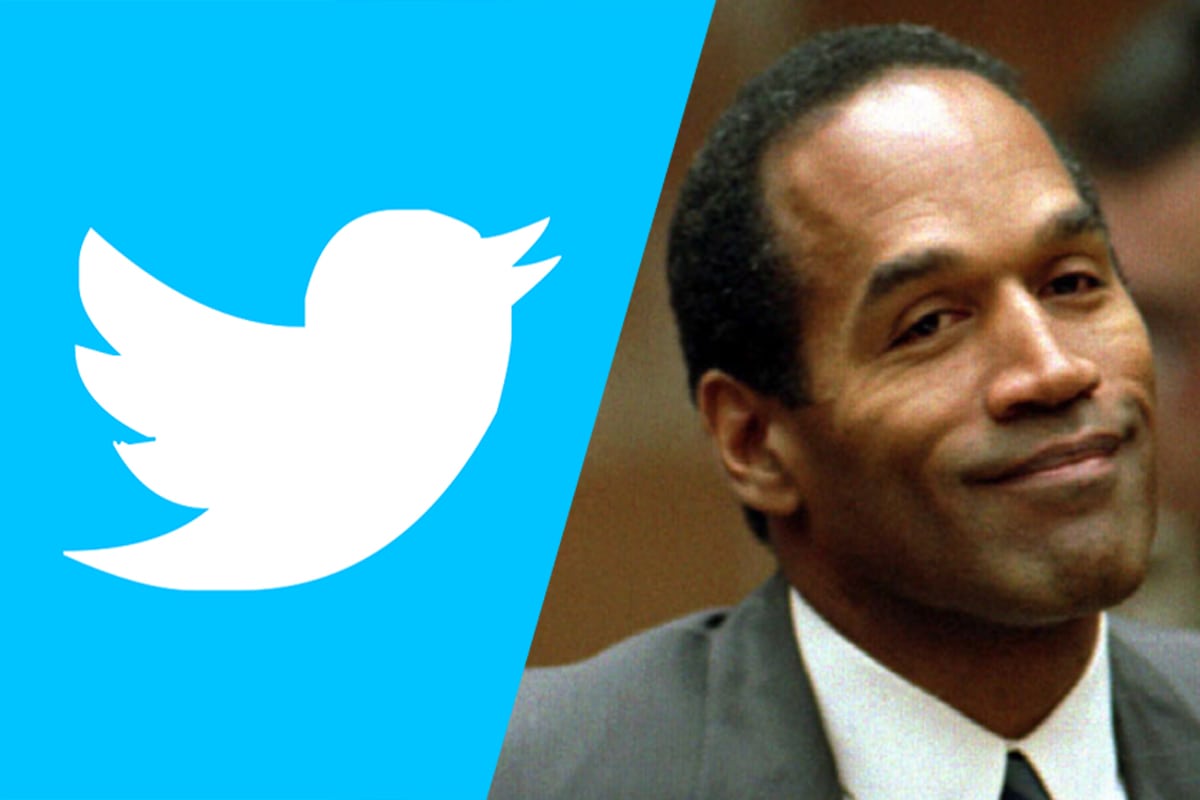 In the '90s, there was a Simpson a lot less popular than Bart and Homer. He was no stranger to betting fans as a sportsman but became a highly controversial figure in retirement.
Any guesses?
Yes, that's right. You know who I am talking about.
O.J. Simpson has recently joined Twitter, and many outspoken voices on the ultra-liberal social media platform are not happy.
The big debate right now is if the disgraced former star deserves his @TheRealOJ32 to be verified by Twitter. He has earned more than 700,000 followers recently. Big numbers.
Man, this decade continues to get weirder and weirder. I mean, you never would have had this type of thing growing up in my day.
God, that sounded so… old man-ish.
Seriously, though, in my day, things were better. Growing up in the 1990s was awesome. Come on, you have to agree with that.
Everything from music and TV to sports and even food was just… better. You see, these were the days of the pre-internet boom, where kids would actually venture outside and play outside under the warm haze of streetlights.
A time when carefree meant carefree.
Nostalgia aside, who wouldn't miss the 1990s? I mean, who needed social media when everything was just so good?
Well, almost everything.
In 1994, something pretty crazy went down that brought the United States to a standstill.
O.J. Simpson was arrested for the murder of his wife and her "friend." He was then, of course, acquitted in what became one of the most controversial decisions in the history of the US justice system.
Should he be on social media at all? Or is Simpson an innocent man that is still living a nightmare?
Who Is O.J. Simpson?
I had just turned nine years old when a story broke out involving O.J. Simpson being arrested for murder.
Man, this was a guy I recognized from the Naked Gun movies. It was pretty mind-blowing to a kid who knew him as the unfortunate and injury-prone character Nordberg.
Turns out that was not all O.J. was famous for.
He won the Heisman Trophy at USC. He set records in the NFL with the Buffalo Bills. In 1972, Simpson led the league in rushing stats with 1,251 yards. In 1973, he became the first-ever player to break the 2,000-yard rushing mark with 2,003 total rushing yards.
He scored 12 touchdowns in 1973, too, winning the NFL MVP Award and Bert Bell Award.
Unbeknown to little me, O.J. was a badass of a footballer and should have won a Super Bowl ring.
Known as "Juice" to fans — for a reason that I hope you can figure out without me pointing it out to you — he was an exceptional player that was unlucky with injuries.
Bad luck, eh. Who needs it? Well, for O.J., this was something that, to his defense at least, would continue to haunt him even after his playing career.
And by defense, I'm not talking about football.
The O.J. Simpson Murder Trial
One of my most potent memories as a kid was the O.J. Simpson trial. It always seemed to be on TV.
My friends and I would often walk the three miles or so home from school when the weather was good. About halfway home, we would pass a restaurant with a TV in the window, with Simpson's face on it.
It was the biggest talking point in the world at that stage. Everyone was paying attention, whether you were living in Indiana or India.
When the bodies of Nicole Brown Simpson and Ron Goldman were found stabbed to death in Los Angeles in June 1994, Simpson was a suspect.
As detectives did their work, Simpson was set to be arrested. Rather than handing himself in to authorities, Simpson led the California Highway Patrol on a pursuit in a Ford Bronco SUV, owned and driven by his friend, Al Cowlings.
Audiences who had tuned in to watch the 1994 NBA Finals between the New York Knicks and the Houston Rockets were gobsmacked to have the game interrupted. Live footage of the SUV being pursued by authorities will… well, it cannot be forgotten.
Cue an almost year-long trial and a finale that was unlike anything ever witnessed before.
It is estimated that 150 million people watched the trial, where Simpson was found not guilty on all counts. Most had expected Simpson to be charged with both murders.
Needless to say, the decision rocked the States, polarizing communities and stirring up intense debate. Even to this day, there are many who believe Simpson should have been sent down for murdering Simpson-Brown and Goldman.
A poll conducted in 2016 saw 83% of white Americans and 57% of black Americans state that they believed Simpson was guilty of the murders.
Wow.
Should Simpson Be Allowed on Twitter?
The man was cleared of the murders by the US justice system, so, technically, he has done nothing wrong.
However, this doesn't stop anyone from voicing their opinions on the matter.
In the age of social media, everyone seems to have an opinion and now has the platform to pretty much get anything they want off their chest. All they have to do is open their laptop or phone and start typing.
Well, unless you are the likes of Alex Jones, Anthony Cumia, Gavin McInnes, Tommy Robinson, Sabo, Owen Benjamin, Paul Nehlen, Martin Shkreli, Milo Yiannopoulos, etc.
All the names above received permanent bans for a number of different reasons, including "hate speech" and "inciting violence."
However, the Muslim fundamentalist terrorist group ISIS is still active on Twitter, so it's difficult to understand what Twitter CEO Jack Dorsey considers as bad apples on his platform.
Who Is Protesting Simpson on Twitter?
Well, unsurprisingly, there are a few users that are not too happy with OJ's presence on the social media platform.
I see that the unrepentant murderer just joined Twitter.

Can everyone do me a big favor?

Please follow Ron Goldman's sister, @KimEGoldman

She should have more followers than that monster.

Please RT pic.twitter.com/5TzcLkNcP4

— Yashar Ali ? (@yashar) June 15, 2019
The guy above, Yashar Ali, appealed for users to follow the sister of the murdered Goldman rather than the "monster," Simpson.
Kim E. Goldman now has just under 50k followers and has set up a podcast off the back of the attention she has received. "Confronting O.J. Simpson" is now into its third episode.
Goldman will certainly not be happy with Simpson's Twitter account. His first tweet was a video that attracted millions of views in a matter of hours. In the clip, the controversial figure addresses "fake OJ accounts."
"Hey Twitter world, this is yours truly. Now, coming soon to Twitter, you'll get to read all my thoughts and opinions on just about everything.
Now, there's a lot of fake OJ accounts out there. So this one, @TheRealOJ32 is the only official one. So, this should be a lot of fun. I've got a little getting even to do. So God bless. Take care."
What a crazy time we live in.
As soon as I find myself a DeLorean and a white-haired scientist called Brown, I'm heading back to 1993, man.
Seriously.
Will the @TheRealOJ32 Twitter Account Be Verified by Twitter in 2019?
Check out the odds provided by Bovada below. They are subject to change, just like O.J.'s Twitter status, maybe?
Will O.J. get his little blue tick? Will Dorsey and co. agree that he deserves to be verified, as per their regulations?
According to Twitter's regulations, an account that is verified usually has to be one that is relevant to public interest. In other words, if you are a musician, group, actor, artist, or someone who slept with a famous person and then made a sex tape and…
Yeah, so, as I was saying, Twitter has its own way of doing things.
Is there a moral obligation that Twitter has to keep O.J. from being verified? I don't think so. Sure, the ultra-liberal side of the platform does see ultra-conservatives often receive permanent suspensions, but this is something that has nothing to do with Simpson.
Twitter's account verification process for public submissions is currently "on hold," so Simpson will not be able to get that blue tick any other way.
He simply has to be verified by the company in order for you to win a bet on "Yes" at -270. If he isn't verified this year, a bet on "No" will get you odds of +180.
The Bet to Place
Simpson has a very questionable past and has done time for other things, such as robbery.
But, as things are, his infamy and high profile are good publicity for Twitter.
Dragging this out a little will raise interest in the company, which can, in turn, lead to benefits for Dorsey and the gang in San Francisco.
It's not my place to give my opinion on Simpson, but I am going for a "Yes" bet at -270. I think @TheRealOJ32 will be verified in 2019.
Final Words
The oddest market you have come across recently?
Well, Bovada does entertainment betting like few sites out there.
Still, at least Simpson's Twitter verification market is a little closer to home. I mean, it's not as though you're betting on Mars exploration or anything, right?