Hide Bonus Offers
| | | | | |
| --- | --- | --- | --- | --- |
| #1 | BetOnline Sports | 60% Up To $1,000 | Visit Site | BetOnline Sports |
| #2 | Bovada Sports | 50% Up To $250 | Visit Site | Bovada Sports |
| #3 | BetUS | 125% Up To $2,500 | Visit Site | BetUS |
| #4 | Everygame | 100% Up To $500 | Visit Site | Everygame |
| #5 | MyBookie | 100% Up To $1,000 | Visit Site | MyBookie |
Betting Tips for the Tokyo Olympics Rugby Sevens

One of the best niche sports to bet on at Tokyo 2020 is rugby sevens. Highly entertaining to watch, this version of the sport might not be as popular as Union or League.
But it's definitely a hit with those looking to make money gambling on the Olympics without being bored to death.
This summer, sevens makes just its second appearance at the games. There will be a lot of interest from fans and gamblers.
With that in mind, I'll be providing some Tokyo 2020 rugby sevens betting tips for you today. These tips will hopefully help you to win some cash while watching the best sevens players in the world do their thing.
What's not to love about that?
Learn the Difference Between Rugby Union and Sevens
The right place to start, my first of my Tokyo 2020 rugby sevens betting tips is to know how the game works.
Both newbies and intermediate fans can get tripped up placing bets on Olympic sevens, given the difference between this code and Union and League. And there are a few major differences.
Despite sevens having similar laws and being played on a pitch of the same dimensions, there are just seven players to each team. I know you will have guessed that, even as a rugby sevens betting newbie. But it's still important to point out how this can affect scores and, well, the general run of the game.
How Rugby and Rugby Sevens Differs
Instead of two 40-minute halves, your typical sevens fixture consists of two seven minutes halves with just a two-minute break for halftime. But even though there is less time in a fixture, when compared to 15s, scoring occurs a lot more frequently.
As for points, these are the same as a regular game of Union. There are five points for a try, two points for a conversion, and three for a drop goal/penalty.
A sevens contest will usually be determined to the fastest, most athletic, and highly skilled players. As only backs play, teams that have players with great handling skills and rapid wingers tend to find more chances to score tries.
But there is also an element of defense involved, so strength does come into it. Just not in the same way as a standard game of 15s.
So, when looking for Olympics rugby sevens bets and props, keep in mind that you're not going to find any bets for a big, bulky forward to open the scoring!
Here's a reminder of the top tries from 2016.
Hunt for the Top Rugby Sevens Futures and Props
A good Tokyo Olympics rugby sevens betting tip is to bet on futures and props. You can find all types of markets on the best online betting sites.
For example, you could wager on the winner of the rugby sevens in the men's and women's categories, as well as the top try scorer, top points scorer, and much more.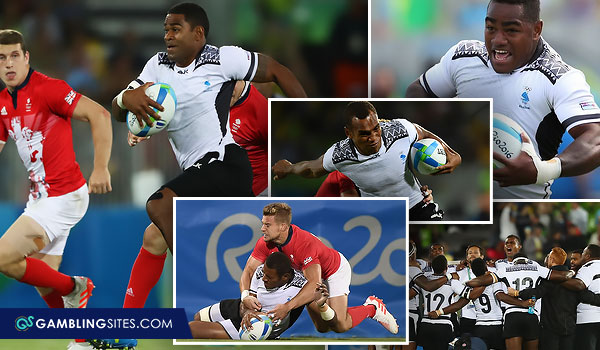 Understandably, you might be reading this after the tournaments have started. But you will still find plenty of prop bets for Tokyo 2020 rugby sevens right up to the final match. These wagers are where the betting value tends to be.
For instance, rather than simply betting on a top team like Fiji to beat a perceived weaker side like Canada, you could find juicier odds if you back them to beat their opponents by a wide points margin.
Of course, this is a simplistic example and all bets on matches should be researched appropriately.
But prop bets for rugby sevens at the Tokyo Olympics will be popular with bettors looking to enhance their profit margin. It always pays to get familiar with these markets as soon you can, as it will help you make sense of other betting tips for rugby sevens matches.
Look for Dark Horses and Underdogs
In the men's category, Fiji and New Zealand are considered the top sevens teams at the 2020 Olympics.
As for the women, it's New Zealand who looks nailed on to win. Australia is the next best women's rugby sevens team, but the bookies are heavily favoring the Kiwis.
It does sound a tad simplistic, but getting to grips with the top teams will give you an idea of who wins gold in the Olympics rugby sevens. From there, you can check out the latest odds for the rugby sevens at Tokyo 2020 and try to work out where the value is.
Speaking of which, here are the odds for rugby sevens at Tokyo 2020 in the men's category.
Betting Odds for Olympic Rugby Sevens
Nation
Odds
Fiji
+250
New Zealand
+250
South Africa
+350
USA
+700
Great Britain
+1100
Australia
+1300
Argentina
+3300
Ireland
+3300
Canada
+6600
Japan
+8000
Kenya
+8000
South Korea
+50000
Unlike other sports at this summer's games, the men's rugby sevens tournament isn't expected to be majorly competitive. But that doesn't mean that shocks can't happen.
On the contrary, like most other sports, betting upsets happen in 7s matches. It does also pay to be realistic. I mean, South Korea has about as much chance of winning the tournament as I do lining out for the All Blacks.
Underdogs can emerge when you least expect them. But I'd be looking a little higher up the odds table.
Speaking of upsets, the biggest shock in sevens history is undoubtedly Hong Kong's 21-19 victory over world champions Wales in 2010.
The Welsh, who had shocked New Zealand, Samoa, and Argentina the year prior, had future internationals like Justin Tipuric, Rhys Webb, and Lloyd Williams in their team, yet were outgunned by the host nation.
But this isn't the first sevens betting upset, and won't be the last. Canada, Kenya, and a few other underdogs have all won sevens tournaments against the odds.
Bet In-Play on Olympic Rugby 7s
This one kind of ties into my previous Tokyo Olympics rugby sevens tip.
Betting in-play on Olympic rugby sevens matches is a great idea. Not only does it allow you to find more potentially profitable bets and markets, but it can also provide flexibility when looking to make money on the matches.
For example, a match between a favorite and an underdog could be two minutes in. The favorites aren't looking too hot, and the supposed lesser team has their game together. You might sense an upset, and make a sizeable profit if that proves to be the case.
Then again, you could look to offset your liabilities/lay your bets, or even wager on something happening that you did not expect before the match kicked off.
There are several benefits of live betting on rugby sevens, so make sure to familiarize yourself with them all.
I'm a big fan of betting in-play, as it can come in very handy at times. And although betting in-play is one of my top betting tips for Olympic rugby sevens, keep it in mind for any rugby match, in general.
Remember, there are just seven minutes per half in your typical 7s match. If you are paying attention to what is going on, you could make a tidy profit.
Not only this but injuries to certain players can also put a massive dent in your prospects of winning. Especially if that team is a little light in reinforcements, or even wholly dependent on the performance of that one player.
Follow Form and Team News
My fifth and final betting tip for Olympic rugby sevens is to pay attention to form and team news.
If you're looking to bet on rugby of any kind, it can pay dividends to have your finger on the pulse of who's hot, and who's not. In other words, you should be looking for the teams that are peaking just before or at the start of the tournament.
New Zealand women, for example, have been on fire ahead of the summer but might have peaked too early. This opens the door for other teams to capitalize on any drop in form.
But if, say, Australia's women are without some of their key players, the advantage they would have when playing NZ could be counterbalanced. Therefore, it's so important to understand how form, injuries, and team news comes into the equation.
In the men's category, reigning Olympic champions Fiji, like any other team, have their star players. In some games, those players will be rested to keep them fresh and ready to unleash on bigger teams. This creates the possibility of betting upsets, but can also affect the scores of certain matches.
You might blindly see odds for Team A to beat Team B and think that they are too good to be true.
Well, you won't be capable of making that distinction without first looking over the teamsheet and seeing who is in the starting 7.
But perhaps there is more to the bookmakers' odds than meets the eye, so always consider these tangible factors when betting on rugby sevens at the Tokyo Olympics.
Use Olympic news sites, TV channels, and the internet to keep on top of things. It will help.
Wrapping Up My Olympic Rugby Sevens Betting Tips
There you have it — five rock-solid betting tips for rugby sevens at the Tokyo Olympics.
All five will come in handy, should you wish to have a pop at making money on both the male and female tournaments this summer.
I'm personally looking forward to seeing both if Fiji can retain their title and if a dark horse emerges to surprise us all. But we have some awesome matches to look forward to in all six pools and beyond.
You can always have another read of my five Tokyo Olympics rugby sevens betting tips. Or, if you're confident you have the grasp of things, check out our Olympics betting blog. You'll find plenty of highly valuable content for betting on Tokyo 2020 in this blog, with regular content from the team available throughout the games.
Before you go, I'd suggest having a read of the following piece from my colleague, Jerry.