Hide Bonus Offers
| | | | | |
| --- | --- | --- | --- | --- |
| #1 | Bovada Sports | 50% Up To $250 | Visit Site | Bovada Sports |
| #2 | BetUS | 125% Up To $2,500 | Visit Site | BetUS |
| #3 | MyBookie | 100% Up To $1,000 | Visit Site | MyBookie |
| #4 | Everygame | 100% Up To $500 | Visit Site | Everygame |
| #5 | BetOnline Sports | 60% Up To $1,000 | Visit Site | BetOnline Sports |
Betting the Bellator Grand Prix Final – Fedor vs. Bader Odds, Predictions, and Pick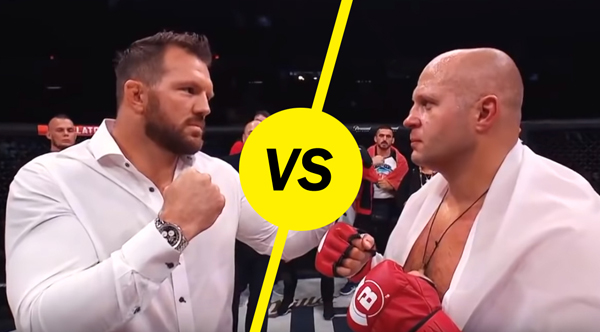 There's a seven-year difference in age between these two fighters, but there's an even smaller gap between these two heavyweights when it comes to talent.
The 35-year-old gets set to shock the world as he prepares for battle with the 42-year-old fight legend Fedor Emelianenko.
2019 is already off to a fast start in the MMA world. What's a big fight build-up without any drama? One of the most prolific pound-for-pound fighters ever is about to step into the ring with the younger, powerful Bader.
Both fighters looked amazing in their last fights, which is just adding more fuel to this fire.
Ryan Bader demolished Matt Mitrione. However, we shouldn't be too quick to overlook what Emelianenko did to Chael Sonnen. He annihilated him.
When breaking down fights in general, we all like to look at and dissect track records. In this case, there's not much of an argument that you can build for any one of these fighters in a negative way.
It would be different if either Bader or Emelianenko had struggled in any of their previous fights, but that wasn't the case for either guy.
Let's dig further into the details with my Bellator 214 betting preview. I'll start with the odds for the fight.
Latest Odds for Bellator 214 – Fedor vs. Bader
Throughout all of the top-tier sports betting sites, Ryan Bader is somewhat surprisingly expected to come out and dethrone the MMA king. Here are the latest lines that I've got.
Another site has Bader as the -450 favorite, and for Fedor, it's a downward swing at +325.
As a huge MMA fan myself, it's simply comical to me to see those lines. I think this fight will be closer than most people are predicting it to be right now.
I won't be completely biased towards one fighter. I see all the reasons why Bader is listed as the favorite. While Bader himself is climbing up there in age, Fedor has taken a step or two back in the fight game himself.
Notably, I think this fight will be intriguing. If I'm going to bet on Fedor, it's because I'm feeling confident that he can end Bader within the first two rounds or even in the early third.
If you're going to take the line and bet on Bader, then I think the scenario that you're likely playing in your head is the one in which Bader avoids the early aggression in the fight and will eventually tire out the legendary Fedor and finish this fight on the ground.
That's what I'm going to call out as of now. I don't think I could see Bader bull-rushing Fedor early on and trying to take the fight to him. That could be very dangerous for Bader because if Fedor survives that barrage of strikes, then it comes down to which fighter will have the better gas tank.
Fedor Emelianenko
Since losing to Matt Mitrione in 2017 due to TKO, Fedor's last two fights were actually very impressive.
Remember when Frank Mir was expected to defeat Emelianenko? In what seemed to be his downfall at the time, Emelianenko overcame the negativity and knocked out Mir in 48 seconds.
Recently in October of 2018, Chael Sonnen was the next victim in the octagon, as he was added to the list of accomplishments for Fedor. Sonnen was dominated the whole first round, and Dan Miragliotta waved off the fight due to TKO at the hands of Emelianenko.
It has been years since we've seen Emelianenko win a fight by submission, but when you go through his fight library, there was a time when he had a streak of at least five submissions in a row that led him to victories.
His last submission victory was way back in July of 2008. It was a rear naked choke over Tim Sylvia. Revisiting his past fights, I just look at some of the highlights of his career and fighters he's shared the octagon with in their primes.
He fought names like Andrei Arlovski, Mark Hunt, and Antonio Nogueira. There's no denying that Fedor is truly one of the greatest of all time, but one of the biggest arguments one could make is the fact that he never fought in the UFC.
Dana White has clamored several times about how the UFC chased Fedor for years, and they could simply never get him to agree on anything. I think of some of the biggest names in the sport at that time for him, like Cain Velasquez and Brock Lesnar.
Even rematches with Arlovski and Fabricio Werdum under the UFC banner would've been amazing. We've all heard the stories of how Dana White isn't the nicest person when he doesn't get his way business-wise, so who knows what truly could've happened?
Now that he's forty-two years of age, even Fedor knows that he's got to hang it up sometime.
No matter what the outcome of this fight is this weekend, Fedor will go down as one of the greatest mixed martial artists of all time.
Even if he does decide to call it a career, whether he goes out on top or not, we can all bet on one thing, and it's the fact that Fedor Emelianenko will treat this like any other fight and will leave his blood, sweat, and tears in the cage.
Ryan Bader
For Ryan "Darth" Bader, I see this as a must-win for him in this point of his career. He's won some big fights, but this will likely take the cake for the biggest name added to his list.
Just like I do with Fedor, I look at track records as well for Bader. He just hasn't been able to knock off some of the bigger names that have been put in front of him to push himself into the next tier of fighters. Anthony Johnson, Jon Jones, and Lyoto Machida are names that come to mind.
While Bader does have a nice list of victories, most of them were by unanimous decision. By comparison, the majority of Fedor's victories were TKO/KO and submissions. This goes to show me that if it were to come down to it, Bader is the more conditioned fighter to take this the distance.
Since making the switch from the UFC to Bellator MMA, Bader has been on quite the hot streak. He got off to an impressive start over a familiar face. He defeated Phil Davis, who had also recently made the jump to Bellator.
Since defeating the light heavyweight, he's been a wrecking ball in his respective division ever since. I've enjoyed the switch for Bader. It's been refreshing for him, and he's been very vocal about it as well.
Just being mixed in a tournament with a bunch of other hungry MMA fighters appears to have really lit a fire under Bader.
With some of the former fighters who made the jump to Bellator, I sometimes feel like the majority of people who don't keep up much with MMA just assume that they couldn't make it in the big leagues, so they had to jump ship to the minor league.
I think otherwise. That's exactly what I'm seeing with Ryan Bader. He never possessed this hunger that he's showing us now. That's not a knock to his skill set, either. We all knew he was good in the UFC, but ever since he went over to Bellator, we've seen a completely different side of this heavyweight.
He's been more vocal, and the company is doing tremendously while Bellator rides on the back of Bader. There are much more talented fighters at Bellator that are capable of doing the same, but business has been good for both sides.
Every card he's been on for Bellator always draws huge numbers. What I admire about Ryan Bader is that he doesn't piggyback off the fact that he was a star in the lightweight division in the UFC. He worked on his craft as a fighter and went on to do bigger and better things in the heavyweight division.
Why Ryan Bader Wins
Ryan Bader walks into The Forum in Southern California and TKOs the veteran because he is here to stay. Bader knows deep down inside that if he doesn't pull off his victory, he won't ever get another chance at the Russian legend.
Not only that, but this is the mega fight – the big fight that will push Ryan Bader to an elite level. He's been talking about it for a while now in press conferences.
Very few guys own a victory over Fedor Emelianenko, and this will elevate Bader's career even higher than it already is.
It wouldn't surprise me if it were Bader that opened up the fight with a barrage of punches to put a cap on the Russian's career. Mind games have got to come into play here, and to me, that would catch Fedor off guard.
Even if we don't see that explosiveness right away, Ryan Bader said it best himself. He wins this fight because he doesn't put Emelianenko on a pedestal. He treats him like any other guy that's been put in front of him since being in Bellator and runs right through him.
Bader would love nothing more than a knockout victory over Emelianenko, but if he tires him out and outworks him for a few rounds before finishing him, then this might be even more satisfying for the American. When you've got two huge men in the octagon like this, egos come into play.
Neither one of these guys wants to lose in the Grand Prix Finals. If Bader finds himself on the losing end of this fight, I think his ego will take a harder hit compared to Emelianenko's.
Why Fedor Emelianenko Wins
Could this be the last rodeo for the Emperor? We shall see very soon.
Here's the thing: even if Fedor doesn't end up winning, he will always be considered one of the all-time greats, if not the "greatest" in the heavyweight division.
Fedor walks into this big fight atmosphere knowing that this is his chance to go out on top. He's got the perfect opponent, too – not some scrub that Emelianenko can easily power through. We all know that this will be a memorable fight because something has got to give.
Watching Fedor's training videos leading up to this fight gives me goosebumps every single time. I get that Bader is currently the heavily favored fighter to walk away victorious, but there's so much that we know about both guys to pump the brakes on the Bader hype.
First of all, Bader hasn't truly dominated a real heavyweight. "King Mo" is traditionally a 205-pound guy, and Matt Mitrione? Yeah, no thanks. He's way past his prime. Although Ryan Bader only has five losses on his record, some of those are notable leading up to this fight.
His chin isn't as good as you think. Look at what Glover Teixeira was able to do. He finished off with a strong performance against Bader in a fight that he wasn't even winning. I know everybody loses to Jon Jones, but we've seen other fighters at least try to put up a fight against Jones.
Most notable was Tito Ortiz. I know most will say that it's the past and that Bader is on a roll now, but I'm not sold on him as the heavy favorite for this fight.
Fedor Emelianenko will win this fight because he's been in several big fights just like Ryan Bader, except we've seen him as "The Closer" multiple times. I think that Bader will walk into this fight underestimating Fedor just a little bit, but enough to throw him off his game once he's in the octagon with the Emperor.
I truly believe that this will be the final time that we see Fedor Emelianenko in the octagon, and nobody wants to go out on a losing note.
Fedor comes into the cage ready to fight. I think we will see a tale of two sides to the fight. I don't think we will see a quick finish at all. Emelianenko knows that his chin isn't what it once was, so bull-rushing Bader with a barrage of punches likely won't be wise.
It all comes down to endurance and who will finish the fight stronger. Emelianenko also knows that if he's going to try and outwork Bader, then he needs to drag the fight out longer than expected. Charging for a finish will lead to the Russian being gassed out in the early rounds, and that can be dangerous.
I've got Fedor Emelianenko winning by TKO in the middle of the third round and proving to the whole world yet again why he will go down as one of the greatest ever to step into the world of MMA.
Summary
Mark your calendars, folks. January 26th is set to provide us with an explosive fight.
And there's more to look forward to, too. The whole card is good in general and does not have to depend on the main event itself. You have Henry Corrales taking on Aaron Pico in the co-main event.
If you're a huge wrestling fan, then watching former WWE superstar Jake "Jack Swagger" Hager make his debut on this card will be huge as well. This fight will also be big for the promotion. Just look at the numbers that other pro wrestlers have brought to the MMA scene.
This fight has a surreal feeling to it. It's not a case of a younger guy coming onto the scene willingly to dethrone the older dude to make a statement. It feels much more personal than that. It's much more personal for the exact reasons I've listed.
Ryan Bader knows that when it comes to the big names, he's not a closer, so that alone makes this fight way more personal than it should be. It's the same for Fedor Emelianenko. Just put yourself in Fedor's shoes for a minute.
You're this big bad dude who can certainly back up the talk. You're respected and heavily praised in your country, and all of a sudden, there's a chance of you stepping into the octagon for one last dance, just to lose to a guy who only has two heavyweight fights under his belt?
Yeah… I would feel a bit disrespected. Wouldn't you? Nonetheless, what's a big fight without any drama, right? This is mixed martial arts, so in the end, whoever is standing up tall with their hand raised high will definitely know that they've paid their dues to the sport going forward.
If I haven't given you enough to think about in this post, you should check out my colleague's preview of the Bellator Grand Prix final. Between the two of us, we've hopefully helped you to pick out the winning wager for this fight.