Betting the 2019 WGC-Mexico Championship – Odds, Matchup Picks, and DraftKings Advice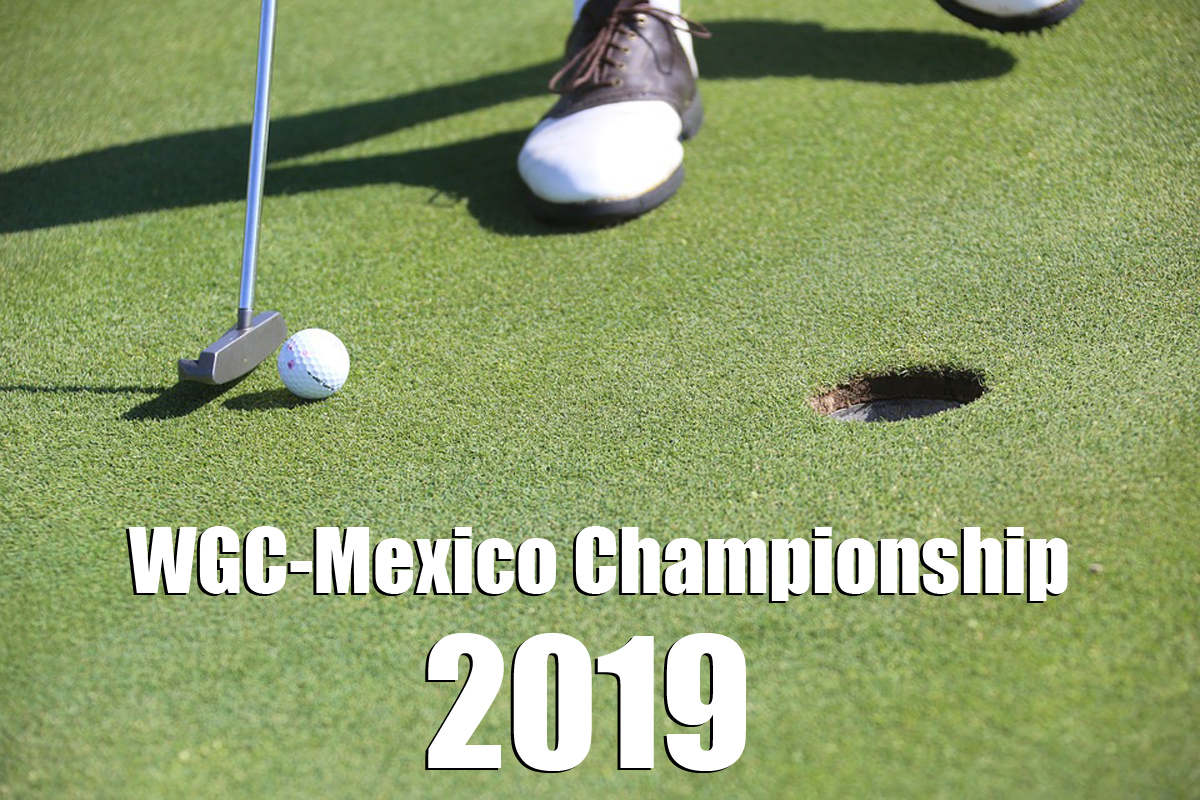 We're turning the page from a rain-soaked week at Riviera to what will hopefully be a week filled with loads of sunshine in Mexico City.
On schedule starting Thursday morning is the WGC-Mexico Championship, which will be played at the gorgeous Club de Golf Chapultepec.
Tiger Woods is competing south of the border for the first time in his career, and Phil Mickelson is the defending champ.
Aside from that, we've got nine of the top ten players in the world making the trip to the capital of Mexico for an event that features as top-heavy a field as you'll find.
If it's anything like last year when Phil held off JT in a playoff, then we'll be treated to yet another exhilarating finish on the PGA Tour.
I know Tiger is hoping for no more 3 am wakeup calls, as the Big Cat admitted that fatigue played a part in his lackluster finish at the Genesis Open.
Because the venue this week sits close to 8,000 feet above sea level, expect endurance to play a factor once again even if players are getting the proper amount of rest and hydration.
In terms of which player I think will be able to handle the conditions the best, let's transition right into a look at the odds to win this week's event as I start my 2019 WGC-Mexico Championship betting preview.
Who Will Win the 2019 WGC-Mexico Championship?
Tiger already has quite a few of these feathers in his cap — 18, to be exact.
Dustin Johnson is next on that list with five wins at a WGC event, and nobody other than Phil Mickelson or Geoff Ogilvy has won more than two.
Guys like Hideki Matsuyama and Ian Poulter have an opportunity to join the list of players who have won three or more World Golf Championship events, as do Bubba Watson and Rory McIlroy. With that being said, let's find out where the betting value lies.
2019 WGC-Mexico Championship Odds
Last week's winner, J.B. Holmes, opted to pass on his invitation to join the world's best in Mexico this week as he and his family had a pre-planned vacation already in the works. World #1 Justin Rose is taking the week off, and we won't see Adam Scott or Jason Day and their pristine ball striking either.
But boy, is this field still loaded with big guns everywhere you look.
Can Phil Mickelson Defend His Title?
Lefty was unable to parlay his victory at the AT&T Pebble Beach Pro-Am into additional success at Riviera Country Club this past weekend, but he'll still arrive at Club de Golf Chapultepec with plenty of confidence and good vibes.
Given how many quality players are here and on form, Phil wouldn't typically be on my radar as someone I expect to contend for the trophy. But then again, he showed up to this tournament last year at age 47 and got the job done, so who am I to put it past him to execute a repeat performance at age 48?
I'm certainly not running to the top golf betting sites to lock this wager in, but I'll at least give you a tip if you like Phil's chances. Rather than booking him at the +2500 price you see at SportsBetting.ag, head to Bovada.lv or MyBookie.ag. There, you'll be able to latch onto Mickelson for the win at +2800.
Should Justin Thomas' Sunday Collapse Be a Cause for Concern?
Not only do I think the answer to this question is a resounding "no," but I'm also having a hard time picking a player who I think has a better shot at winning this week than Justin Thomas does.
I think a few quick tweaks with his putter, namely in his setup and alignment, will do the trick. In fact, knowing how much of a perfectionist Thomas can be, I'm sure this is something that was addressed between Justin and his dad on Sunday evening just hours after the conclusion of Sunday's marathon day.
Few golfers on this planet have as much self-belief as JT possesses, and I bet he cannot wait to hit the ground running in Mexico.
We all remember how Thomas got into the playoff here in 2018, miraculously holing a wedge on the 72nd hole. I'm sure he will have a flashback of that shot when he's walking up the 18th fairway, and I'm sure it'll bring a wide smile to his face.
Now it's time for JT to add a victory at Golf de Club Chapultepec to his memory bank.
My Pick to Win the 2019 WGC-Mexico Championship
I was about to go with JT as my pick to win this week, but then I realized that selection is just a bit too popular for my liking.
Given that he finished runner-up last week and runner-up at the 2018 WGC-Mexico Championship, picking Justin Thomas to win this week is just too easy and what too many people will be doing.
So instead, I'll go completely off the grid and pick a guy that nobody expects to play well.
Dustin Johnson.
Obviously, that's a joke, as current world #3 has shown that when he's playing his "A game," there might not be a single golfer in the world who can catch him.
DJ won this event during its first year at Club de Golf Chapultepec in 2017 and finished in a tie for 7th (with Sergio Garcia) last March at the 2018 WGC-Mexico Championship.
Things went about as poorly as they could for Dustin last week when he opened with 73, yet he still was able to crack the top ten on the final leaderboard by Sunday.
Justin Thomas is playing lights-out, and Rory McIlroy is coming off his third straight top-five finish on Tour. Tiger is locked and loaded, and Phil is commanding the attention of many prospective bettors.
All of this means that Dustin Johnson isn't really being talked about, and that's more than okay by me.
DraftKings Picks for the 2019 WGC-Mexico Championship
Are you planning on entering the PGA $500k Drive the Green GPP tournament on DraftKings this week? An entry fee to submit a lineup will cost you just $5, and the winning roster walks away with $100,000.
Is that enough to get you interested?
Constructing a lineup that has what it takes to stand out among the nearly 120,000 entries is not easy, and it takes a bit of good fortune to fall your way. But being prepared and knowing when to fade and steer clear of a few names are also a big part of the process.
I'll help you out by offering my advice and alluding to the golfers at each price point who I would be targeting in the large-field GPP tournaments.
Top-Tier = Players priced at $9k and up
Mid-Tier = Players priced from $7,500 to $8,900
Low-Tier = Players priced from $6,000 to $7,400
Unfortunately, I live in a state that excludes me from playing, so the next best thing would be for one of my readers to ship home all the money!
I'll begin with the household names and those golfers priced at $9,000 and up.
Justin Thomas – $11,800
I know this may sound crazy, but I think you need to strongly consider fading JT in the big tournaments. Lineups will be saturated with Justin Thomas exposure due to his performance here last year combined with the fact that he held the lead most of the way at the Genesis Open.
I just don't see enough upside in including him on your roster. Essentially, JT is in "too good" of a spot this week if there ever was such a thing.
Dustin Johnson – $11,500
My pick to win this week is primed to make a whole bunch of birdies. That much is certain. I actually love the fact that he didn't "contend" last week at Riviera, which hopefully means a few DFS players will move off of rostering DJ this week.
I think that'd be a major mistake, and I'd even be willing to spend the $11,500 it would cost me on DK to find out.
Rory McIlroy – $10,700
I was high on Rory last week, and he delivered with a fourth-place finish. It's the same story and just a different week here, folks.
Again, if Rory has what he would call an average putting week, it's going to lead to another top-five finish. If he catches fire and rolls in a few long ones along with holing the key short par saves, then Rory could run away from the field and win by five or six shots. That's how well he's hitting the golf ball.
You don't have to take my word for it, either. Just peek at the numbers. McIlroy led the field in strokes gained off the tee and was third in strokes gained from tee to green. He also led the field in greens in regulation (GIR) and was third in driving distance.
Don't tell me you are still going to ignore rostering Rors this week.
Hideki Matsuyama – $9,000
I've been on the Hideki train since the Farmers Insurance Open, and I doubt I'll get off before we arrive at the Masters in April. After coming through with a third-place showing at Torrey Pines, Hideki backed that up with a 15th at the WMPO and contributed a 9th at the Genesis Open.
His game log represents a player who is oozing to break through with a victory, and it could come as early as this week in Mexico City. With Xander Schauffele and Tony Finau sandwiched around Matsuyama, there's even a chance you can snag him with relatively depressed ownership.
Now let's start shifting down the pool of players and look at the guys priced in the middle tier. There are more than a few names who are poised to play well.
Tony Finau – $8,900
After missing the cut in Phoenix, Tony Finau finished 38th at Pebble and 15th at Riv. Surely in a field as stacked as the WGC-Mexico Championship, DraftKings players are not going to risk rostering Tony given the uncertainty surrounding his golf game over the past three weeks.
Right about now is when the casual golf fan takes his or her eye off the long hitter from Salt Lake City. That means this is exactly when you should be focused on exposing a good chunk of your lineups to Mr. Finau.
Patrick Cantlay – $8,500
Patrick Cantlay didn't have his best stuff during a home game of sorts last week, but he was still able to remain steady enough to produce a top-15 finish.
I like how even-keeled Cantlay remains on the course regardless of how things are going, and I love his chances of winning a lot of big-time tournaments throughout his career.
This is an ideal time to roster Cantlay, as there is a myriad of other well-known names lurking right around the same price point.
Tommy Fleetwood – $8,200
If you've been following my weekly PGA Tour betting previews, then you'll know I am no stranger to recommending Tommy Fleetwood in any form of golf gambling. His course history is a plus (runner-up in 2017, 14th in 2018), and so is the fact that he's finished 45th and 28th over the past two weeks.
It's not quite good enough for people to get excited, but it's just enough to tell me he's ready to burst out with some really fine play this week.
Sergio Garcia – $8,000
Sergio didn't fare too well in Los Angeles (T-37th at Riviera), and we all remember him having to apologize to the European Tour and his fellow competitors for his unnecessary outburst in Saudi Arabia.
But let's also look at how the Spaniard has fared in the two WGC events that have been hosted at the Club de Golf Chapultepec. "El Niño" logged a 12th-place finish in 2017 and improved on that with a 7th-place showing last season.
Most won't want to roster Garcia this week, which is exactly why you need to consider it.
Gary Woodland – $7,900
Jon Rahm has five top-ten finishes so far this season, and Charles Howell III and Justin Thomas lead a quartet of players who have four.
But can I point out the PGA Tour leader with six top-ten finishes — in just eight starts, mind you?
His name is Gary Woodland. Looking at Gary's numbers, it's hard to find a player who has been more thorough and complete than Woodland has been so far.
It's safe to say that the new Wilson equipment is treating him fairly well, as his name is littered at the top of many of the key stats. He ranks 5th in GIR, 4th in birdie average, and he's 3rd in the FedEx Cup points standings without recording a win.
Perhaps he gets that W this week.
Aside from the golfers I mentioned, there are also some names priced under $7,400 who I believe can seriously outperform their expectations. Take a glance below.
Tyrrell Hatton – $7,300
Tyrell Hatton missed the cut at the Genesis Open, which should scare the non-informed fan away from clicking his name on DraftKings.
But if they did just a little homework, they'd realize that Hatton shot 15 under par and finished in third at the 2018 WGC-Mexico Championship, just a single shot short of reaching a playoff with Mickelson and Thomas.
Alex Noren – $7,100
I can't convince you to roster Alex Noren based on him missing the cut in San Diego and finishing 44th in Phoenix, so I'll try another method.
How about looking at this leaderboard from a year ago? Alex closed with a final-round 66 that vaulted him up into a tie for 14th. Noren accounted for ten top-25s in 2018, three of which were either second- or third-place finishes.
At just $7,100 this week, I like him as a cheaper play who has the potential for a top-ten finish.
My DraftKings Lineup in GPPs for the 2019 WGC-Mexico Championship
Hideki Matsuyama $9,000
Tony Finau $8,900
Patrick Cantlay $8,500
Tommy Fleetwood $8,200
Sergio Garcia $8,000
Tyrrell Hatton $7,300
WGC-Mexico Championship Matchup Picks
It's best to attack the matchups once the tee times have been released.
The PGA Tour typically will do that sometime on Tuesday afternoon or early evening, and that's also the time that the most reputable and trustworthy betting sites generally start releasing their matchups.
Ian Poulter vs Henrik Stenson
Forget about the pedigree of these players for a second and just look at recent data. Both Europeans competed in all three golf tournaments that make up the Desert Swing on the European Tour from mid-January to early-February.
And talk about a different set of results.
Ian was the only player in golf to ring up a trio of top-10 finishes during that stretch, posting a third and a pair of sixths while traveling through the Middle East.
On the other hand, Henrik Stenson missed the cut on each occasion.
And now we're supposed to believe that Henrik's game has finally clicked and Ian is going to take a step back? I'd be cautious of backing Poulter here had the bookies properly adjusted this matchup based on what we've seen in 2019.
But they didn't do that, so I'm ready to take full advantage.
Henrik is obviously battling something, whether that be his swing or a lingering injury. But the point is he's clearly not firing on all cylinders- something he'd need to be doing right now in order to keep pace with Ian Poulter.
Ian has looked rock solid the last few times he has teed it up, and the elevation in Mexico City is going to help him hit plenty of 300+ yard drives. I really like Ian's chances of contending this week, and I'd be surprised to see Henrik in the top 20.
Hideki Matsuyama vs Phil Mickelson
Phil Mickelson is the defending champ and he looked invincible two weeks ago at Pebble Beach. Getting him at the discounted rate of -105 in a matchup vs Hideki Matsuyama must be an awesome play, right?
Not so fast. I'd like to point something out that the casual fan looking at this matchup probably isn't taking into account. Phil looked to have run out of gas last week at Riviera, tallying a 37th-place finish at a golf tournament he has played brilliantly at over the course of his career. Perhaps that was in part due to the fact that it was the third week in a row on tour for the 48-year-old Hall of Famer.
You could say Phil just didn't have his best stuff, but it was clear to me watching him that he looked a bit fatigued, even a little disinterested on the course.
Well, if Lefty was tired in Pacific Palisades last week, how fresh could he possibly be now playing his fourth tourney in a row? Not to mention, the extreme elevation at Club de Golf Chapultepec will add to the toll, both physically and mentally.
For these reasons, I'm not that high on Phil this week and doubt we see his name on page one of the leaderboard come Sunday.
With that being said, Hideki is someone I virtually expect to see at or near the top of the board, as the 26-year-old Japanese sensation has been percolating as of late. Matsuyama wisely rested two weeks ago after recording a 3rd and a 15th in San Diego and Phoenix respectively and came right back with a top-10 showing at the Genesis Open.
All signs are pointing toward another strong finish from Hideki. Go ahead and let the general public think they are getting a deal with Phil at -105. I know that simply just isn't the case.
Xander Schauffele vs Phil Mickelson
Normally I wouldn't double up against a single player in matchups, but hey, what can I say. I like to make money.
And that means pouncing on head-to-heads when I see a price I like, which is the case right here as you'll see below.
I won't reiterate all the reasons I just stated about me being wary of how Phil will perform. I just don't suspect that playing four tournaments in a row is the smartest thing Mickelson can do at this stage of his career if he wants to play his best golf. With a win already under his belt and the Masters around the corner, I'm just not so sure how "engaged" Lefty will be in Mexico.
As far as how Xander Schauffele is going to play, I have little to no doubts.
He got off to a sluggish start in LA last week when he opened with 74- in a round that featured an uncharacteristic six bogeys on the card. But the product out of SDSU made just four bogies over the next 54 holes and vaulted up the board into a tie for 15th.
Not only does the 25-year-old former Aztec lead the 2018/2019 FedEx Cup Point standings, but Xander ranks third on the PGA Tour in scrambling and clocks in at 11th in strokes-gained putting. Throw in with how ridiculously consistent his ball striking is. Now consider his prowess when it comes to hoisting the ball in the air and controlling his distance with his irons.
And all I have to do is lay -110 in a matchup against an exhausted Phil Mickelson? Where do I sign up?
PICK
Xander Schauffele
-110
Expect to See Some Fireworks in Mexico City
The action this week in Mexico City will be coming at us fast and furious. If you like seeing 400-yard drives and are a fan of watching birdies and eagles be made in frenzies, then you'll definitely want to tune into the WGC-Mexico Championship.
A number of big names could end up hoisting the trophy at week's end, so picking a few golfers to win makes some sense. The matchups are the best way to see a return on your investment, and playing the GPPs on DraftKings probably takes the cake when it comes to having fun.
In any case, you should consider betting and wagering on the PGA Tour event this week in some form or fashion, as there are numerous ways you can make some money. Hopefully, I introduced you to the ones on that are on the path of least resistance.