Betting the 2019 Grand National – Odds and Guide for All Horses Running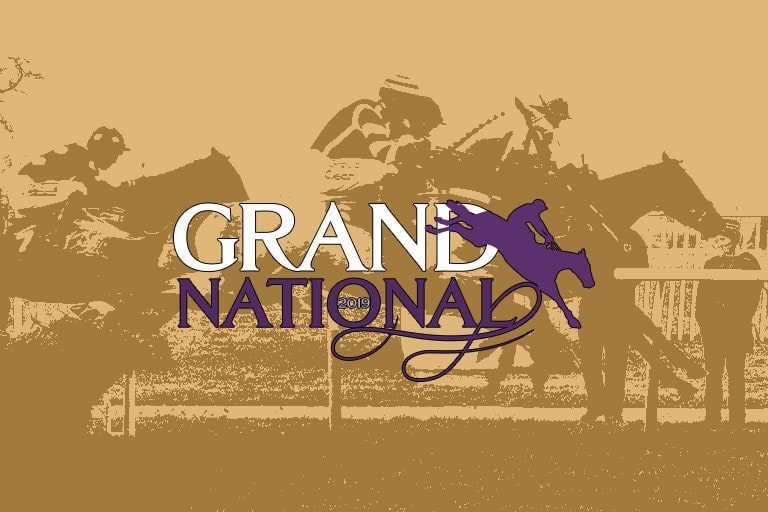 With serious money set to be placed on the 2019 Grand National, it is only fair for us to examine the current state of play of one of the world's most famous races.
2019 is set to be bigger, faster, and stronger than ever, as punters from around the globe get their picks in for the big race on April 6.
With the serious money, bright colors, loud roars, and extensive coverage the Grand National attracts, you'd think that this is no ordinary race. Well, if you're thinking that, it's because the Grand National is no ordinary race.
Betting on the Grand National is one of the most eagerly anticipated times of the year for some, and it clearly shows. In homes, workplaces, and social clubs around the world, punters are racking their brains trying to choose the horse that will take the spoils this year.
In case you haven't guessed, horse racing betting sites will be as busy as ever ahead of the big race this Saturday.
Although early prices have now been changed from my initial Grand National 2019 Preview, there are still some excellent odds for punters to get their hands on.
In this preview, I am going to break down all of the 40 horses scheduled to run in this year's race. Then, I will be providing a few horses I believe to be in with a great chance of making you some money.
First of all, let's take a look at the current odds available.
Latest Grand National 2019 Odds
The odds above were taken from Bovada at the time of writing this Grand National preview.
We can see a little shift in the odds from the first preview I posted a couple of weeks back. That said, it's only natural that we will see movement ahead of this big race.
Prior to Saturday, prices are going to fluctuate even more, given that this race is synonymous with casual betting. Many of those who place money on the Grand National have no interest in betting at any other time of the year. A large number of these punters tend to wait until the day of the race to get their bets in, too.
That said, there are some really intriguing odds to be found from those above.
Mall Dini's withdrawal from the race is a big blow to those who fancied the fence maestro to bring it home this year. Still, there are plenty of names here that should give those same fans a little food for thought.
Below, I am going to break down each horse a little and give you a bit of a backstory for every nag set to line up on the day.
Top 10 Contenders for the 2019 Grand National
For those hoping to make some money from the top bracket of runners in this year's race, we have everything you need to know right here.
The top ten horses in the Grand National 2019 — according to the odds above — are as follows.
Tiger Roll
There is no doubt that this 9-year-old, 11st 5 horse deserves all the popularity he has right now. As last year's winner, he is on the radar of many punters. His four-race victories at Cheltenham also help his case as the number-one horse lining up on Saturday.
While Tiger Roll is far from the most dominating horse out there, he is very quick and agile. Although he has been suspect on low fences and has not performed well under big weights, he is still being tipped to do well.
For anyone backing Tiger Roll, the odds aren't exactly delicious to look at.
That said, Tiger Roll probably has the best chance of any horse in recent memory of matching Red Rum's back-to-back wins in 1973 and 1974.
Rathvinden
The 11-year-old is racing at 11 stone on Saturday.
This horse is popular with punters who believe that he has the ability to better his win at last year's Cheltenham Festival in this year's 'National.
Rathvinden is seen as a horse that is well suited to 4 miles and above. His wins at Punchestown certainly add to this theory.
Although far from experienced, Rathvinden is expected to run well on April 6.
Anibale Fly
There is a lot of buzz around this 8-year-old who finished second in the Cheltenham Gold Cup.
The horse did one better than last year's third place at Cheltenham, and punters are hoping that he can go a few better than his fourth-place finish in last year's Grand National, too.
With just three weeks to recover from Cheltenham, time may not be on the side of Anibale Fly. However, those who have faith in the 11st 10lb horse will be keeping their fingers crossed.
Vintage Clouds
Vintage Clouds is a 9-year-old racing at 10st 4lb in this year's Grand National.
A steady and sure horse, he finished third in the Scottish National and fourth in the Welsh variant last year.
This year saw the horse do well at Cheltenham although proving that he isn't the paciest of the bunch. As a long-range runner, Vintage Clouds operates calmly and collectively, making him a decent bet for this year's race.
Lake View Lad
Lake View Lad is a 9-year-old racing at 11st 1lb on Saturday.
The winner of a number of races this year, including the Rehearsal Chase and the Rowland Meyrick, he also put in a nice performance at Cheltenham to up interest among punters this year.
Lake View Lad looks to be in with a big shout.
Joe Farrell
10 years old and racing at 10st 2lb, Joe Farrell is a strong horse and impressive jumper.
The winner of a thrilling victory at the Scottish Grand National in Ayr, there are many that only see good things for this horse.
Having sustained an injury in autumn only to put in a career-best in ratings last month, the stars might be aligning for Joe Farrell ahead of Saturday's race.
Certainly, he's one to consider.
Jury Duty
Jury Duty is a horse that finds itself in the position of pulling off a double considering his Grand National Hurdle in New Jersey last year.
The 8-year-old is 10st 11lb of toughness, although he does struggle with stamina.
That said, we could see Jury Duty surprise a few punters this weekend.
Pleasant Company
So close in last year's race only to lose ground to Tiger Roll, Pleasant Company will have 4 pounds on the winner this time around.
While in with an excellent chance of pulling it off, punters do need to pay attention to his losses in the last two Nationals while considering that he is 7lb up on the ratings.
With a name that is set to attract action from grandmas and the more gentle among us, don't be surprised to see more than old biddies getting behind this one.
Rock The Kasbah
A horse that tends to perform at his best on dry ground, Rock the Kasbah is a 9-year-old racing at 10st 13lb this Saturday.
With the forecast at Aintree looking a little wet, it may be a bit of a test to see the horse named after one of the Clash's greatest songs find his way home in 1st place.
That said, he did well in last year's Bet365 Gold Cup even if he did give up 13 lengths to Step Back. At 4lb heavier, this doesn't look like being Rock The Kasbah's year at all.
Step Back
As for Step Back, there are a few worries surrounding the Bet365 Gold Cup 2018 winner's feet.
As fragile as he is, there are many who are backing him to pull it off in the 2019 Grand National. Still, a horse that has such delicacies should be looked at in a bit more detail, even if it has the makings of a winner.
His jumping can be a little suspect, too, which is not a great sign for anyone wagering serious money on the 9-year-old, 10st 7lb horse.
More Contenders for the Grand National 2019
So, we have taken a look through the first ten runners.
Now it's time to review the 11th to 20th favorites for those betting on the Grand National 2019.
Valtor
This is a curious horse to back this Saturday.
On one hand, Valtor, the 10-year-old, 11st 6lb horse, flew in at Ascot in December. Then, he was pulled up at Cheltenham the following month for hanging.
Now, this should be a worry for anyone backing him in this race, given the Grand National is a left-handed circuit.
Yes, he is one to watch, but with questionable jumping skills, I'd probably pass.
General Principle
General Principle is last year's Irish Grand National winner and a decent shout to place in this year's big race.
A 10-year-old carrying 10st 4lb, there are many who will put that victory in Ireland down to good fortune, given that there was a minor collision that opened up the door for him to win.
A horse that prefers soft ground, we could see him in his element on Saturday.
Minella Rocco
With another very attractive name, Minella Rocco looks a certainty to garner plenty of interest before Saturday.
The 9-year-old was a 2016 winner at the Cheltenham Festival and came close to winning the Gold Cup just one year later.
A few setbacks have seen his progress curtailed, and his rating has dropped 11lb, which is very attractive, indeed. Well, that is until you factor in his pulling at Cheltenham last month.
A big performance is needed before we see Minella Rocco come anywhere near the podium, so to speak.
One For Arthur
Another horse that many are tipping for further success is One For Arthur.
2017's Grand National winner will have to overcome a couple of problems before he does it again, however.
Worrying signs for punters include a tendon injury that prevented him from racing for a year and unseating the jockey in his two starts in return from injury.
Although there is a chance he can prove the critics wrong, it's difficult to see the 10-year-old recapturing the magic of 2017 again.
Ramses De Teillee
Ramses De Teillee, at 7 years old, is already a no-no to savvy punters who understand the stats.
If he does manage to win this time around, he will be the youngest horse since 1940 to take the victory.
Second in the Welsh Grand National, he could have even won that race if it hadn't been for a little bit of misfortune that one could put down to inexperience.
That said, if there is a 7-year-old capable of winning the National this year, this is your guy.
Up For Review
He has little in terms of experience over fences and questionable stamina.
Up For Review does stand up well to his name, given that it will take a combination of a judicious approach and blind faith to back this one.
Although the 10-year-old finished third in the Thyestes in his first race in eight months, some believe it would take something spectacular to be in with a chance at Aintree on Saturday.
Even with all the above considered, I think this horse has a fantastic shot on the day.
He's one to watch.
Walk In The Mill
A great win at the Becher Chase in December saw a 7-pound rise for Walk In The Mill ahead of this race.
The 9-year-old is carrying 10st 4lb ahead of the Grand National and might find it difficult to keep himself within the traveling pack.
He's not the most comfortable bet on the Grand National by any means but has the potential to be in the mix.
Ballyoptic
A fall in December on the same fences sees Ballyoptic fall down the pecking order with many punters.
However, in terms of stamina and strength, he seems to have both, as evidenced by a strong second-place finish in the Scottish National last year. He almost pipped Joe Farrell then, and his trainers will be confident of seeing a strong performance this year.
The 9-year-old seems to be coming into form at the right time if his stable is to be believed.
Dounikos
A late fall at Gowran and an excellent finish at Punchestown sum up the view many punters have of this 8-year-old.
However, many believe he could be one of the true surprise packages of the Grand National, given that Jack Kennedy will be riding him.
Aside from Tiger Roll, Dounikos is what Gordon Elliott and co. will be pinning their hopes to.
Outlander
Perhaps a little worrying is that Outlander has flattered to deceive since 2017 when the 11-year-old won three Grade One races.
I don't believe that he has the stamina or suitability for this race to go any further than the middle of the pack, which is where the bookmakers believe he will come in.
In order to see anything special from Outlander, he will need to rediscover the form he had as an 8- and 9-year-old.
As for Everyone Else…
So, we've covered the first 20, but what about the rest?
Here they are, in no particular order.
Just A Par
With his best days with Paul Nicholls behind him — a period that saw him win the Bet365 Gold Cup in 2015 — Just A Par looks a very long shot.
Jimmy Moffat has brought the 12-year-old back to the track, but he has looked nowhere near the horse he was just a few years ago.
Too much to prove here.
Don Poli
Almost two years on the sidelines with a tendon injury has probably taken too much out of Don Poli.
An excellent prospect a few years ago on account of his Cheltenham wins in 2014 and 2015 — in addition to his third place in the Gold Cup in 2015 — it seems his best days are past him.
Known as a slow horse, it appears that "Don Slowly" looks even slower since coming back to the fore.
I can't see the 10-year-old finishing anywhere near the front of the pack.
Go Conquer
An ambitious name certainly gives casual punters something to look at.
The 10-year-old is a strong horse that will benefit greatly from a run out on Saturday, but expecting him to do well might be a long shot.
A win in the Great Yorkshire Chase a few months back proved that he is best when he can dictate his own pace, but in this race, the chances of that happening are slim to none.
Does Go Conquer have the stamina required to do well in the Grand National?
Unlikely.
Mala Beach
Soft ground is needed for this Troytown 2017 winner to get a foothold in this race.
The 11-year-old has been rested for this one, with an encouraging run in January the only real action seen from him.
Mala Beach is unlikely to last the full distance at a pace required to put him in with a good shout of winning.
Warriors Tale
Another excellent name for the history buffs among us.
That said, Warrior's Tale is lacking in the stamina required to win this year's Grand National and will likely fade towards the latter stages.
The 10-year-old is carrying 10st 13lb into Saturday's race and will be hoping for a performance like that in his win at Grand Sefton in December.
Regal Encore
This is a decent horse with a solid case for being an outside shot for the win.
An eighth-place finish in the 2017 Grand National, Regal Encore will be carrying 10st 12lb this time around and will be looking to demonstrate why some believe he is worthy of backing.
Good stamina and a solid showing in his two appearances at Aintree give him a great chance of upsetting the apple cart.
A Toi Phil
The 9-year-old has a number of Grade Two victories under his belt but has never really proven himself over 3 miles.
A Toi Phil shouldn't be anywhere near the front of the pack and will be doing well to make the end of the race if anything.
Probably one to avoid.
Tea For Two
A proven battler at Grade One, where he won two races, Tea For Two is also a stone under his best rating.
A win at Aintree last year and strong performances in 2017 have brought this horse to the wider consciousness.
Well, he hasn't really lived up to his promise since then, but a good showing in Cheltenham in March means that he has a decent chance of finding his feet where it really matters.
Definitely in the mix.
Bless The Wings
Third place last year as a 13-year-old, Bless The Wings will become the oldest horse to win the Grand National since 1853 if he can pull it off.
Which he won't, surely.
I mean, imagine the headlines if he did. It would be something spectacular from a horse that has looked anything but over the past few years, with last year's performance probably excluded.
Captain Redbeard
A poor performance that culminated in unseating his jockey in 2018 followed on from a failure to complete the course when pitted against 20 or more horses.
He could put in a decent performance but has no right to be anywhere near the leaders at any point in this race.
Don't expect much.
Noble Endeavour
Injury problems have plagued Noble Endeavour for the past couple of years, which have limited the horse to just two appearances in that time.
Although the 10-year-old looked promising in 2016, he failed to do any better than a win at Leopardstown in 2016.
Another solid name for the part-time bettors but one that will be unlikely to spur up the hope in knowledgeable horse racing fans.
Monbeg Notorious
There is much improvement needed before Monbeg Notorious can be considered a contender for a Grand National.
As such, the 8-year-old would pull off nothing less than a miracle if he was to even squeeze home in the first four in this race.
An unlikely candidate for the win.
Vieux Lion Rouge
Another case of talent meets poor stamina for this 10-year-old.
While Vieux Lion Rouge has finished in 7th, 6th, and 9th over the course of the last three years in the Grand National, the worrying thing about the horse is his lack of push towards the final quarter of the race.
He has, however, been pulled up twice in his past two outings, which could indicate the end of the road for Vieux Lion Rouge.
Blow By Blow
This 8-year-old is certainly capable, but his recent record hasn't been great, and he looks in danger of flattering to deceive on Saturday.
Last year, Blow By Blow won a race over hurdles at Cheltenham and looked as though he would make good on some promise in 2018.
Unfortunately, that has not been the case at all, and he has struggled in his last three outings.
Singlefarmpayment
It is always going to be difficult to argue a case for a horse that has not won a race since 2016.
The 9-year-old doesn't have that fire in his belly that a Grand National winner typically has, as evidenced by the fact that he has been beaten by a head or less three times in two years.
If you are familiar with Brexit, you will understand why this horse will attract punters of the superstitious variety.
Ultragold
Ultragold is a horse that has promise but is probably let down by his stamina.
His record over the fences is good, with notable wins in the Topham (twice) and places in the Grand Sefton and the Becher Chase working in his favor.
At 10st 7lb, he is six pounds higher than his last win, so he will need the racing gods on his side to pull out a win.
Valseur Lido
Agonizingly close to winning the Irish Gold Cup a few years ago, this horse looked set to establish himself among the best out there until a bone fracture ruled him out of competition the following year.
Not a great deal of confidence in this 10-year-old, even if he is lighter at 10st 6lb this time around.
Livelovelaugh
With a little bit of a play on the choice phrase for unimaginative housewives everywhere, this 9-year-old might attract some money on this alone.
However, with just about as much experience in racing as one of those housewives placing their first bet on the Grand National, this nag's nous will be tested severely come Saturday.
With just one win over fences in a beginner's chase, you would probably be better looking elsewhere.
Magic Of Light
The 8-year-old mare is probably a little too green and error-prone to be within the mix on Saturday.
Additionally, I would worry that her questionable jumping skills will make it far too difficult to mount a serious challenge in 2019.
Given her name, Magic Of Light will certainly attract a few casual bets.
Folsom Blue
At 12 years old, this veteran looks set to bid farewell in this year's race.
While he has a great record and has proven himself over the years, I doubt he will look like a winner on Saturday.
The chances are that Folsom Blue will fall at some point.
The Reserves
In the case of any late withdrawals, the horses below will be drafted in to make up the numbers.
The Young Master
A nice few handicap wins and an upturn in fortunes towards the end of 2018 have seen The Young Master find some decent form.
That said, he has two falls in three races over these fences, and coupled with his propensity of unseating, he is seen as something of a loose cannon.
Still, if the opportunity arises and The Young Master gets his chance to run on Saturday, he will attract a few of the usual bettors who select on name alone.
Isleofhopendreams
It looked as though this 12-year-old was set to win the Irish National last year, only for General Principle to beat him to the winning post.
A good runner with a decent set of lungs, he has slowly started to come into form and even finished second in the Leinster National.
Exitas
The 11-year-old raced fantastically towards the end of the year and looked very comfortable over the fences.
As of late, things haven't gone so well for Exitas.
Another horse that probably lacks the stamina to be able to challenge in this most demanding of races.
Opting for Value – The Five Horses to Consider
Finding the best bets on the Grand National can sometimes feel like searching for a needle in a haystack.
The race is often seen as a lottery given that there are up to 40 horses running on the day. As such, it can be tempting to play it safe and go for the favorites.
However, this is seldom the best way to approach things.
The key to betting on horse racing is to identify the value bets and go from there. The Grand National is often a lottery, so there is no guarantee that even one of the top 10 bookies' favorites will even place.
There are no guarantees in gambling, period.
With that in mind, you can find my five picks for the 2019 Grand National below.
PICK
General Principle
+2500
Final Thoughts
If you're wondering how to bet on the Grand National, you will be encouraged to know that you are not alone.
And, of course, it's not difficult at all.
Simply choose the horse you fancy to win the race, head over to one of the best horse racing betting sites out there, sign up for an account, deposit to your wallet, and place your bet.
Although everything might have seemed a little confusing at first, I hope that you have enjoyed reading my final Grand National preview of 2019.
There is nothing better than knowing how to pick the winner of the Grand National, although if there was a verifiable science behind this, bookmakers would cease to exist.
In order to stand the best chance of winning, you should do your homework on the horses available and hope that the racing gods are shining down on you this Saturday, April 6.
Enjoy the race, and good luck!