Betting on the Super Bowl 55 MVP – Odds, Contenders, Sleepers, and Predictions

Who's going to Disney World?
Every year since 1987, the Super Bowl MVP has been invited to parade around the theme park in Orlando and celebrate his success. Phil Simms was the first to shout out the famous phrase following a victory in Super Bowl 21, and we saw Patrick Mahomes carry-out a childhood dream when he uttered the words in 2020.
Looking ahead to the tilt in Tampa Bay, who's next to spit out the quasi-patented sentence?
We'll start with the odds to win the Super Bowl 55 MVP. I'll address the obvious favorites, highlight a few sleepers, and ultimately deliver a prediction.
Super Bowl MVP Odds for 2021
Displaying the 2021 Super Bowl MVP odds from just one of the top Super Bowl betting apps didn't seem appropriate. Not considering some of the blatant discrepancies staring us in the face.
| | | | |
| --- | --- | --- | --- |
| Player | MyBookie | BetUS | BetOnline |
| Patrick Mahomes | -115 | -140 | -125 |
| Tom Brady | +200 | +175 | +225 |
| Tyreek Hill | +1000 | +900 | +1000 |
| Travis Kelce | +1000 | +1200 | +1200 |
| Leonard Fournette | +1200 | +2800 | +3300 |
| Mike Evans | +2800 | +3500 | +2800 |
| Chris Godwin | +2800 | +3800 | +3300 |
| Tyrann Mathieu | +4000 | +7000 | +5000 |
| Clyde Edwards-Helaire | +5000 | +3800 | +5000 |
| Ronald Jones | +5000 | +5000 | +6600 |
| Antonio Brown | +5000 | +4500 | +5000 |
| Mecole Hardman | +5000 | +7000 | +5000 |
| Darrel Williams | +5000 | +4500 | +6000 |
| Shaquil Barrett | +5000 | +9000 | +5000 |
| Rob Gronkowski | +6600 | +7000 | +6600 |
| Devin White | +6600 | +4500 | +6600 |
| Jason Pierre-Paul | +6600 | +9000 | +6600 |
| Cameron Brate | +10000 | +12000 | +10000 |
| Scotty Miller | +10000 | +14000 | +10000 |
| Lavonte David | +10000 | +14000 | +10000 |
| Tyler Johnson | +10000 | +18000 | +10000 |
| Byron Pringle | +10000 | +14000 | +10000 |
| Demarcus Robinson | +10000 | +14000 | +10000 |
Imagine backing Leonard Fournette at +1200 when he's sitting at +3300 in another spot? Tyrann Mathieu's price tags are all over the lot, while Shaq Barrett is +5000 on one app and +95000 on another.
Even the two quarterbacks are priced differently at each of these bookmakers.
Use the table above to peruse the Super Bowl MVP odds before locking anything in. That way, you'll ensure you get the best number available.
Now for some insight into who's likely to walk away with the hardware in hand.
Patrick Mahomes, QB, Chiefs
Patrick Mahomes was supposedly "hobbled" entering the AFC Championship game. The reigning Super Bowl MVP had just cleared concussion protocol and was dealing with a turf toe – surely he was going to struggle against a ravenous Buffalo defense.
Patrick Mahomes vs. the Bills – By the Numbers
Completions
Attempts
Completion %
Yards
TDs
INT
Passer Rating
29
38
76.3
325
3
0
127.6
Kansas City easily dispatched the Bills (38-24) to advance to a matchup against Tampa Bay. Those wondering if the Bucs pass rush will be able to get to Patrick, here's what's Mahomes did back in week 12 versus the Bucs – a game that was also played in Raymond James Stadium.
| | | | | | | |
| --- | --- | --- | --- | --- | --- | --- |
| Completions | Attempts | Completion % | Yards | TDs | INT | Passer Rating |
| 37 | 49 | 75.5 | 462 | 3 | 0 | 124.7 |
The Chiefs won that game as well.
Mahomes is the Super Bowl 55 MVP favorite for a reason – he's the best player on the planet, and the Chiefs are favored to win this game. On the other hand, winning the Super Bowl MVP two years in a row rarely happens. It hasn't occurred since Terry Bradshaw did it in Super Bowl's 13 and 14.
Tom Brady, QB, Buccaneers
Remember the naysayers early in the year who were convinced that Tom Brady couldn't throw the deep ball? They've now gone into hibernation on the heels of Brady balling out for the Bucs.
Tom Brady: 44 Big-Time Throws on 20+ yard passes this season

Most in a single season since 2006 pic.twitter.com/dOc2c4Zz5W

— PFF (@PFF) January 27, 2021
Credit his offensive line, extoll the weapons around him, justify the situation any way you want. The fact of the matter is Tom finished the regular season ranked 2nd in completions (401), 2nd in passing touchdowns (40), and third in passing yards (4,633). He was PFF's second-highest graded quarterback, trailing just Aaron Rodgers. You know, the same guy he just defeated at Lambeau Field to earn a trip to his 10th Super Bowl.
TB12 already stands alone in the record books with four Super Bowl MVP awards. I'm sure he's got room on his mantle back home to squeeze in a fifth trophy.
Tyreek Hill, WR, Chiefs
I wonder if Bucs cornerback Carlton Davis is getting much sleep. The poor guy has been getting shredded this postseason and now must square off with the shiftiest receiver in the sport.
Carlton Davis in coverage this postseason:
➤ 3 TDs
➤ 0 INTs
➤ 140.5 passer rating when targeted

Next up: Tyreek Hill ? pic.twitter.com/jXVZott1bu

— PFF (@PFF) January 27, 2021
Everybody in and around the league is fully in tune with Tyreek's speed and agility, and you won't have to remind Todd Bowles how dangerous he is in the open field. Speaking of certain members of Tampa Bay's personnel not getting any shut-eye during the lead-up to the Super Bowl, Bowles isn't just tossing and turning at the thought of defending Hill.
My guess is he's waking up multiple times per night in a heaping sweat.
To say that "The Cheetah" torched the Buccaneers in their previous matchup would be the understatement of the century.
Reminder… Tyreek Hill laid this on the Bucs in the FIRST QUARTER in their Week 12 matchup.

SHEESH. pic.twitter.com/H80BO5jxsJ

— NFLonCBS (@NFLonCBS) January 25, 2021
Tyreek ended the game with a staggering 13-269-3 line.
Worth noting – the Super Bowl MVP isn't typically an award that goes to a wide receiver, and in fact, just four have been honored since Jerry Rice in 1989.
Wide Receivers to Win the Super Bowl MVP since 1990
Year/Super Bowl
Super Bowl MVP
Team
2005/Super Bowl 39
Deion Branch
New England Patriots
2006/Super Bowl 40
Hines Ward
Pittsburgh Steelers
2009/ Super Bowl 43
Santonio Holmes
Pittsburgh Steelers
2019 Super Bowl 53
Julian Edelman
New England Patriots
Could a Tight End Win the 2021 Super Bowl MVP?
A tight end has never won the Super Bowl MVP, but perhaps that could change on February 7th. After all, and no disrespect to Tony Gonzalez, one can make the argument that the two best tight ends in the history of the league will be on the field in Tampa Bay.
Rob Gronkowski's illustrious resume speaks for itself, and let's not lose sight that he caught six balls for 106 yards against the Chiefs in week 12. Should Brady and Gronk connect for a couple of scores, it's not out of the realm to think Rob could win the award.
As for Travis Kelce, he's in a league of his own when it comes to tight ends putting up beefy numbers.
Travis Kelce has set the record for most receptions (13) in a Conference Championship game in the Super Bowl era

Kelce surpasses Michael Irvin (1994 vs SF)

— NFL Research (@NFLResearch) January 25, 2021
He's the only tight end in NFL history to post five straight seasons of 1,000+ yards, and he just set the record for the most receiving yards in a single season by a tight end. And he didn't even play in week 17.
Before I sign off on this topic, I'd be remiss if I didn't allude to Cameron Brate being one of the Super Bowl 55 x-factors. Brady isn't afraid to look his way and trusts Brate implicitly inside the red zone.
The moral here is if we're ever going to see a TE with the Super Bowl MVP, the 2021 edition could be it.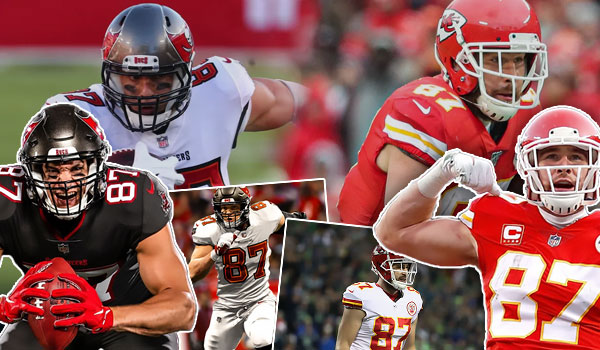 Super Bowl 55 MVP Sleepers
Shaquil Barrett at +9000 at BetUS immediately jumps out. The "sack king" in 2019 sacked Aaron Rodgers three times in the NFC Championship game and won't have to worry about getting past Eric Fisher on the edge. The Chiefs left tackle is out after suffering a torn Achilles against the Bills.
Another one of the Super Bowl 55 MVP sleepers worth a stab is Tyrann Mathieu. You know the "Honey Badger" will be out there for 100% of the snaps (barring an injury), and his role on Steve Spagnuolo's defense is multi-dimensional. His knack for roaming around the field and making plays puts him in play at +7000.
Those who really want to go off the wall, how about a flier on Byron Pringle (+14000)?
Pringle was tied with Tyreek Hill for the most snaps played by any KC wideout against Buffalo and is slated to return kicks (and possibly punts) on Super Bowl Sunday. Even the potential return of Sammy Watkins won't eliminate Byron from the game plan.
The Tampa Bay native returns to his old stomping ground with big plans in mind.
Byron Pringle is a Tampa Bay native, and about to be playing for the Lombardi in his home town. I would look for him to have a few grabs next week! pic.twitter.com/OEdwZqENB0

— ChiefsTake ? (@ChiefsTake) January 25, 2021
2021 Super Bowl MVP Prediction
It's fun to speculate the Super Bowl 55 odds and ponder the possibilities. However, it's hard to pick against the two quarterbacks when push comes to shove.
.@Espngreeny strongly believes that Brady vs. Mahomes is the "best quarterback matchup in Super Bowl history."

"This is like if Michael Jordan got to play LeBron James in the Finals!" pic.twitter.com/MhhVNclXV5

— Get Up (@GetUpESPN) January 27, 2021
Patrick Mahomes is the easy choice if you believe Kansas City will emerge. Just look at how last year panned out.
Mahomes threw two interceptions in Super Bowl 54 and generated a 63.5 QBR. Running back Damien Williams racked up 133 yards and two touchdowns – both with under three minutes left in the game that turned out to be the deciding factor. And yet, it wasn't enough to pry the award out of Mahomes' hands.
Those who are siding with Tampa Bay coming out on top, +225 on Brady at BetOnline has to sound appealing.
Brady continues to defy all odds and demonstrate first-hand that age really is just a number. Seeking his 5th Super Bowl MVP award at the age of 43 shouldn't be realistic, but that's why so many peers have called him an enigma.
Do I have to decide between the two, or can I just plead the Fifth?
Fine, taking odds/upside into account, give me the GOAT.
For more on this debate, check out my colleague's blog devoted to this very topic.