Hide Bonus Offers
| | | | | |
| --- | --- | --- | --- | --- |
| #1 | Bovada Sports | 50% Up To $250 | Visit Site | Bovada Sports |
| #2 | BetUS | 125% Up To $2,500 | Visit Site | BetUS |
| #3 | MyBookie | 100% Up To $1,000 | Visit Site | MyBookie |
| #4 | Everygame | 100% Up To $500 | Visit Site | Everygame |
| #5 | BetOnline Sports | 60% Up To $1,000 | Visit Site | BetOnline Sports |
Betting on Space Jam 2 – Picks for the Top Props

File this under "I didn't know we needed that", but Space Jam 2 is finally almost here. If you are in mid-yawn right now and ready to click away from this post, I don't blame you.
Do not, though, because as insufferable as this LeBron James-led flick is sure to be, it can potentially win you some money.
If you are into betting on the entertainment industry, you can tap into your mixture of NBA and movie knowledge to bring back some cash.
The best entertainment betting sites are giving you a chance at some sizable returns, as there is some plus money to consider targeting via Space Jam 2 prop bets over at MyBookie.
I'll walk you through all of the Space Jam 2 props and gauge how you may want to bet.
Will LeBron Score More Points Than MJ?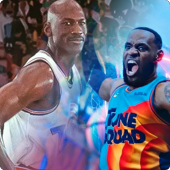 Perhaps the greatest player in the history of the NBA, Michael Jordan starred in the original Space Jam, and helped his cartoon buddies save the world.
He was quite prolific in the process, too, as he connected on all 22 of his shots for a whopping 44 points.
How he (nor anyone else) managed to miss a shot or shoot a three-pointer is beyond me, but you can dive further into the rabbit holt via this breakdown of the Space Jam box score.
In the end, MJ scored 44 points, and the bet here asks if King James will top that scoring total.
The odds say he will, and since this is a sequel that probably needs to push the envelope a bit, my guess is James will be required to go off even more than the perceived basketball GOAT.
I am intrigued by the value of James and the movie potentially paying respect to MJ by merely tying or falling short of the points total, but -300 isn't a bad price.
Bugs Bunny's Points Scored in Final Game
Bugs Bunny is honestly one of the best parts of Space Jam, as he's a classic Looney Tunes character that offers some sarcastic humor.
Much like James, I'd anticipate the main sidekick being a tad more involved in the latest incarnation of Space Jam.
The first time Bugs scored 10 points on five shots, and logic would suggest he'd at least come close again. I think he can get to 12 or more, and since you're rolling with -120 odds either way, you might as well aim high.
How Many Points Will Lola Bunny Score?
It's impossible to know how much the Space Jam sequel will align with the original movie, but it's retaining much of the same cast.
A lot of them are cartoons, but still. Lola Bunny is one that is returning, and given the fact that the studio brought in Zendaya to voice this role, one has to imagine she'll have a prominent part in the story.
Lola only scored eight points on four shots in the previous movie, but in the name of giving Zendaya a proper stage and shining female basketball players in a good light, I'd hammer the Over.
Daffy Duck's Total Points
One of the weak links to the starting five in the original Space Jam, Daffy Duck projects poorly as we brace for the arrival of the sequel.
Quite the complainer and never known for his size or athleticism, Daffy Duck feels like a poor bet to improve upon his four-point total from the first film.
Will Bill Murray Appear in Space Jam 2?
This is probably an easy call, as the first movie capitalized on Bill Murray's fame and comedic touch, but it was always going to make sense to use a more relevant option here.
Much like Space Jam 2 is featuring LeBron James as the lead instead of just bringing back Michael Jordan, it only makes sense to freshen up the rest of the cast, as well.
The 70-year-old Murray can still get the laughs, and I'm sure he wouldn't mind a cameo, but he isn't yet credited as part of the film, and I don't really see why he would be.
Will Michael Jordan Be in Space Jam Sequel?
If you are looking to bet on Space Jam 2, this is probably the prop that stands out above all the others.
Yes, this film stars LeBron James, and it's literally titled Space Jam: A New Legacy.
By the looks of it, it's all about turning the page and doing something brand new, too.
That said, there could be some wiggle room for shining a light on the legend that built this franchise in the first place.
MJ is not part of the movie credits for Space Jam 2, but this is one cameo I wouldn't mind betting on.
The -5000 odds admittedly get you nowhere, plus the amount of fun in seeing MJ in the sequel – not to mention the potential profit – is too good to pass up.
Tips for Betting on Space Jam 2
For the most part, just have fun with it. Space Jam 2 props (and the movie itself) aren't here to be taken too seriously, after all.
This movie is not seeking an Oscars win, and it probably won't get an amazing ratring from the film critics out there.
But it does intend on paying homage to its predecessor in some regards, and just being as entertaining as possible.
James headlines a new flick (with hopefully a fresh take), new supporting NBA stars, and hopefully a moment as legendary as MJ's arm-stretching game winner to save all of humanity.
Whatever goes down, Space Jam 2 should be a fine (if not forgettable) watch, and there's a chance you can pad your wallet in the process.
Hopefully my Space Jam 2 predictions help you out and you can enjoy the movie. For more entertainment betting market odds and picks, hit up our entertainment betting blog.