Hide Bonus Offers
| | | | | |
| --- | --- | --- | --- | --- |
| #1 | Bovada Sports | 50% Up To $250 | Visit Site | Bovada Sports |
| #2 | BetUS | 125% Up To $2,500 | Visit Site | BetUS |
| #3 | MyBookie | 100% Up To $1,000 | Visit Site | MyBookie |
| #4 | Everygame | 100% Up To $500 | Visit Site | Everygame |
| #5 | BetOnline Sports | 60% Up To $1,000 | Visit Site | BetOnline Sports |
Betting on Round 1 of the 2021 NBA Playoffs – Odds and Predictions for the Winner of Each Series

Round one of the 2021 NBA playoffs arrives this weekend. On top of betting on NBA player props and the individual games themselves, bettors can profit from correctly predicting which teams win each series.
There is money to be made here, whether by going hard at a clear favorite, or finding the right underdog to back. If you want to bet on the first round of the 2021 NBA playoffs, but aren't sure which way to lean, this post is for you.
Join me as I look at the odds for each first round matchup, and also offer a predicted winner for each series.
Miami Heat vs. Milwaukee Bucks Prediction
This is going to be a fun one. The top NBA playoff betting sites aren't pricing this as a hotly contested series, but maybe they should be.
Milwaukee infamously fell to the Heat in the second-round last year, losing 4-1. It was an ugly series that involved great team defense and superior coaching from Miami, as well as at least one controversial ending, and an injury to Giannis Antetokounmpo.
The Heat are absolutely a threat here. They play good defense, they have solid talent, they have the better coach, and Jimmy Butler carried this team all the way to the NBA Finals last year.
While Miami has intrigue as a fun +235 upset special, the Bucks still figure to be the pick.
Milwaukee has adjusted throughout the season to instill confidence that they can outsmart Miami this time, Jrue Holiday has proven to be a major upgrade over Eric Bledsoe, and they also have the home court edge this time around.
Oh, and they are going to be out for blood.
If you can bet on how long this series goes, I do think six games is a solid bet to make, and I won't rule out a full seven-game series. Former Heat star Chris Bosh won't rule that out, either.
It's going to be a hard-fought series, but I don't see the Bucks being denied here. At -280, they also come in at a reasonable price to get the job done.
Dallas Mavericks vs. Los Angeles Clippers Prediction
The odds are a bit more challenging here, as L.A. is a large -400 favorite. The Clippers have been their usually stellar selves for much of the year, and by all accounts, they appear to be the far better team when compared to the Mavs.
Kawhi Leonard and Paul George are a fearsome duo, and the Clippers just have way more depth than Dallas. They also operate the second most efficient offense in The Association.
Los Angeles is equipped for a long playoff stay, and they took Dallas out in round one last year.
Of course, it wasn't exactly easy, as the Mavs pushed the series to six games, and Luka Doncic didn't exit postseason play without leaving his mark.
Mavericks' Luka Doncic did it.
– 43 points, 17 rebounds & 13 assists in 135-133 win over Clippers in Game 4, including a buzzer-beating three-pointer to win.
– His stat line has never been matched in all three categories in NBA Playoffs history pic.twitter.com/MlturyJCgA

— Ben Golliver (@BenGolliver) August 23, 2020
I think bettors can expect a competitive series, and Dallas is interesting at their +320 series price.
That said, their time just hasn't come yet. The Clippers are the more title-ready team, and I think they again walk through a six-game series and advance.
Boston Celtics vs. Brooklyn Nets Prediction
Nets fans had to wait over a year to see the unveiling of their new toys, but Kyrie Irving and Kevin Durant looked the part in guiding Brooklyn to the 2-seed.
An epic trade for James Harden put Brooklyn over the top, of course, and with this three-headed dragon, the explosive Nets are a team to fear in the 2021 NBA playoffs.
Brooklyn looks to have it easy in round one, too, as they will host a potentially pesky, but otherwise inconsistent and short-staffed Boston team.
Brad Stevens arguably gives the Celtics a massive coaching edge, and Boston is known for their tenacity come playoff time. But this team is sans Jaylen Brown, and the Celtics didn't look like world beaters even when they were at full strength.
Brooklyn's lack of defense and overall chemistry could allow this series to last longer than most expect, but the Nets aren't bowing out in round one.
Portland Trail Blazers vs. Denver Nuggets Prediction
Now it gets interesting. This is one of the few first round 2021 NBA playoff series where you are getting awesome value, no matter what.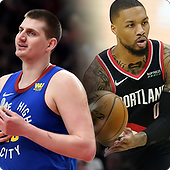 This is also a fun showdown between two massive superstars in Damian Lillard and Nikola Jokic, and there is just so much meat on the bone here in terms of narratives.
Jusuf Nurkic gets to go up against the team that traded him away, these two sides are bitter division rivals, and Portland edged Denver out in a 4-3 series in the 2019 Western Conference Semifinals.
This is a tough series to project, as the Nuggets are operating without star point guard Jamal Murray (torn ACL), as well as scoring spark Will Barton.
The good news? They have the likely 2021 NBA MVP in Nikola Jokic on their side, and they still have Michael Porter Jr. and Aaron Gordon.
Portland has more talent, but the Nuggets have the best player in this series and get to host four of seven games. They also offer a bit more value. It is a close call, but I will side with The Joker in round one.
Atlanta Hawks vs. New York Knicks Prediction
Here's another 2021 NBA playoff first round series worth betting on. New York and Atlanta both return to postseason play after some time away from meaningful games.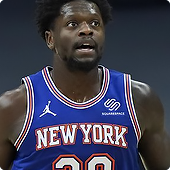 It's a bigger deal for the Knicks, admittedly, since they're a massive NBA market, and they have such a rich history in the league.
New York also wasn't expected to get here. They lack serious star power and rely on good coaching, a methodical offense, and gritty defense.
Atlanta, meanwhile, stocked up during the offseason so much that some predicted they'd go from one of the worst teams in the league directly to the playoffs.
Experience is awash in this spot. The Knicks have superior coaching, they have the home-court edge, and they have the far better defense. Trusting New York to win a whole series feels wrong, but they are probably the more cohesive team at this point.
Derrick Rose may be the deciding factor here, too. He has been awesome for the Knicks down the stretch, and it's not like Trae Young is going to stop him.
Add in Julius Randle putting the finishing touches on his run for 2021 NBA Most Improved Player, and New York stands out as a nice little value bet in round one.
Advice for Betting on the 2021 NBA Playoffs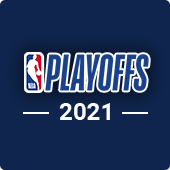 My first piece of advice for betting on the 2021 NBA playoffs – particularly in round one – is to consider rolling with my first-round NBA playoff series predictions.
I could always be wrong in some spots, but I feel rather good about the matchups, and some of the pricing is too good to pass up.
Of course, there is more that goes into betting on the 2021 NBA playoffs than trusting one writer's opinion. One big thing to keep in mind is finding the right site to bet on the 2021 NBA playoffs.
The best NBA betting sites have elite customer service, awesome promotions, competitive pricing, and versatile wager options. If you search long enough, you'll find the perfect site that fits all of your betting needs.
In general, I'd also suggest shopping for value, diversify your betting with live NBA playoff betting, player props, and individual game bets, as well.
For the most part – especially when it comes to series – I'd also stick with the favorites. The series that are priced a bit tighter can go either way, but when a favorite comes in at -200 or lower, history says they usually win.
Hopefully, these 2021 NBA playoff series predictions for round one help you in some way. Good luck with your bets and enjoy the games!