Tennis Betting Preview: The 2015 US Open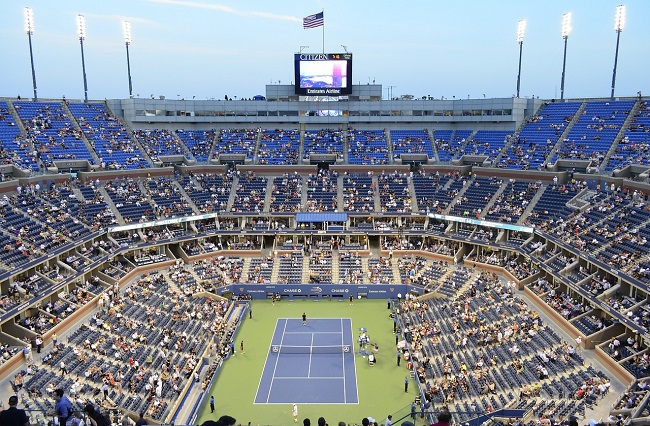 This week sees the start of the final tennis Grand Slam of the year, as the 2015 US Open is underway at the USTA Billie Jean King National Tennis Center in Flushing Meadows. There's over $40 million in prize money to be awarded across the various events, with the majority of that being distributed among those taking part in either the men's singles tournament or the women's singles tournament.
These two tournaments will, as always, be the main highlights of the US Open, and they'll attract the biggest audiences. They'll also attract the most betting interest, so I will focus on these tournaments for my betting preview. Below you can read my views on the players who I think have the best chances of success this year, along with my predictions for how they will do.
Men's Singles Tournament
At last year's US Open, the men's singles final was contested by Marin Cilic and Kei Nishikori. Cilic went on to win the trophy, but what's particularly interesting about that final is the fact that both men had started the tournament at odds of over 100.00. To call it an unlikely final would be something of an understatement. It's another example, though, of how unpredictable tennis can be at times. At the start of the tournament I expect even Cilic wouldn't have allowed himself much hope of lifting the trophy.
There's always the chance that we'll see something unusual again this year, but I suspect the 2015 final will feature players more used to competing for Grand Slams. There are three likely contenders for the trophy in my opinion, and each one is a previous Grand Slam winner. I'll take a look at these three players in detail, along with a small section of other possible contenders as well.
Novak Djokovic
Current World Ranking: 1st
Tournament Odds: 2.10
Djokovic is once again the favorite for a Grand Slam tournament, something which we've come to expect over the last few years. It's hardly a surprise that he's favored to win this tournament, seeing as the world number 1 has already won two of the three slams so far this year. He's taken both the Australian Open and the Wimbledon Championships, and also finished runner up in the French Open. The Serb lost that final to Stan Wawrinka. He's won a number of other ranking tournaments too, including Miami, Rome and Monte Carlo.
With 2015 being another dominant season for Djokovic, it's hard to see beyond him for the US Open. Motivation certainly won't be an issue for him, as he'll be very eager to improve his overall record at Flushing Meadows. He has just one victory here from five finals, and by his standards that's a poor return.
Djokovic has not been at his best since winning at Wimbledon, but that that may well be down to an arm injury he's been struggling with. Assuming that he's in good physical shape for the upcoming tournament, I think that his odds of 2.10 represent fair value. He's more likely to win than not in my view, so he's worth backing at anything above 2.00.
Roger Federer
Current World Ranking: 2nd
Tournament Odds: 5.00
Federer is the biggest threat to Djokovic in my opinion, and the view of the bookmakers too. The odds of 5.00 are among the shortest he's been to win a slam for a while, and there are some good reasons for that. He was impressive at Wimbledon to make the final, where he lost to Djokovic, and he's just recorded a good win at Cincinnati. He beat Djokovic in the final and Murray in the semi –final, both with relative ease. If he keeps that form up, he's going to be hard to beat.
I personally think he'll make the final, something he hasn't done at Flushing Meadows since 2009. It might be a step too far for him to take the title though. His odds are long enough to consider a bet, and I wouldn't talk anyone out of backing him, but I think it's going to be runner-up for Federer. At 34 years of age, he does struggle to produce his very best form over the longer format of Grand Slams.
Andy Murray
Current World Ranking: 3rd
Tournament Odds: 5.50
Flushing Meadows was the scene of Murray's first Grand Slam title back in 2012, and his odds of winning this year are only marginally longer than Federer's. A repeat victory is definitely a possibility, as he's shown improvements in his form this year following a disappointing 2014. He's won four titles, and reached at least the semi-finals in all three of the slams so far in 2015. It's reasonable to expect that he'll keep that record going here.
Murray may even make the final, but can he win it? He most certainly has the game to do so; it's probably just a question of whether he has the belief. His recent victory in the Montreal tournament will give him some hope, especially as he beat Djokovic in the final to end an eight match losing streak against the Serb. As with Federer, his odds are more than long enough to justify a bet. I'd be surprised if he doesn't make it to at least the semi-final stage, and an appearance in the final would not be a shock at all. I don't personally think he'll win it though.
Other Possible Contenders
Kei Nishikori (19.00)
Stan Wawrinka (13.00)
Rafael Nadal (34.00)
Last year's runner up Nishikori has to be considered in with a chance here. He's shown a great deal of consistency so far in 2015, winning three titles in the process and making it into the top four in the world for the first time in his career. A recent injury might hamper his chances, but if he's over that then he's more than capable of beating anyone on the hard courts at Flushing Meadows.
Wawrinka has been a frustrating player to watch in recent times. He has periods when he looks almost unbeatable, but these are combined all too frequently with periods when he looks far from a top player. I absolutely wouldn't rule him out of a good showing in this tournament, although he will need to produce his very best if he's going to go all the way.
Nadal's indifferent form has continued in 2015, and he'll need to improve significantly if he's going to make a mark over the next two weeks. I always find it hard to completely ignore his chances though, as there's always the possibility that he'll rediscover his top form. At odds of 34.00, he's appealing as a long shot.
Women's Singles Tournament
All the talk regarding the women's singles tournament this year is about whether Serena Williams can complete a calendar Grand Slam. Having won the Australian Open, the French Open and Wimbledon, she's on the edge of this remarkable achievement. If she does win the US Open, she'll become the first women in nearly 30 years to win all four slams in the same season.
I'll take a look at her chances now, and also those of a few players who I think might be capable of stopping her.
Serena Williams
Current World Ranking: 1st
Tournament Odds: 1.83
Odds of 1.83 for any player to win a Grand Slam are always going to be perceived as being on the low side by most tennis bettors. On this occasion, though, I think they are more than fair. I wouldn't go as far as to say that Serena Williams winning this year's US Open is a guarantee, but it's very difficult to imagine that she won't win her fourth slam of the year. She's going to be extremely focused seeing as she has the chance to make history, and I don't think she's going to let anyone get in her way. I fully expect her to lift the trophy in two weeks' time.
Simona Halep
Current World Ranking: 2nd
Tournament Odds: 10.00
The fact that the joint second favorite for this year's tournament is as long as 10.00, compared to the 1.83 of Williams, indicates just how unlikely it is that the favorite will fail to win. Halep is one of the very few players that might be able to stop Serena though. Although she hasn't had a great 2015, particularly in the last two slams, she has been showing signs of improvements recently. A place in the final is most definitely not beyond her. I suspect that the best she'll do is finish runner-up, but I couldn't rule her out of causing an upset.
Victoria Azarenka
Current World Ranking: 20th
Tournament Odds: 10.00
Azarenka's current world ranking reflects the fact that she hasn't been at her best for a while. She's still got some top performances in her though, and she has what it takes to raise her game for the big occasions. I don't think many will be expecting her to go the distance at Flushing Meadows, and I can't justify putting any money on her myself, but it would be foolish to completely dismiss her chances.
Belinda Bencic
Current World Ranking: 12th
Tournament Odds: 23.00
Bencic has been making a name for herself recently. She can no longer be considered a surprise package, as she's proved to be the real deal with victories over several top players. Although she's only a teenager, she is my preferred selection out of the contenders to beat Williams to the US Open crown. I don't actually think she will, but I think she has a better chance than her odds of 23.00 suggest.