Betting Preview and Top Contenders for the 2021 NASCAR Truck Series Playoffs

The NASCAR Truck Series regular season is in the books and the 10-driver playoff field is set.
John Hunter Nemechek leads the way thanks to five wins and nine stage wins this season. While he has a 28-point lead, don't count out the other nine drivers.
For those who aren't familiar, the Truck Series playoffs consist of three rounds and seven races. The field goes from 10 to eight drivers after round one and eight to four after round two. The final four drivers will race for a Championship at Phoenix Raceway.
This NASCAR Truck Series Playoffs betting preview will take a look at the current points leaders and analyze the top contenders.
2021 Truck Series Playoff Field
| | |
| --- | --- |
| Driver | Points |
| John Hunter Nemechek | 2049 |
| Austin Hill | 2021 |
| Ben Rhodes | 2019 |
| Todd Gilliland | 2015 |
| Sheldon Creed | 2011 |
| Zane Smith | 2009 |
| Matt Crafton | 2004 |
| Carson Hocevar | 2002 |
| Chandler Smith | 2001 |
| Stewart Friesen | 2001 |
There are no odds just yet for the 2021 NASCAR Truck Series Playoffs, but with the event coming up soon, the best sites for betting on NASCAR will likely push them out shortly.
You don't exactly need the latest Truck Series odds to know who the top contenders for the playoffs are, though.
The top driver is undeniably John Hunter Nemechek. He leads the way with 2,049 points and looks like the top option for bettors.
Bettors may not know where to turn after the clear favorite, though. To assess which options stand out the most, let's break things down a bit further.
Can Anyone Catch John Hunter Nemechek?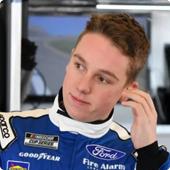 One look at the current Truck Series points leaders, and you have to wonder if betting on anyone not named Nemechek even makes sense.
After losing his ride in the Cup Series, John Hunter Nemechek moved all the way down to the Truck Series for the 2021 season. The 24-year-old joined Kyle Busch Motorsports to race for a championship. Based on his performance, I'd say Nemechek made the right decision.
He kicked off the season with a seventh and third-place finish at Daytona and Daytona Road Course. He led 14 laps in each race. Nemechek won his first race of the season at Las Vegas after leading 94 of 134 laps.
Following a third at Atlanta and 39th at Bristol Dirt, Nemechek beat his boss, Kyle Busch, to win his second race of the season at Richmond.
Over the next three races, he finished fifth, eighth, and 12th, respectively. Believe it or not, three races are the longest he has gone without winning a race this season.
I'm sure you could tell he won the next race at Charlotte, but he backed that up with a second straight victory at Texas. He led a combined 135 of 281 laps across the two races.
In his most recent four races, Nemechek has finished 10th, first, 11th, and second.
It's been a dominant season so far for the driver of the No. 4 Truck. Look at all the stats he leads the Series in.
5 wins
9 top-five finishes
12 top 10 finishes (tied for the lead)
487 laps led
9 stage wins
His 2049 points gives him a 28-point lead going into the playoffs. That's a pretty sizable lead considering you can earn a maximum of 60 points in a NASCAR race.
It would take a huge letdown for Nemechek to not make the Championship 4. I don't see it happening though. I think he continues his strong performance and cruises to a Championship 4 appearance.
Can Austin Hill Stay Hot?
Following the first 13 races of the season, Austin Hill wasn't on too many people's radar. He was sitting third in points, but he had only led 14 laps. However, back-to-back wins have Hill right in the thick of things.
His season got off to a pretty rough start with a pair of finishes outside the top 20. Just like that, he sat 22nd in points.
Hill turned things around with five consecutive top 10 finishes. Three of those finishes came inside the top three. Following a 13th place finish at Darlington, Hill continued his consistency with five more top 10 finishes. Outside of Darlington where he led 11 laps, Hill wasn't competing for wins.
Then, everything changed. Look at his stats from the last two races.
| | | |
| --- | --- | --- |
| Stat | Knoxville | Watkins Glen |
| Starting Position | 13th | 1st |
| Finishing Position | 1st | 1st |
| Laps Led | 11 | 35 |
With two wins and a stage win in the last two races, Hill has picked up 11 playoff points and enters the postseason with 2021 points, second to only John Hunter Nemechek.
There is a lot for Hill to look forward to at playoff time. For starters, he enters with more momentum than anyone else. And it isn't like this run came out of nowhere. His seven, top-five finishes and 12 top 10 finishes rank second in the Series.
He also has two of his best tracks in the playoffs in Las Vegas and Darlington. He has two career wins at Las Vegas and finished third there earlier this season.
Hill finished third at Darlington last season and was running inside the top-five this season when a crash ruined his race.
The leaders get stacked up and seemingly EVERYONE gets caught up in the restart! pic.twitter.com/OGcZ8LKfzh

— NASCAR Camping World Trucks (@NASCAR_Trucks) May 8, 2021
It'll be tough to overcome Nemechek and his dominance, but Hill has put himself in position to make a run at the Championship 4. Once there, we know anything can and will happen.
Can Ben Rhodes Recapture His Early Season Success?
Ben Rhodes' 2021 season couldn't have got off to a better start. Since then, it's been a series of good, but not great finishes.
That perfect start to the season consisted of back-to-back wins at Daytona and Daytona Road Course. Rhodes led seven laps at Daytona, passing Sheldon Creed on the final lap to capture his first career superspeedway victory.
He showed everyone the win was no fluke when he won his first career road course race the ensuing week. Rhodes led 13 of 51 laps and held off Creed and John Hunter Nemechek on multiple late-race restarts.
Since then, he hasn't really competed for wins but he is putting together consistent performances. Rhodes finished top 10 in seven of the ensuing eight races following the Daytona Road Course.
He led 34 laps after Darlington before finishing second to Creed.
If the last five races are any indication of how the playoffs are going to go, Rhodes won't be happy. He has three finishes of 15th or worse over his last five races. He also hasn't finished better than seventh.
The good news for Rhodes is his early-season success allowed him to build up his playoff points.
Even with his uneven run, he sits third in points, 30 behind Nemechek. Rhodes was second in points nearly the entire regular season until Austin Hill passed him following his win at Watkins Glen last week.
He runs pretty strong on most of the playoff tracks, with Las Vegas and Darlington being his best. He has a win at each track and finished top 10 at each track earlier this season. Rhodes should run well at Gateway too.
Because of his inconsistency, Rhodes is someone I'm worried about in the playoffs. His good tracks all come in the first round, so he may struggle in the second round.
For his sake, he better turn things around soon.
Is Todd Gilliland Peaking at the Right Time?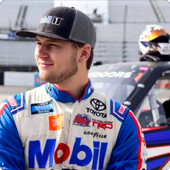 Todd Gilliland struggled to begin his Truck Series career, despite driving for the best team, Kyle Busch Motorsports.
Last season, he had the worst year of his career with Front Row Motorsports. However, Gilliland has silenced all the critics this season with a championship-like performance.
I should also add he still drives for Front Row Motorsports.
His breakout season certainly didn't start the way he hoped it would. Gilliland finished 13th or worse in three of his first four races. He sat 12th in points and it looked like he would struggle to make the playoffs yet again.
In 11 races since then, Gilliland has shown everyone he is a championship contender. He finished fourth, sixth, and sixth over his next three races.
While he finished just 15th at Darlington, he led laps for the first time all season. The following week, Gilliland picked up his first victory of the season at COTA.
Since then, he has had six straight finishes of seventh or better, with four top-five finishes. One of the biggest differences lately has been his ability to lead laps. Check out how many laps he led in the first half of the regular season vs the second half.
First Seven Races: 0 laps led
Last Eight Races: 121 laps led
I think he is showing everyone he is a threat to win races. His three stage wins and one race win place him fourth in points. He is pretty far behind Nemechek, but he only needs to be fourth to make the Championship 4.
Martinsville is definitely his best playoff track. He won his first career race at the track back in 2019. Gilliland also runs well at Bristol, with two, top 10 finishes in three races.
He may be fourth in the standings, but Gilliland has as good of a shot as anyone.
Betting on the 2021 NASCAR Truck Series Playoffs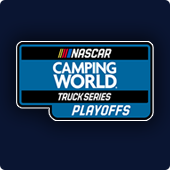 While these top Truck Series Playoffs contenders are where the focus should be for sports bettors, everyone loves a good comeback.
Sheldon Creed won the Championship last season with two wins in the final three races. He entered the playoffs last season fifth in the standings.
Guess where he is entering this season? Fifth. He is as dangerous as anyone.
Matt Crafton is just seventh in points with just two top-five finishes, but can you ever count out the three-time champion. He won the 2019 Championship, despite not winning a race all season.
The point? You need to consider every path to the championship in 2021.
The Truck Series playoffs begin August 20 at Gateway. Races at Darlington and Bristol conclude the Round of 10. The Round of 8 features Las Vegas, the wild card, Talladega, and Martinsville.
We cap things off at Phoenix for the Championship race. Which driver will lift the hardware in the Desert? Watch the 2021 Truck Series playoffs to find out.
If you also like reading about the Cup Series, check out my midseason Championship 4 Predictions and Sleepers below.