Betting Preview of The Hero World Challenge 2018 – Finding the Value in the Matchups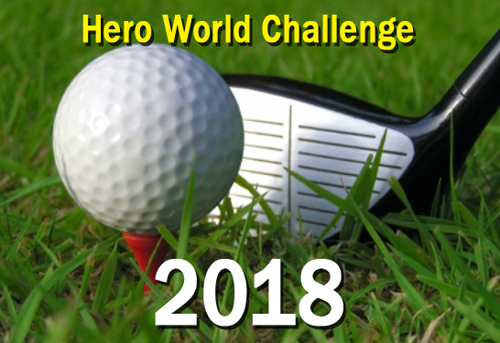 It's a perfect way to end what has been quite the fruitful season in golf.
Tiger Woods began his latest "comeback train" exactly one year ago at this very golf tournament – and what a 12 months it has been for TW.
The host of this week's Hero World Challenge ended 2017 ranked 656th in the world, and his goals and aspirations for 2018 seemed murky at best. Well, fast forward just one calendar year, and Tiger is sitting at #13 in the Official World Golf Rankings and back on everybody's radar.
The 14-time major winner is healthy and happy and looks ready to pounce in 2019.
And by the way, losing to Phil in 22 holes in the $9 million match at Shadow Creek last weekend is honestly the least of my concerns. A cold putter is the only thing that held Woods back, and I'm sensing he heats up with the flat stick this week at the wonderful Albany Course in the Bahamas.
We saw Rickie Fowler birdie the first seven holes out of the gate on Sunday in last year's Hero World Challenge, so we know that we'll see plenty of red numbers. The field is absolutely loaded, with 18 of the world's best golfers on the island to take part in the festivities.
And ready for the best part?
The top online betting sites in the market are all waiting with open arms for your action. There are head-to-head matchups everywhere you look, so be sure to check out the betting sheets.
For those who are seeking advice and need somewhere to start, take a look at who I'll be targeting.
Jon Rahm vs. Tony Finau
Here's a matchup between two first-timers at this event, both of whom figure to be fixtures at Tiger's tournament for many years to come.
The fact that the Albany Course features five par 5s will cater to both of these long hitters, but I actually think one of these men has the slight edge here. Because as good as the 24-year-old Spaniard is at picking apart par 5s, Mr. Finau is even better.
Tony ranked third on the PGA Tour in par-5 scoring in 2018 and finished fourth in driving distance. And rather than make a case or try and convince you that Finau is a better or more consistent player than Rahm, I'll confidently tell you this.
Tony is the much more relaxed individual inside the ropes, and I think his even-keeled nature bodes well for him in a laid-back environment like the one we'll see in the Bahamas. Rahm is so fiery and fervent on the links that it sometimes gets in the way of him having fun and playing his best golf.
We've celebrated Thanksgiving, and Christmas is now just around the corner. I'm rolling with the guy who is always in a jolly mood.
Jason Day vs. Jon Rahm
I generally don't "double up" in golf matchups, meaning I don't bet against the same golfer in two separate spots.
But after looking at each of these matchups separately and distinctly, it was hard to pretend the value wasn't apparent.
Why Jon Rahm is so heavily favored in his matchup with Jason Day is something I was having a hard time figuring out.
Like Rahm, Jason has never taken part in the Hero World Challenge before. And unfortunately, I can't offer any insight into how often (if at all) Day has traveled to the Bahamas and played the Albany Course.
But if you want to know anything about how Day played in 2018 or if his short game is intact, check this out. I can't list all of the categories where the 31-year-old Aussie finished in the top-10 – otherwise, we'd be here for the next 45 minutes.
I will tell you that Day led the PGA Tour in strokes gained putting and was fifth in strokes gained around the green.
I know his wife gave birth to the couple's third child nearly four weeks ago, and I doubt Day has been "grinding" his golf game too hard.
But after finishing 5th and 11th in two starts in Asia last month, something tells me he'll be just fine.
I won't repeat myself and rehash the reasons I'm a bit skeptical as to how Rahm will play this week, but I'll tell you that finding Jason at +110 in this head-to-head sure screams out value to me.
Henrik Stenson vs. Bubba Watson
Here's a disclaimer – I'm not the biggest fan of Bubba Watson.
But here's another disclaimer.
I don't ignore a favorable price when it is staring me in the face just because I like one player more than the other. I am betting with real money, and I'm trying to turn a profit. I'm not here to make friends and kiss butts.
Bubba hasn't played since the Americans got their rears kicked in Paris at the end of September, and quite frankly, I expect that Watson has given his clubs a bit of a break.
If this were a typical PGA Tour event with more pressure on the line, I'd be a bit more wary as to how Bubba would perform. But I don't see the lack of competitive reps over the past eight weeks as being too much of a hindrance in this particular format.
We already know that the recently-turned-40-year-old plays his best golf when he is laid back and enjoying his time on the course.
Well, consider the fact that he'll be in the Bahamas with his family, and he's getting paid to play golf in great weather no matter what he shoots. Nothing suggests we won't see the 2015 Hero World Challenge champ play well when he tees it up this week.
After all, a 67.5 scoring average across eight rounds at the Albany Course isn't too shabby.
Now let's look at his opponent in this matchup.
Henrik Stenson last played at the DP World Tour Championship in Dubai the week before Thanksgiving and finished in a tie for 12th.
It was a good showing for the powerful Swede, especially when you take into account that he hadn't played in an individual stroke-play event since the BMW Championship just after Labor Day.
Henrik will be relaxing with his family just as Bubba will be, and everyone will be having a blast on the beach after the rounds. But everyone feels great on the beach.
In terms of this precise venue and the layout of the golf course, it's clear that Stenson isn't as comfortable as Watson.
Henrik finished 17th in the 18-man field in the 2017 Hero World Challenge, as he was one of only two who shot over par. He didn't even break 70 in any of the four rounds.
Basically what I'm saying is that I feel better about Bubba's chances this week.
And while Bubba was chilling at +105 in this matchup at the first few sites I checked, I found him at +110 at MyBookie.ag – one of the most respected golf betting sites out there!
Justin Rose vs. Dustin Johnson
It's hard to imagine a world where betting against Justin Rose at a place where he resides for a chunk of the year would be recommended.
But then again, it's not often that you'll find Dustin Johnson in a golf matchup where the bookies will lay you the juice.
I saw this "H-2-H" on numerous sites and finally found one that had Dustin at +105. So as much as I like Rose and appreciate his excellence, I know if I can bet on DJ at +105 all season long, I'll be a pretty wealthy man by year's end.
I alluded to this track having five par 5s, an aspect that should help out all 18 golfers. But there isn't a golfer in this field (or the entire PGA Tour, for that matter) who performed better on par 5s in 2018 than Dustin Johnson.
And while we're at it, nobody was better on par 4s. Or par 3s, either.
Did you catch that?
Dustin led the PGA Tour in 2018 in par-3, par-4, and par-5 scoring, a feat so incredible it's actually hard to fathom. If anything else, it should open your eyes as to how good this dude hits the golf ball on a daily basis.
Now, I have nothing bad or negative to say about Justin Rose and his game whatsoever, as that would just be plain silly. But at the same time, I'm not ready to concede that he should be -125 here, either.
I wouldn't be thrilled about picking against Justin Rose in a vacuum, but guess what, ladies and gentlemen?
This isn't a vacuum.
Anytime I see DJ at +105 in a matchup, I'm going to do the right thing and take my chances.
Recapping the Hero World Challenge
Don't miss out on betting the 2018 Hero World Challenge. Tiger's tournament in the Bahamas is your last chance to get a taste of PGA Tour betting until the FedEx Cup resumes in Hawaii in early January.
You are going to have all next month to sit back and enjoy the Christmas season, but you won't be able to place wagers on the best players in the world for more than a month.
So do you really want to pass up this final opportunity to get over to one of the top betting sites and fire away on some juicy matchups?
I didn't think so!