Betting Preview of the 2018 TOUR Championship with Free Picks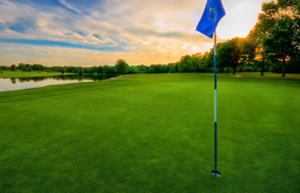 Just 30 men remain.
This week marks the culmination of the 2018 PGA Tour season, and what a year it has been. The top 30 in the FedEx Cup standings will be in Atlanta this Saturday, and not just because the YellowJackets are hosting a big football game.
Surely, former Clemson University golfer Kyle Stanley will have some serious rooting interest when his Tigers are in town facing Georgia Tech. But I can assure you that football isn't the sole reason that the qualified golfers will be hanging out in Georgia's capital city all weekend long.
The field is in the A-T-L because they'll be competing at East Lake Golf Club, duking it out for the right to be crowned this year's FedEx Cup champ. The Donald Ross creation and home of Bobby Jones has served as the host for the season-ending TOUR Championship each and every year since the FedEx Cup Playoffs were established.
That was back in 2007, so the history and tradition run deep.
There are lots of hot golfers and plenty of intriguing storylines, but none of that helps us make any money.
The way to put ourselves in position to turn a profit by Sunday is to focus on the matchups and attack them fiercely.
Clearly, golfers didn't get to this point and arrive at East Lake by playing anything less than stellar golf. But truth be told, some players are in much better form than others right now. It's my job to decipher who is primed to play well on the given setup and who might not be.
The key will be applying that knowledge to the available matchups.
I'll do what I always do, which is try and unlock the hidden value. All that means is that I'll be targeting the head-to-heads that I feel can be taken advantage of given the price.
Start reading below, and you'll see what I mean.
The odds used in this article were referenced from BetOnline.ag and Sportsbook.ag on 9/18.
Hideki Matsuyama vs. Bryson DeChambeau
Bryson DeChambeau won the first two Playoff events and is oozing with confidence as he approaches his first Ryder Cup competition.
As a whole, Hideki Matsuyama has had a down year with just three top-10 finishes.
So this is an easy matchup. Just pick Bryson and move on, right?
Wrong.
Actually, I fully anticipate the general public being all over DeChambeau here, so I'll happily take the other side.
It's not that I see anything wrong with Bryson's golf game, as that would be fairly idiotic of me to try and proclaim that the dude isn't in the zone right now.
But after winning the Northern Trust and the Dell Technologies Championship, plus receiving the nod as one of Jim Furyk's captain's picks, I predicted he would experience some immediate drop-off.
After a somewhat pedestrian-like T-19th at Aronimink, it's safe to say that DeChambeau has at least cooled off and is back down to Earth. Trying to juggle winning the FedEx Cup title with his first Ryder Cup looming in the back of his mind is going to be an awful lot to handle.
I think Bryson will play fine this week; he just isn't one of my picks to be in contention for the win.
Hideki Matsuyama is squarely in the conversation for this tournament.
Despite a really slow start to the year, Hideki started to find his groove as the summer wound down. After finishing 35th at the PGA Championship, Matsuyama has reeled off four consecutive top-15 finishes, including in each of the three Playoff events up to this point.
It's unfortunate for Matsuyama that it's the last week of the year, as he had been searching for this kind of consistency throughout the spring and summer. But with Bryson facing all sorts of pressure and playing the course for the first time in the competition, I like Hideki's chances of beating him for the week.
And I can't ignore the favorable +110 price tag, as it never hurts when the bookies lay the juice for us!
Tommy Fleetwood vs. Jon Rahm
We have all heard the saying, "if it ain't broke, don't fix it."
Well, I put my faith in Tommy Fleetwood last time out in his head-to-head versus Jon Rahm, and he didn't let me down. So if the betting sheets are going to offer this at a fair price again, just tell me where I sign up.
Jon Rahm entered the postseason in good shape, sitting at 13th in the FedEx Cup point standings. But after an MC-43rd-24th showing through the first three events, Rahm has slipped back to 24th and is probably just counting the days until the team plane leaves for Paris.
With just two par 5s on the scorecard and a premium placed on finding the fairways, I'm a bit concerned that Jon's wayward driving and lack of focus could hold him back from a good performance.
On the flip side, the tree-lined fairways at East Lake Golf Club set up famously for Tommy Fleetwood, a player who is known to wear out the center of the clubface. Tommy has no qualms about keeping the ball in play off the tee, and might I add, the dude is playing lights-out at the moment.
Finishing outside the top 25 just a single time since the Wells Fargo Championship back in early May, Fleetwood has been a model of consistency and plays his best golf on the biggest stages.
After shooting a pair of 62s at Aronimink, it's pretty safe to say that Fleetwood has his golf ball on a string right now.
While Jon Rahm is out there exuding a bunch of negative emotion, Fleetwood will be all smiles.
BetOnline.ag and Bovada.lv have the price at -125 for Fleetwood, but Sportsbook.ag is letting us in at -120.
I suggest taking that price and not trying to ignore the obvious. Fleetwood is on form, and Rahm is going through a rough patch.
Rory McIlroy vs. Dustin Johnson
I wouldn't recommend making a habit out of betting against Dustin Johnson.
But occasionally, there could be some advantageous spots, and I think I found one this week.
I've scoped the top golf betting sites and compared all the prices, as this matchup can be found basically everywhere. As unbelievably solid of a year as DJ has had in 2018, I must point out that he is having to battle some pretty unfortunate distractions with his personal life, and it may or may not have a negative effect on him in Atlanta.
But the fact that Dustin Johnson had to address cheating rumors this past week doesn't bode well for his concentration level.
Dustin doesn't show much emotion on the course as is, but I can't help but think an issue this serious in his home life might be entering his mind during the tournament. Perhaps he puts it behind him and plays terrifically, but that's not what I expect to happen.
It'll be tough for a disinterested Dustin Johnson to beat Rory McIlroy on this setup, especially if Rory can get the putter warmed up.
The way Rory was driving the golf ball at Aronimink last time we saw him compete makes me think he is ready to snap his 6-month winless streak. I can sense that Rory is building his confidence just in time for the Ryder Cup next week, and that's a scary thought for any golfer who has to play against him.
My Pick to Win Is…
"Rors."
I briefed you in the section above, but watching Rory swing the golf club right now is a beautiful sight. While guys like Bryson DeChambeau, Justin Rose, and Keegan Bradley have been the talk of the FedEx Cup Playoffs so far, I could see McIlroy putting an emphatic stamp on the 2018 PGA Tour season.
The last time Rory played the TOUR Championship at East Lake was in 2016, and you probably remember how that ended. I'll refresh your memory by telling you he shot 66-64 over the weekend and held off Kevin Chappell and Ryan Moore in a playoff to win the golf tournament.
The 2016 FedEx Cup champion has been a world-beater throughout his career and is percolating at this very moment. After taking the first Playoff event off to rest and prepare, Rory shot 10-under par and finished 12th in New Jersey.
Then he shot 18-under par at the BMW Championship and placed in the top 5.
I'm saying Rory shreds the course apart this weekend and gets back to the winner's circle.
The +900 line isn't as bad as you think when you consider there are only 30 men in the field. Once you take into account McIlroy's past results at this venue and his current form, the portrait gets painted.
This is some solid value, and it's worth a small wager to spice up the action.
The Roundup
Winning money betting golf tournaments requires you to put some thought into your process.
We're not just picking a handful of golfers and betting on them to win the tournament, as that wouldn't be very conducive to our wallets. But if we carefully pick out and select the matchups we have a hunch about, then we'll have a chance to be smiling on Sunday evenings.
Remember, the key isn't to pick our favorite golfers. The key is to locate the value.
For example, I think there is enough data to support Dustin Johnson and Rory McIlroy being evenly matched (-110 apiece) in their head-to-head matchup. So when I see Rory lurking at +110 on Sportsbook.ag, I don't ask tons of questions.
I pounce on the action.
Don't worry about this being the last FedEx Cup event of the year. We have the Ryder Cup on deck next week, and boy, do I have a lot to cover.
Stay up to date and make sure you don't miss out because next week promises to be even more exhilarating than this one.
With more than $10 million up for grabs for the FedEx Cup champion, that should tell you everything you need to know!