Betting Preview of the 2018 Ryder Cup – Latest Odds and Top Picks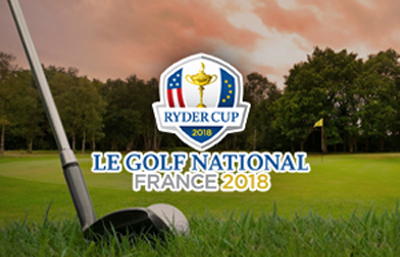 You couldn't make this stuff up if you tried.
I mean, seriously.
Tiger Woods wins the TOUR Championship in epic fashion as Justin Rose edges him out for the FedEx Cup title, with that crazy scene of people mobbing Tiger walking up the 18th fairway.
And now we're on the brink of the 42nd Ryder Cup matches getting underway in Paris, with all these intriguing storylines surrounding the event.
Can it get much better in the world of golf right now?
Because as a fan of the game, nothing is better or more captivating than the Ryder Cup.
Let me be clear, folks – Tiger is back, and he isn't going anywhere. He'll be leaned on to lead the charge for the American squad that is absolutely loaded from top to bottom, but it isn't going to be a walk in the park.
In fact, Tiger and his teammates face two separate challenges this weekend.
The first is Le Golf National's Albatros Course, as the host track promises to be a demanding setup but fair to those who are striking it favorably. The second is the 12 Europeans who will be trying to pry the Ryder Cup away from the United States' possession.
Captain Thomas Bjorn's squad is pretty star-studded in their own right, as Europe has a quartet of players ranked inside the top 8 in the Official World Golf Rankings.
The bottom line is that Friday through Sunday at Le Golf National could end up providing some of the most electrifying and exhilarating golf we have ever seen.
Hopefully, you have been following along, getting completely prepped for the 2018 Ryder Cup with all my blogs that I have been posting during the runup. But now it's finally time for the best part.
It's time to attack the betting sheet!
Bovada.lv didn't disappoint us when it came to providing a wealth of betting opportunities for the action this weekend, and I've spent lots of time scoping the situation out. I've compared prices and seen what's available, and it's clear that Bovada is up to the task, as they are leaving no stones unturned.
To find out which bets are catching my eye, just keep reading below!
The odds referenced in this post were taken from Bovada.lv at 6:00 pm EST on 9/25. They may have changed since the time of writing.
First Player Out for USA in Singles
It doesn't take a rocket scientist to be able to do a little homework and figure out what happened at the last couple Ryder Cups during Sunday's singles sessions.
When you go back to the 2014 Cup when Patrick Reed was a baby-faced rookie on the squad, you'll see that Captain Tom Watson sent Reed out second, immediately following Spieth to open up the session.
Being that the young duo had gone 2-0-1 in their previous 3 matches, it made sense. After Spieth was upended by Graeme McDowell, Reed earned a point by holding off Henrik Stenson 1 up.
Now look up the 2016 Ryder Cup, and you'll see that Davis Love III wasted absolutely no time in sending out "Captain America," as Reed went off first that Sunday against Rory McIlroy. And I'm sure you remember how that match went, as it was arguably the most explosive singles match in the history of the Ryder Cup.
As you can see from the odds below, Reed is the favorite with the bookmakers to be first US player out this time around.
I can't argue with the odds here. Unless Reed looks sluggish and isn't producing points, something tells me he is going to ask Captain Furyk to be sent out first once again.
Actually, it may be more of a "polite request or demand" than just a simple ask, as I fully anticipate Reed wanting the opportunity of striking first.
This time, it will be to try and silence the European crowd.
Despite being the favorite on the board, I still like this bet as one that offers value and upside given the price.
Henrik Stenson vs. Alex Noren – Who Will Score More Points?
When you really take everything into consideration, including the odds available, I feel like this wager is the pure definition of "spotting value."
On the outside, one sees Henrik Stenson's name and knows the major champion has had plenty of success in past Ryder Cups. He is known as one of the premier ball strikers on the planet and generally excels the bigger the moment gets. On the flip side, Alex Noren is a much "lesser-known name" to the average golf fan, as the 36-year-old Swede has recorded just two top-10s in major championships.
Ironically enough, as the only two Swedish players on European roster, there's actually a decent chance that we see these two men paired with one another during the team format of play on Friday and Saturday.
Sure, there is a chance that Captain Bjorn sends Henrik out with Justin Rose, as the two men have played wonderfully together in past Ryder Cups. But given how "on form" Justin is at the moment, I'm not sure if Bjorn will pair him with a potentially "questionable" Henrik Stenson.
The fact of the matter is that it's no secret that Stenson has been hampered by a lingering elbow injury all season long, one that forced him to withdraw from the opening event of the FedEx Cup Playoffs.
After placing 69th at the Dell Technologies Championship followed by a less-than-stellar 29th at the BMW, Stenson missed out on last week's TOUR Championship.
Perhaps an extra week of rest could be a good thing, but this injury has bugged him for several months, so I don't expect it goes away entirely by Friday morning. All signs are pointing to Henrik playing a maximum of 3 matches, and there's a good possibility that the first two of them are in fourball or foursomes while paired with Noren.
Now flip the coin, and you'll see that while Stenson is nursing an injury, Noren is the one who comes in with the most dashing results at the host venue. After finishing 8th and 10th at the 2016 and 2017 French Opens at Le Golf National, Noren bested the field at the Albatros Course on July 1st, shooting 65-67 over the weekend to narrowly hold off a trio of runner-up finishers.
Depending on how things play out, Noren should at the very least play as many (if not more) matches as Stenson. And as I alluded to previously, the two men may even play the majority of their golf together!
With all that being said, I find it hard seeing Stenson outscoring Noren and even would be okay betting Alex here at even money.
The fact that Henrik is at -170 and Noren is hanging out at +130, now, that just makes me like this bet that much more!
Who Will Win the 2018 Ryder Cup?
It's not so much that I have some huge hunch as to who will win the Ryder Cup.
But I do know how to look up past results, and I have gotten pretty decentat unlocking value, especially when it seems this obvious.
Let me preface this by stating that I am a full-fledged American who will be rooting hard for the Red, White, and Blue. I'm so happy that Tiger Woods is back and playing great golf again, and I'd love to see him bring the Cup back to America.
But the "betting side" of me looks at these odds and can't help but think that there is some serious value attached to Team Europe. Take a look for yourself.
Remember, ladies and gentlemen, that these matches are being played on European soil, where the United States has not won a Ryder Cup since 1993 when it was contested at the Belfry.
I'm not doubting the leadership of Jim Furyk and his vice-captains. I'm certainly not questioning the talent on the American roster.
But I am not going to sit here and pretend that the European lineup is anything to balk at whatsoever.
Thomas Bjorn's squad is full of accurate drivers, which should really bode well on a course that demands that you play out of the short grass if you plan on attacking the pins.
Guys like Rory and Rose are going to be tough to beat, and I sense that Sergio Garcia is going to surprise some people and have a really solid week. That should propel rookies like Jon Rahm and Tommy Fleetwood into putting on dazzling performances as well, which will end up making Team Europe an absolute handful.
I'm not guaranteeing a victory by any means, but I'm not going to ignore the attractive +145 price.
The Review
The bets I have discussed in this post are just a few of what Bovada.lv is offering for this weekend's Ryder Cup action. You can go as far betting on which player will hit the first shot or which player will sink the winning putt. Better yet, you can even wager on how many matches make it to the 18th hole or which team ends Day 1 on top of the scoreboard.
The options aren't endless, but there are a plethora of ways to get yourself invested into the 2018 Ryder Cup. Check out Bovada.lv yourself to make sure you don't miss out on any of the prop bets that are attached to the festivities in Paris.
There's nothing quite like the Ryder Cup, and your chance to make some money while watching it all pan out is right now.
The PGA Tour will pick right back up next week with the kickoff to the 2018/2019 FedEx Cup schedule as the players head to Napa to tee it up in the Safeway Open.
There's no rest for the weary, so I'll be back at it giving you PGA Tour betting advice next Wednesday!
Just check my Twitter page to stay up to date and informed with all my betting tips.
Until then, enjoy the Ryder Cup!