Betting Preview of the 2018 British Open with Odds and Predictions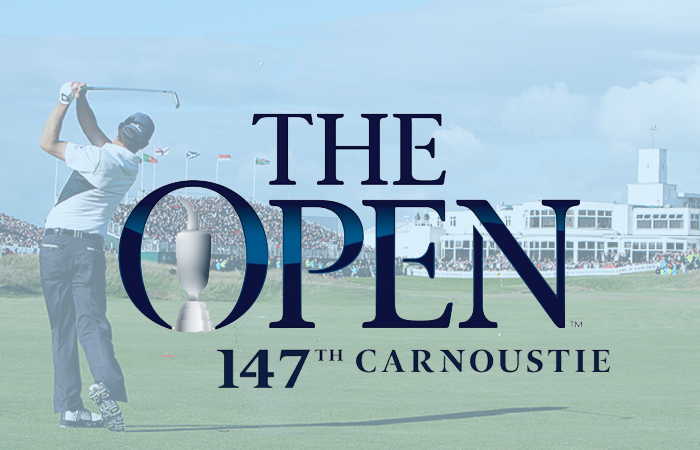 While most of you in the United States will be getting ready to fall asleep on Wednesday night, I'll be glued to my couch watching the first groups tee off. I'm talking about the start of the 147th Open Championship.
As per usual, I'm here to "unlock the value" on the various betting sheets. The British Open represents the year's third major, and what that means for us is that we have an abundance of options when it comes to placing wagers.
Folks, we have tons of opportunities to make some money.
I don't want to waste any energy previewing the Open Championship, because I did that last week.
If you are looking for an in-depth guide to Carnoustie Golf Links and want to learn about the intricacies of the golf course, don't worry. I took good care of you.
The object of this post isn't to impress you with my knowledge of Scottish links courses. It's not to show off how much I know about this tournament's history and past results.
The goal is simply to set you up for a fun and profitable weekend.
Watching the best golfers on the planet slug it out in laborious conditions is entertaining, but it gets even more exciting when your bank account is growing in the process!
In order to accomplish that this week, you'll want to be extremely meticulous and diligent in your procedure. I'm talking about shopping lines across the top online sportsbooks because there are massive discrepancies all over the place!
You'll see exactly what I mean below with the wagers I recommend placing, so just pay close attention and make sure you're not settling for anything but the most optimal prices out there.
Have fun, and enjoy the ride!
The odds referenced in this article were taken from Bovada.lv and Sportsbook.ag at 5pm EST on 7/17.
Hideki Matsuyama to Finish Inside the Top 20 (+217)
Hideki Matsuyama heads into Carnoustie riding 7 consecutive top-20 finishes in major championships. Bovada.lv has him listed at +150 to finish inside the top 20, but after doing some browsing, I saw that Sportsbook.ag has taken an even more laid-back approach with the 26-year-old Japanese sensation.
They have Matsuyama at +217 to crack the top 20, and that's just too appetizing to pass up. I understand that he was injured early in the year, and he's slipped back to #16 in the Official World Golf Rankings (OWGR).
But he is still the same premium ball striker he has been for the past 5+ years.
Carnoustie's slow greens will play right into the hands of Hideki, who stripes his irons as solidly as anyone in the game today.
I think Sportsbook.ag is being far too generous with this line, and I suggest you hop on the Hideki bandwagon before it's too late and his price gets adjusted.
To make you feel better, he's finished 16th or better in his last three starts on the PGA Tour. He's doesn't enter the week scorching, but I've seen enough positive signs to get me motivated to place this bet.
Tiger Woods to Finish Inside the Top 20 (+110)
Ready for another one of those massive discrepancies I alluded to in the introduction? While Sportsbook.ag had the more favorable price for Hideki, wait until you see what they did with the most popular golfer in the world!
They have Tiger Woods hanging out on the "finish inside the top 20" sheet at a not-so-attractive price of -155. When you look at the same exact wager on Bovada.lv, you can snag Tiger at +110!
So which price do you want to pay? Do you want to lay -155, or do you want that juicy +110 number?
Look, I'm not suggesting placing this wager solely because I am a big fan of Tiger, as that wouldn't be very professional. I am recommending you hurry up and log onto your Bovada account because this price could go away at any moment.
Tiger has been playing solidly and knows Carnoustie too well for you not to seriously consider this bet.
"The Big Cat" ranks 4th in the strokes gained around the green department, and he's 3rd in strokes gained on his approach shots.
Overall, Tiger is 6th in strokes gained on the PGA Tour, and if you look at the 5 names above him, you'll know this stat is pretty telling of who's playing the best golf.
I don't need to tell you how many times Woods has finished inside the top 20 at a major because neither of us wants to count that high. The point is, when Tiger is playing well and has experience playing the golf course, he's a threat to win. Finishing amongst the top 20 is even more attainable.
He finished 7th in 1999 and 12th in '07 in two previous appearances at Carnoustie, not to mention his play has hinted at him being super close to breaking back into the winner's circle.
Listen, ladies and gentlemen. Tiger used to be +110 to win the British Open. He's playing too well to not take that same price of him landing inside the top 20. Place this bet confidently, and who knows? He could end up winning the thing!
Tommy Fleetwood (+115) vs. Jon Rahm (-150)
The entire purpose of writing this blog is to locate the value and bring it to light, right?
Well, check this out for a second. Because this is SCREAMING value to me.
| Golfers | Odds to Win | Odds to Finish Top 5 | Odds to Finish Top 10 | Odds to Finish Top 20 |
| --- | --- | --- | --- | --- |
| "Golfer A" | +2200 | +400 | +160 | -110 |
| "Golfer B" | +2200 | +400 | +160 | -110 |
Looks pretty similar, doesn't it? That's because it's identical.
Well, what if I told you that in a matchup against each other, "Golfer A" was egregiously listed at -150 while "Golfer B" was priced at +115?
This is exactly the case. "Golfer A" is Jon Rahm, and "Golfer B" is Tommy Fleetwood.
This bet really doesn't have anything to do with Rahm or Fleetwood as golfers. This bet has to do with the fact that these two players are obviously projected to have comparable weeks, as they are evenly matched all the way down the betting sheet from the top to the bottom.
For some inexplicable reason, Bovada decided to drop the ball when pricing this matchup. It allows those of us who pay close enough attention to the entire betting sheet to pick up on these inconsistencies and attack them with full force.
If you want some recency bias to help push you in the right direction, know that Rahm finished 63rd at THE PLAYERS, and he missed the cut badly at Shinnecock Hills.
Meanwhile, Tommy and his long locks finished 7th at TPC Sawgrass, and he was the runner-up at the U.S. Open, including his mesmerizing 63 on Sunday.
Please, don't overthink this one. Tommy is an absolute stud, and there's WAY too much value staring us in the face.
Patrick Reed to Finish Inside the Top 20 (+150)
Again, this is me taking full advantage of being active on multiple betting sites. To be frank, I didn't think the -110 price I saw on Sportsbook.ag for Reed to finish inside the top 20 was all that bad of a price.
But after doing my homework and realizing that our friends at Bovada are letting us have Patrick at +150 to wind up in the top 20? That has me salivating like a dog staring at a medium-rare ribeye steak.
What more do you need to see from the former Augusta State University star? After finishing runner-up in the final major in 2017, all Reed has done in 2018 is win a Green Jacket and place 4th at the U.S. Open.
He's been sleeping on this side of the pond for a couple weeks now and even threw up four rounds in the 60s during last week's Scottish Open.
The bottom line is that +150 to finish inside the top 20 is way too high for a guy this hungry and this talented. Seeing him at -110 on the other site confirms that.
Russell Henley to Make the Cut (-162)
This bet is available on Sportsbook.ag, and it's one that really piqued my interest. I feel more than comfortable laying -162 that Russell Henley will make the cut this week.
Not only has Henley made the cut in each of the last 7 majors, but earlier this season, he logged an impressive 15th-place finish at Augusta and followed that up with another top-25 showing at Shinnecock Hills.
The 29-year-old former star at the University of Georgia has made 5 straight cuts on the PGA Tour dating back to the Fort Worth Invitational. More importantly, he has been trending in the right direction.
After a 29th at the Memorial and a 25th at the U.S. Open, Henley has recorded back-to-back top 10s at the Travelers Championship and at the Greenbrier.
In order to succeed on a British Open-style setup, a golfer needs to be patient and have a positive attitude. Those who embrace conditions rather than complain about them are the ones I want in my corner.
Russell Henley is the epitome of the type of golfer who isn't going to give up and is going to lay it all on the line. I feel more confident that Henley makes the cut than a handful of golfers who are listed ahead of him on the betting sheet.
To me, that's the definition of finding value. Henley lurking at just -162 to play the weekend fits the bill, so don't be afraid to fire away here.
Lasting Thoughts
It takes a long time to sift through all the odds at all the top online sportsbooks. During major championships like the British Open, the process is even more arduous because of how many wagers are looming out there.
I wasn't trying to be bold, and I'm not proclaiming that my favorite golfer is going to hoist the Claret Jug.
I put all that fancy stuff aside and concentrated on selecting bets that have the highest likelihood of paying off. Comparing the odds and spotting the prices that are the most promising is the best way to go about doing that.
It's worked well for me in the past, and I see no reason for it to slow down this week at the Open. I'll be back posting picks and advice next week for the RBC Canadian Open, but until then, good luck!
Set your alarm early this weekend, and enjoy watching the coverage from Carnoustie!

Bovada Is Our Featured Betting Site for the 2018 Open Championship