Hide Bonus Offers
| | | | | |
| --- | --- | --- | --- | --- |
| #1 | Bovada Sports | 50% Up To $250 | Visit Site | Bovada Sports |
| #2 | BetUS | 125% Up To $2,500 | Visit Site | BetUS |
| #3 | MyBookie | 100% Up To $1,000 | Visit Site | MyBookie |
| #4 | Everygame | 100% Up To $500 | Visit Site | Everygame |
| #5 | BetOnline Sports | 60% Up To $1,000 | Visit Site | BetOnline Sports |
Betting Preview and Odds for the 2021 Ryder Cup at Whistling Straits

Despite Paul Azinger's pledge that Brooks Koepka should relinquish his Ryder Cup spot, "Brooksy" has confirmed that he'll be at Whistling Straits next week.
As for how many matches Koepka will play and who he'll saddle up alongside, that's still up in the air.
There's a lot to unpack to get ready to bet on the Ryder Cup in 2021. With so many questions needing answers, I created a 2021 Ryder Cup betting guide that aims to address all your inquiries.
Let's discuss where you can bet on the Ryder Cup this year, and everything else you need to know for the 2021 edition.
Where Can I Bet on the 2021 Ryder Cup?
There are tons of betting sites out there that'll let you bet on who wins the Ryder Cup.
In fact, most of them have had 2021 Ryder Cup odds up for several months. If betting on which team lifts the trophy is all you're interested in, head to any online sportsbook you trust.
However, if you're looking to browse through a variety of Ryder Cup betting markets, I suggest heading to BetOnline.
There, you'll find an assortment of wagers associated with the festivities at Whistling Straits.
Who Will Be the Top Point Scorer for the Europeans?
Which US Rookie Will Score the Most Points?
Who Will Be Leading After Day 1?
What Will Be the Largest Margin of Victory in a Match?
These are just some of the examples – check out the full selection to see exactly what's out there.
Those seeking more details on the types of bets you can place, keep reading to get acquainted with our comprehensive Ryder Cup betting guide.
Odds for the 2021 Ryder Cup
While the odds for the Ryder Cup continue to fluctuate, the Americans will arrive in Sheboygan as the substantial favorites to win the cup. Perhaps you've come across odds to win the Ryder Cup and odds to lift the Ryder Cup, allow me to clear the air.
The first team to accumulate 14.5 points will win the Ryder Cup
If the Ryder Cup ends in a tie (14-14), the Europeans will lift the Ryder Cup
Because Europe is the defending champion of this event, they'll retain the Cup if the 2021 edition ends in a tie. Therefore, Europe's odds to lift the trophy (+165) aren't as juicy as their odds to win the trophy.
Make sense?
Let's get you caught up with the schedule of events.
2021 Ryder Cup Schedule of Events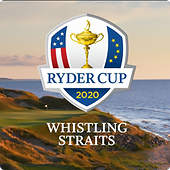 The format at the Ryder Cup has remained the same since 1979. Four foursomes matches and four fourball matches are played on Day 1. Day 1's format is repeated on Day 2 while day 3 is comprised of 12 singles matches.
There's a total of 28 points (8+8+12) up for grabs.
Each year, the team hosting the event gets to choose which team format will kick off the event. In the case of the 2021 Ryder Cup at Whistling Straits, Steve Stricker has elected to begin with foursomes.
Ryder Cup Schedule – Timeline at Whistling Straits
Friday, September 24th
Morning – 4 Foursomes Matches: 7:05 am, 7:21 am, 7:37 am, 7:53 am
Afternoon – 4 Fourball Matches: 12:10 pm, 12:26 pm, 12:42 pm, 12:58 pm
Saturday, September 25th
Morning – 4 Foursomes Matches: 7:05 am, 7:21 am, 7:37 am, 7:53 am
Afternoon – 4 Fourball Matches: 12:10 pm, 12:26 pm, 12:42 pm, 12:58 pm
Sunday, September 26th
12 Singles Matches: Starting at 11:04 am with 11-minute intervals
Between NFL football and the culmination of the Ryder Cup, my plans for Sunday the 26th are simple. Grab some food, grab some drinks, and park my rear on the couch.
Who's On Team USA?
Daniel Berger
Patrick Cantlay
Bryson DeChambeau
Harris English
Tony Finau
Dustin Johnson
Brooks Koepka
Collin Morikawa
Xander Schauffele
Scottie Scheffler
Jordan Spieth
Justin Thomas
Led by six of the top-7 in the Official World Golf Ranking (OWGR), Steve Stricker's squad is absolutely loaded. They have nine guys inside the top-11; the "worst" player on this team is 21st-ranked Scottie Scheffler.
As far as what pairings we're likely to see, the duo of Patrick Cantlay and Xander Schauffele is virtually penciled in.
Same with Justin Thomas and Jordan Spieth. Stricker and his assistants have stayed mum on what other pairings are in the works, although here are some ideas.
Brooks Koepka and Daniel Berger – Former teammates at Florida State University.
Tony Finau and Scottie Scheffler – Two powerful high-ball hitters who both use a Titleist Pro V1 golf ball.
Bryson DeChambeau and Collin Morikawa – The best driver on tour paired with the best iron player on tour makes for a deadly combination.
Dustin Johnson and Harris English – Personalities mesh as each man is extremely laid back. Both are prominent ball-strikers too.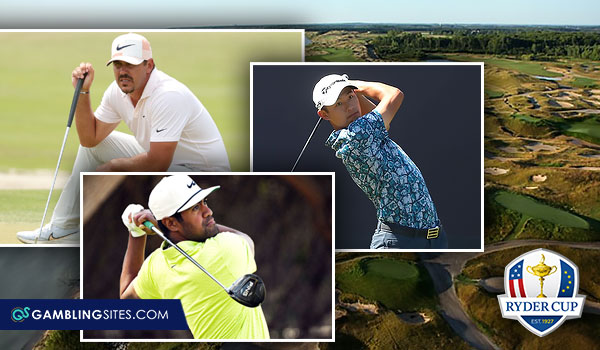 Who's On Team Europe?
Paul Casey
Matt Fitzpatrick
Tommy Fleetwood
Sergio Garcia
Tyrrell Hatton
Viktor Hovland
Shane Lowry
Rory McIlroy
Ian Poulter
Jon Rahm
Bernd Wiesberger
Lee Westwood
Team Europe isn't as stacked as Team USA is on paper. Fortunately for Padraig Harrington, the 2021 Ryder Cup will be played on an expansive layout in Wisconsin and not on a piece of loose-leaf.
Sergio Garcia and Ian Poulter might be ranked 43rd and 49th in the OWGR, respectively, but I can assure you that nobody wearing Red, White, and Blue will be excited to line up opposite "El Niño" or "The Postman."
Lee Westwood has played in 44 Ryder Cup matches. Sergio Garcia has played in 41.
The 12 players on Team USA have combined to play in 49 matches. If there's one thing the Europeans can fall back on, it's their massive edge in experience.
Oh yeah, they also have Jon Rahm – the top dog on the planet who has been red-hot for the last four months. And a rejuvenated Rory McIlroy, an upstart Viktor Hovland, and rock-solid vets like Tommy Fleetwood and Paul Casey.
The 2021 Ryder Cup is setting up to be a dogfight.
Betting Advice for the 2021 Ryder Cup
You know where to bet on the Ryder Cup, you know when each session is taking place, and you've been introduced to each of the 12-man rosters. Now for the fun part – Ryder Cup betting tips.
One thing to not lose sight of is, that this is not a typical event.
At a regular golf tournament, we're combing through stats like recent form, course history, and specific strokes-gained data. I'm not saying we should throw all of that out the window when we're betting on the Ryder Cup, but we can to a degree.
These are 24 of the most elite golfers in the world who are all playing well. If they weren't, they wouldn't have qualified or been picked to be on the team.
The pressure at the Ryder Cup is unlike anything else in the sport, and the cohesion of the team plays a huge part in the eventual success or demise.
So, rather than try and conform regular golf betting strategies to betting on the Ryder Cup, I won't try and fit a square peg into a round hole.
Instead, I'll point you to the best Ryder Cup prop bets you can bet on this year.