Hide Bonus Offers
| | | | | |
| --- | --- | --- | --- | --- |
| #1 | Bovada Sports | 50% Up To $250 | Visit Site | Bovada Sports |
| #2 | BetUS | 125% Up To $2,500 | Visit Site | BetUS |
| #3 | MyBookie | 100% Up To $1,000 | Visit Site | MyBookie |
| #4 | Everygame | 100% Up To $500 | Visit Site | Everygame |
| #5 | BetOnline Sports | 60% Up To $1,000 | Visit Site | BetOnline Sports |
Betting Preview for a Nurmagomedov vs. McGregor Rematch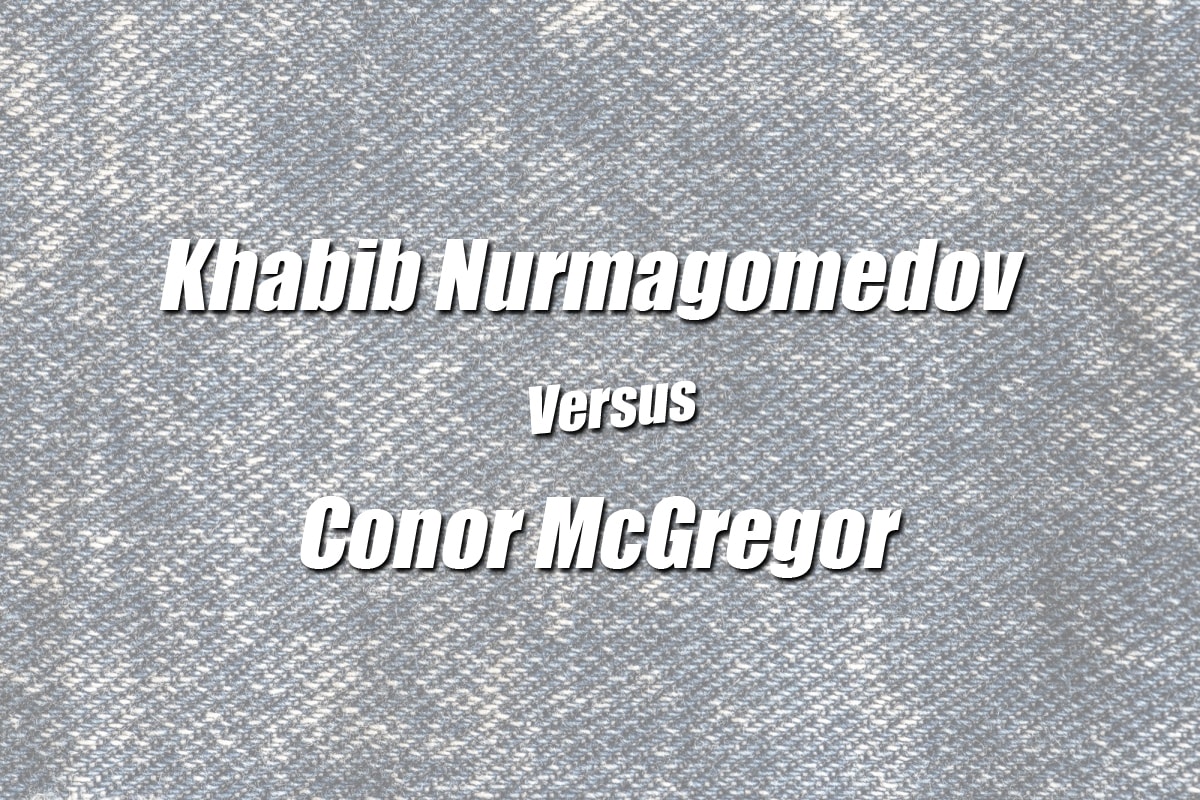 Khabib Nurmagomedov vs. Conor McGregor — who would win in a rematch?
Imagine I've just sat next to you on the train, subway, or bus, and we've struck up a conversation. Then, out of nowhere, I drop this question on you like a bomb from an F-35 fighter jet.
What would you say? Khabib wins? Conor wins? It would end in a draw?
Hell, do you even know who you would choose if this fight goes down? Think about it for a second…
Let's say you have a few options in this scenario.
You can either get up out of your seat and move to another part of the carriage while whispering "What an intense weirdo" under your breath, or you choose the fighter that you think will win.
"Conor will win," you say. Naturally, I ask you why you think he will win.
Or "Khabib kicks his ass for a second time" might be your answer. Once again, I ask you to explain to me how he does it.
Let's not beat around the George W. here. Arguably the most debated question in MMA right now is Khabib or Conor. The consensus surely backs the UFC lightweight champion, but I don't really think the answer is as simple as we think.
My brother and I had a lengthy debate the other night regarding a rematch between Nurmagomedov and McGregor, and it sparked a pretty interesting debate.
Then, we checked out what the bookmakers think.
Here's what I found, guys.
Khabib vs. McGregor 2 Winner Odds
The odds below come courtesy of 888sport.
All right, all right.
Point proved. The bookmakers clearly see a rematch pretty much ending the same way the initial scrap did at UFC 229 in October 2018. I get it.
If you think I'm prematurely suggesting Conor will win this one, then, you… you just need to read on, okay? Trust me on this one.
So, in the first fight, Nurmagomedov bossed McGregor for the best part of the bout, eventually winning by way of neck crank in the fourth round. He made things look easy and stunned the crowd by landing a pretty smart overhand right on the Irishman, dropping him in the process.
The fight was the first time that a troubled McGregor had fought inside the Octagon since his UFC 205 lightweight title victory over Eddie Alvarez almost two years prior.
This gives some fans reason to believe that "The Notorious" was not in shape and, therefore, not at his best on the night. Khabib's fans clearly find this amusing.
Aside from working out who would win in the rematch, I'm also going to take a look at a number of other factors.
For example, is McGregor hungry enough to win a second bout? Has his life of unimaginable wealth killed his desire to compete? Or was he ever really that good in the first place?
I'll also touch on Khabib's style and why it appears to be a nightmare for McGregor, as well as a couple of other things that could help you make the right choice in this bout.
So, what are you waiting for? Keep reading. All will be revealed.
Khabib vs. McGregor 2 – Will It Happen?
When it comes to Khabib vs. McGregor 2, it's going to be a case of where there is a will, there is a way.
Or should that read "Where there is a couple of hundred mill', there is a way"?
Money is the lifeblood of professional sports, and the rivalry that has been created is a potential goldmine to the UFC, McGregor, and Khabib. There is simply too much money in a potential rematch to think it won't happen.
So, boys and girls, I would have to say — and you can sure as hell quote me on this — a second bout between Khabib and Conor will go down.
Naturally, there are a few things that could change the circumstances surrounding the bout.
For one, Khabib is defending his UFC lightweight strap against Dustin Poirier in Abu Dhabi on September 7. Presuming McGregor gets one fight in this year, he will surely be targeting another against the devout Muslim champion at some point next year, preferably before Ramadan.
Well, if he wins, that is. A loss would be devastating for McGregor's future in the UFC.
Now, the Muslim holy month is set to commence on April 23 in the US, which would mean both men would have to be healthy, willing, and suspension-free for the fight to happen.
Aside from the tons of cash that this fight would generate, what else would be on the line?
Khabib vs. McGregor for the UFC Lightweight Title?
The first fight is in the record books as the highest-selling pay-per-view in UFC history at 2.4 million.
Those numbers are serious, man. Serious enough to warrant another fight.
The first bout had the UFC lightweight title on the line, but there is no guarantee that Nurmagomedov can bring the strap to a rematch.
Why? Well, remember that fight against Poirier I mentioned earlier? Yeah, the one in Abu Dhabi… that is far from a foregone conclusion. There are a number of fans, pundits, and former fighters who believe Poirier could pull off the upset.
Let's say that Poirier does beat Nurmagomedov, and "The Eagle" is dethroned. Would that potentially scupper a rematch with McGregor?
Hmmm… it's a great question and one that brings up a few different scenarios.
On one hand, Nurmagomedov losing the title could see McGregor take his eyes off the Dagestani and chase Poirier — a guy that he beat at featherweight in his ascension to the top of the 145 food chain — for the title shot.
Poirier would love nothing more than to avenge that loss and earn a huge payday in the process, surely.
Sure, there is enough history there to play off a rivalry between Khabib and McGregor for a rematch without a title. Still, you have to accept that a second fight with no title on the line loses a bit of its appeal.
I would say that a loss for Khabib against Poirier could see the UFC and McGregor's camp passing up on a rematch with the Russian altogether.
From the Irishman's perspective, the big fight then would be with Poirier, a man that McGregor would feel confident of beating, nonetheless.
You know what? For the purpose of this piece, let's presume Khabib beats Poirier. Let's focus on what happens next.
When the Rematch Is Signed and Sealed
McGregor's comeback fight should go down at some point in the last quarter of the year.
An opponent has not been announced as of the time of writing. But get this — there is a lot of confidence being projected by UFC President Dana White that the biggest star in the history of the sport will lace up gloves.
McGregor's trainer, Coach John Kavanagh, has also backed up these claims.
Empty promises? Nope, not if history is anything to go by. McGregor is actively training with Kavanagh and is targeting a fight around September time. As for who his opponent will be…
Well, that is up for debate.
Who fancies a longshot that Poirier gets injured and has to pull out of the fight with Nurmagomedov, only to be replaced by McGregor? Sweet pickled profanity, wouldn't that be something?
A more realistic scenario is that both men come through their fights and sign on the dotted line for a bout sometime between January and April.
The Media Circus
Just as the pressers for the first fight featured a wild and uncensored McGregor letting off at Nurmagomedov, the lead-up to the second fight would follow a similar story.
That said, Nurmagomedov — a stoic and ultra-direct competitor — would likely just laugh off McGregor's attempts at winding him up by reminding him who was boss in the cage when they fought.
This is something that can potentially make McGregor look foolish, right?
So, in that case, could we see a more humble Conor McGregor ahead of a rematch? A Conor McGregor displaying more concern with humility and respect? A Conor McGregor that will not engage in any pressers?
Ha! Doubt it.
Still, isn't the media circus and McGregor's knack for creating a sideshow what makes so many tune in?
Sure it is. But how about the fight itself? McGregor would win the exchanges in the press conference, but how about inside the Octagon?
Khabib vs. McGregor Background
As I mentioned earlier, there are odds available for an as of yet unconfirmed rematch between Khabib and McGregor.
The fight will happen, in my opinion, so it could be a good idea to get your bets in early, especially if you are backing "The Notorious." McGregor's odds of +245 will surely drop the closer we get to the fight, once it is announced, as his partisan fans put money on him to win.
There are some who believe that McGregor can, in fact, beat Khabib in a second bout between the pair. Then again, you'd have to say that the majority would favor Khabib.
But why?
Well, if you have never seen the first fight, I would recommend watching it before you decide who to place your bets on.
Khabib certainly had the best of that bout at UFC 229 in October 2018. In fact, it was nowhere near a contest, with the Russian in rampant form. Those who predicted that Khabib's much-lauded grappling game would be all wrong for McGregor were proven very right.
Would the rematch end the same way?
Styles Make Fights
Yes, the axiom above is one that tends to be thrown around a lot, but there is a reason for that.
Now, in MMA, there appears to be one dominant style right now, and that is wrestling. Most of the current champions on the roster such as Khabib, Daniel Cormier, Henry Cejudo, Kamaru Usman, and so on are strong wrestlers.
McGregor, on the other hand, is not a wrestler.
Ireland, like many other countries in Europe, does not have school or collegiate wrestling programs. In a sport such as MMA — where wrestling is so dominant — this puts guys like McGregor at a disadvantage.
I could talk about other A-level fighters who do not have the greatest takedown offense or defense, but let's focus on McGregor here.
His takedown defense is not as poor as some think, although it's not great. In the first fight against Khabib, he was taken down three times in seven attempts. From here, Khabib landed most of his strikes by way of ground and pound.
Can McGregor stop Nurmagomedov in a second fight? If so, how?
Betting on Khabib vs. McGregor 2
Remember "hungry" McGregor? The guy that moved through the featherweight division with the force of a speeding truck, knocking guys out and picking the rounds he would do it in?
Sure you do. Everyone does. And yes, we all miss that guy.
But was Conor McGregor as good as we remember? I mean, if you look at his resume in the UFC, the first elite wrestler he came up against nearly ruined his chances of superstardom. If that guy, Chad Mendes, hadn't run out of gas following his two-week preparations, everything we know today could have been different.
But McGregor knocked him out and then went on to KO Aldo in 13 seconds.
The point I'm getting at here is that McGregor's main weakness has always been wrestlers. His other most notable weakness is his stamina.
Now, against Khabib, a wrestler who saps stamina like some kind of gas-tank Dracula, this is simply a terrible matchup for McGregor. He was last year, he will be this year, and this trend will continue… forever.
McGregor's Best Chance of Beating Khabib
McGregor's greatest chance of beating Nurmagomedov is by catching him on his way in. Yet he couldn't the first time around, and I don't see him getting much sharper in the second fight.
Having everything he could possibly want has kind of killed the spark that made Conor McGregor such an exciting fighter in the first place. Or so it would seem.
Would the McGregor of four years ago stand a better chance?
I'm not sure that he would.
Let's say McGregor dedicates himself to a training camp focused on beating Khabib, just as he did for the rematch against Nate Diaz at UFC 202. Let's add that McGregor gets into the best shape he has been in since the Mayweather bout in 2017. I still don't see him winning.
McGregor's best chance — at the expense of repeating myself here — is by knocking him out.
Yes. That's it. After all, he's not going to outwrestle Khabib, nor will he submit him. His speed and footwork aren't enough to keep him outstriking Khabib from the outside, while his takedown defense isn't strong enough to prevent him from being brought to the ground and beaten up.
So, when betting on Conor McGregor beating Khabib, I believe fans will essentially be wagering on the Irishman catching his Dagestani foe with a punch. And I don't think that's a smart bet at all.
PICK
Khabib Nurmagomedov to Win
-360
Final Words
Regardless of where you're sitting right now, if someone came to join you and asked who'd win between Khabib and Conor, could you answer with more conviction?
Perhaps you could now explain why Khabib is just such a bad matchup for McGregor.
If your mind has changed — or you still believe that McGregor has the skills and x-factor required to hand Khabib his first lost — are you willing to put your money where your mouth is? If you are, then why not visit one of our top UFC betting sites to place a wager?
Of course, Khabib will have his mind on more immediate matters at hand than a rematch against Conor McGregor. The Dagestani is set to face Dustin Poirier in a UFC lightweight unification bout in September.
Check out my Khabib vs. Poirier betting preview now.
You might be surprised at what I have to say about this one.