Hide Bonus Offers
| | | | | |
| --- | --- | --- | --- | --- |
| #1 | Bovada Sports | 50% Up To $250 | Visit Site | Bovada Sports |
| #2 | BetUS | 125% Up To $2,500 | Visit Site | BetUS |
| #3 | MyBookie | 100% Up To $1,000 | Visit Site | MyBookie |
| #4 | Everygame | 100% Up To $500 | Visit Site | Everygame |
| #5 | BetOnline Sports | 60% Up To $1,000 | Visit Site | BetOnline Sports |
Soccer World Cup Group G: Round 3 Preview and Betting Picks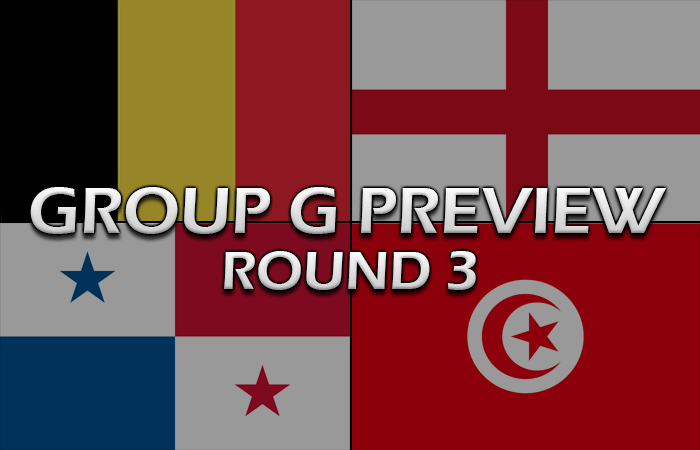 Group G of the soccer World Cup was one of the few that looked decided before a ball was kicked. Two games in and this is exactly the case.
Belgium and England are both in the last 16, and each has the staggering goal difference of 8-2 after wins against Tunisia and Panama. The difference in the quality was obvious, so it's now down to which of the two teams will win the group.
England and Belgium face each other in the 3rd round to determine that. But it's not yet clear whether either team will WANT to win the group. We'll have to see who's going to win Group H first, as the games there are played earlier.
If Colombia manages to finish first there, as I expect, I believe both England and Belgium will be motivated to avoid them. Japan or Senegal would be a more acceptable opponent in the last 16, so both European nations would prefer one of them. If Colombia finishes second, however, then England and Belgium may be less keen to win Group G.
In the other match of Group G, Tunisia and Panama will try to bring some joy to their fans. The African team is the favorite and would love to at least get a win at the World Cup.
As always, I will be looking for some juicy betting opportunities. But before that, here's what happened in round 2.
Round 2 Recap and Impressions
Belgium and Tunisia had one of the most entertaining games of the second round. It wasn't too competitive, but the Europeans won 5-2, which was a feast for the neutral fans.
I'm not sure if Tunisia is good enough to draw any conclusions, but Belgium looked dangerous in attack. Most of the creative players on the team did an exceptional job. Both Lukaku and Hazard scored twice each, and this could do wonders for their confidence.
At the same time, Belgium did concede twice, which raises some question marks over the defense. Sure, it's easy to get a bit complacent under such circumstances, but a more solid opponent would be eager to exploit any space Belgium might provide.
In fact, all of the possible teams the country might face in the last 16 have the ability to punish any mistakes. It will be interesting to see how the Belgium defense holds.
As for Tunisia, I think the country has a decent squad that could've done better in some of the other groups. On top of that, the African side had some injury problems just before the World Cup, so finishing second was a mountain to climb to start with.
Still, Tunisia has the chance to save some grace in the last game against Panama, and this should be the top priority of the team.
The small country was ecstatic to score against England, which was the first goal for Panama in World Cup finals. This was one of the few reasons to enjoy the match, as the final score was 6-1 for the European side.
England looked composed and deadly in attack. Skipper Harry Kane continued his fine run and scored a hat-trick. Surprisingly, center back John Stones added two goals, with the first one from a brilliant set piece.
I would say that building too much hype from a difficult win against Tunisia and a trashing of the worst team in the World Cup, Panama, would certainly be a step too far.
And yet, this English side looks different.
I don't know what exactly is the reason, but the atmosphere in the English camp is relaxed. There's no pressure to perform, the players are not terrified of making mistakes, and the fans are behind this group of players. This is refreshing and could lead England to a deep run the country has so desperately been chasing.
Still, there's a long way to go, and the defense of the side still looks suspect. A lot of specialists are still reluctant to recognize England as one of the World Cup favorites. Controversial striker Pierre van Hooijdonk even took a dig at the supporters.
He probably went too far, but this English team certainly has a lot to prove. The next game in this tournament will be a good way to get some more info.
Finally, I would like to say a couple of words for Panama. The country is simply enjoying the World Cup and didn't expect much. They scored a goal, looked good for a half against Belgium, and that's that so far.
The match against Tunisia will certainly be their best chance to somehow grind a decent result. I hope that Panama won't use some of the dirty tricks we saw against England and Panama, though.
Let's move on to the final round and what to expect there.
England – Belgium
Here are the main odds for the decider in Group G of the World Cup.
This will be the first really tough game for both teams, and it's interesting to see what the approach will be. There are rumors that De Bryune and Lukaku will be rested for Belgium, while Gareth Southgate could leave Harry Kane on the bench.
I can see the logic behind such decisions, but they could backfire. Both sides seem to have found some rhythm, and losing the momentum is probably not a good idea. On top of that, avoiding a strong Colombian squad might be worth playing their best lineup.
It's interesting that if the game is drawn, it would go down to the cards received by Belgium and England. Both teams have exactly the same amount of goals scored and conceded, so we could see a weird tie-breaker for the first time.
All that said, I expect England to play their best team and Belgium to rest some players. The bookies probably share their opinion, because England is the slight favorite for this game.
It's interesting to see what happens, as I feel both sides are unbalanced. They rely mostly on their attack and are vulnerable at the back. As a result, I expect a lot of chances and possibly some goals.
Prediction and Betting Picks
The game seems too close to predict, and on top of that, I can't rely too much on the impressions so far. This is why I will skip the match result market and take a look at the other options.
Both teams have scored 8 and conceded 2 so far, which makes up to 5 goals per game. While I don't expect England and Belgium to find the net that many times, the price for over 2.5 goals is 2.10. For two teams that play attacking football, I think that's too high.
Panama – Tunisia
Let take a look at the major betting markets for this match.
This game might not mean much in terms of going through, but it certainly matters for both Panama and Tunisia. The African team will feel that the 3rd place will still be a decent accomplishment and will push hard to win.
At the same time, Panama will be delighted to get at least point at the World Cup for the first time. It would be a historical achievement for a country where soccer is barely popular.
If we look at the performance in the first two games and the squads, it's easy to predict that Tunisia will have more of the ball and Panama will mostly defend
I feel the African team has enough quality to produce some chances and find a winner here. At the same time, Panama showed some fancy moves against England. It won't be a huge surprise if they manage to score, too.
Prediction and Betting Picks
I certainly think Tunisia is the team to watch here, and they should be able to win this game. The price of 1.85 is more than decent, and this will be my pick.
BetVictor Million Pound Bet
Here's today's pick for the BetVictor Million Pound Bet. It's for the match between England and Belgium.
England to Win 3-2
Both Teams Over 6.5 Corners
Match Under 1.5 Cards
England Over 0.5 Goals in the 1st Half
Belgium Over 0.5 Goals in the 1st Half
As I said, I expect both teams to score some goals and England to win, barely. On top of that, I feel we will see some action in the first half.
When it comes to the cards, my logic is that both teams will have one eye on the knockouts, so they will try to avoid injuries and suspensions.
Both have the potential to win a lot of corners with the direct style they practice. The overall price of this pick is just over 3,800.
Final Words