Soccer World Cup Group B: Round 3 Preview and Betting Picks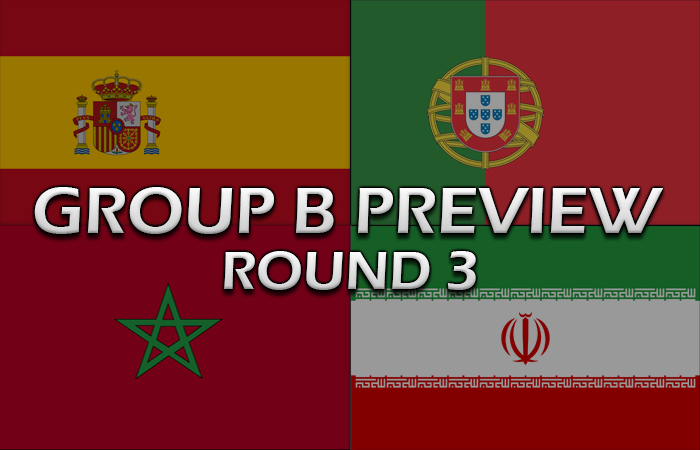 Everybody expected Spain and Portugal to dominate Group B of the soccer World Cup. It certainly looks like that, if you check the results and the standings.
In reality, both European teams struggled in the second round, and only the lack of cutting edge shown by Iran and Morocco prevented them from scoring.
Funnily enough, the African team was great at times during this tournament but is the only one that doesn't have a chance to progress to the knockout stage. A stupid own-goal in the match against Iran was the key moment, in my opinion.
Still, Morocco has the chance to save some grace against Spain, and I expect some tough battle there. At the same time, Iran will try to beat Portugal and reach the last 16.
I don't believe this is possible, but who knows?
Round 2 Recap and Impressions
No disrespect to the teams in this Group B, but the 2nd-round games were dreadful to watch. For a start, Portugal faced Morocco and won 1-0. It was job done at the end, but I would hardly be satisfied if I was a supporter of the European team.
It all started brightly with an early goal by Cristiano Ronaldo, who was happy to become the most prolific international scorer in Europe. He also recorded the highest top speed at the World Cup, despite being aged 33.
I would say this was pretty much the only positive thing for Ronaldo and Portugal in this game.
After opening the scoring, Portugal mostly defended. Morocco pushed hard, especially in the second half, and only the lack of clinical finishers in the side prevented them from scoring.
I honestly thought Portugal had a better defense than that. Many people say they did protect the goal well, but I don't buy that. Morocco could've easily scored a couple and had chances till the very end of the match.
No matter how inept your opponent is at finishing, you can't let him have that many chances. A better team would've certainly beaten Portugal.
At the same time, the counter-attacking soccer of the Europeans was nowhere to be seen. They barely had any chances after scoring early on, which was even more shocking.
I'm not sure what to make of this, as it is early on, and the explanation could be simple. Portugal probably wanted to do the job and still save some energy. The other option is that they aren't that good. I would say the truth is somewhere in the middle, and they will eventually get exposed by a solid team in the knockouts.
As for Morocco, they were one of the teams I enjoyed in this tournament. They played intelligent soccer and had their moments.
Unfortunately, you can't expect to win games when you can't score goals.
The Moroccans had their chances and dominated both of their first two fixtures, but they didn't make it count. As a result, they will be going home after the group stage.
In the other game, I expected a very talented Spanish side to trash Iran without much trouble. Boy, I was wrong. The Europeans did dominate most of the game in terms of possession, while their opponent was content to mostly sit back and defend.
Nothing unexpected here. What surprised me was the total lack of any chances for the Spanish team. In fact, it took an extremely lucky deflection for Diego Costa to open the scoring in the second half.
Usually, this is where the defensive discipline of teams like Iran is done, but that wasn't the case. The side kept defending fiercely and didn't allow Spain many chances.
On top of that, Iran found a way to create a couple of opportunities but failed to capitalize. Credit to the team that played as equal against a side that's much stronger on paper.
At the end of the day, the lack of quality players in Iran and Morocco made the difference. However, the former still could complete a miracle with a win against Portugal.
With that said, let's take a closer look at round 3.
Iran – Portugal
Here's what the bookies offer when it comes to this game.
Come round 3 of this Group B, I expected Morocco to be the team who would still have the chance to upset the odds. Instead, Iran could make history if they somehow find a way to beat Portugal. Judging by what we saw so far in this group, this won't be such a shock.
Style-wise, both teams are very similar. Both of them prefer to predominantly defend and try to snatch a goal from a set piece or a counter-attack. The major difference, of course, is in the quality of the players.
Portugal has some experienced professionals from the top European leagues, including one of the best goalscorers in the history of soccer. Cristiano Ronaldo found the net 4 times already at this World Cup, and the Golden Boot is his to lose.
Yet he is the only player from Portugal performing like a world-class star. The other members of the squad, bar the goalkeeper Rui Patricio, have been rather average.
At the same time, the memory of Euro 2016 is fresh in my mind. Portugal had all sorts of problems early on, Ronaldo wasn't fully fit, but the country lifted the trophy at the end.
Simply put, their style is based on efficiency, and it has been working in the World Cup as well. This is why I can't see a surprise here.
Iran will be focused on keeping a clean sheet, and they might actually achieve it. After all, they conceded only once so far, and it was a freakish accident.
The question is how Iran is going to score, since their only goal so far was a freakish accident as well.
Overall, I expect a tight and tactical game that will probably be almost unwatchable.
Prediction and Betting Picks
I'm not ENTIRELY sure what to expect from Portugal, to be honest. They should go out, play attacking soccer, and take the lead. This will eliminate any risks of conceding a stupid goal that could throw them out of the World Cup.
At the same time, they have tried to get the best out of each game with the least effort. They could possibly play with fire once more and focus on keeping a clean sheet.
Still, Iran will be forced to actually push at some point, which should leave some space for Portugal to exploit. This is the reason I like the price of 1.72 for the European side, and this is my final pick. I'll go with 1-0 as the scoreline.
Spain – Morocco
Let's start with the main betting odds for this match.
I already mentioned this, but Morocco was certainly a team I enjoyed. They must be heartbroken by that 1-0 loss against Iran in the 1st round.
The hopes of the Africans to play in the last 16 are obviously gone, but I still think they will play for their honor against the Spanish side.
The problem is that they are probably the most convenient team in this group for Spain, style-wise. Both Portugal and Iran defended in numbers, which brought some problems.
Of course, I expect Morocco to prioritize defending too, but not as deep as the other two sides in the group. They will try to keep the ball and attack themselves, which could leave some space for the talented Spanish players.
The question is, how does Spain proceed here?
Do they rest some players and give chances to other members of the squad? I'm not sure.
I think the country will fancy its chances both against Russia and Uruguay in the last 16, so first or second doesn't matter much.
However, giving some minutes to players that might play key roles later on in the tournament may pay off big time.
This is why I expect a mixed team for Spain, containing some of the players who started the first two matches, as well as some new faces.
Prediction and Betting Picks
Morocco will be eager to at least get a point in this World Cup. However, they can't score for their life so far, and I can't see a magic fix to this problem.
At the same time, Spain will have some space up front and has the means to take advantage. The price of 1.36 for the Europeans to win is way too low. However, Spain to win to nil is priced at 1.95, and I like this one for sure. Something like 1-0 or 2-0 sounds like a reasonable full-time result.
PICK
Spain to Win to Nil
1.95
BetVictor Million Pound Bet
Unfortunately, the PriceItUp for round 3 of Group A is not available at the time this post is being written. Still, I will provide my pick for the BetVictor Million Pound Bet.
I'm not 100% sure what the odds would be, but I expect a high price.
Iran to Win 1:0
Over 4.5 Cards
Under 6.5 Corners
Cristiano Ronaldo to Be Booked
Pepe to Be Booked
Portugal Under 2.5 Corners
Portugal has been playing with fire ever since EURO 2016, and eventually, they will get burned. I think it's worth trying it here.
Also, I expect them to get extremely frustrated if Iran takes the lead, hence the card predictions.
Final Words
Spain and Portugal seem on course to qualify for the last 16. Still, both Morocco and Iran have been brave so far in the tournament.
Can they actually surprise the favorites in this Group B of the soccer World Cup? I'm not sure that's the case and would love to hear your opinion.
Good luck!