Betting Preview of Amir Khan vs. Billy Dib With Odds and Pick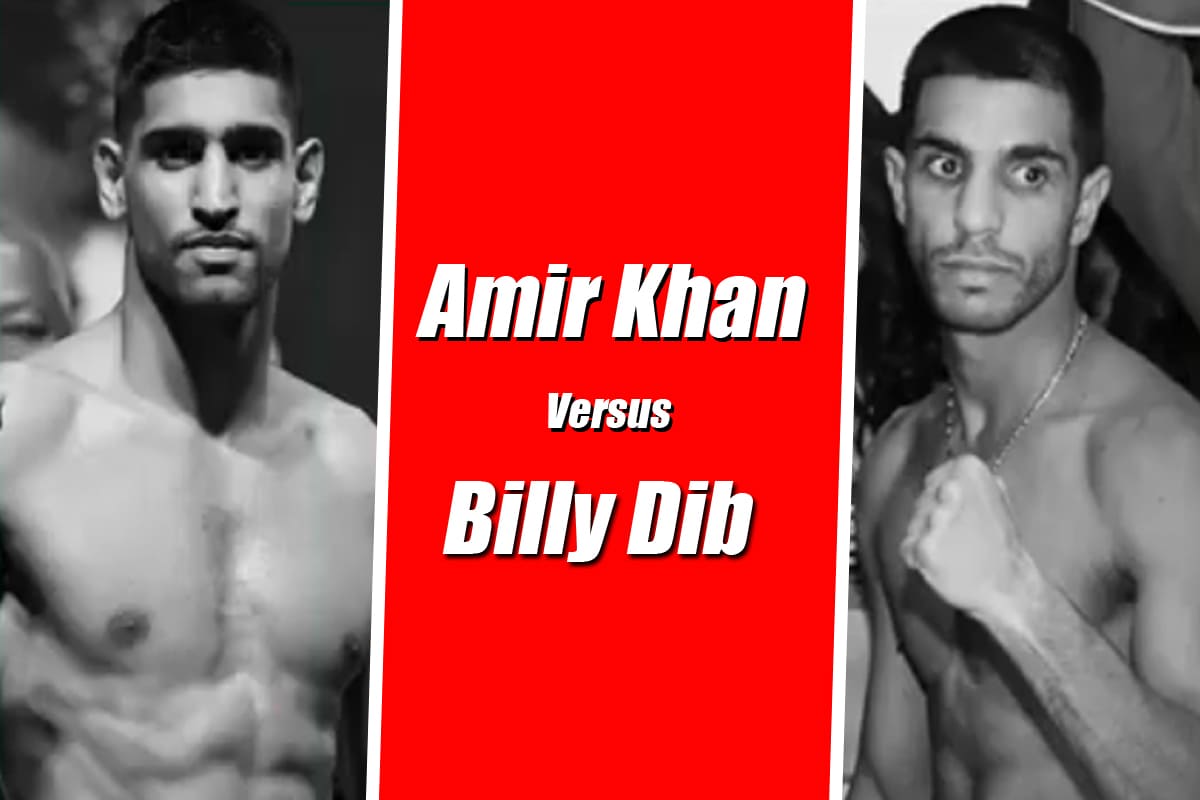 Amir Khan vs. Neeraj Goyat is off.
India's Goyat suffered "severe injuries" in a car crash recently, forcing Khan to find a last-minute replacement. Thankfully, Goyat's injuries are not believed to be life-threatening.
Oh, and Khan did find an opponent, of course. The replacement fighter for the July 12 showdown is Billy Dib, a former featherweight world champion.
Now, I don't know about you, but I think the decision to draft in Dib is a very interesting one indeed. The first thing that stands out about this fight — which is set to be fought at 147-pounds at King Abdullah Sports City, Jeddah, Saudi Arabia — is the major step up in weight class for Dib.
Khan has fought as high as middleweight in the past, making the choice to draft in Dib a curious one indeed. More on that later…
Interestingly, Australia's Dib had retired following his super-featherweight title loss against Tevin Farmer in August 2018, fighting just once since then. A first-round KO of Thailand's Fonluang Sor Singyu in April saw the 33-year-old make a U-turn on those retirement plans.
Excited for this fight? Do you think Dib has a better chance of beating Khan than Goyat? I have to say this — I believe this fight to be a little more interesting, in many ways (which I will explain a little later).
Firstly, let's see the latest odds that the bookmakers are offering on this bout.
Latest Khan vs. Dib Winner Odds
The odds below come courtesy of Betway. Bear in mind that these odds are subject to change.
Just as Khan was against Goyat, he is the favorite to beat Dib.
I don't see this as surprising whatsoever, given that the Australian will be fighting at welterweight for the first time in his career. Will the extra weight and inexperience at 147 prove too much for the 33-year-old to deal with? Can he crush Khan? Odds of +700 say that he can.
But if Dib can beat Khan, can he beat Khan convincingly? Or is he another "tomato can" that has been handed to Khan because he can't beat Khan?
As fun as it was to write the sentence above, there is an element of truth to it.
If you are betting on Khan vs. Dib, you're going to want to know a few things before you get your money down.
Khan vs. Dib – What's It All About?
Amir Khan and Billy Dib will go at it inside the King Abdullah Sports City Stadium in Jeddah, Saudi Arabia, on July 12.
Khan takes a 33-5 record into the bout, with 20 of those fights ending in stoppages. Of Khan's five losses in his pro career, three have come in his last ten, and against Terence Crawford, Canelo Alvarez, and Danny Garcia.
There is no doubt that Khan's resume is far from dreadful. Unfortunately, he just never really lived up to the promise he showed the world in the early stages of his career.
More recently, Khan was accused of giving up against Crawford. Some fans questioned whether he was just there to collect a check. In Jeddah, he will pick up £7 million for fighting Dib.
The Australian will not be making as much coin as his opponent on the night, but if he finds a way to beat Khan, he will certainly see his stock shoot up afterward.
Who Is Amir Khan?
Khan is the big name in this fight.
Though, at 32, it is safe to assume that the 5'8″, 71-inch reach former world champion has seen better days. An Olympic silver medalist, the Brit's popularity has also been higher in the past.
The Bolton native showed excellent offensive skills in his younger days but became renowned for his crazy decision-making in defense. Khan's weak chin also saw him suffer some vicious-looking knockout losses to the likes of Breidis Prescott, Danny Garcia, and Canelo.
A slick puncher, Khan's rapid-fire hand speed and combinations helped him beat some exceptional fighters, such as Marco Antonio Barrera, Marcos Maidana, and Zab Judah.
His ability to throw at high volume saw him stand out among the best for a short while before showing worrying signs of a glass jaw. As time has gone on, we have seen too many frailties in his defense for him to be considered elite.
In this fight, Khan will likely provide an opportunity to Dib. He can be wild at times and has the tendency to drop his hand when throwing punches in the pocket.
Can Dib find a way to make this work for him?
Who Is Billy Dib?
You won't be the first person to ask this question before July 12 and will not be the last.
The reason is that Dib is far from boxing royalty. He is not a world-renowned boxer whatsoever. Despite being a former world champion, the Australian is pretty low-profile to global fans. Except for true boxing aficionados, maybe.
With a record of 45-5-0-2, Dib has a lot of experience.
He turned pro in August 2004, spurred on by former British golden boy of boxing, "Prince" Naseem Hamed. From here, he went on to string 21 consecutive wins together before taking the IBO super-featherweight title by beating Steven Luevano in July 2008.
Dib would go on to earn the IBF featherweight title in 2011 and also fought for numerous other straps.
Is Dib an elite boxer? "No" is the short answer. Is he a bigger threat to Khan than his original opponent, Goyat? Well, he is more accomplished. That is beyond question. It is his lack of experience at 147 that might work against him, however.
Betting on Khan vs. Dib
Amir Khan might not be an elite fighter, but he is still a big name among Muslims.
His stock plummeted after the Crawford loss, which has given him limited options when it comes to closing out his career. As rumor has it, this fight is a tune-up for a potential bout against Manny Pacquiao in Saudi Arabia later this year — but without any concrete proof of that…
Those betting on Khan in this fight will not find much value in his odds. Still, I'm sure there will be a high number of boxing betting fans that will do so, regardless. The thrill of the win is too much for some to pass up, even if the profit will be far from appealing.
On the flipside of that coin, there are bound to be a number of itchy-fingered bettors that will be looking towards an upset. As with bets taken on Goyat, there will be some that will fancy Dib to cause an upset.
For the Australian to win, I believe he has to stop Khan. Even with the Bolton native's questionable chin, I find this difficult to foresee.
If Khan loses this fight, it will go down as one of the biggest shocks in years. Why? Well, it might have something to do with the fact that he is fighting a featherweight.
Who to Bet On
You have to weigh up a few things here.
On one hand, you have a solid boxer with good fundamentals in Dib. Although sloppy at times, he has good technique and the speed to land on the Brit. Hitting Khan is one thing, but touching the sweet spot with enough force to knock him out is another.
I don't believe Dib is a big puncher at featherweight so cannot see him taking power into the ring at 147. So, for that reason, I would rule out a KO in favor of Dib.
Khan is also not regarded for knockout power, but he can still hurt Dib.
Over the course of the fight, we should see Khan outboxing his opponent and outworking him early on. The fact that Dib has just taken this fight — on two weeks' notice, no less — suggests that conditioning might be a problem.
Dib's last fight didn't make it past the first round, and there is nothing to suggest that he is in the best shape of his life. If anything, this leads to me thinking that a stoppage for Khan might be the way forward.
Yes, Khan could have chosen a better opponent, but I think that is against the point of this fight happening in the first place. The Englishman is putting on a show for the Saudis and — if recent rumors are to believed — will be heading back to Saudi Arabia to fight again later this year.
Of course, if he is beaten, then eyebrows will be raised. Khan would effectively be forced to quit. The shame he would suffer as a result of being beaten by a guy who fights a few weight classes under him would surely convince him that boxing is not the right sport for him.
Maybe he could take up darts?
Still, that looks unlikely. For me, it has to be a win for Khan on the night because Khan has to win. Simple.
At odds of -2000, though? Hmmm. I'd probably sit this one out.
Final Words
Amir Khan will be welcomed by the people of Saudi Arabia for his big fight on July 12.
Now, I know he is far from his peak in this game, but there are still many spectators that will pay good money to watch him fight. Against Billy Dib, there might not be much in the form of competition, but we could be surprised.
Backing Dib on the night might be a little ambitious, but stranger things have happened. If you think that the Australian is looking good for the win, head over to one of our top recommended boxing betting sites and get your coin down.
The Khan vs. Dib bout may not be the most competitive of bouts — at least on paper. The odds certainly support that.
If it is bigger odds you are looking for, why not check out this UFC 241 parlay?