Betting Preview for the 2022 British GP with Odds and Picks

Following a wet and wild weekend in Canada, the Formula One roadshow heads across the pond for the tenth race of the season. The destination? Silverstone.
The British GP is set to go down on Sunday, July 3. Lewis Hamilton has won seven of the last eight races on home soil, but can the Mercedes man keep pace with the Red Bulls and Ferraris this time around?
Thanks to the best sports betting sites, the 2022 British Grand Prix odds have already landed. So, it's time to explore the bookies' prices, examine the favorites and sleepers, and share my British Grand Prix prediction.
Before diving deeper into this 2022 British Grand Prix betting guide, we need to talk about the best sites for wagering on the race.
Where to Bet on the 2022 British Grand Prix
The British GP is one of the standout races on the Formula 1 calendar, so it only makes sense to use the best online sportsbooks to bet on one of the year's biggest events.
Thankfully, the top Formula 1 betting sites tick all the boxes.
In addition to being entirely legal and secure, the best F1 betting sites are super-easy to join. And once you sign up, you can take advantage of a whole host of benefits and perks.
Needless to say, the top F1 sportsbooks offer competitive British Grand Prix betting odds. But that is just the beginning. You will also find tasty promotions and bonuses, tons of betting lines and markets, and numerous payment methods.
Many of the best Formula 1 betting sites also come with the top F1 betting apps. That means you can place live wagers on the race via your favorite portable devices. What more could you ask for?
Let's check out the latest F1 British Grand Prix odds.
2022 British Grand Prix Odds
Is anyone really surprised that Betway favors Max Verstappen (1.90) to win the British Grand Prix? I mean, the defending champion has won each of the last two races – and five of the previous six!
Charles Leclerc (3.25) won two of the first three races but has failed to finish atop the podium since then. Still, Betway's British Grand Prix betting odds make the Ferrari man the obvious second favorite to triumph at Silverstone.
Having clinched P1 in Monaco at the end of May, Sergio Perez (8.00) is considered the biggest threat to the two frontrunners. That said, the Mexican was forced to retire from last weekend's Canadian GP due to a mechanical failure.
Sergio Perez's comeback fight was over before it got started 💔#CanadianGP #F1 pic.twitter.com/a2eiweqytD

— Formula 1 (@F1) June 19, 2022
Carlos Sainz (13.00), George Russell (15.00), and Lewis Hamilton (15.00) are the only other realistic contenders. Can the English Mercedes duo make an impact on home asphalt?
The remaining 14 drivers are priced between 126.00 and 3001.00. Given that we've only had three race winners this season, the chances of an outsider upsetting the F1 British GP betting odds are extremely slim.
What's Happened So Far During the 2022 Season
The next section of this 2022 British Grand Prix betting preview looks back at the season so far. When deciding on your British Grand Prix pick, it makes sense to check the results of recent races.
2022 FORMULA 1 GRAND PRIX RESULTS
Grand Prix
Pole Position
Fastest Lap
Winning Driver
Constructor
Bahrain
Charles Leclerc
Charles Leclerc
Charles Leclerc
Ferrari
Saudi Arabian
Sergio Perez
Charles Leclerc
Max Verstappen
Red Bull
Australian
Charles Leclerc
Charles Leclerc
Charles Leclerc
Ferrari
Emilia Romagna
Max Verstappen
Max Verstappen
Max Verstappen
Red Bull
Miami
Charles Leclerc
Max Verstappen
Max Verstappen
Red Bull
Spanish
Charles Leclerc
Sergio Perez
Max Verstappen
Red Bull
Monaco
Charles Leclerc
Lando Norris
Sergio Perez
Red Bull
Azerbaijan
Charles Leclerc
Sergio Perez
Max Verstappen
Red Bull
Canadian
Max Verstappen
Carlos Sainz
Max Verstappen
Red Bull
As you can see, Verstappen has dominated proceedings this year – winning six of the nine races. Leclerc and Perez are the only other drivers to have taken the chequered flag in 2022.
It is worth noting that Leclerc has secured pole position no fewer than six times this season. However, he has only managed to convert the pole to P1 on two occasions.
CURRENT WORLD DRIVERS' CHAMPIONSHIP STANDINGS
Driver
Constructor
Points
Max Verstappen
Red Bull
175
Sergio Perez
Red Bull
129
Charles Leclerc
Ferrari
126
George Russell
Mercedes
111
Carlos Sainz
Ferrari
102
Lewis Hamilton
Mercedes
77
Lando Norris
McLaren
50
Valtteri Bottas
Alfa Romeo
46
Unsurprisingly, Verstappen finds himself 46 points clear atop the World Drivers' Championship standings. Perez and Leclerc complete the top three, with Russell and Sainz rounding out the top five.
Top Contenders for the 2022 British GP
It's time to analyze the top contenders for the British Grand Prix. Although the 2022 British Grand Prix odds suggest that Verstappen and Leclerc are the clear favorites, I think Perez and Sainz also fall into this category.
Will Max Verstappen Win Three in a Row?
Despite the best efforts of Sainz, Verstappen held on to win last weekend's Canadian GP. The Ferrari man pushed the Red Bull champ all the way, but Verstappen managed to fend off the chasing pack.
As a result, Verstappen heads into the British GP on the back of two straight victories. When you look at the bigger picture, the 24-year-old has won five of the past six races – asserting his dominance in the process.
Granted, Verstappen has the fastest car on the grid. But the fastest car won't win you the race. You have to be a top driver, too, and Verstappen is arguably the best driver in the competition right now.
It is no surprise that Verstappen finds himself at the summit of the bookies' 2022 British Grand Prix odds.
Can Charles Leclerc Return to the Podium?
The Canadian GP marked the fourth straight race in which Leclerc has failed to get onto the podium. However, that statistic doesn't tell the whole story.
The Ferrari driver started the previous race from the back of the grid after electing to take new power unit components. So, the fact that he managed to finish fifth is an achievement in itself.
Leclerc went from P19 to P5 despite a slow pit stop, DRS train and his car being held together with tape 👏 pic.twitter.com/pE47hHrfHn

— ESPN F1 (@ESPNF1) June 19, 2022
Leclerc started the season in flying form, sealing four top-two finishes across the first five races. Despite winning two of the opening three races, he sits 49 points behind Verstappen in the standings following a series of disappointing results.
As I already mentioned, Leclerc has been on the pole for six of the nine races in 2022. If he can find a way to hold onto P1 on race day, he will begin to close the gap on the Red Bulls.
Is Sergio Perez a Realistic British GP Contender?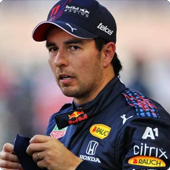 It's safe to say that Perez endured a weekend to forget in Canada. A difficult qualifying campaign saw the Red Bull driver start the race in P13. Eight laps into the race, he bowed out due to mechanical issues.
Still, we shouldn't forget that Perez triumphed in Monaco three races ago. He also recorded the fastest lap in Spain and Azerbaijan, proving that he's got what it takes to compete with the top drivers.
You can bet your bottom dollar (well, maybe not literally!) that Perez will be back to his best in England. Having already claimed five podiums this year, "Checho" is more than capable of taking the chequered flag at Silverstone.
Could Carlos Sainz Claim P1 at Silverstone?
Sainz sealed his third second-place finish of the season last time out, achieving his fifth podium in the process. He also registered the fastest lap in Canada but ended up finishing 0.993 seconds behind Verstappen.
The Spaniard was forced to retire three times in six races between the Australian and Azerbaijan GP. However, last weekend's performance demonstrated his capabilities.
It is worth pointing out that Sainz has not finished outside the top four in the six races that he has completed in 2022. If his car doesn't let him down at Silverstone, he could secure his first race win of the season.
Outsiders Who Could Beat the 2022 British GP Odds
This section of my 2022 British Grand Prix betting guide profiles the sleepers who could upset the odds for the British Grand Prix. You probably won't be shocked to learn that Russell and Hamilton feature in this category, but I have also made a surprise inclusion.
Can George Russell Secure P1 on Home Soil?
Russell enhanced his status as "Mr. Consistency" with yet ANOTHER top-five finish last time out. Remarkably, it has yet to finish outside the top five in 2022 – claiming three podiums along the way.
Of course, there is a big difference between finishing in the top five and winning a Grand Prix. But if the Mercedes newbie carries on the way he's going, he will surely secure his maiden F1 victory before too long.
Is Lewis Hamilton Ready to Challenge Again?
We all know that Hamilton has struggled this season. He may be one of the greatest Formula 1 drivers in history, but his Mercedes has been unable to keep pace with the Red Bulls and the Ferraris this year.
That said, the seven-time World Champion invariably dominates on home soil. As the table below details, he has won seven of the last eight British GPs. He also triumphed back in 2008, meaning he has won the race three times more than Jim Clark and Alain Prost.
BRITISH GRAND PRIX WINNERS SINCE 2014
Year
Driver
Constructor
2014
Lewis Hamilton
Mercedes
2015
Lewis Hamilton
Mercedes
2016
Lewis Hamilton
Mercedes
2017
Lewis Hamilton
Mercedes
2018
Sebastian Vettel
Ferrari
2019
Lewis Hamilton
Mercedes
2020
Lewis Hamilton
Mercedes
2021
Lewis Hamilton
Mercedes
Last time out, Hamilton sealed a spot on the podium for only the second time this season. The third-place finish in Canada will give him hope that Mercedes can return to competitiveness before it's too late.
Could Valtteri Bottas Upset the British GP Odds?
Bottas' odds to win the British Grand Prix are 151.00. That tells you everything you need to know about his chances. But if you're looking for an outside bet with a big potential profit, I recommend considering Bottas.
The Alfa Romeo man clinched P7 in Canada, notching his fifth top-seven finish of the year. Sure, Red Bull, Ferrari, and Mercedes are the teams to beat. But it feels like Bottas and Alfa Romeo are the best of the rest right now.
With ten Formula 1 victories already under his belt, Bottas has the potential to make a mockery of the 2022 British Grand Prix odds!
Best British Grand Prix Picks for 2022
Max Verstappen (1.90)
Charles Leclerc (3.25)
Carlos Sainz (13.00)
Lewis Hamilton (15.00)
Naturally, Verstappen and Leclerc are among my top British Grand Prix picks. The two favorites have won eight of the nine races between them this season – and the British Grand Prix betting odds reflect that.
Elsewhere, Sainz and Hamilton offer excellent value at 13.00 and 15.00, respectively. Perez's odds of 8.00 are by no means meager, but Sainz and Hamilton's prices are far more attractive.
Sainz finished less than a second behind Verstappen last time out, achieving his fifth podium of 2022 in the process. As for Hamilton, his British GP records speaks for itself. Write off the seven-time champ at your peril!
My 2022 British Grand Prix Prediction and Pick
Fresh from claiming his fifth victory in six races, Verstappen is my British Grand Prix pick. At the end of the day, it is tough to look past the defending champion when it comes to making a British Grand Prix prediction.
Granted, Sainz pushed Verstappen all the way in Canada. Leclerc and Perez will be confident of challenging their teammates at Silverstone, while Russell and Hamilton will fancy their chances of triumphing at their home circuit.
That said, it feels like Verstappen is in a league of his own at the moment. When the best driver is behind the wheel of the fastest car, it's hard to back anyone else.
That concludes my 2022 British Grand Prix betting preview. Are you looking for more Formula 1 betting advice? If so, be sure to study the best Formula 1 betting strategies.