Hide Bonus Offers
| | | | | |
| --- | --- | --- | --- | --- |
| #1 | BetOnline Sports | 60% Up To $1,000 | Visit Site | BetOnline Sports |
| #2 | Bovada Sports | 50% Up To $250 | Visit Site | Bovada Sports |
| #3 | BetUS | 125% Up To $2,500 | Visit Site | BetUS |
| #4 | Everygame | 100% Up To $500 | Visit Site | Everygame |
| #5 | MyBookie | 100% Up To $1,000 | Visit Site | MyBookie |
Betting Preview for the 2022 Belmont Stakes with Odds and Pick

The 154th running of the Belmont Stakes is just around the corner, so let's look at the competition with our 2022 Belmont Stakes betting preview.
The oddsmakers weigh in with their prognostications and predictions for which horse will go home with the winner's share of that $1,500,000 purse.
While this year's Triple Crown hopes were dashed when the connections of the surprise winner of the Kentucky Derby, Rich Strike, opted to keep the colt out of the Preakness Stakes, it looks like he'll be joining in the final round of competition at Pimlico Racecourse in Elmont, New York on Saturday, June 11, 2022.
Where to Bet on the 2022 Belmont Stakes
The number of choices for where to place your horse racing wagers increases daily. However, it's still important to remember business fundamentals: find an operation you can trust and reward them with your patronage.
The sites above are perfect for you if you want a good spot that is safe, reputable, and has plenty of wager options to peruse through.
If you're uncertain where to bet on the Belmont Stakes, we've found several solid, experienced sportsbooks that make it easy and safe to build your accumulator bets, prop bets, or simply put two dollars on the nose of your Belmont Stakes pick.
Latest 2022 Belmont Stakes Odds
Morning-line odds won't be available until the afternoon on Tuesday, June 7, 2022—shortly after the announcement of the competing horses and the drawing of their individual postpositions.
That hasn't stopped the oddsmakers at all the sportsbooks from shuffling their predictions and even swapping in a few surprises as the final-draw day approaches.
| | | | |
| --- | --- | --- | --- |
| Horse | BetOnline | BetUS | Bovada |
| Mo Donegal | +250 | +250 | +225 |
| We The People | +330 | +300 | +350 |
| Rich Strike | +700 | +535 | +450 |
| Creative Minister | +700 | +750 | +650 |
| Nest | +850 | +875 | +850 |
| Ethereal Road | +1000 | +1100 | +1000 |
| Barber Road | +1200 | +1350 | +1600 |
| Howling Time | +1200 | — | +2500 |
| Skippylongstocking | +1600 | +1400 | +1400 |
| Golden Glider | +2000 | +2200 | +2200 |
| Kuchar | +3300 | +3300 | +2200 |
The pricing speaks for itself, but where you feel like betting – and which horse you want to back – may change some things. Learn more about each of the sites above that are currently offering odds by checking out their site reviews below.
Analysis of the Top Belmont Stakes Favorite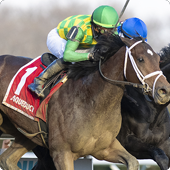 As June 11th approaches, the bay colt Mo Donegal remains the golden boy for all the oddsmakers.
This son of Uncle MO and Callingmissbrown (by Pulpit) is trained by recent Hall of Fame inductee Todd A. Pletcher. Owned by Donegal Racing and Repole Stable, Mo Donegal finished fifth in the Kentucky Derby last month.
He started the race as the fifth-favored entry in a field of 20—and that's precisely where he finished—fifth place. So why is he the favorite to win the Belmont?
Well, I could say that the only horse to finish ahead of him in the Kentucky Derby is Rich Strike—and oddsmakers suspect Rich Strike won't be able to pull that rabbit out of his hat a second time.
Other Horses to Target at the 2022 Belmont Stakes
According to the oddsmakers, the following three horses look to finish in the money in the 2022 Belmont Stakes.
Sure, surprises are the rule rather than the exception this year, but I think we're within our rights to ignore or at least discount these picks at face value and choose our own likely winners from the grab-bag that is horseracing in 2022.
Rich Strike
Speaking of Rich Strike, the chestnut son of Keen Ice and Gold Strike (by Smart Strike), we've all read that his connections were concerned about the colt's ability to run in the Preakness two weeks after crushing his competition in the Kentucky Derby.
As it turns out, Rich Strike's connections never intended to run him in the Preakness. "Our original plan for Rich Strike was contingent on the Derby," owner Richard Dawson told reporters recently.
"Should we run in the Derby, subject to the race outcome [and] the condition of our horse, we would give him more recovery time [and] rest and run in the Belmont."
Eric R. Reed trains Rich Strike for Dawson's RED TR-Racing, LLC.
Creative Minister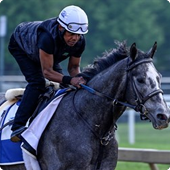 This gray roan colt is the scion of Creative Cause and Tamboz (by Tapit). While he was not in the Kentucky Derby, Creative Minister finished third in the Preakness Stakes this year—a couple of lengths behind Early Voting and Epicenter.
His win of an undercard allowance race on Derby Day gave his connections enough confidence in his abilities to supplement him into the starting gate at the Preakness for a fee of $150,000. He returned a slender profit on their investment, taking home $330,000 of the $1.5 million Preakness purse.
Kenneth G. McPeek trains Creative Minister for owners Fern Circle Stables, Back Racing, LLC, and Magdalena Racing.
We the People
How did a horse not even considered for the Kentucky Derby or the Preakness get to be one of the most probable winners of the Belmont Stakes? It could be because of his phenomenal ten-length win of the Peter Pan Stakes (Grade III) at Belmont on May 14th.
Or it could be… Naw. It was the Peter Pan Stakes win.
Truth be told, the first two finishers of the Peter Pan Stakes are shoo-ins for the Belmont Stakes, with all entry and starting fees waived.
The bay son of Constitution and Letchworth (by Tiznow), We the People, is trained by Rodolphe Brisset for owners WinStar Farm LLC, CMNWLTH, and Siena Farm LLC.
Sleepers to Watch for in the 2022 Belmont Stakes
With the absence of Un Ojo and the bumping up of We the People and Creative Minister to my "money finish" watch list, I'm left with only one underdog and one sleeper worth touting.
Golden Glider
A 20/1 underdog, this chestnut coal out of Ghostzapper and Golden Scarf (by Orientate) has the perfect background to may a punter's wishes become a reality. He has performed just admirably enough to make it into the competition but not impetuous enough to make him anybody's favorite.
At those odds, he's worth at least a value show ticket, although a win slip could be much more profitable.
Mark E. Casse trains Golden Glider for Gary Barber, Manfred Conrad, and Penny Conrad.
Nest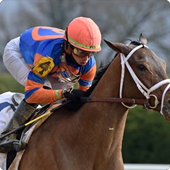 Another Todd Pletcher horse, Nest, is the bay filly get of Curlin with Marion Ravenwood (by A.P. Indy). She has shown her abilities by finishing second in the Kentucky Oaks (Grade I), and she's won the Ashland Stakes (Grade I) at Keeneland in April and the Demoiselle Stakes (Grade II) at Aqueduct last December.
Pletcher trains Nest for owners Repole Stable, Eclipse Thoroughbred Partners, and Michael House. Incidentally, you can watch Nest's changing odds as the Belmont Stakes nears by checking her latest chances at these horse betting sites.
Best Bets for the 2022 Belmont Stakes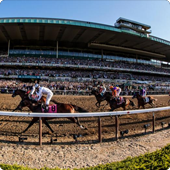 Astute readers will note that I'm sticking with the same three contenders I noted last week in my 2022 early odds for the Belmont Stakes. Since then, little has happened to change my mind.
So, let's have a look at those top three contenders for the 2022 Belmont Stakes.
Rich Strike
I see Rich Strike easily showing superiority in the Belmont, particularly against this field. Bear in mind that the Belmont is the longest of the Triple Crown runs—a mile and a half.
Now, also remember that in the Kentucky Derby, Rich Strike was ridin' drag behind the other horses, eating dust in the high teens in the also-ran spectrum. Until the final third of the race.
It wasn't until the after the mile marker that he shifted into overdrive, moving quickly into third place, and then to take first by ¾ of a length at the wire.
When all the other horses are spent in the Belmont Stakes, Rich Strike will be honking for the passing lane.
Nest
I know the consensus is that Nest will do herself proud in the Belmont. Just not proud enough to win. I say nay-nay. She's got the numbers on her side.
She's got better speed figures, her career stats are more impressive (six money finishes in six starts, four of them wins), and she actually has more experience winning graded stakes races than all of her potential competitors. I'm tempted to go so far as to say she could win this one.
Mo Donegal
Everybody's favorite, Mo Donegal, will almost certainly finish in the money here. How much he'll take home for himself, and his connections is a question that will be answered soon enough. But I don't see him doing any better than second, but more likely, third.
Who Will Win the Belmont Stakes in 2022?
I'd bet Rich Strike to win if I were a betting man (spoiler alert: I am). I know everyone thinks Mo Donegal has this one in the bag, mainly because they don't have confidence that Rich Strike can duplicate his surprise 80/1 underdog victory at the Kentucky Derby.
Sure, they don't have him at those long odds anymore, but his odds are still long enough to make him worth the risk.
I would also recommend buying a value show ticket on Nest—and to be honest, you might want to bet her across the board, depending on how long her odds get as the race-day approaches.
Oh, and don't forget that US punters are welcome at the top American betting sites.