Betting Picks and Predictions for Selected Week 12 NFL Games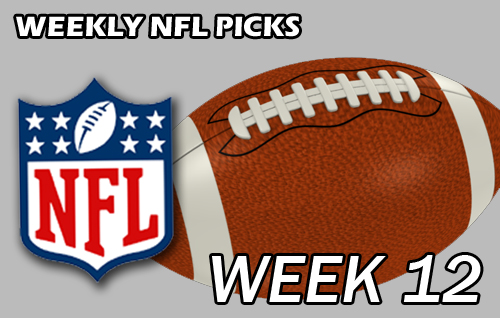 How are your leftovers treating you?
Go ahead and heat up some turkey and mashed potatoes, but it's time to at least take a peek at the betting sheet for this Sunday.
After yesterday's meal and the trio of games, it's time to shift our focus directly toward the upcoming slate.
We have 11 games on tap and a whole bunch of drama that promises to ensue.
Once I started digging, I found a few lines that I happen to really like. Rather than leave you hanging or charge you for information, I'm here to share what's sticking out to me about the rest of Week 12.
It'll be up to you which of these matchups you decide to fire away on!

New England Patriots (7-3) at New York Jets (3-7)
The New York Jets are coming off a bye, and boy, did they need a week off.
Losers of four straight games, the Jets perhaps hit rock bottom the last time they took the field when they were utterly embarrassed at home 41-10 by the wretched Buffalo Bills.
It doesn't appear that Sam Darnold is going to be in uniform for this game, and I honestly can't tell you if that's a good thing or a bad thing for the Jets' chances.
The rookie out of Southern Cal ranks 31st out of 32 qualified passers with a despicable 55% completion percentage. And despite missing the team's most recent game, he still leads the NFL with 14 interceptions thrown.
Yuck.
But if you think that turning to journeyman QB Josh McCown is a better option, take a look at what the 39-year-old did in his start against Buffalo on November 11th.
Josh missed on half his attempts (17/34) and threw for a measly 135 yards. He threw two picks and was sacked three times and didn't come close to sniffing pay dirt.
This Jets offense isn't just a mess. It's a complete debacle.
Isaiah Crowell and Bilal Powell can be effective at times. They just hardly get any opportunities because the offensive line is woeful and because the Jets are trailing so often.
And ready for the worst part if you are a Jets fan?
They have to face a restless Patriots squad who looked revolting in their last game. Plus Bill Belichick is coming off a bye and has had an extra week to prepare!
Tom Brady will get Rob Gronkowski back after the Patriots' star tight end missed the team's last two games with a sore back and a tweaked ankle.
Add a healthy Sony Michel into the mix with James White catching balls out of the backfield, and suddenly this offense will be locked and loaded again – ready for their playoff push (they'll get Rex Burkhead back in Week 13).
Quite honestly, I think this line could have been set at 11 or 12, so I'll happily take New England laying 9.5 points at just -105.
Seattle Seahawks (5-5) at Carolina Panthers (6-4)
Carolina is coming off a heartbreaking loss to the Lions when they attempted a two-point conversion with 67 seconds left in the game that would have sealed the deal.
Instead, the Panthers are now 6-4 and fighting for a chance to go to the playoffs.
Seattle might be 5-5, but they actually enter this contest with a bit of extra rest after playing their Week 11 game on a Thursday. Plus they beat the Packers and should have some positive vibes flowing in their locker room.
The Seahawks have a trio of running backs they can rotate, as Chris Carson and Mike Davis have each been effective at times. And it's actually the rookie out of San Diego State, Rashaad Penny, who leads the RB committee with 4.8 rushing yards per carry.
Russell Wilson has quietly thrown 23 touchdowns compared to just five interceptions, but he may be trying to do a little bit too much too often.
As mobile and agile as Ciara's hubby is on the field, he's actually been sacked 32 times, which is the fourth most among all NFL quarterbacks.
What Russell has going for him in Carolina this weekend is the fact that the Panthers secondary has been lit up on multiple occasions already this season.
A dynamic QB like Wilson and a speedy downfield threat like Tyler Lockett should pose plenty of problems for the Panthers first-year defensive coordinator Eric Washington.
As for the other side, Cam Newton is angry.
Cam isn't typically in a jolly mood after a loss and is known to be short with the media, and he was no different after his team lost in Detroit last Sunday.
It actually bugs me the way that dude acts when a camera is shoved in his face, but that's neither here nor there.
Let's focus on this particular game.
The Seattle defense hasn't looked good when facing competent signal callers, and although Cam isn't very polite to media personnel, he most certainly can get it done on the gridiron.
Christian McCaffrey continues to be unleashed as a dual-threat weapon, and my guess is that the Seahawks D has a hard time slowing him down.
Carolina is 5-0 at home this season, and they average 31.6 points per game in their building.
I'm not sure who is going to win this game, but I expect it to be a pretty intense battle. The offenses are better than the defenses, and I suspect there will be quite a bit of back and forth.
For all of these reasons, forget about picking a winner.
I'm taking the over.
San Francisco 49ers (2-8) at Tampa Bay Buccaneers (3-7)
This quarterback carousel in Tampa Bay is getting a bit silly.
It started with Jameis being suspended and Ryan "Fitzmagic" taking the league by storm. But since then, we have seen Dirk Koetter go back and forth on his starting quarterback more times than we can count.
So after relieving Fitzy against the Giants last Sunday, the Bucs have once again named Jameis Winston as their starting quarterback. Whether that will last through and beyond Week 12 remains to be seen, but I can almost assure you of this.
Tampa's front office will be scouring the 2019 draft class for a new franchise QB.
But for now, and with regards to the contest versus the depleted 49ers, it'll be Winston who gets the nod.
Here's the thing with this game.
As up and down as Tampa Bay has been this season, they have actually looked fairly adequate when competing in Raymond James Stadium.
And while the Bucs are 2-2 on their home field, here is what the 'Niners have to show for the five games they have played on the road.
GOOSE EGG. ZILCH. NADA.
Kyle Shanahan might be an "offensive guru," but guess what, San Fran fans? He's 0-5 on the road in 2018.
However, there are a couple things worth noting.
The Niners' last two losses came by 4 and 3 respectively, and that was sandwiched around a 31-point dusting of the Raiders.
Nick Mullens now gets his third start against a team that has just one pick on the year and ranks dead last in points allowed per game (32.9).
And not only is the Bucs defense historically bad, but Shanahan and the Niners are coming off a bye week and a bunch of extra rest.
Flip the coin, and you'll see that Tampa lost a grueling game at MetLife Stadium that took plenty of wind out of their sails in Week 11.
San Fran could very well win this game, but the 3.5 points tacked on is enough to get me on board.
You might not want to ignore the built-in "hook" that's attached here, either.
Pittsburgh Steelers (7-2-1) at Denver Broncos (4-6)
Nobody expected the Broncos to beat the Chargers on the road last week.
And while I was able to cash in on the Jags covering at home against the Steelers, Pittsburgh was able to win their sixth straight game and get to 7-2-1 on the year.
With a 2.5-game cushion in the AFC North, it's looking inevitable that Pitt captures the division and is hosting a playoff game come January.
But what's going to happen this Sunday afternoon at Mile High when the Steelers play their second straight road game?
I'm expecting a really tight game and one that's not especially pretty.
Denver can get after the quarterback with Bradley Chubb and Von Taylor, and I don't trust Big Ben on the road nearly as much as I do when he plays at Heinz Field.
Don't be surprised to see Roethlisberger turn the ball over a couple times and look flustered at points in this game, because I can already smell it coming.
At the same time, Case Keenum isn't exactly in the upper echelon of NFL quarterbacks, and I don't imagine he'll set the house on fire this Sunday.
But the data tells me that this Broncos team is tough to play against on their own turf.
Because despite being 2-3 at home this season, look closely at each of Denver's three home losses.
They lost 27-23 to the Chiefs.
They lost 23-20 to the Rams.
They lost 19-17 to a Houston Texans team that is the midst of a seven-game winning streak.
So you see, teams don't just waltz into the capital city of Colorado and pick up easy victories.
And as strong as the Steelers have looked over the past six games, we saw them get a bit stifled on the road in Jacksonville last week. Ben threw two picks and found his team trailing 16-0 late in the third quarter.
Anyone who thinks Pitt is invincible against weaker competition obviously didn't watch that game play out, nor did they watch them tie the Browns or get stuffed by the Ravens.
I'm not a huge fan of Vance Joseph and normally don't like backing his squad.
But this appears to be an intriguing spot for Denver to knock Pitt off their high horse.
At the very least, I think they keep it within a field goal.
The Rundown
Looking for a side to take?
Not sure where to lean?
Take a chance on these picks and see what happens.
At 25-17-1 against the spread (ATS) picking Sunday and Monday games in the NFL this season, I am by no means a genius or the greatest mind in football.
But I study the data, I watch the games, and I leave my bias out of it.
That's what I did here, so let's see how it pans out!