Hide Bonus Offers
| | | | | |
| --- | --- | --- | --- | --- |
| #1 | Bovada Sports | 50% Up To $250 | Visit Site | Bovada Sports |
| #2 | BetUS | 125% Up To $2,500 | Visit Site | BetUS |
| #3 | MyBookie | 100% Up To $1,000 | Visit Site | MyBookie |
| #4 | Everygame | 100% Up To $500 | Visit Site | Everygame |
| #5 | BetOnline Sports | 60% Up To $1,000 | Visit Site | BetOnline Sports |
Betting on What Happens to Patriots Owner Robert Kraft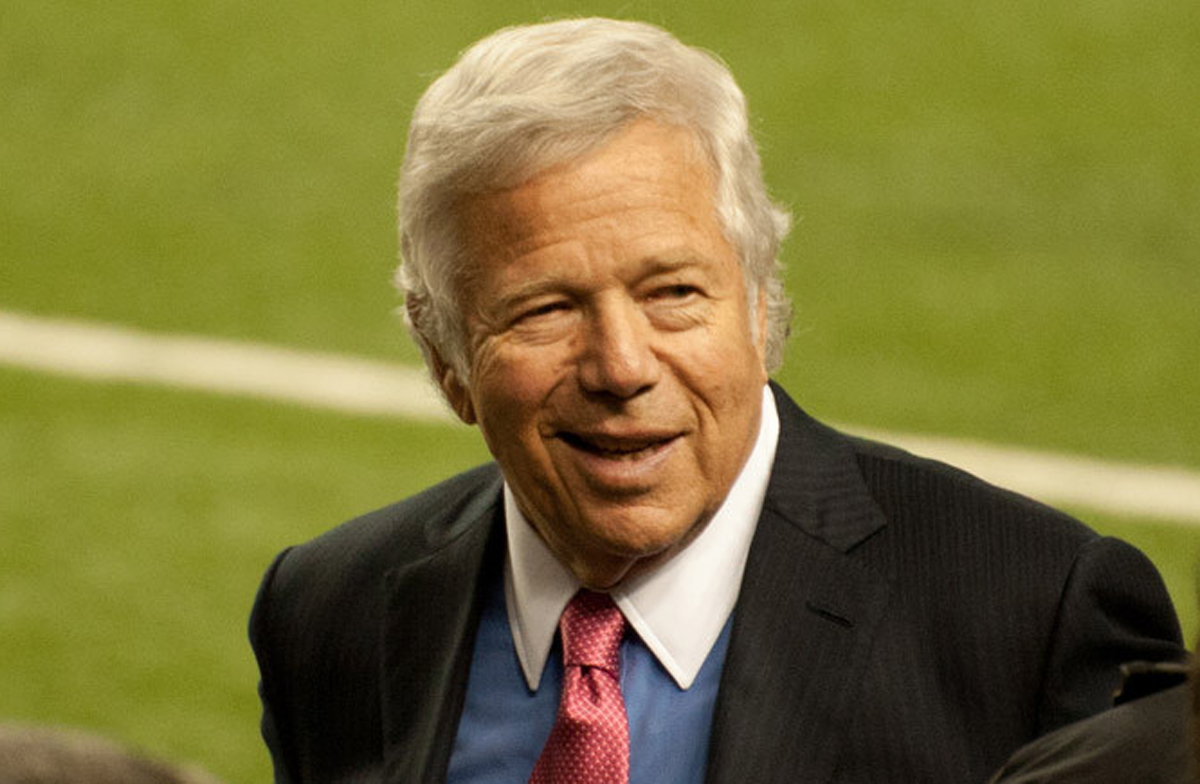 It makes sense that the New England Patriots are in the news these days.
They're not even a full month removed from their sixth Super Bowl win. The Rob Gronkowski retirement rumors are also still running wild, and Bill Belichick and co. are gearing up for another run through the NFL Draft.
But New England isn't the talk of the league because of any of that.
Unfortunately, there is a nasty, dark cloud hanging over the Pats at the moment, thanks to team owner Robert Kraft being officially charged for solicitation of a prostitute.
Kraft was charged on two separate counts after he visited a Florida massage parlor and was allegedly recorded performing sexual acts.
He reportedly "categorically denies" doing anything illegal, but it's tough to take him at his word if the officials say there is video showing otherwise.
While this is certainly not what the NFL wants to see out of arguably the league's most popular owner, the media hasn't raked Kraft over the coals too harshly so far.
That hasn't stopped fan outrage, however, as some have gone as far as to suggest Kraft should be forced to sell the New England Patriots as punishment.
That seems like a reach, but Kraft could face up to a year of jail time if convicted and there is a bit of a precedent for owners having to face the music when they color outside the lines.
Donald Sterling was forced out of the NBA due to racist remarks, while former Carolina Panthers owner Jerry Richardson ended up selling his franchise after being caught up in disturbing behavior that included sexual advances and racial slurs.
Depending on your moral compass, Kraft hasn't done enough to be banned from the league. Of course, many clearly disagree. The point is it's a subject of intense debate, and the top NFL betting sites have taken notice.
Betting on What Happens to Robert Kraft
None of this means Robert Kraft will actually go to jail or have to give up his team, but that's definitely something to think about. It's also something to bet on thanks to several pro football betting sites jumping on the news and pushing out some Robert Kraft prop bets.
SportsBetting.ag is one site where you can bet on Robert Kraft wagers, ranging from potential jail time to whether or not he'll own the team when the 2019 NFL season starts up.
Let's go over all of the Robert Kraft props and see how bettors may want to allocate their funds.
How Long Will Robert Kraft Be Suspended?
To be fair, it isn't a certainty that Robert Kraft will be suspended. While not guaranteed, I do find it difficult to believe the league wouldn't impose some type of ban.
Players serve suspensions for drug and substance abuse, as well as domestic violence. Arizona Cardinals GM Steve Keim was suspended five weeks following a DUI.
None of that deals with an owner who allegedly paid for sex, but that can't reflect positively on the league.
Here are the odds for how long of a suspension Robert Kraft could potentially be facing.
These are three solid options, and you're getting really nice betting value no matter where you turn. I'm honestly a little surprised this Robert Kraft wager is even out there at this point, seeing as nobody knows which way NFL commissioner Roger Goodell will lean with this one.
However, Goodell has not been very lenient with player discipline. He suspended Ezekiel Elliott for six games for domestic violence, despite not having any definitive proof. Goodell also suspended New England Patriots quarterback four games for supposedly deflating footballs.
This crime registers as a misdemeanor in legal terms, but the NFL can't love how this looks. The 1-4 weeks timeline is a solid window, but I think Kraft is looking at 5-8 weeks, if not longer.
Kraft didn't just have one slip-up here. He got caught twice, and that's not counting any other time that wasn't captured on video.
There is disturbing behavior here, and while it might not necessarily be the NFL's place to judge someone's personal decisions and actions, it's not the appropriate conduct for any public figure.
Robert Kraft – Guilty or Not Guilty?
This isn't asking whether or not you think Robert Kraft is innocent. Instead, you're deciding if Kraft will be penalized by the courts and convicted.
Whether he's guilty or not, Kraft will have an opportunity to defend himself with his legal team, and considering his money and the loopholes in the justice system, it's still quite possible he could be guilty but never be found guilty.
Vegas clearly thinks he's a lock to be found guilty. Check out the odds, per SportsBetting.ag.
I can't disagree with the pricing here, as officials aren't likely to go so hard after Kraft unless they were certain he did something wrong.
The fact that they apparently have video evidence of him breaking the law is pretty damaging, and Kraft will need some miracle work by his legal team to get him out of this jam.
I doubt Kraft faces any real penalty like jail time, but he's probably in for a fine and some community service. One way or another, though, he's going down for this one.
Will Robert Kraft Still Be Patriots Owner in Week 1 of 2019?
The last Robert Kraft future bet deals with his status as team owner of the New England Patriots.
Sure, he might be found guilty, he might be fined or serve a little jail time, and he may even be suspended. But would the NFL really go as far as to remove him from the league altogether?
SportsBetting.ag and the best NFL prop betting sites are basically saying this is impossible. Just look at the staggering odds against it happening.
I really doubt this happens, but when you go back to the NFL's personal conduct policy, there could be some wiggle room for Roger Goodell to lay down the law.
Again, this is uncharted territory within the league, so it's possible Goodell will feel the pressure to drop Thor's hammer on Kraft. Possible, but not very likely.
There's nothing wrong with a flier bet here. Kraft (probably) did a bad thing, he's in trouble, and nobody knows for sure how he'll have to answer for it. If the NFL wants to set an example, they could draw a line in the sand and let everyone know that this type of behavior is unacceptable.
I don't think that happens, but betting on this wager at this -1500 price tag is a waste of time. I'm predicting Kraft retains ownership of his team and this goes away sooner rather than later, but tossing a little cash on any bet at +700 sounds like a worthwhile idea.
Will This Impact the Patriots' 2019 Season?
On a very real level, I would say no. However, this is the Patriots we're talking about. They routinely band together under less than ideal circumstances.
Seriously, go back and look at any season where they had to overcome some crazy controversy or public outcry. This past season, the Pats got off to a slow start, and the media crowned teams like the Chiefs and Rams, suggesting New England's dynasty was finally coming to an end.
That didn't happen, as the Pats rallied and won Super Bowl 53.
They did the same the year Tom Brady was suspended for Deflategate. Brady and co. completed the craziest comeback in Super Bowl history that season when they erased a 28-3 deficit and beat the Atlanta Falcons in Super Bowl 51.
Going into next year, New England will be the tentative favorites, boasting tantalizing +600 Super Bowl 54 odds. That doesn't mean they're a lock to win, but betting against the Patriots just hasn't been a very profitable activity.
For some reason, that's been even more problematic when something forces the team to come together.
Will a Robert Kraft fine, suspension, or league ban be enough to push this team to the top again? Only time will tell, but I'm not sure they really need to use Kraft's eventual resolution as a catalyst. They're just really good.
Summary
It might be a while before we learn anything concrete about what Robert Kraft did and how he'll be punished, both by the law and the NFL.
For now, though, it's interesting to monitor the situation and potentially profit off of it. I'm not meaning to take joy in a man's life crumbling around him, of course, but if you can correctly predict how things will unfold, there could be some money in it for you.
Overall, it's likely that Kraft will be facing some type of punishment and will be found guilty. I just think being forced to sell the Patriots doesn't feel like a realistic outcome.