Hide Bonus Offers
| | | | | |
| --- | --- | --- | --- | --- |
| #1 | Bovada Sports | 50% Up To $250 | Visit Site | Bovada Sports |
| #2 | BetUS | 125% Up To $2,500 | Visit Site | BetUS |
| #3 | MyBookie | 100% Up To $1,000 | Visit Site | MyBookie |
| #4 | Everygame | 100% Up To $500 | Visit Site | Everygame |
| #5 | BetOnline Sports | 60% Up To $1,000 | Visit Site | BetOnline Sports |
Betting on Who Will Win the 2019 AL Cy Young Award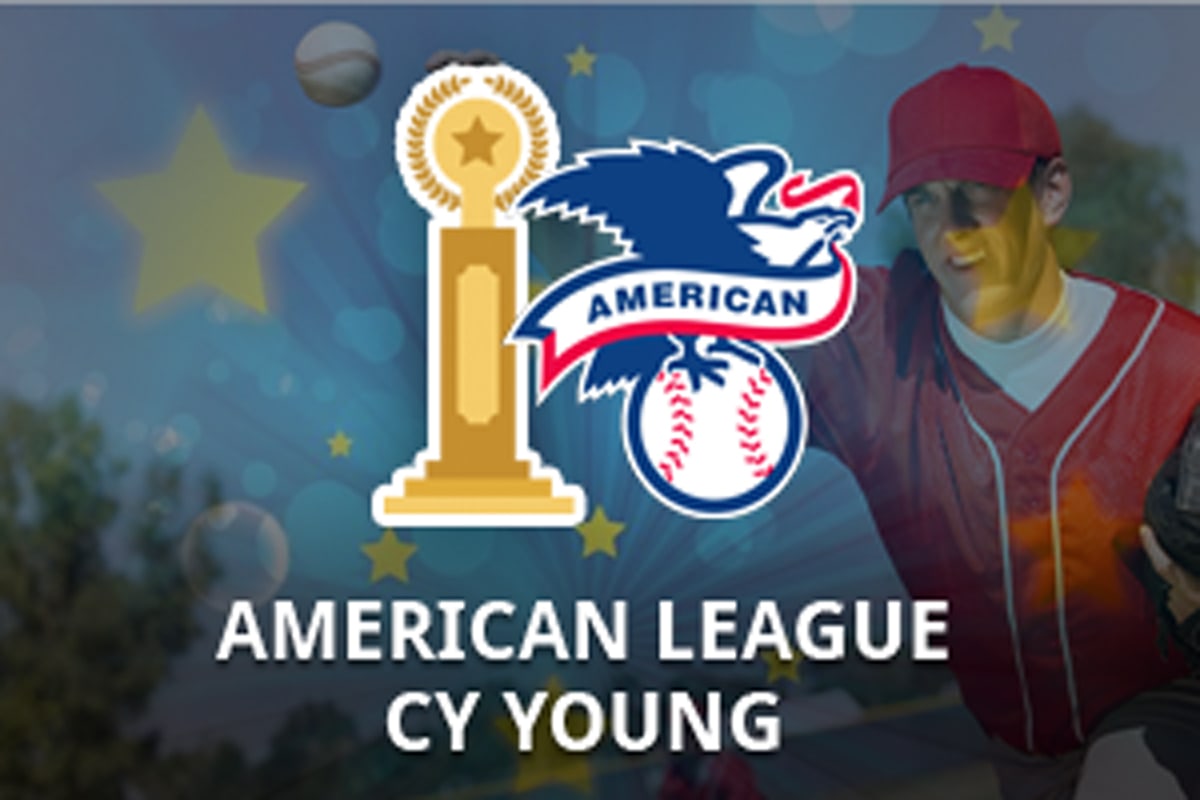 The American League is stacked with big-time pitchers everywhere you look.
Seriously, the Indians alone have at least four guys who are capable of winning the Cy Young in 2019, and I'd call Shane Bieber the best #5 starter in baseball.
The Astros have a pair of hurlers who I could see capturing the award, while the Yankees have three men listed among the 20 favorites to win pitching's most coveted trophy.
I'm a bit puzzled why the reigning AL Cy Young Award winner doesn't have lower odds, but apparently, the bookies aren't trusting Blake Snell to repeat his banner year.
The reason I bring all this up is because betting on who will win the American League Cy Young Award is going to be a hot topic all season long.
Now that MyBookie.ag has released the pricing let's start diving into where the value lies.
AL Cy Young Award 2019 Odds
I briefly alluded to Blake Snell being a bit disrespected when it comes to his odds, but that just means we can latch onto the Rays ace and know we're obtaining plenty of value.
Take a look below at the 20 pitchers that oddsmakers at MyBookie.ag believe are most likely to win the AL Cy Young.
Snell's bogus price of +1600 isn't the only number that jumps out at me. As far as the positives go, Mike Clevinger at +5000 seems like an absolute steal when you consider his numbers from a season ago.
On the flip side, I wouldn't touch Luis Severino's price to win this year's Cy Young Award at +700 with a 10-foot pole. Quite frankly, I think his teammate James Paxton is more likely to win it than Severino is, and he can be had at +2200.
After studying the betting sheet and comparing prices at some of the other top-rated baseball betting sites, there are a few guys I'm keying in on.
Do any of these pitchers pique your interest?
Look Closely at Snell's 2018 Numbers
I've scoured Blake Snell's game log from a season ago, and I've got to say, it's pretty spectacular.
The more I compare his numbers with the other top pitchers in the MLB, the more I realize how filthy this dude is. I could point to the fact that he led the Majors with 21 wins and has an AL-leading 1.89 ERA.
Striking out 221 batters across 180.2 innings is also an impressive feat, but feast your eyes on the following.
Batters hit just .178 against Snell in 2018, which is a full 10 points lower than they hit against Max Scherzer, the next best in that category. The 5.6 hits allowed per 9 innings by Snell was also the lowest in baseball, cementing his status as one of the best pitchers in the game.
It's hard to think that the 26-year-old southpaw could be as dominant this upcoming season as he was last year, but then again, there's nothing telling me he's on the verge of slowing down, either.
The Rays quietly won 90 games last year and have added some power to the middle of their lineup. Blake isn't my favorite pick to win the 2019 Cy Young, but he's certainly among my top three choices. Considering I'd be willing to lay +1000 on this bet, I wasted no time once I spotted him at +1600.
Sleeping on Gerrit Cole Could Be a Big Mistake
Justin Verlander might be the starting pitcher who receives most of the attention in Houston, and that's all fine and dandy.
Nonetheless, heading into the 2019 campaign, his colleague Gerrit Cole is the Astro I'd be targeting to win the Cy Young. Cole won't turn 29 until September, meaning he's virtually right in the prime of his career.
The 15-game winner in 2018 won as many as 19 games with the Pirates in 2015, plus he has made 32 or more starts in three of the last four seasons. And what really excites me about Gerrit's shot at a Cy Young is the fact that he struck out 276 batters last season — the third-most in the league.
On that note, I've already hammered the "over 244.5 strikeouts" for Gerrit Cole in 2019. I recommended betting on MLB pitcher strikeout totals before the season starts, as they are some of the most advantageous MLB props out there.
Once you take into account how potent the 'Stros lineup is, you start to realize that 15 games are probably the minimum number Cole should win this time around. He's listed at +1600 to win the AL Cy Young at multiple sites, but I was able to track him down at +2000 on MyBookie.ag.
A few minutes later, I was locked in.
Will Trevor Bauer Enter the Cy Young Conversation?
If he can stay healthy, I'd say absolutely.
But before we get too excited about Trevor Bauer, I'd like to remind us all that until last season, Trevor had never completed a year with a sub-4.00 ERA. With that being said, whatever he did last year worked out famously.
The 28-year-old has been outspoken about his self-belief, even going as far as posting sarcastic tweets about how good he can be in 2019.
Despite K'ing 221 batters in just 175.1 innings, Trevor has now added a changeup to his arsenal of pitches. It's hard to think a pitcher with a career ERA of 4.36 could turn in another year with a 2.21 mark, but Bauer appears more confident in his abilities than ever.
He's so confident that he refuses to sign a long-term deal. Trevor would rather prove his worth year in and year out.
However, Bauer's resistance to inking something long-term hasn't stopped the Padres from engaging in trade talks with Cleveland for his services.
It doesn't look like anything will get done before Opening Day, but something tells me that the Padres (along with many other squads) will be knocking on Cleveland's door throughout the spring and into the summer.
My only concern with the All-Star in 2018 is that he has never eclipsed 190 innings in a season. On the other hand, he has made 26 or more starts for the Indians in five straight years, so his durability shouldn't cause too much anxiety.
Should Trevor Bauer remain upright and be on the hill for 32 starts, we can pencil him in for 200+ innings and 230+ Ks. As many games as Cleveland should win competing in the depleted AL Central division, placing a bet on Bauer to win the AL Cy Young Award makes a lot of sense.
Especially at the attractive price of +2200.
My Pick to Win the AL Cy Young Award
As high as I am on some of the names I've mentioned in this post, none of them can hold a candle to Chris Sale in my mind.
There isn't a ton of hype surrounding Sale as we embark on the regular season, as most of the headlines involving the Red Sox ace involve the status of his left shoulder. Well, I think it's pretty safe to say his shoulder is doing "A-OK" when you look at his line from his first start in spring training.
On March 16th, Chris surrendered two hits and no runs in four innings against the Braves, striking out seven batters in the process. Not only did Sale walk zero batters, but more importantly, he left the field feeling no pain in his throwing shoulder.
Those who are worried about Sale's availability come August and September are perhaps fair in their apprehension. Could the Red Sox win enough games that they decide to rest Sale down the stretch and save his stamina for the postseason?
That was the case in 2018, although it appears that the Yankees have enough firepower to keep Boston within sight in 2019. That would mean Alex Cora might not be afforded the luxury of being able to play it safe with Sale, which also could set the left-hander up for a 32-start season.
Chris made 32 starts in Beantown in 2017, and he struck out a league-high 308 batters and accumulated a 2.90 ERA.
Here's a guy who has finished in the top six in Cy Young voting for seven years running, yet he has never been the recipient of the hardware. I'm keen on that changing in 2019 as I'm anticipating a monster year from Sale.
I mentioned in my 2019 NL Cy Young Award winner post that Stephen Strasburg is third all-time in SO/9 — the number of batters a pitcher strikes out per 9 innings.
Well, take a stab at who is number one.
It's Chris Sale.
And truth be told, he upped his SO/9 all the way to 13.5 in 2018! If recording 237 Ks in 158 innings doesn't tell you all you need to know about Sale's prowess on the mound, I'm not sure what will.
And if you are willing to shop your lines, you can forget the +300 price tag and grab hold of some more equity at BetOnline.ag.
With Chris Sale lurking at +325 to win this year's AL Cy Young Award, I endorse securing a ticket on him right now. It could end up being worth a whole bunch of money at the end of the season.
Conclusion
Betting on MLB games is a lot of fun, but I actually prefer to invest in the season-long props. Not only do they keep me intrigued by the action from March to October, but they allow me to make bets that I believe offer tons of value.
For example, I mentioned that I'd place a wager on Blake Snell to win his second straight AL Cy Young at +1000, yet I'm able to lock him in at the handsome price of +1600. Locating value and spotting discrepancies are keys to being a successful sports bettor.
And booking a ticket on Chris Sale to capture the AL Cy Young at +325?
That fits the bill and is exactly what I'm talking about.