Hide Bonus Offers
| | | | | |
| --- | --- | --- | --- | --- |
| #1 | Bovada Sports | 50% Up To $250 | Visit Site | Bovada Sports |
| #2 | BetUS | 125% Up To $2,500 | Visit Site | BetUS |
| #3 | MyBookie | 100% Up To $1,000 | Visit Site | MyBookie |
| #4 | Everygame | 100% Up To $500 | Visit Site | Everygame |
| #5 | BetOnline Sports | 60% Up To $1,000 | Visit Site | BetOnline Sports |
Betting on Tiger Woods to Win a Major in 2019 – Odds and Predictions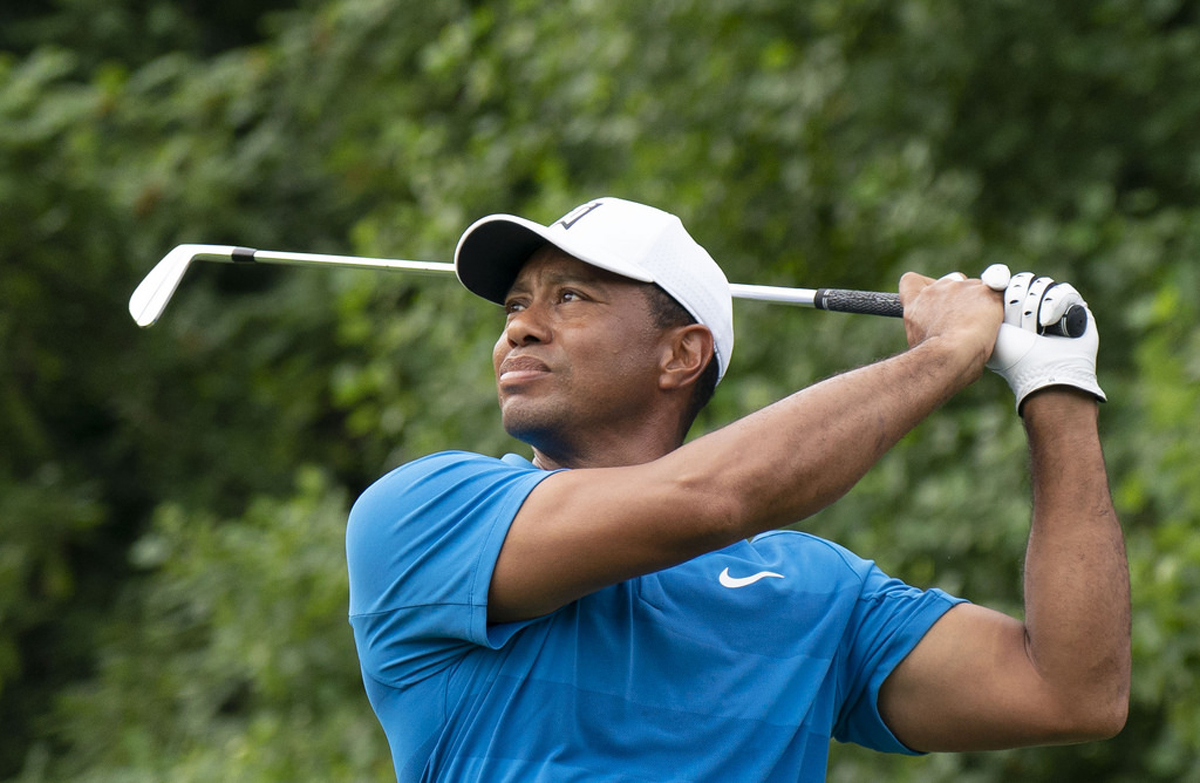 When Tiger Woods triumphed at the 2008 U.S. Open at Torrey Pines, it was his 14th victory at a major championship.
At just 32 years old, it appeared inevitable that Tiger would soar past the seemingly untouchable mark of 18 majors set by his boyhood idol, Jack Nicklaus.
Surely it would only be a matter of time until Tiger won his 19th.
But then the trials and tribulations came, and Tiger looked lost for an extended period of time.
Here we are in 2019, and the Big Cat is still stuck on 14. However, his journey back to the top has been one of the greatest comeback stories in all of sports.
Now there's just one thing left for him to do so that everyone knows that Tiger is truly back, and that's for him to win another major.
Woods desperately wants to hoist a trophy at one of golf's four most prestigious events in 2019. Millions of his fans around the globe are rooting for him to get there.
And are you ready for the best part?
We can place all sorts of bets surrounding Tiger and his quest for a major in 2019, and we can do it right now!
The best golf betting sites aren't waiting around for the Masters in April to open up the betting markets involving the biggest name in golf. Remember, Tiger doesn't move the needle. Tiger is the needle. That's why these sportsbooks are already waiting with open arms.
Will Tiger Woods Win a Major in 2019?
This first wager is super straightforward. If you think Tiger Woods ends his drought and reaches the winner's circle at a major in 2019, you can get +300 on your money.
If you are in the camp who thinks Tiger will be shut out from winning a major this year, then be prepared to lay -400.
This isn't the beginning of 2018 anymore when we were unsure of how Tiger would play. His back injury is no longer a hindrance, and he is able to practice and play pain-free. Woods has been getting in contention on a fairly regular basis since last summer, including in the biggest events of them all.
Not only did Tiger win the TOUR Championship at East Lake to close out the year, but he placed sixth at the Open Championship after grabbing a piece of the lead on the back nine on Sunday.
He backed that impressive performance up with a runner-up showing at the PGA Championship, and that included a final-round 64.
His past two results in major championships tell me he's right on the cusp of breaking through, and this bet gives me four opportunities to cash in. I'll take my chances.
How Many Majors Will Tiger Win in 2019?
Ready to pull out the crystal ball and make a prediction?
This bet gives you the chance to pinpoint exactly how many majors Tiger will win in 2019. Here are the odds.
I think Tiger gets off the schneid and brings at least one home, so I'm not laying -400 that he enters 2020 without tacking #15 onto his resume.
At the same time, I certainly don't think he's going to win the Grand Slam this year, and even 3 majors is a bit too ambitious at this point in his career.
So I have to decide if I think Tiger Woods will win one or two majors during the calendar year. Given that he's recorded 13 top-tens at the Masters and has four Green Jackets hanging up in his closet, it's pretty safe to say that a healthy Tiger Woods is going to be in contention at Augusta.
Could Tiger Win His Fifth Masters?
I actually really like Tiger's +1400 price tag to win the Masters on MyBookie.ag, as I've spotted him +1000 and +1200 at many other reputable sites. But I am not ignorant of the fact that Rory McIlroy is chasing the career Grand Slam, and I know that Justin Rose is an absolute world-beater.
Heck, Dustin Johnson is actually the current betting favorite at Augusta, and the list of players who have what it takes to win the most coveted tournament in golf goes on and on.
Given that Tiger knows exactly where to miss and can putt the greens as well or better than anyone in the field, it's impossible to count him out.
Tiger Will Factor in at Bethpage Black
Now let's move to Bethpage Black, the site of this year's second major. The PGA Championship has been pushed up to May in 2019 and will no longer compete with the start of the NFL season at the tail-end of the summer.
The venue of this year's PGA is not for the faint of heart, and anyone who has played the course or studied a detailed guide to Bethpage Black would echo those same sentiments.
Fortunately, Tiger doesn't have to be afraid of the ferocity of the golf course, and he won't be one of the golfers intimidated by its difficulty. Tiger won the 2002 U.S. Open when it was held at Bethpage, and he finished sixth when it returned in 2009.
Capturing the Wanamaker Trophy in 2019 won't be within the realm of possibility for a number of the golfers competing; that much I can assure you. But you can bet your bottom dollar that Tiger is on the opposite end of that spectrum.
And the same thing goes for the U.S. Open in June.
Can Tiger Repeat History at Pebble and Dominate Another U.S. Open?
To this day, we've never seen as dominating of a performance at a major championship as we did when Tiger Woods blasted the field by 15 at the 2000 U.S. Open. It was as if the entire field was playing one golf course, and Tiger Woods was playing another from about two tees up.
Pebble Beach Golf Links is not an easy course, and what Tiger did that summer was beyond heroic. And his success at the famed track on the Monterey Peninsula doesn't end there.
Tiger won the AT&T Pebble Beach Pro-Am earlier that season, and he placed fourth when the 2010 United States Open came back to Pebble.
When the 2019 U.S. Open rolls around, it doesn't matter how well some of the other world-class players are playing at the time. It can't be denied that Woods will most likely still be in the mix.
Odds Tiger Woods Wins the British Open
Check out my blog where I go over the early odds for all four golf majors and reveal who I think represents betting value way out in advance. You'll see that Tiger was the betting favorite at +900, but he has since dipped to a reasonable price of +1200.
The Dunluce Links Course at Royal Portrush hasn't hosted an Open Championship since 1951, so it's not as if Tiger has a significant advantage or superior course knowledge like he will at the first three majors in 2019.
But that doesn't mean we should remove Tiger's name from the list of candidates who can win the Claret Jug in July, either. He's done it three times in his career, and he came close to doing it for the fourth time in 2018.
Tiger could be pressing if he goes 0-3 and arrives in Northern Ireland still sitting on 14 majors, and the pressure could be mounting. But isn't that when Tiger Woods is at his best?
Tiger Woods Will Win One Major in 2019
When it comes time to finally book this bet, there are just too many other talented golfers who are hungry to win a major championship for me to say Tiger will win multiple majors. I'd even go as far as saying that some names are starving to taste victory at a major — to the point that they're salivating.
But think about how well the course rotation of the majors sets up for Tiger in 2019. Now combine that with how solid he looked at the end of 2018.
I just have a hard time believing Woods won't get into contention at least once or twice this year in the tournaments that matter most.
Being that there has never been another golfer as good at closing the deal when they can smell the finish line, I'm not going to bet against him finishing one of them off.
Tiger Woods Odds to Finish Inside the Top 20 at All Four Majors in 2019
Now that we've spent plenty of time discussing Tiger's chances of winning a major in 2019, let's shift our focus to something a bit different.
Tiger isn't setting his goals to crack the top 20 at each major, but that hasn't stopped the bookies from getting creative and offering us up an interesting bet.
If Woods is unable to emerge victorious at a major championship, you can still bet on whether or not he'll finish inside the top 20 in all four of them.
You already know how good I feel about Tiger's chances of playing well at the Masters, PGA Championship, and U.S. Open. Augusta, Bethpage Black, and Pebble Beach certainly aren't the same style of golf courses, but I'll gladly tell you what they all have in common.
Tiger Woods has won at least one major championship at all three of those historic locations and is a good bet to perform well at them once again. But in the event that he doesn't walk away with a win, we can still be handsomely rewarded if he logs top 20s in each, along with one at the Open Championship.
As much as I'd love to see it happen, and as nice as the +600 payout sounds, I just can't pull the trigger. After all, he's only finished inside the top 20 at all four majors during the same calendar year twice, the most recent time coming in 2005.
Tiger won the final three majors of the year in 2000 after finishing 5th at the Masters, and he went 1st-2nd-1st-4th– at the four majors back in '05.
But that was then, and this is now.
In fact, you have to go back six years to 2013 to even find the last time Tiger made the cut and played the weekend at all four majors in the same year.
I'm pegging him to qualify for weekend play on each occasion in 2019, but it's hard to think he can squeak out top 20s each and every time. With that being said, I'm definitely not in love with laying -1000 to back against that.
I'll have to pass here because I just don't see any value on either side.
Some Final Thoughts
Would there be a better story in golf this year than if Tiger wins another major and gets back on track toward chasing down the Golden Bear?
I know Rory McIlroy is attempting to complete the Grand Slam at Augusta, and Jordan Spieth can achieve the same feat in May at Bethpage Black. Perhaps Phil completing the Grand Slam on the day of his 49th birthday at Pebble Beach would take the cake, but come on.
This is Tiger Woods we're talking about.
Love him or hate him, people are more likely to watch golf when TW is playing. When Woods gets in contention on Sunday at a major, those same individuals simply can't take their eyes off the screen.
So I'll ask the following question.
Do you really want to wait until the "week of" to get your bets in on Tiger Woods winning a major, or do you want to pounce on the action now?
It's a no-brainer for me.