Betting on the Next Celebrity in Space – Mark Zuckerberg and More

Richard Branson, Jeff Bezos, and William Shatner can all add "space tourist" to their resumes.
Kinda impressive, huh? Being able to claim such a thing would certainly help with those job applications and provide you with a cool story should you ever be trapped in an elevator with a couple of strangers.
Having come across betting odds for the next celebrity in space, it got me wondering about a few things.
First, you can win money by making predictions about who is next to take a suborbital joyride. Second, it might be a little easier to guess the top candidates to go to space than at first glance. Third, the prices for some of these guys are worth a shot.
So, with all that in mind, let's look at some of the more interesting contenders to become the next celebrity in space.
Who will be next to boldly go where a few people have gone before?
Mark Zuckerberg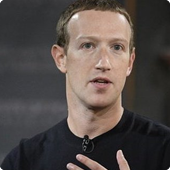 Occupation: Meta CEO
Age: 37
Odds: +1200
Will Zuckerberg be the next celebrity in space? He's the top choice to do just that with our recommended novelty betting sites.
As you would expect, his name doesn't pop up as the favorite arbitrarily. Rather, there are reasons why the bookies think he's next to follow Branson, Bezos, and Shatner.
I don't purport to know them all. But the fact that he is a super-wealthy techie with ambitions that probably include inter-stellar data collection probably helps. As does his resemblance to an alien that is progressively getting lazier with their human disguise.
We can put all jokes to one side for a moment and agree that he fits the bill.
But will Mark Zuckerberg be the next man in space for the purpose of leisure? Or will he get sick of the banality of the earth he has helped to destroy and simply return to his home planet, never to be seen again?
Would you miss Candy Crush that much?
Leonardo DiCaprio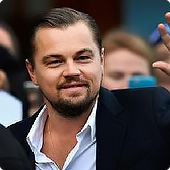 Occupation: Actor and Environmentalist
Age: 46
Odds: +3500
Last year, DiCaprio was among several intrepid would-be astronauts that purchased tickets for Virgin Galactic.
That pretty much proves that the Don't Look Up actor is, in fact, looking up. But will DiCaprio's odds to be the next celebrity in space earn you money?
Well, he's not the outstanding candidate according to the bookies but certainly one to look at.
DiCaprio is a keen environmentalist that has an appreciation for all things organic. It would be mind-blowing for someone reportedly as fixated on their earthly surroundings and in tune with the natural frequency of the planet to look down on it in all its glory.
Now, that might sound a bit pretentious, but we are talking about an actor here. So, why not?
Anyway, DiCaprio will more than likely join the "space club" at some point in the future.
The only objections I would have against betting on him would be if the Hollywood star realizes that going to space would be, well, kind of hypocritical.
Claiming to be a "Carbon Neutral Citizen" while renting one of the world's largest yachts and traveling excessively on private jets does sound a little… specious. Blasting off into space for a jolly good time isn't exactly, well, the best way to cut down on your carbon footprint.
I'm not here to knock DiCaprio, of course. He's done a lot to raise awareness in aid of the threat of climate change. But partaking in celebrity space tourism is something that could make him look a bit pious.
Especially when it comes to lecturing the rest of us on how terrible we are for taking more than one shower a month.
Donald Trump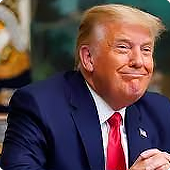 Occupation: Businessman
Age: 75
Odds: +4500
Making predictions involving Donald Trump is always fun.
Whether you love him or hate him, the man is just unlike anyone else on the planet. The bookies know this and provide us with numerous markets to wager on involving the former president.
For example, you can bet on a Trump vs. Biden boxing match. What a world we live in.
While on the topic of predictions, Trump has made a few regarding space in his time. But during his administration, he placed a lot of emphasis on all things space. This ranged from the plausible (Space Policy Directive 1) to the hilarious (Space Force).
Trump is one of the most unpopular figures in recent history, especially on a global level.
Whether you agree or disagree with his policies, that statement is irrefutable. Thus, there would be plenty of people that wouldn't be too bothered if the former star of The Apprentice took to space and never came back.
A man of his level would surely be far too cautious of taking a trip to the cosmos when he has plenty of work to do down here with the rest of us mere mortals.
With the odds for Trump to run for president in 2024 a little more realistic, I'd scratch his name off your list of potential celebrity astronauts for now.
Tom Hanks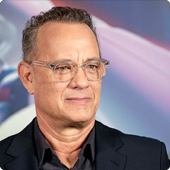 Occupation: Actor and Filmmaker
Age: 65
Odds: +5000
Another interesting candidate to be the next celebrity in space is the Apollo 13 actor.
But having played the part of an astronaut in a rather sticky situation, Hanks might find testing fate a little too much.
Then again, maybe he wouldn't. Perhaps the currency of being able to brag about being in space would be irresistible for the veteran actor and filmmaker.
In 2020, a story about Hanks filming a movie in space with Elon Musk did the rounds. Now, I'm no "film guy," but the logistics behind that would be crazy, right?
The implication is that they would be up above the earth's atmosphere for far longer than ten minutes, anyway. And seeing as there are no Starbucks or cigarette breaks, someone's going to get pissed.
Saying that, if Hanks has his heart set on doing what no one else has done before, perhaps he might be worth a couple of dollars here.
Alice Walton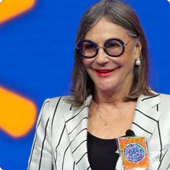 Occupation: Walmart Heiress
Age: 72
Odds: +5500
MyBookie posted odds for the next celebrity in space only to take it down recently.
There is a chance that the odds will reappear on the site at some point, with Alice Walton highly likely to be among the top contenders.
I've added Walton as she is an interesting candidate to enter space at some point. The second-richest woman in the world, Walton certainly has the moolah to pay for a trip above the clouds and into the ether.
Her presence in these markets appears to be mostly down to her fortune, estimated at just under $65 billion.
She has never expressed an interest in space travel and there is nothing to indicate that will change any time soon.
Still, I'd keep an eye on this dark horse.
More Odds for the Next Celebrity in Space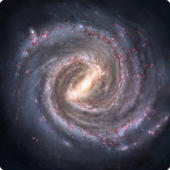 Bill Gates: +2200
Michael Bloomberg: +2500
Ashton Kutcher: +2800
George Takei: +3200
Oprah Winfrey: +3500
Elton John: +6000
Vin Diesel: +7000
Will Smith: +7500
You're going to see a lot of familiar names do the rounds when it comes to markets like these.
Bill Gates' status as another rich techie will see him frequently mentioned among the favorites. However, old Bill has recently lashed out at space flights for the rich claiming that there is more to do on earth.
In 2020, Michael Bloomberg made his intentions to buy NASA clear. But ultimately, the formula to make it onto this list appears to be money plus some interest in space.
Ashton Kutcher was reportedly set to make the trip to space, only for Mila Kunis to wave her finger at the idea.
Ashton Kutcher reveals he had a ticket on the next Virgin Galactic flight to rocket into space but Mila Kunis convinced him "it was not a smart family decision to be heading into space when we have young children."

(Source: https://t.co/D8zd1KiZ5B) pic.twitter.com/cxigj1DZx4

— DiscussingFilm (@DiscussingFilm) July 17, 2021
Being a fly on the wall to that conversation would have been great.
As for the others, well, take your pick!
Who Will Be the Next Celebrity in Space?
On paper, you could look at a few of the names above as viable candidates to be the next space traveler.
But, it's hard to tell who will do it.
I mean, besides the fact that most of the people above are highly successful and have a lot of business to attend to on this planet, space travel in any sense is super risky. The insurance premiums alone would be insane, never mind the fact that we are not really built for space travel.
Branson and Bezos have to test their own products. I mean, it wouldn't look great if you owned a bungee jump park and were like "nope" when it came to giving a shot yourself, would it?
Shatner is 155 years old and retired, so it's kind of easier for him to take the risk.
Gun to the head scenario? I'd bet on Zuckerberg to be the next celebrity in space. I mean, he's conquered everything down here so why not try to get a glimpse of what's up for grabs a little closer to the heavens?
Speaking of the skies, did you know you can bet on UFOs to be captured? Yup. And Bigfoot, too.