Hide Bonus Offers
| | | | | |
| --- | --- | --- | --- | --- |
| #1 | Bovada Sports | 50% Up To $250 | Visit Site | Bovada Sports |
| #2 | BetUS | 125% Up To $2,500 | Visit Site | BetUS |
| #3 | MyBookie | 100% Up To $1,000 | Visit Site | MyBookie |
| #4 | Everygame | 100% Up To $500 | Visit Site | Everygame |
| #5 | BetOnline Sports | 60% Up To $1,000 | Visit Site | BetOnline Sports |
The Latest NFL MVP Betting Odds for the 2018 Season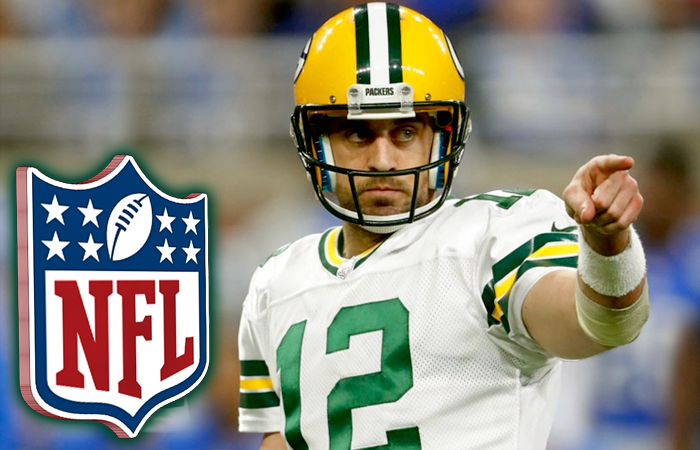 The NFL has long been a quarterback-driven entity. Of course, that mantra was somewhat kicked to the side with guys like Blake Bortles, Case Keenum, and Nick Foles leading their teams to their conference title games last year.
It was further sullied when Foles helped the Philadelphia Eagles secure their first Lombardi Trophy.
Still, when it comes to pro football, people tend to judge teams based on who they have as quarterback. And the 2017 season aside, if you don't have a good one, you usually don't go very far.
That could be the main reason why the NFL MVP usually goes to a quarterback. That, or the league may simply come away more impressed when a high-level passer puts up elite numbers against increasingly tougher defenses.
All odds that are referenced in this article were taken from Sportsbetting.ag at 2:01 pm CT on 4/18/2018. These odds may have changed since the time of this writing.
2018 NFL MVP Odds
I can't fault anyone for falling in love with top-shelf quarterback play. Whether you believe the modern NFL is a quarterback's league or not, it's certainly tough to deny that it has at least become a passing league.
That shouldn't mean incredible performances by non-quarterbacks should go ignored, however. Needless to say, if someone pops off with an amazing 2018 season, they should deserve a look for league MVP.
Of course, it's still fair to question if that's at all a realistic expectation in the sports betting world.
Sportsbetting.ag and the other top pro football betting sites have pushed out early NFL MVP odds, with the great Tom Brady (+600) leading the way. Brady won the award last year after the arguable leader (Carson Wentz) went down with an untimely knee injury.
Brady's win continued a dominant run by the quarterback position, with NFL passers making up each of the last five AP NFL MVPs, as well as 10 of the last 11.
It's required truly remarkable seasons for any non-quarterback to claim the award. Adrian Peterson's crazy 2,097-yard season in 2012 serves as the only non-passing winner over the last decade.
Can a non-quarterback threaten for the top spot in 2018? Let's take a look at everyone's odds and gauge who has a realistic shot as I try to find out.
Tom Brady, QB – New England Patriots
+600
Aaron Rodgers, QB – Green Bay Packers
+700
Carson Wentz, QB – Philadelphia Eagles
+1100
Drew Brees, QB – New Orleans Saints
+1100
Russell Wilson, QB – Seattle Seahawks
+1200
Ben Roethlisberger, QB – Pittsburgh Steelers
+1600
Jared Goff, QB – Los Angeles Rams
+1600
Matt Ryan, QB – Atlanta Falcons
+1800
Cam Newton, QB – Carolina Panthers
+1800
Dak Prescott, QB – Dallas Cowboys
+1800
Philip Rivers, QB – Los Angeles Chargers
+1800
Kirk Cousins, QB – Minnesota Vikings
+1800
Derek Carr, QB – Oakland Raiders
+2000
Jimmy Garoppolo, QB – San Francisco 49er
+2000
Andrew Luck, QB – Indianapolis Colts
+2500
Matthew Stafford, QB – Detroit Lions
+2500
Deshaun Watson, QB – Houston Texans
+2800
Jameis Winston, QB – Tampa Bay Buccaneers
+3300
Alex Smith, QB – Kansas City Chiefs
+3300
Eli Manning, QB – New York Giants
+3300
David Johnson, RB – Arizona Cardinals
+4000
Marcus Mariota, QB – Tennessee Titans
+4000
Case Keenum, QB – Denver Broncos
+4000
Le'Veon Bell, RB – Pittsburgh Steelers
+5000
Antonio Brown, WR – Pittsburgh Steelers
+5000
Ezekiel Elliott, RB – Dallas Cowboy
+5000
Todd Gurley, RB – Los Angeles Rams
+5000
Kareem Hunt, RB – Kansas City Chiefs
+5000
Leonard Fournette, RB – Jacksonville Jaguars
+5000
LeSean McCoy, RB – Buffalo Bills
+5000
Joe Flacco, QB – Baltimore Ravens
+5000
Blake Bortles, QB – Jacksonville Jaguars
+5000
Patrick Mahomes III, QB – Kansas City Chiefs
+6600
Julio Jones, WR – Atlanta Falcons
+6600
DeAndre Hopkins, WR – Houston Texans
+10000
J. Green, WR – Cincinnati Bengals
+10000
Rob Gronkowski, TE – New England Patriots
+10000
Andy Dalton, QB – Cincinnati Bengals
+10000
Mitch Trubisky, QB – Chicago Bears
+10000
J. Watt, DE – Houston Texans
+10000
Tyrod Taylor, QB – Cleveland Browns
+10000
I don't think many people will disagree with the top of this list. Based on history, a quarterback makes sense as the favorite, and Brady or Rodgers are probably tops in the "best quarterback in the league" debate.
You can make a case for others, which is why it's not shocking to see the position make up for the first 20 spots in terms of betting odds.
My two biggest caveats here are that there are some worthy names left off this list and that a position other than quarterback absolutely can win this.
Glaring Omissions
First up, let's just consider some viable contenders that the top NFL betting sites aren't giving you a chance to bet on.
Granted, there is a pretty nice list to work with here, and the odds are rather strong your MVP is mentioned above, but there are a few big names I'd personally like to see added. I've listed these below, along with the odds that I would propose myself.
Melvin Gordon, RB – Los Angeles Chargers
+5000
Odell Beckham Jr., WR – New York Giants
+5000
Ryan Tannehill, QB – Miami Dolphins
+6600
Joe Mixon, RB – Cincinnati Bengals
+6600
Dalvin Cook, RB – Minnesota Vikings
+6600
Keenan Allen, WR – Los Angeles Chargers
+7500
Jordan Howard, RB – Chicago Bears
+7500
Amari Cooper, WR – Oakland Raiders
+8000
Devontae Booker, RB – Denver Broncos
+9500
Travis Kelce, TE – Kansas City Chiefs
+10000
Maybe you can even add a few more, but all of these guys have the talent, role, and upside to potentially hand in huge 2018 seasons. Not even having a shot to take a flier bet on them is a tad disappointing.
If the sportsbooks hate these options, that's fine. I'd at least like to see an "Any/Field" option tacked on at the end of the list, though.
Looking Back at 2017
The other issue I have with the NFL MVP odds is how slanted it is to favor quarterbacks. Vegas is just going off of how the votes play out; I get it.
Still, it's arguable the perceived best quarterback each year isn't even the right guy or that he's put up a better season than everyone in the pool.
In fact, there is a solid argument it should have happened in 2017. Brady was fantastic for the Patriots and got his team to the Super Bowl, but his numbers were comparable to the quarterback field.
He did put up the most passing yards in 2017, but seven quarterbacks topped 4,000 passing yards, and both Matthew Stafford and Philip Rivers nearly matched him in yardage and put up similar TD:INT ratios.
They didn't piece together as strong of a season when you look at their teams and playoff success, but that isn't really what an MVP is. Besides, most would agree that the Pats are the best team in the NFL, but that doesn't necessarily mean Brady was the best player a year ago.
It's the same if you compare Brady to other positions, too.
Comparing elite passing numbers to elite rushing, receiving, or defensive numbers isn't easy.
However, it's tough to say that Brady was for sure better than beasts like Todd Gurley (2,000+ total yards and 19 TDs), Antonio Brown (101 receptions, 1,503 yards, 9 TDs in 14 games), DeAndre Hopkins (96-1,378-13 line), or Chandler Jones (17 sacks).
Obviously, the panel of 50 voters for the Associated Press disagreed. Brady put up big numbers at 40 years of age and pushed his team deep into the playoffs, nearly nabbing his sixth NFL title.
I can't knock Brady as the winner. However, Wentz only missed two full games due to his knee injury. In retrospect, he put up insane numbers (3,296 yards and 32 TDs), and while he wasn't going to touch Brady in the yardage department, he was easily the better player.
Carson Wentz's team won the NFC East with little resistance and ended up even taking Brady down in the Super Bowl.
Perhaps the fact that the Eagles could win sans Wentz is a good argument for why he wasn't the MVP, but if this is a numbers game and you're factoring in team success, I would have rolled with Wentz or Gurley in 2017.
What Goes into a League MVP?
What happened last year begs the question: what actually goes into deciding who wins MVP?
Considering there are human voters, I'm sure there are a lot of factors. Bias may come into play, whether it's for specific teams, players, and even positions.
I would imagine the following criteria also has a pretty big impact on the decision-making process:
MVP of team?
Top player in NFL
Team success
Impressive statistics
Record-breaking year
Supporting cast grade
Strength of schedule
Shock value
It probably goes without saying that a league MVP has to be pretty darn good.
They should be the best player on their team that year, be seen as one of the best players in the entire league, and should also be playing a hand in a successful season.
If you have a stacked team and several players are going nuts, it's tough to decipher who is really the best of that group. It's a little easier to gauge in football, but it's still something to consider.
The stats need to be good to great, and it only helps if players are chasing or beating records, too.
Doing all of this with an inferior supporting cast or in the face of a difficult schedule only adds to the allure, while a strong supporting cast or cakewalk schedule probably hinders an MVP's case.
The last thing is shock value. Rapid ascension or a breakout season virtually out of nowhere can quickly capture voter attention. The crazier it all is collectively, the more likely that player is to rack up votes.
This is why Derek Carr and Andy Dalton were viable MVP threats in recent years and why other players you normally wouldn't peg as MVP contenders just might have a shot in 2018 as well.
Top Quarterback Threats
A quarterback is probably going to win this thing. That's how it goes pretty much every year, and it's not just the past decade like I touched on previously.
Looking back at history, the AP panel simply holds quarterbacks in higher regard, voting them to be league MVP an astonishing 42 times.
The odds are pretty good that will happen again, and I like the following passers as interesting bets.
I'm not saying you can't wager on Russell Wilson (+1200) or any other quarterback you like. However, Brady is the logical favorite, and if he's not the guy, a healthy Aaron Rodgers makes a lot of sense.
Wentz being healthy and ripping up the league again would also be very impressive, while you can't forget about past league MVPs like Ryan or Newton.
Carr is another good name to monitor. He looked like the best quarterback in the league just two years ago, and it will be very interesting to see how he performs under Jon Gruden.
Lastly, I just love the value with Luck.
The talent has always been off the charts with Luck, who once put up over 4,700 passing yards and 40 touchdowns. He'd be a heck of a story after sitting out all of last year, too, while a new regime could help him maximize the talent around him.
These are my favorite quarterback bets for 2018, and if I'm taking one, it's Rodgers.
Top Non-Passing Contenders
I think bettors should keep their NFL MVP betting options open going into 2018.
To be frank, the Associated Press has bypassed some stellar seasons in recent years, with Todd Gurley's awesome 2017 campaign being probably the biggest one.
I see a lot of upside for a number of wide receivers and running backs, while you can't ever completely rule out a stud defensive talent, either.
Based on the odds at Sportsbetting.ag right now, though, here are my favorite non-quarterback options to wager on.
I'll hear cases for Kareem Hunt, Julio Jones, and a few of the others, but there are also some things working against them. Jones has never been a huge touchdown scorer, while Hunt just doesn't seem to have the stability or upside of other running backs with similar odds.
Hopkins seems like a true long shot. Wide receivers don't seem to get the respect they deserve, but it's impossible to ignore the fact that none have ever won the award.
Jerry Rice, Randy Moss, and so many others have had some truly ridiculous seasons, but even when a wide receiver does really pop off, it seems the quarterback helping him put up insane numbers enjoys an even better year.
That's a huge reason why you can safely bet elsewhere, but Nuk and Antonio Brown still offer interesting value.
You can forget about tight ends or defensive players, too. They've won before, but the winners for those positions are few and far between. It'd take a truly insane year for anyone to come close.
Running back is the only realistic play here. Fortunately, the league does have a good number of elite rushers.
It's quite discouraging that Todd Gurley's amazing 2017 season wasn't good enough to win league MVP, but perhaps the voters are looking for a record-breaking year out of a running back.
Bell, Elliott, and obviously Gurley are all capable of that and are in play as flier bets, but the guy I have my eye on is David Johnson.
Johnson will be floating under the radar after missing 15 games last season due to a wrist injury. Not only will the versatile Johnson be back at full strength, but people forget just how dynamic and explosive he was.
Perhaps it was because Arizona was a pedestrian team as a whole in 2016, but he totaled over 2,000 yards and 20 touchdowns in his first full season as the team's top tailback.
Johnson is going to be out for blood this year, ready to make up for lost time, chase records, and do all he can to push the Cardinals back into the playoffs.
This is an elite talent with the ability to put up 1,500+ rushing yards, 100+ catches, 1,000+ receiving yards, and another 20-touchdown campaign.
He'll need to stay healthy and keep the Cards competitive to earn serious consideration for NFL MVP while delivering insane production, but if there's a non-quarterback threat out there, David Johnson is it.
Who Will Win the 2018 NFL MVP?
Realistically, this is still a race amongst quarterbacks, and if he can stay healthy, I believe this is Aaron Rodgers' competition to lose.
Rodgers was off to an extremely hot start last year, as he had the Packers looking good at 4-1 and he had put up 13 passing touchdowns in his first five full games as a starter. He could have been in for a huge year, had it not been for a broken collarbone suffered in week six.
Missing over half a year should have Rodgers coming back hungrier than ever, while he inherited an elite red-zone machine via tight end Jimmy Graham in free agency.
Rodgers might have one of his best passing arsenals in years, while an improved running game and bolstered defense may give the Packers a boost as a whole.
If you're not in love with Rodgers, the other two safe plays appear to be Brady and Wentz. If you want to throw caution to the wind and take a shot on a sensational talent, I really like the value David Johnson brings to the table going into 2018.
There are a few ways to attack the 2018 NFL MVP race, but I think Aaron Rodgers is in for a huge year as he tries to make up for lost time. He's a yearly threat and has won twice before, too, so it's not like it's out of left field.