Betting on Potential Super Bowl 53 Matchups – Realistic Pairings to Consider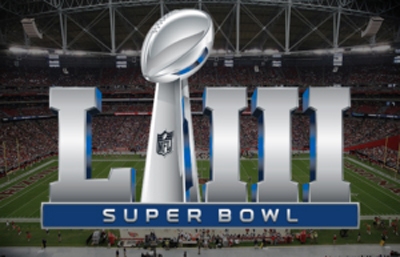 Before the 2018 NFL season started, the Los Angeles Rams were strong bets to make a run for a title. The New England Patriots were as well. The Kansas City Chiefs? Not so much.
Seven weeks deep into the new season, however, both the Pats and Rams are living up to the hype, and KC has forced their way into the Super Bowl conversation.
That just goes to show how much things can change in a matter of weeks. It doesn't HAVE to change your overall perception of those teams. It doesn't necessarily mean you need to bet any differently, either.
However, how you adapt to the changing NFL may play a big role in just how profitable you are by the end of the year.
When it comes to betting on the Super Bowl, that notion of change is definitely something to keep in mind. If it's just destined to be the Rams vs. Patriots or Rams vs. Chiefs, then we're all about to waste a bunch of time.
The bet is obvious then, and it won't return much value, either. Then again, we could all be wrong. Injuries happen, teams regress, and other teams take advantage of opportunities to rise up the ranks. Once the playoffs start, literally anything can happen.
So, if Super Bowl 53 isn't a lock to feature the favored pairings, what Super Bowl matchups should bettors be aiming for? Here are a few that make good sense and also figure to offer appealing betting value.
Jacksonville Jaguars vs. Los Angeles Rams (+1640)
The top two AFC teams in terms of Super Bowl odds are the Patriots and Chiefs, but what if they don't deliver? One of the next best bets may be the Jaguars, who have underperformed over the last two weeks but still have the roster to make a title run.
Pitting the Jaguars against the top NFC team could make some sense, and it still gets you a pretty nice price. Even better, it's a bigger price than matchups like Pats/Rams or Chiefs/Rams. And to be frank, it's just as logical.
Jacksonville hasn't even been at full strength. Stud running back Leonard Fournette has played just two games due to injury, and when he's on the field, this is a different team.
Let's not forget that Jacksonville got to the AFC title game a year ago and still – on paper, at least – might have the best defense in football.
If Fournette returns to the field and can help relieve some of the pressure on Blake Bortles and the defense, the Jags could easily end up being the team on the other side of the Rams in Super Bowl 53.
New England Patriots vs. New Orleans Saints (+2925)
We can kick it back to the Pats, who were in the title game last year and have been a yearly regular over the past 20 years, it seems. New England remains a very strong bet to run it back in 2018, obviously hoping to avenge a loss last year to the Eagles.
With the addition of Josh Gordon and return of slot man Julian Edelman, it does appear that New England again has the offensive tools to dominate in the AFC. But what if they live up to expectations and the NFC's favorite doesn't?
Cue the Saints, who honestly probably should have reached the NFC championship game last year but got burned by the Minnesota Miracle.
Drew Brees and company look very dangerous offensively, and after a slow start, their defense seems to be bouncing back.
Assuming that elite balance stays intact, the Saints are a very real threat to get past the Rams. Their Super Bowl 53 odds are solid, and this matchup price is pretty sweet as well.
New England Patriots vs. Philadelphia Eagles (+4475)
All of these potential Super Bowl matchups sound pretty logical (and fun), but what's better than last year's showdown running it back? The Pats remain one of the top threats, and if things play out just right, the Eagles could find themselves in the mix, too.
Philly got off to a slow start for two key reasons: star quarterback Carson Wentz missed the first two contests of the year, and even when he got back, he was a little rusty.
Wentz has slowly worked his way back to his old form, and it's helped ease some pressure off of Philly's defense.
There are still questions about the Eagles' rushing attack, but they still look like a legit title contender if they can stay healthy.
Philadelphia is at best third fiddle behind the Rams and Saints at the moment, but that could easily change down the road. For now, a Super Bowl 52 rematch is less likely than these others, but it offers way more upside in terms of the odds.
Kansas City Chiefs vs. Minnesota Vikings (+5150)
Last, but not necessarily least, is something a bit different for a Chiefs title run: a showdown with the Minnesota Vikings.
Kansas City currently looks like the AFC's most explosive team, but showdowns with the Saints, Rams, or Eagles offer less upside than a potential matchup with someone like the Vikings.
Minnesota isn't as easy to get on board with as those other NFC squads, but they actually have everything they need for a title run.
The Vikes have shaken off a slow start and in recent weeks have solidified a leaky defense, established their rushing attack, and continue to put up numbers through the air.
This could actually end up being a very fun Super Bowl, and after getting to the NFC title game a year ago, reaching Super Bowl 53 would be the next logical step for the Vikings.
Summary
The big takeaway here isn't about making Super Bowl 53 predictions. It's about keeping an open mind.
Are we probably headed for some mixture of the Pats/Chiefs vs. Rams/Saints? Yes, I believe we are.
That being said, the title game isn't always what we think it will be, and once the playoffs arrive, anything can happen.
Before last year started, nobody pegged the Saints, Vikings, and Jaguars as conference championship game contestants, yet they were exactly that.
It got even weirder in the playoffs last year, as the Eagles ran the table without Carson Wentz, Case Keenum pushed the Vikes to the NFC title game, and Blake Bortles almost helped Jacksonville reach the Super Bowl.
There are still a lot of regular-season games to go, but as things stand, we should have a pretty good idea of which Super Bowl matchup odds are actually worth targeting.
The aforementioned potential Super Bowl 53 matchups are just the tip of the iceberg, of course, which is always important to remember.
Whether you're with me on the top favorites, like these options, or are hunting for even more value, I wish you luck. Thanks for reading, and happy betting!