Betting on the No. 1 Overall Pick in the 2022 NBA Draft

The 2022 NBA playoffs are in full swing, but many teams have had their eye on the NBA draft for a few months. We know 14 teams will have a chance at the No. 1 pick. Realistically, about four or five teams are in contention for the pick.
The 2022 NBA draft odds have three players contending for the No. 1 pick. Who are these players? The NBA draft first pick odds to show us the top contenders and sleepers.
Odds for the No. 1 Pick in the 2022 NBA Draft
Three players have separated themselves as the favorite to be the top pick in the NBA draft. Jabari Smith Jr. is the odds-on favorite, but Chet Holmgren is right on his heels. Paolo Banchero is also in contention, but he's starting to slip back.
The 2022 NBA draft odds have Jaden Ivey in his own category. He is the best option outside the top three, but he could move into the top three in the next month.
From there, we have six players with (+15000) odds or worse. It'd be a shocker if they were the NBA draft #1 pick, but they could move into the top three.
Feel free to check out BetUS and make your NBA draft top pick prediction.
Bet on the NBA Draft at BetUS

Visit Site
Top Contenders to Go No. 1 Overall
The NBA draft top pick odds have three players in a strong position to be the first player off the board. Let's talk about their chances of going No. 1 overall.
Jabari Smith Jr. (-110)
Before the college basketball season, we typically know which players will be in contention for the No. 1 pick. Chet Holmgren and Paolo Banchero were always in contention, but not Jabari Smith Jr.
Back in Decemeber, our NBA No. 1 pick odds had Smith at (+1800). He continuously moved up draft boards as he led Auburn to No. 1 in the AP Poll. Auburn had a disappointing loss in the NCAA Tournament, but that doesn't discount his season. Check out his numbers.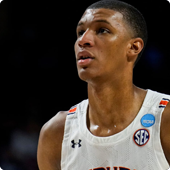 16.9 points
7.4 rebounds
2.0 assists
1.1 steals
1.0 blocks
42.0 three-point percentage
The biggest appeal with Smith is his three-point shooting. He is a 6'10" forward that has a silky-smooth release. His size and quick shooting motion allow him to rise above the defender. He knocked down seven three-pointers in a victory over Vanderbilt.
Smith's skillset is perfect for today's NBA. He'll slot right into the power forward position while playing on the perimeter.
He is in a position to be the first pick in the NBA draft because of his shooting. That's not the only reason, as Smith is a great defender.
12 seconds of tenacious defense from Jabari Smith ? #WarEagle pic.twitter.com/fQ6eRZtFsd

— Auburn ? ? (@AU_BBALL_) January 31, 2022
He averaged a combined 2.1 steals and blocks at Auburn. His length and wingspan give him the versatility to guard multiple positions. It wouldn't surprise me if he covered guards in the NBA.
Now Smith isn't a perfect prospect. His rebounding numbers aren't great, but he also played with a 7'1" center, so that I wouldn't hold that against him.
He needs to work on his ball-handling and driving to the basket. Smith is a great perimeter shooter, but he'll often pull up from mid-range. He should become more physical and attack the paint.
There's no doubt Smith will be many people's prediction for the first pick in the 2022 NBA draft.
Chet Holmgren (+135)
Chet Holmgren is unlike any NBA prospect we've ever seen. Holmgren was the No. 1 recruit in the 2021 recruiting class, and it didn't take him long to show why that was the case.
In his first career game, the 7'0" center recorded 14 points, 13 rebounds, and seven blocks. That set the tone for a fantastic season with Gonzaga. Holmgren was a significant contributor to a Gonzaga team number 1 in the NCAA Tournament.
Holmgren kicked off the NCAA Tournament with a monster performance against Georgia State.
Gonzaga suffered a disappointing defeat in the Sweet 16. Holmgren finished the season averaging 14.1 points, 9.9 rebounds, and 3.7 blocks. He also knocked down 39.0 percent of his three-pointers.
His unique skill set for a 7'0" center is why he's a candidate to be picked 1st in the 2022 NBA draft. Holmgren can handle the ball like a guard and consistently shoot from beyond the arc. He does all that while being the tallest player on the floor. What's not to like about his game?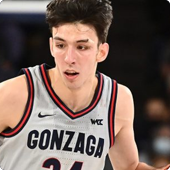 Holmgren's offensive game plays like a small forward. Everything seems bright and dandy, but there are concerns about his build.
He is a seven-footer that weighs less than 200 pounds. Holmgren could get away with that in college, but he'll have to face big physical centers in the NBA. They'll have no problem bullying him in the paint.
Many people have compared him to Kristaps Porzingis, but Porzingis is 240 pounds. Holmgren is a great shot blocker but will that matter if big men overpower him? That's why the 2022 NBA draft odds have him behind Jabari Smith Jr.
I do believe Holmgren will build up his strength and become a more physical player. That'll go a long way towards being the NBA draft's #1 pick.
Paolo Banchero (+375)
Like Chet Holmgren, Paolo Banchero entered the 2021-22 season with high expectations. Scouts had him as a top-three pick before he stepped on the court. The Duke forward immediately showcased his skillset, leading Duke to a victory over Kentucky.
Banchero nearly led Duke to the National Championship Game, but they lost in the Final Four to North Carolina. Banchero certainly helped his case be the top pick in the NBA draft with a great March Madness performance.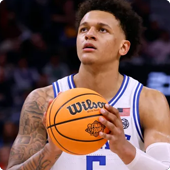 18.8 points
7.6 rebounds
3.4 assists
1.2 blocks
1.0 steals
52.6 three-point percentage
His rebounds and steals took a slight dip in the NCAA Tournament, but his other numbers outweighed his season average. It's important to see him play his best basketball in crucial games.
Banchero has a similar build to Jabari Smith Jr. He isn't as good of a shooter, but the 6'10" forward can handle the ball and attack the paint. His 250-pound frame allows him to be physical in the paint. That could be why our latest NBA mock draft has Banchero going ahead of Chet Holmgren.
If Banchero has it his way, he'll be playing for the San Antonio Spurs.
Imagine Duke's Paolo Banchero dishing out spectacular plays alongside Dejounte Murray ? pic.twitter.com/MfSQoRvqlR

— Spurs Nation (@SpursNationCP) April 30, 2022
San Antonio has the ninth-best chance to land the No. 1 pick, so they might need to make a trade. Either way, a team will land a potential offensive star in Banchero.
The NBA draft first pick odds have him behind Jabari Smith Jr. and Holmgren. That likely has to do with his defense. Banchero isn't a great perimeter defender and isn't tall enough to cover centers.
Teams will have to decide if his offensive skill set is enough to go over Smith and Holmgren. If that's the case, he could be the NBA draft's first pick.
Sleepers That Could Go #1 Overall in the 2022 Draft
Can anyone break up the top three contenders to go No. 1 overall? These three players present the best value to go No. 1 overall.
Jaden Ivey bounced back from a rough freshman season to average 17.3 points on 35.8 percent three-point shooting. The 2022 NBA draft player rankings have shooting guard as the best position, but Ivey tops them all.
Ivey is an explosive guard that has no problem driving to the basket. He improved his three-point shooting, but scouts would like to see more growth. There have been Ja Morant comparisons.
He has the athleticism to be a plus defender, but he needs to become better at jumping passing lanes.
Keegan Murray quickly rose up draft boards following a fantastic season at Iowa. He averaged 23.5 points and 8.7 rebounds while knocking down 39.8 percent of his three-pointers.
Murray is one of those players that doesn't have one standout skill, but he is good at everything. He could be in contention for the No. 1 pick because of his high floor. He should be ready to make an immediate impact.
The NBA draft top pick odds might not value that because rebuilding teams don't need a safe prospect. Still, I wouldn't count him out.
Shaedon Sharpe is one of the more intriguing prospects in the 2022 NBA draft. He became a top prospect after his performance in the Nike EYBL.
22.6 points
5.8 rebounds
2.7 assists
Sharpe didn't play at Kentucky, but he opted to enter the NBA draft. He is an athletic wing player that has the optimal NBA skillset. There must be a lot to like considering he's a potential top pick without playing college basketball.
The uncertainty makes him an intriguing value bet for the No. 1 pick.
Tips for Betting on the 1st Pick in the 2022 NBA Draft
Thankfully, we have betting opportunities for the NBA draft. These betting tips will help you maximize your profit on the No. 1 pick.
Place Your Bet Before the NBA Draft Lottery
This betting tip works perfectly for bettors right now because the 2022 NBA draft lottery isn't until May 17. That gives bettors at least ten days to make their selection.
There is some risk betting before the draft lottery because we don't know who will have the No. 1 pick. We know three teams will have an equal chance to land the selection.
Houston Rockets
Orlando Magic
Detroit Pistons
Two more teams have better than a 10 percent chance to land the pick, but we're likely looking at the group above.
This gives us a chance to examine the best fit for players like Jabari Smith Jr. and Chet Holmgren. Once the lottery is complete, we'll see the odds heavily favor one player. This could be your last chance to use the best NBA sports betting sites to find value.
It goes in hand with examining the teams with the best chance to land the No. 1 pick.
The Favorite Often Presents the Best Value
This betting tip doesn't apply to most cases, but it's not often we'll see a surprise first overall pick on draft night. This tip could be counteractive with my last because we'll have a better read on the favorite after the lottery.
The 2022 NBA draft odds have Jabari Smith Jr. as the favorite, but it's not a big margin. Check out the odds for the No. 1 pick in the last eight NBA drafts.
2014: Andrew Wiggins (-250)
2015: Karl-Anthony Towns (-200)
2016: Ben Simmons (-650)
2017: Markelle Fultz (-750)
2018: Deandre Ayton (-2500)
2019: Zion Williamson (-5000)
2020: Anthony Edwards (-125)
2021: Cade Cunningham (-8000)
This draft class is not as easy because there isn't a big favorite. I wouldn't mind waiting, but this could be your last chance to find value.
Betting on the NBA Draft in 2022
Right now, we only have one betting option for the 2022 NBA draft. Luckily, there's plenty of time before the sportsbooks release a plethora of options.
I feel comfortable enough to wager on the No. 1 pick, but I'd wait until at least after the draft lottery to wager on other props. The draft lottery and NBA combine will give us a good sense of who will go where.
Will you align with the 2022 NBA draft odds and pick Jabari Smith Jr. to go No. 1 overall? Feel free to refresh yourself on how to bet on the NBA draft.
Betting on the NBA Draft
September
Casino of the Month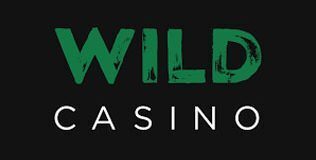 Welcome Bonus
250% up to $5,000