Hide Bonus Offers
| | | | | |
| --- | --- | --- | --- | --- |
| #1 | Bovada Sports | 50% Up To $250 | Visit Site | Bovada Sports |
| #2 | BetUS | 125% Up To $2,500 | Visit Site | BetUS |
| #3 | MyBookie | 100% Up To $1,000 | Visit Site | MyBookie |
| #4 | Everygame | 100% Up To $500 | Visit Site | Everygame |
| #5 | BetOnline Sports | 60% Up To $1,000 | Visit Site | BetOnline Sports |
Betting on Justin Bieber vs. Tom Cruise – Odds and Pick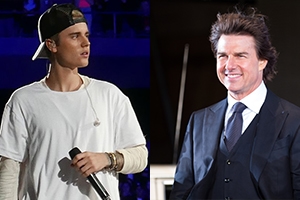 So, Justin Bieber has challenged Tom Cruise to an MMA fight.
Yes, the Canadian pop star that has polluted the airwaves with his incredibly dross "music" for the best part of a decade.
Oh, and yes, of course, and THAT Tom Cruise.
The actor. Not the one with an extensive background in mixed martial arts…
Bieber hit Twitter recently with this chin-scratching callout.
I wanna challenge Tom Cruise to fight in the octagon. Tom if you dont take this fight your scared and you will never live it down. Who is willing to put on the fight? @danawhite ?

— Justin Bieber (@justinbieber) June 10, 2019
I'm not sure just what in the name of flying funk is going on here, but, for some reason, "Justin Beaver" seems to think we give a dam (see what I did there?) about him wanting to beat up a guy more than twice his age.
In my opinion, Cruise would be the favorite going into this fight if it was fought in a professional environment. Gamblers placing money on any of the best UFC betting sites would also agree.
Right?
Sure, we saw the "Baby" singer walk to the ring with Floyd Mayweather Jr. a couple of times — and even train with the boxing superstar on occasion — but is that enough to give him the edge in this celebrity showdown?
Will it be a case of Mission Impossible for Cruise? Or a night of "Baby, Baby, Baby, Ouch!" for Bieber?
Will Cruise be the Top Gun, or will Bieber get him in a Mistletoe-hold and have him tapping on the canvas in pain?
Will… ugh. You get the picture.
Latest Justin Bieber vs. Tom Cruise Odds
So, Bieber is the favorite to win? That's surprising, right?
The odds above come courtesy of BetOnline.ag who seem to think that the younger man can use his youth to his advantage in the Octagon/cage.
Bieber has reached out to UFC President Dana White to put the fight on and received a response from none other than Conor McGregor, offering to promote the fight under the McGregor Promotions banner.
"Show me the money!" Mr. McGregor.
If Tom Cruise is man enough to accept this challenge,

McGregor Sports and Entertainment will host the bout.

Does Cruise have the sprouts to fight, like he does in the movies?

Stay tuned to find out! https://t.co/TxsH9KUyFg

— Conor McGregor (@TheNotoriousMMA) June 10, 2019
Now, are we getting a little over our heads at this point? I mean, Cruise hasn't even acknowledged Bieber's tweet, let alone agreed to a fight.
Why the hell would he even want to fight Bieber?
Is there some weird beef between the two that the rest of the world isn't aware of?
Did Bieber watch Vanilla Sky and get so mad at Cruise's performance that he wanted to kick his ass? Is the Canadian pop idol aware that this guy was a Hollywood superstar before he was even a twinkle in his father's eye?
Are you confused? I am.
In fact, I'm about as confused right now as a dog that has just been shown a card trick.
Still, you should never let reality get in the way of entertainment. There are millions of people around the world that would tune in for this fight if it happened.
Don't lie; you would, too.
Bieber vs. Cruise – Fight Breakdown
So, Bieber is 25 years old while Cruise comes in at 56.
Now, if you were to ask me who would have the advantage in a fight between two guys of that age, I'd ask you to tell me more about those two guys.
Look, in professional combat sports, a 25-year-old would be slammed for fighting someone 21 years older. But this isn't pro sports.
This, my incredulous friends, is a frickin' pop star fighting a veteran Hollywood actor. Is there a precedent for this? Nope, none at all. But at the same time, Cruise would still kick his ass, right?
How did I come to that conclusion? Well, Tom Cruise has always been in shape. He's approaching 60 now and still looks buff in his movies. The guy does his own stunts, too, and has done them since 1986.
That was eight years before Bieber was born!
Bieber is no slouch. But he's no fighter, that's for sure.
Yes, he has dabbled in a little boxing training, but he has never pushed his body to the limits that Cruise has done.
Well, unless you consider running away from 20,000 screaming teenyboppers an exercise in endurance. Which I would. As, you know, I OBVIOUSLY have so much experience in that department…
"The Sweet Scientology" vs. The Canadian Cross
As you are probably already aware, Tom Cruise is a major player in the Church of Scientology.
Bieber is a committed Christian.
Just imagine how much support Cruise would have from the Scientologists around the world. Bieber better watch his back, regardless of what happens in the fight.
If the Canadian singer somehow manages to kick Cruise's ass, boy, he will have a target on his back larger than a small planet.
And the legal repercussions…
He's a brave dude.
Speaking of bravery, who are you gonna back for this one? Are you a Belieber, or would you opt for Cruise control?
Betting on Bieber vs. Cruise
Whatever way you look at this potential fight, you're not going to get a more bizarre prospect this year.
Well, at least I hope not.
I mean, it would be cool and all to see Danny DeVito challenge Shaquille O'Neal to a professional boxing match. But this is probably the best we're gonna get for a while.
So, might as well make the most of it, eh?
As you saw earlier, Cruise is the favorite for this fight. You can get odds of -200 for him to drop some Last Samurai moves on the pretty boy and show that "old man strength" is a real thing.
Some bookies have Bieber down as the favorite for this fight, which is laughable, on paper. There is no way that he will be able to deal with Cruise's explosive power and strength, right?
But as a keen fan of combat sports, I know that things don't always go according to plan.
The way I see the fight going is like this: Cruise takes Bieber to the ground early and pops some shots off on his face. Pretty soon, the younger man indicates that he has had enough, and Cruise's gigantic ego makes him ease off his opponent before the ref calls off the fight.
But, PLOT TWIST, this is where things get dangerous for Cruise.
Bieber's Not So Secret Weapon
As the older man rolls off Bieber and begins jumping up and down on the canvas — just as he did on Oprah's couch that one time — Bieber will take his back.
Cruise laughs at Bieber's attempts to overpower him physically, but, lulled into a false sense of security, he forgets to put his hands over his ears. Suddenly, the Canadian pop star strikes with the most powerful, despicable, and downright devastating weapon he has…
His voice.
Bieber breaks into a version of "Bohemian Rhapsody" by Queen, dropping the Hollywood icon to his knees.
Cruise screams as the off-key notes protrude beyond his eardrums and into the very essence of his soul, twisting and turning like a titanium blade.
Bieber knows he has Cruise exactly where he wants him, as the doors of the T-Mobile Arena burst open. With that, fans gasp as 50,000 12-year-old girls flood the arena, beating the crap out of each other with pink pillows to get to their idol.
It is at this point that Bieber lands one final, cruel, knockout blow.
Bieber kneels next to the 56-year-old and coolly whispers in his ear, "Hey Tom, I got the lead in the Top Gun reboot…"
With that, Cruise — unable to take any more punishment — falls flat on his face and is out for the count.
Justin Bieber wins and raises his hands in the air in victory. Unfortunately, he is almost ripped apart by his ravenous fans before the army steps in…
Final Thoughts
Well, there's my take on things.
Justin Bieber has the power in this battle.
Not even Tom Cruise's attempts at an Irish accent in Far and Away could come close to the aural destruction his young opponent can cause when he starts to "sing."
I'm not sure what title would be on the line in this fight, but I'll leave that to your imagination. As silly as it sounds, this would be hilarious to watch. In business terms, it would, surprisingly enough, make an absolute truckload of cash.
So, let the powers that be decide when, where, and how this one goes down.
Me, I'll be checking out a few more entertainment bets while I wait for word on the confirmation. I'd suggest you do the same.
Oh, by the way, if you think betting on this fight is a little out there, have you ever tried betting on life on Mars?