Hide Bonus Offers
| | | | | |
| --- | --- | --- | --- | --- |
| #1 | Bovada Sports | 50% Up To $250 | Visit Site | Bovada Sports |
| #2 | BetUS | 125% Up To $2,500 | Visit Site | BetUS |
| #3 | MyBookie | 100% Up To $1,000 | Visit Site | MyBookie |
| #4 | Everygame | 100% Up To $500 | Visit Site | Everygame |
| #5 | BetOnline Sports | 60% Up To $1,000 | Visit Site | BetOnline Sports |
Betting on Holloway vs. Poirier at UFC 236 – Odds, Predictions, and Pick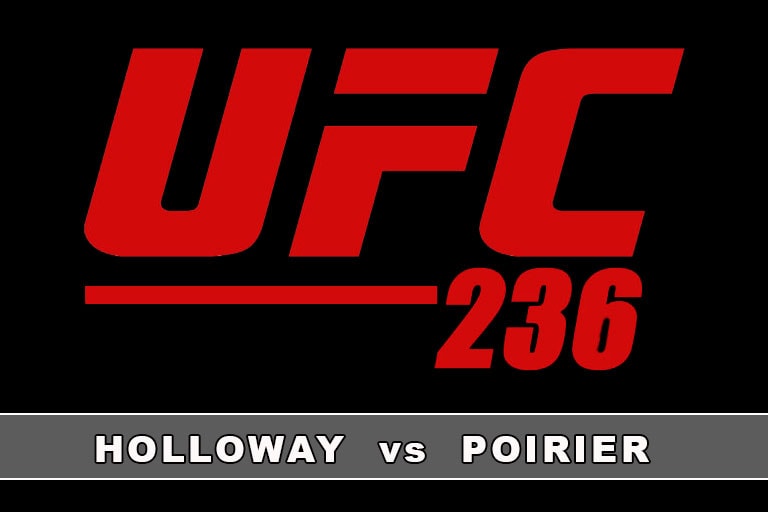 So, it's finally happening.
UFC featherweight kingpin Max Holloway has decided to stake a claim for a shot at the lightweight title.
Holloway will meet former opponent Dustin Poirier at the State Farm Arena in Atlanta, Georgia, on April 13 for the UFC interim lightweight strap.
Those betting on UFC 236 will certainly have some questions regarding who is likely to come out on top in this bout. Given that Poirier got the better of Holloway in the latter's UFC debut in February 2012, some may be tempted to back "The Diamond" in this bout, too.
If only life was so simple.
Holloway is essentially one of the best pound-for-pound fighters on the planet right now and looks set to inflict misery on the 155 pounders just as he did on his peers at featherweight.
Still, there is no doubt that Poirier has the tools to make this an awesome contest and could surprise many.
While UFC betting sites have Holloway as the favorite — and Poirier as a distinct underdog — the latter is far from a longshot in terms of bookmakers' odds.
This certainly goes a long way towards explaining why he is seen as having a reasonable shot at handing Holloway his first defeat since he was beaten by Conor McGregor all the way back in August 2013.
On that note, let's check out the latest odds for the main event of UFC 236.
Latest UFC 236: Holloway vs. Poirier II Odds
Dustin Poirier to Win
+205
The odds above, provided by Bovada, show Holloway as a clear favorite ahead of his UFC lightweight debut.
Holloway is regarded as one of the best fighters on the planet. The 145-pound champion enters this contest on a 13-fight winning streak, with 10 knockouts in that admittedly ominous number.
Poirier at +205 is the outsider, but not by a great deal. "The Diamond" has enjoyed a great run of form that has seen him win four out of his last five fights (the other fight ended in a No Contest).
Needless to say, sparks should fly in Atlanta on April 13.
Although I believe there will be one clear winner come the end of the fight, these two guys can end a contest in the blink of an eye.
Max Holloway: A Legend in the Making
Now, a little trivia for you.
What do Max Holloway, Georges St-Pierre, Jon Jones, and Demetrious Johnson have in common?
Yes, they are all once-in-a-generation fighters who have dominated their respective divisions. However, if you had another answer in mind when that question was put to you, congratulations — you know your MMA.
That's right — these guys are all currently tied at second place in the UFC's longest-ever winning streaks. Holloway, St-Pierre, Jones, and Johnson all have 13 wins, which is three behind the all-time record currently held by Brazilian legend Anderson Silva.
While this achievement is incredible for any fighter, the scary part is that Holloway is just 27 years old.
It's remarkable what Holloway has achieved in his UFC career to date, and it looks like there's plenty more to come from "Blessed."
His last performance inside the Octagon was a masterclass in why you should never write off the Honolulu native. While Brian Ortega was touted as the man to end Holloway's run at the top of the featherweight tree, he was badly beaten towards a doctor's stoppage.
Following his two-fight destruction of all-time great Jose Aldo, Holloway is regarded as the greatest featherweight of all time.
While Aldo has been the consensus great at 145 for years — and the casual fan drops Conor McGregor's name into that reckoning — Holloway has to be one of the very best featherweights in the history of MMA.
What Makes Holloway Great?
This is a fighter that has literally improved in every single fight he has ever had.
That sounds like a bold claim, right? Okay, if you need any proof of this, why not watch his bout against McGregor and work your way right up to that UFC 231 win over Ortega?
What makes Max Holloway great is his highly punctuated skillset, a relentless engine, and an absolute dedication to being the best.
While one of the best strikers in the business, there is no doubt that his sky-high fight IQ, excellent ability to close range, and his impressive takedown defense all contribute to what is arguably the most complete fighter in the lower to mid divisions of the UFC.
In many ways, Holloway is like the Jon Jones of the 145-pound division.
He has all the attributes to cement himself as one of the absolutely outstanding competitors in the history of the sport.
As someone who has followed Holloway's career since 2012, I can confirm that there are no hyperbolic page fillers here — the guy is just about as good a fighter as you will ever see in the UFC.
So how will that talent translate to the 155-pound division, and does the extra weight make a difference?
In many ways, I believe it will. Against Poirier, we are going to see a Max Holloway that doesn't have to cut as much weight. A Max Holloway that is presumably close to hitting his prime.
That is one scary prospect.
Dustin Poirier: Marking the Territory
You might be thinking, "Hey, Dustin Poirier has fought and beaten Max Holloway before, right?"
If so, you are right, and you are wrong.
While Poirier has beaten Holloway, that was not the same version of the man who has blasted through the featherweight division with the force of an atomic bomb.
Will Poirier be the same man that he was in 2012? Not at all. This is what makes this fight intriguing from the perspective of a fight fan.
You see, Poirier will not be afraid of Holloway, but he will certainly know everything that the 145-pound legend is capable of.
"The Diamond," however, will be exuding his own sense of confidence that comes with four years of experience in the 155-pound division.
Not just the experience of making up the numbers, but of beating former lightweight champions like Eddie Alvarez and Dustin Poirier and overcoming the likes of Justin Gaethje, Jim Miller, and Joseph Duffy.
Poirier is up there with the best at lightweight and will only be happy to be given the audition against Holloway to show that this is his territory.
For a doggedly determined fighter like Poirier, this is what it's all about.
Poirier's Underdog Status
Poirier is arguably the most underrated and underappreciated fighter at 155. You could even make a case for him being one of the least appreciated fighters on the entire UFC roster.
Why, you might ask?
Well, he is a fighter, first and foremost. He has no interest in trash talking and self-promotion.
The dude just wants to battle and will give anyone in his division a fight to the wire on any given day. When he goes up against Max Holloway for the second time, he will be keen to show the world that the 155-pound division is his territory.
This is his domain. Regardless of Khabib Nurmagomedov's status as the champion of the division, a fighter such as this focuses on nothing but getting his shot at the title.
Now that Poirier has been given his first crack at UFC gold, nothing can stand in the way of his determination to get his hands on that title.
Holloway will have his work cut out in order to get the job done with this guy. The fight will likely be a war, and that is something that both men will invariably be prepared for.
If that doesn't get you excited for this fight, then betting on UFC 236 might not be for you!
Comparing the Form of Holloway and Poirier
While the bookmakers' odds tell their own tale, a fighter's form — much like that of a sports team or racehorse — is something that anyone who is betting on MMA should be aware of.
In this case, we have two fighters who have been operating in different divisions since 2015. Will this make a difference, or give an advantage to Poirier, considering he is more accustomed to lightweight than Holloway?
Unlikely.
Of course, that is something that we will find out on April 13.
For now, let's take a look at the form of both fighters in their last five fights ahead of this crucial interim lightweight championship clash.
Holloway's Incredible Streak
Brian Ortega (UFC 231) – Win by TKO
Jose Aldo (UFC 218) – Win by TKO
Jose Aldo (UFC 212) – Win by TKO
Anthony Pettis (UFC 206) – Win by TKO
Ricardo Lamas (UFC 199) – Win by Unanimous Decision
Just take a look at Holloway's last five fights.
Is there any reason to believe that anyone can get the better of him? Holloway has simply been an unstoppable force since 2013, let alone in his last five outings.
Over the course of those last five fights, the champ has destroyed arguably the most potent talent at 145 to emerge in years (Ortega), while dismantling the man who many believe was the greatest featherweight of all time in Jose Aldo. Twice.
Factor in a win over former Wheaties Box face and lightweight champion Anthony Pettis — in addition to a dominant win over Ricardo Lamas — and you get the picture.
Max Holloway is the truth. There is absolutely no other way to put it.
Regardless of what happens at the State Farm Arena in Atlanta, Georgia, on April 13, Holloway surely has to come out of it with the interim lightweight strap, right?
Yes, he is moving up to lightweight, but a man of Holloway's size can arguably look even better at 155 pounds.
Poirier has his work cut out.
Poirier's Charge to the Top
Eddie Alvarez (UFC on Fox) – Win by TKO
Justin Gaethje (UFC on Fox) – Win by TKO
Anthony Pettis (UFC Fight Night) – Win by Submission
Eddie Alvarez (UFC 211) – No Contest (Illegal Knees)
Jim Miller (UFC 208) – Majority Decision
Holloway is winning this bout, 100%, right?
I'm not so sure anyone can make that assumption when looking through his success rate over his last five fights.
Aside from the No Contest at UFC 211 in 2017 — a fight that he looked like winning — Poirier has a flawless record since February 2017.
When you consider the opposition, this becomes even more impressive.
Poirier stopped Eddie Alvarez, the former lightweight champion, in his last bout. Revenge is best served cold, and the 30-year-old had ice running through his veins that night.
Against one of the most difficult and toughest opponents in the division, Justin Gaethje, Poirier also came out on top.
Gaethje is a fan favorite for his love of standing toe to toe with opponents, and he visibly hurt Poirier before cutting him. Despite this, "The Diamond" showed tremendous heart, cardio, and skill to blast him out of there.
The skill part of that last sentence should certainly be taken to heart.
Fight fans know that there is more to Poirier than just heart and a chin — he is genuinely talented.
Prior to the Gaethje bout, Poirier submitted Anthony Pettis, the man who knocked out Stephen Thompson for the first time at UFC Fight Night 147.
As previously mentioned, Poirier gets little love outside of the hardcore MMA community. If he can take the fight to Holloway, his stock will surely improve, even if he loses.
And how can any man who auctions his UFC 236 fight gear to build a children's playground lose?
The most neglected fighter in the promotion, it seems.
How the Fight Might Go Down
As a fight fan, first and foremost, it will be interesting to see how Holloway and Poirier approach this bout.
There will undoubtedly be a few mentions of Poirier's win over the Hawaiian in 2012 prior throughout the bout from Joe Rogan and the rest of the commentary team.
It suits the sensational narrative of this bout that this is a rematch — in Holloway's case, a fight that needs to be won in order to avenge a loss.
Somehow, I don't believe that this will be the focus of either man.
2012 was a long time ago, and both fighters were in completely different places. At the very least, they will understand that a lot can happen in seven years.
While this is technically the third "title fight" that Holloway has competed in — if you count the interim featherweight title shot against Pettis and this bout as legitimate title scraps — Poirier is fighting for his first shot at UFC gold.
That in itself should even the psychological playing field.
What this fight will be based on, however, is the battle first. In other words, both men will be focused on winning the fight rather than the belt that is at stake.
The Nature of the War
Neither Holloway nor Pettis prefers the fight on the mat.
Ergo, can we expect a stand-up war where punches are traded as if they are going out of fashion?
Absolutely.
In fact, I would be surprised if either man shoots for a takedown at any point. Clinches on the feet, however, are more likely.
It might surprise some to learn that the 5'11″ Holloway has a 69-inch reach, while the 5'9″ Poirier has a 3-inch advantage with 72. In the fight game, an extended reach can certainly give a fighter the confidence to make inroads on their opponents.
As such, you can expect Poirier to relish in the sense of entitlement of stepping in and trying to land shots to Holloway's face. In order to counter his opponent's charges, Holloway will likely make use of his superior leg reach, which is a moderate but mentionable 42 inches to 40.
When it comes down to the war, I am unsure that these slight differences will have much of an effect on the outcome of the bout.
Both Holloway and Poirier enjoy their own advantages in the old "Tale of the Tape" but are more than the physical attributes that they claim on paper.
That said, how do both men do things differently?
Holloway's Undeniable Talents
Holloway is the master of distance management.
His almost ridiculous output and ability to switch hit with ease — while navigating his body behind and around the counters of his opponents — make him one of the best boxers in MMA.
Behind his ability to control range is a seasoned jab and the ability to promote the optical illusion that he is closer than he actually is to an opponent.
Much like a Floyd Mayweather Jr. in boxing, he does this by pushing his head over his lead leg before countering when an opponent steps in. His excellent footwork and reflexes give him the platform to strike first from the jab. As anyone who understands boxing knows, the jab is where everything begins.
What we have also seen from Holloway over the past few years is his excellent kicking game, and this will be something that will likely be used to full effect against Poirier.
Holloway is also one of the best body snatchers in MMA. With punches or kicks, you can be guaranteed that the Hawaiian will be looking to punish Poirier with energy-sapping shots to the midriff every time he steps in.
Expect Holloway to draw shots from Poirier in order to counter, too. There is no doubting the Octagon IQ of Max Holloway, especially when it comes to luring an opponent into his various traps.
Poirier's Lightweight Success
Throughout the history of the UFC, some fighters have looked better when moving up in weight class.
One of the most noteworthy candidates to draw attention to in this case is Dustin Poirier.
At 145-pounds, Poirier looked like a solid fighter that was capable of challenging the best. However, with 10 pounds on his frame, he has never looked better.
There is no doubt that Poirier belongs at 155 pounds.
Although regarded as something of a floater in the division — probably due to his disregard for attention and hype — the Lafayette, Louisana native is a devastating knockout artist who can mix it up with anyone in the division on his day.
I mean, you would have to spend a lot of time researching a fighter that has made the same impact on the roster in exchange for such little love as Poirier.
Traditional MMA fans are all about fighters like this guy — head down, forward momentum, powerful punches, solid low kicks, and a love of a dust-up.
At odds of +205, betting on Poirier to beat Holloway is certainly worth considering.
Holloway vs. Poirier Prediction
This is a tough introduction to the lightweight division for Max Holloway.
That said, I am keen to see just how he fares at 155 pounds and without such brutal weight cuts ahead of his bouts.
Poirier is a fighter I have a lot of respect for and would love to see challenging for the title in the future. He has a genuine chance against Holloway on the night and could push him to the judges' scorecards.
However, Holloway is just on a different level than almost everyone right now. As this fight will almost certainly be fought on the feet, I just can't see how Poirier can stop him.
Final Thoughts
Much like anyone else watching or betting on UFC 236, I am stoked for this fight.
The main event of the evening looks set to be nothing short of an unmissable bout. Sparks will fly, and blood will pour. That's almost a guarantee.
Holloway and Poirier are two warriors with history. As we know, Poirier came out of their first and only contest to date in 2012 with his arms raised in victory.
That said, both fighters have experienced different trajectories throughout their careers and will not be the same mixed martial artists as they were in their early days as UFC fighters.