Hide Bonus Offers
| | | | | |
| --- | --- | --- | --- | --- |
| #1 | Bovada Sports | 50% Up To $250 | Visit Site | Bovada Sports |
| #2 | BetUS | 125% Up To $2,500 | Visit Site | BetUS |
| #3 | MyBookie | 100% Up To $1,000 | Visit Site | MyBookie |
| #4 | Everygame | 100% Up To $500 | Visit Site | Everygame |
| #5 | BetOnline Sports | 60% Up To $1,000 | Visit Site | BetOnline Sports |
Betting on the ESL Pro League Finals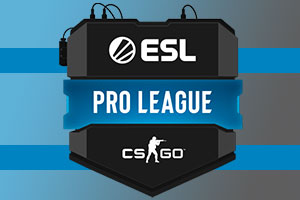 The Electronic Sports League is the most influential group in esports right now.
They run the tournament game like no other group can. They'll host any esport anywhere in the world, from Canada to Australia and everywhere in between.
Their professional Counter-Strike season lasts the whole year 'round, but those are just appetizers for the main event.
ESL uses their own power rankings to determine invites for their season finals, and this one features 16 teams from all over the world. They'll be competing in Montpellier, France, for a piece of the $600,000 prize pool and a new trophy for the teamhouse.
ESL's reputation for globetrotting applies to their invites as well. Squads are being flown in from Australia, Ukraine, and even China to compete. Metagames will clash in France, and you've got plenty to gain from it.
Bovada has lines out right now. Let's take a look and see which teams have the most betting potential.
Outright
Note that these odds are subject to change.
There are definitely some obvious choices going into this event, but quite a few teams are bubbling just beneath the surface. There's also going to be plenty of new matchups. Teams like TYLOO and DETONA don't leave their countries often, so their games are sure to be entertaining.
Of all the reasons to watch, the biggest is to keep track of your bets. So many teams means a ton of head to heads for you to capitalize on. I'll be paying special attention to recent records and international experience in my rankings.
Astralis – The Danes Are Stumbling
Astralis has cemented themselves as one of the greatest CS:GO teams of all time. Their dominance isn't quite enough to dethrone the 87-0 Ninjas in Pyjamas lineup, and it looks like they won't get any closer. The once-dominant squad has been looking a little weak lately.
They were jumping on and off the podium earlier this year, but their last two results have left me second-guessing the Danish wonders. They got destroyed by ENCE at BLAST Pro Series Madrid, and they took 6th at ECS Season 7. That placing is bad enough, but it gets worse when you realize they lost to FURIA of all teams.
That's not a good sign, so I can't really recommend you pick them for an outright. They still have a real shot at winning, but with odds this dry, it's just not worth it. If you're a diehard fan, go for it. If not, there are a few other teams to check out.
Team Liquid – One Hurdle Left
No team is more excited to see Astralis taper off than Team Liquid.
The American roster has been playing second banana for almost two years now. If this really is the beginning of the end for Astralis, Team Liquid is poised to snatch up their first-place finishes. No other team will prey on their downfall like nitr0's.
They're poised pretty well for this tournament, too. They're coming into this event off a victory over ENCE at DreamHack Masters Dallas and a second-place finish against Vitality at cs_summit 4. NBK- and the gang won't be at Season 9's grand finale, so there aren't a ton of teams that can contest Liquid.
It all comes down to how well Team Liquid does against Astralis. My reasoning is that the double-elimination format helps Liquid more so than the Danes since one bad matchup or upset can't send Liquid home.
FaZe Clan – A Fanboy's Favorite
FaZe has quite a few things going for it: a podium finish at their last event, an all-star lineup including the best AWPer and rifler of the modern era, the loudest fanbase since PaszaBiceps retired, and enough time for NEO to get past the "new stand-in" stage.
So, what's going against them? Pretty much everything else.
Many of the teams they've lost to recently are in attendance, including Liquid, NRG, North, Astralis, and more. They're still a top-tier threat, but I'd classify any wins over Astralis or MiBR as big upsets. They'll be facing an uphill battle against all of their tournament demons. Two brackets won't be enough to save them.
They still have a lot of potential against teams at their level.
Pay special attention to FaZe Clan's matches against North and Fnatic. Their last set with the former was closer than the scorelines suggest, and the latter team is looking a little overrated. If they're hot, don't be afraid to play their matches. As for outrights, the odds are bone-dry.
MiBR – A Chance, But Just Barely
MiBR is always a fascinating team to watch.
South America has been the hidden boss of Counter-Strike ever since FalleN and his boys dominated throughout 2016, but they're no longer the best team in the world. Ever since tarik was replaced with felps, the team just hasn't gotten their mojo back in order.
But their feng shui (or whatever they have in Brazil) might be reassembling. They took a very sneaky first-place finish at the North American leg of ECS Season 7, only to fall to compLexity at the main event. I'm afraid the latter result is more likely in Montpellier. Whatever momentum they had was nipped in the bud.
What that result really means is that they can beat the crap out of North American rosters at the ESL Season 9 Finals. Their good matchups will be against Cloud9, NRG, and, strangely enough, Team Liquid. They've beaten the boys in blue the last two times they've played, but Liquid consistently beat them before.
G2 Esports – Laying Low
This table has some very questionable odds, but the most questionable line is for G2. They're my sleeper pick for this tournament for a variety of reasons, though the location is the biggest one.
With Vitality absent, they will be the sole French national team competing. They're defending their turf and will probably be the least jet-lagged.
But seriously, they have some very good recent results. They've only had two placements outside of the top six this year and have looked very healthy against top teams. However, G2 isn't here for a long time; they're here for a good time. I predict they'll make a super sweet upset and then immediately lose to Fnatic.
Their inconsistency can be a weapon. Every team fears them, and being in the opposite group will bring sighs of relief to other teams. Combine that with their home-field advantage, and I think G2 might have some surprises for us.
NRG Esports – The American Dream
I can write all day about which teams I would bet on, but I can talk even longer about which teams I want to win.
NRG has stood in the shadows of shadows for most of their tenure, but they've been hitting their stride for the past few months. If the stars align, we might see NRG take the whole damn tournament.
They've landed podium after podium in 2019, but their only first place was a paltry seasonal over FURIA. Still, they went toe-to-toe with ENCE and Team Liquid at cs_summit 4, where they eventually took bronze.
I don't think stanislaw and his merry men can win the whole event, but they can surely make a dent in the bracket.
They have recent wins against Cloud9, FaZe, and FURIA. Keep an eye out for those matches as well as any run-ins with G2; their last set was razor-sharp. What I'm most excited for is a potential match against MiBR. NRG has won the last two times they've played, but the oddsmakers might not remember.
My Pick for ESL Pro League Season 9 Finals
Astralis is looking shaky, and they were one of the few teams holding Liquid's reins. With no Vitality here either, the choice is clear to me.
With talent from all over the world colliding, the ESL Pro League Season 9 Finals is sure to be entertaining.
Teams that have never met will be duking it out for half a million dollars, so the tensions will match the stakes.
Ready to lay down some real money for ESL Pro League? Check out our list of the best CS:GO betting sites.