Betting on DeGale vs. Eubank Jr. – Expert Analysis with Free Pick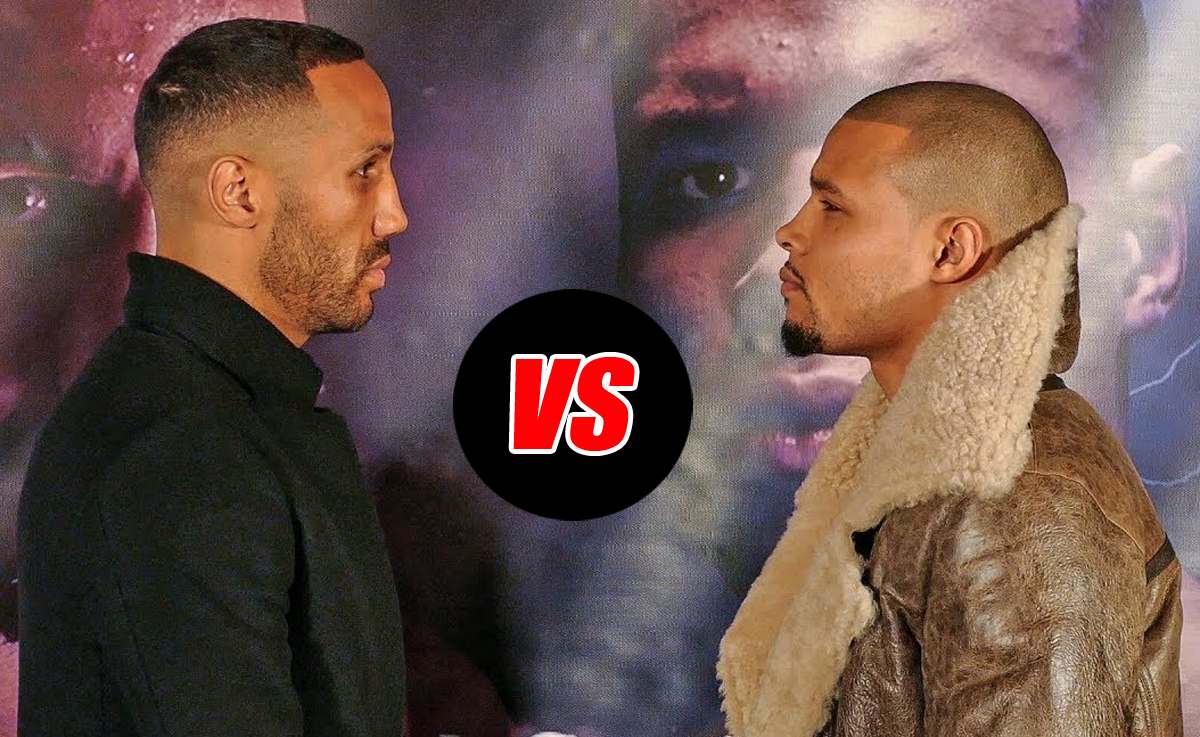 Chris Eubank Jr. is a polarizing figure in the world of boxing.
As the son of the entertaining but wildly eccentric boxing legend, Chris Eubank Jr.'s ascent through the boxing ranks was never going to go without notice.
At 29 years old and with a record of 27-2, Eubank Jr. is undoubtedly some way off matching his father's potential.
It is quite clear at this point that he will never come close to the achievements that his two-weight world champion papa registered over the course of his 13 years as a pro.
While some parents are guilty of living vicariously through their children's achievements, Eubank Sr. was frequently accused of stealing his son's limelight.
Additionally, his persistent claims of Jr. emulating the success of the greatest fighter of the era, Floyd Mayweather Jr., were head-scratching, at best.
While the 52-year-old has been accused of harboring delusions over his son's true ability, there is no doubt that Eubank Jr. is grounded about how important his next fight is to his hopes for the future.
"This is the biggest and most important fight of my career. It's definitely the one where I have the most to lose. A loss would leave me in no man's land. DeGale is in exactly the same position. We both cannot afford defeat. We're both on the edge and someone's going to fall."
Although he has navigated the middleweight ranks for years, Eubank Jr. looked seriously out of his depth in February 2018's World Boxing Super Series super middleweight quarter-final. That night, the Hove-based fighter stepped up to the elite level against WBA super-middleweight champion, George Groves.
Although going the distance against Groves, Eubank Jr. looked outclassed in the second professional loss of his career. With a serious point to prove, he is aiming to make it count against James DeGale.
DeGale, on the other hand, is a man on a mission to prove to himself — and to the wider boxing community — that he still has it.
While the 33-year-old also has two L's on his career — a loss to Groves coming six years before a majority decision to Caleb Truax — he has a much stronger resume than his February 23 opponent.
Despite being considered the better boxer, DeGale enters this bout as an underdog. Having been involved at the top level of boxing for years, fans are worried that "Chunky" might have been in one too many wars at this point and might be staring down the barrel of retirement.
Latest DeGale vs. Eubank Jr. Odds
Chris Eubank Jr. to Win
-145
Odds provided by Bovada are accurate as of February 21, 2019.
Here are some key takeaways from these odds.
While Eubank Jr. is the -145 favorite, there is not a great gulf in his price, compared with DeGale at +115
DeGale is the better all-around fighter but is the older man by 14 years
The odds certainly suggest that the fight will be extremely competitive
Neither fighter has one-punch knockout power
Although Eubank Jr. has a better record of stoppages in his last ten wins (7), DeGale (4) has faced a comprehensively higher caliber of opponents in that timeframe
Let's now take a little look at both fighters' form heading into the clash.
DeGale vs. Eubank Jr. – Recent Form
I'll start with James DeGale's IBF super-middleweight title win over Andre Dirrell in May 2015.
Dirrell had only ever lost one fight prior to that night at the Agganis Arena in Boston.
The former amateur standout and 2004 Olympic bronze medalist had his moments throughout the fight. He survived being dropped twice by DeGale and even mounted a spirited comeback in the later rounds. But he was ultimately beaten convincingly by the 2012 Olympic gold medalist.
That night, DeGale became the first British boxer to capture an Olympic gold medal and a world title.
Subsequent defenses against Lucian Bute and Rogelio Medina resulted in unanimous decision victories for the Englishman.
His sternest test came in the form of a clash against reigning WBC and The Ring super-middleweight champion Badou Jack in New York in January 2017. The bout ended in a draw.
In December of 2017, DeGale was shocked by Caleb Truax in front of a home crowd in London, England. Truax picked up a majority decision victory, taking DeGale's IBF title in the process. However, an immediate rematch ended in a unanimous decision for DeGale.
In September, DeGale knocked out Fidel Muñoz in a serious mismatch in California, which gave him his first stoppage win since November 2014.
A look over Eubank Jr.'s record heading into this bout is not as impressive as DeGale's.
Since February 2015, the 29-year-old has blasted through European-level opposition like Dmitry Chudinov, Tony Jeter, Gary O'Sullivan, Nick Blackwell, and Tom Doran.
The fight against Blackwell — for the British middleweight title — in March 2016 caused controversy, given that Eubank Jr. was deemed to be at a higher level than his opponent. A serious head injury sustained by Blackwell on the night forced "Bang Bang" to retire at the age of 26.
While you cannot blame Eubank Jr. for what happened on the night, there was a negative reaction to the mismatch.
Following a TKO over Renold Quinlan in February 2017, Eubank Jr. fought to a unanimous decision win over the veteran, Arthur Abraham, in July 2017. A loss to Groves in February 2018 preceded a victory over the relatively unknown JJ McDonagh in Saudi Arabia in September 2018.
While I expect Eubank to be physically prepared for this fight, against DeGale, he is going to have to get used to being inside the ropes with a fighter that has plenty of experience and tact.
Looking at his recent form, you have to agree that this is do-or-die for Jr.
DeGale – Strengths, Weaknesses, and Strategy
James DeGale is the better boxer of the two. Of that, there is no doubt.
However, he is an old 33-year-old. What I mean by this, of course, is that the longevity of his career — including an extensive stint at amateur — might be catching up with him. In his last loss against Caleb Truax, the Londoner did not look like an elite fighter.
DeGale claimed that he was suffering from shoulder trouble in that loss to Truax in December 2017. Admittedly, it did appear that something was up with "Chunky." As well as looking lethargic and slower than usual, his stamina was not at the level fans would expect from an elite-level champion.
Yes, he came back to beat Truax in the rematch, but there should have never been a rematch in the first place. Given that the American was seen as a tune-up fight, the Brit's loss was not expected at all.
Now, there is a chance that DeGale simply did not prepare as he should have, but this is no excuse for a fighter defending their title.
Back to the initial point. If DeGale is to have a future in boxing, he will need to be firing from the first bell. He might look to the performance of George Groves against Eubank to base his strategy on, but the simple fact is that he lacks the power and jab of Groves to fight this way.
Groves had one of the best jabs in boxing and also possessed knockout power. After all, not too many fighters could plant Carl Froch on the canvas.
DeGale's Gameplan for Eubank Jr.?
We know that Eubank Jr. has a chin. We also know that DeGale — despite winning his last fight by KO — doesn't have considerable power.
Eubank Jr., therefore, will not respect DeGale's shots. He will be looking to get inside and swarm his opponent from the first round.
The Londoner will be aware of just how close the younger man will be pushing him over the course of 12 rounds, so he will need to find a way of keeping Eubank Jr. at a distance and outboxing him.
To take the win, the Hammersmith-born fighter will need to be in peak physical condition.
If DeGale enters the bout in the same shape as he did against Truax, you could see Eubank Jr. throwing everything at him and potentially even earning a stoppage.
Simply put, James DeGale is technically a long way ahead of his opponent. Everyone knows this, including the man himself.
As such, he will need to use smart, lateral movement and linear punches to prevent Eubank from gaining inroads. When Eubank Jr. gets too close, he will need to tie him up and prevent him from having space and time to land combinations.
Expect a conservative approach from DeGale on the night.
Eubank Jr. – Strengths, Weaknesses, and Strategy
Frequent training videos have appeared on social media over the years of Eubank Jr. doing his thing.
He has great hand speed and is undoubtedly in excellent condition.
While it is easy to show off your punching skills against a heavy bag, it's a completely different story finding a way to show off such flashy tricks against an opponent.
Things get even more difficult in accordance with the higher caliber of opponent that you fight. In other words, Eubank Jr. looks great in the gym — and has looked good against inferior opposition — but when he has stepped up against an elite-level boxer, he has looked uncomfortable.
Against George Groves, arguably the toughest opponent that he has faced (let's leave Billy Joe Saunders aside, as that fight was over four years ago), he looked devoid of ideas.
Groves, who utilized a solid jab and simply outboxed Eubank Jr., had the answers to every one of Eubank's questions.
Make no mistake, Eubank Jr. is fast, and he does have excellent conditioning, but in terms of boxing skills, he is lacking.
While he has moved away from being mentored by his father, unbelievably enough, he never had a main boxing trainer — preferring to "train himself" — until he recently hooked up with Mayweather Boxing Club's Nate Vasquez.
There is no question that this is a positive thing for Eubank, but it's arguably a little late in the day for it to make any difference against DeGale.
Eubank Jr.'s Gameplan for DeGale?
Both Eubank Jr. and his new coach, Vasquez, will be looking to exploit what they might see as a decline in DeGale's quality.
At 33, it does look as though DeGale's time as an elite fighter is coming to an end, especially if you factor in the first Truax bout. Vasquez will be devising a gameplan based on targeting DeGale's conditioning and especially his tendency to fade in the later rounds of a fight.
Eubank Jr., therefore, will be aiming to drain DeGale as early as possible by forcing him to work harder than he has in some time.
The 29-year-old is tremendously physically sharp and has enough speed to disrupt DeGale's rhythm if he can find a way to get to him early enough.
I don't believe Eubank Jr. has any designs on knocking DeGale out, but he will be confident of stopping him in the later rounds — probably from the eighth round onwards — if he can chip away at his opponent from the first bell onwards.
Expect Eubank Jr. to disrespect DeGale's power and aim to swarm him with combinations and lots of pressure.
An Emotional Fight
What separates this fight from any bout previously contested by both men is that they are both fighting for their future in the sport. As such, I would feel confident in predicting that DeGale and Eubank will be up for the fight and full of emotion heading into the contest.
What will be interesting to watch is how both men deal with the sense of occasion.
I believe DeGale has the advantage here. As a seasoned pro with extensive amateur experience, he is certainly the more assured of the two. Given that he has more experience fighting for world titles and dealing with the expectation and pressure that comes with that, the Londoner will be the cooler head.
Eubank Jr., on the other hand, has more of a sense of "me against the world" about him. He is a fighter that seems to thrive on this, but I think he will be feeling an intense amount of pressure before the bout on February 23.
When emotions run high in fights, they can lead to fighters abandoning their game plans. I believe that the boxer with the best gameplan adherence and composure on the night will take the fight.
The Prediction
James DeGale has to be in shape for this one. If not, he could potentially be shocked by Eubank.
Thankfully for his fans, I believe that "Chunky" will be physically up to the challenges that come his way on the night. While Eubank Jr. has speed and conditioning, he lacks solid boxing skills and a ring IQ.
As such, DeGale, who is by some distance the better boxer, will rely on his fundamentals to pick his way out of the first three rounds.
The early stages of the fight will be high-intensity, as Eubank aims to get in DeGale's face from the outset and disrupt his rhythm. DeGale will be using his footwork, jab, and one-twos to circle Eubank and deny him a platform to attack.
Eubank is tough and as previously stated will not fear DeGale's power. He is a fighter rather than a technician, so he will be aiming to take the action to the inside and lay into his opponent and drain his stamina.
DeGale, as I also brought up earlier, can fade as the fight goes on, so Vasquez will certainly be urging his new student to attack the body and rough him up (even targeting his shoulder in the clinch and bringing a little dirty boxing into the fight).
Throughout the middle point of the fight, I believe the action will plateau a little. DeGale will find his rhythm and have the distance figured out by now. Eubank will pick the pace back up around the ninth, getting more desperate for a fight-ending shot or combination.
Around this time, DeGale will need to keep the fight in the center of the ring and avoid sitting on the ropes as he did against Truax the first time. As unattractive as it might sound for spectators, expect the Londoner to fight a boring and stubborn gameplan to negate Eubank's attack.
I believe Eubank will amp up the pressure in the final three rounds — just as he did against George Groves last year — which will be a true test of DeGale's grit and composure.
If he can survive this late onslaught, he will have his hand raised at the end of the fight.
The Value Bet?
James DeGale is a much better boxer than his odds against Eubank would suggest.
He is the more experienced fighter and has a better overall resume than his opponent. At odds of -145, it's difficult to see what bookmakers see in Eubank, other than his conditioning and 4-year advantage in age (DeGale is 33).
In boxing, there is more to a fight than physical fitness and conditioning. DeGale has a better arsenal of weaponry, a more refined ring IQ, a better caliber of opponents, and is very tough.
I can't see value in Eubank at those odds. DeGale makes the most sense in this fight.
PICK
James DeGale to Win
+115