Hide Bonus Offers
| | | | | |
| --- | --- | --- | --- | --- |
| #1 | Bovada Sports | 50% Up To $250 | Visit Site | Bovada Sports |
| #2 | BetUS | 125% Up To $2,500 | Visit Site | BetUS |
| #3 | MyBookie | 100% Up To $1,000 | Visit Site | MyBookie |
| #4 | Everygame | 100% Up To $500 | Visit Site | Everygame |
| #5 | BetOnline Sports | 60% Up To $1,000 | Visit Site | BetOnline Sports |
Betting on Conlan vs. Nikitin – Odds and Pick for the Grudge Match of the Year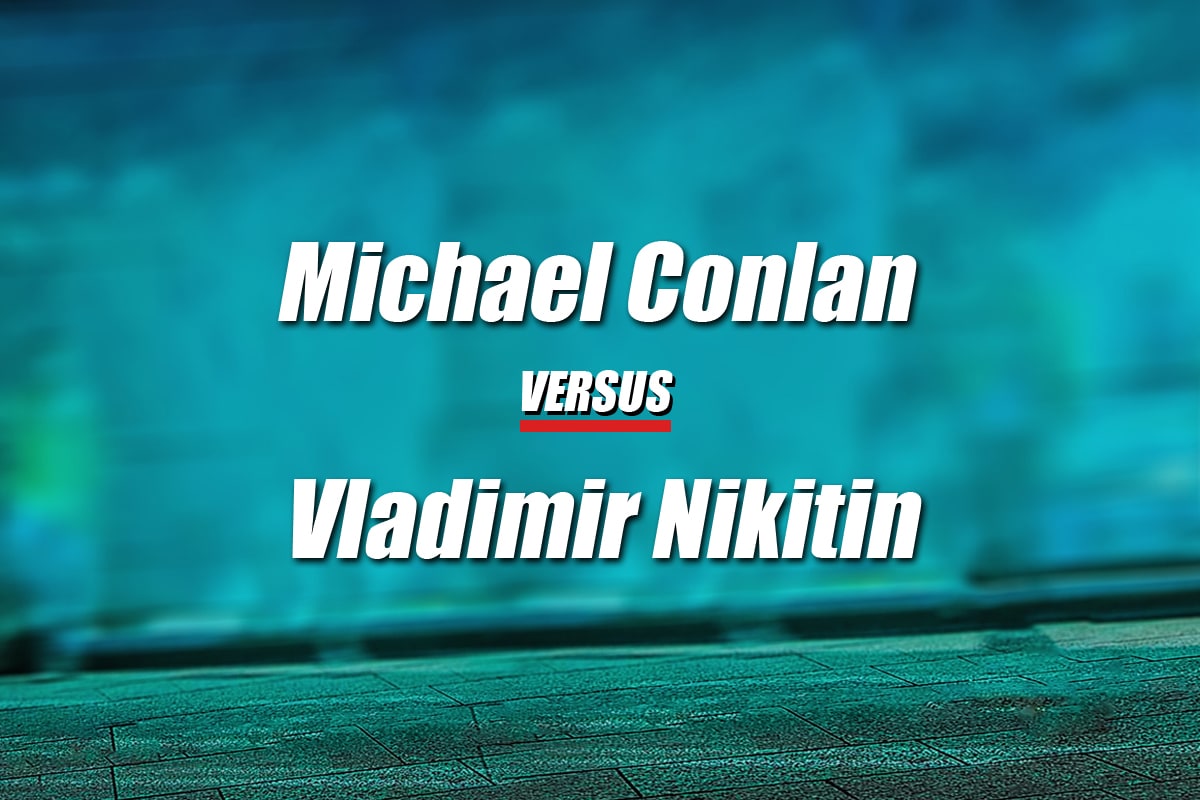 Michael Conlan will have a shot at revenge when he takes on Vladimir Nikitin in front of a home crowd at Falls Park, Belfast, on August 3.
The fight is part of Féile an Phobail in West Belfast, which is the biggest community festival in Europe.
"Mick" expected to win the gold medal in the bantamweight division at the Rio Olympics in 2016, having won bronze in London four years earlier.
Instead, his dream was cut short by one of the worst decisions seen in amateur boxing in quite some time. Given the reputation the "ammies" has for bonkers decisions, that is saying something.
Despite handing Russia's Vladimir Nikitin a severe beating — to the point where the Russian could not continue in the Olympics after that — the judges handed Conlan's opponent the win.
Cue crazy scenes and bouts of head-scratching so severe that pundits with full heads of hair suddenly found themselves with bald patches.
This was Conlan's last fight as an amateur and one that attracted the attention of the world's media, given the Irishman's understandably fierce reaction.
Conlan's "up yours" gesture to the judges and profanity-laden post-fight tirade earned him a fine of 10,000 Swiss francs by the world governing body of amateur boxing.
The Irishman almost immediately decided he was done with the amateur game and soon turned pro, signing with Bob Arum's Top Rank.
Now, with Nikitin also under the Top Rank banner, we have a mouth-watering scrap to look forward to.
I can't wait for this one.
Latest Conlan vs. Nikitin Winner Odds
The odds below come courtesy of 888sport. Keep in mind that they are subject to change.
Michael Conlan to Win
-2500
Vladimir Nikitin to Win
+1100
Oh… would you look at that.
Conlan, who brings a record of 11-0 into this fight, is a -2500 favorite to get a satisfying win over his former nemesis. Those odds clearly show us what the bookies think of this one.
Nikitin is a +1100 underdog. A big price for a fighter that is not considered on the same level as the Irish rising star.
Funnily enough, Nikitin, who is 3-0 as a professional, has two official victories over Conlan at the amateur level. Could this play a part in this bout?
I mean, at those odds, you would have to consider them, right? Especially if you are not sure of what these two guys bring to the ring.
Well, if that is the case, keep reading. I'm going to break down both fighters a little and give you my pick on who takes the win.
Let's start with the underdog!
Who Is Vladimir Nikitin?
Nikitin is a 28-year-old featherweight with a solid career in the amateurs.
The Russian fought over 300 fights in the unpaid ranks before representing his nation in the 2016 Olympic Games. His fight against Conlan brought him to the attention of the world's media at the time.
Nikitin only turned professional in 2018 and picked up a unanimous decision victory in his six-round debut against Edward Kakembo.
Then, on October 20, 2018, he won another six-round UD in Las Vegas against Clay Burns. The second win of his pro career was a laboring one over Burns, who brought a little more experience into the ring.
All three judges scored that bout 59-55.
Nikitin's last bout saw him beat Juan Tapia at Madison Square Garden on St. Patrick's Day, which was a card Conlan also fought on.
While his profile is certainly on the rise, he will always be remembered as the guy who got a gift on a decision against Conlan. But that is not fair at all to the Russian, who was hardly behind it.
A group of ring officials was suspended after the Olympics following the result, too.
In this bout, against Conlan, Nikitin will want to show that he has what it takes to beat one of the biggest prospects in Arum's stellar stables of talent.
What Makes Conlan Special?
You mean aside from controversy? Or the big, brass cojones to travel to Belfast to fight a grudge match?
Well, he was an accomplished and successful amateur that won several medals and awards at both international and Olympic level. He has beaten excellent amateurs and has shown toughness and aggression in abundance.
In 2013, Nikitin beat Conlan for the first time in the 2013 World Championships quarterfinal in Almaty, Kazakhstan. This one was undisputed, with the Russian winning 3-0.
What will make many interested in this fight is the willingness of Nikitin to want to prove Conlan wrong. He desperately wants to beat the Irishman and has gone as far as to sign with Top Rank to get the opportunity.
His hunger to get this rematch sorted in the professional ranks is impressive. He genuinely wants it.
But I know someone who wants it more.
Michael Conlan – Arum's Rising Star
It was not just Irish fans who felt for Conlan following his controversial loss to Nikitin at the 2016 Olympics.
Standing in the ring with the bloody and battered Russian — with just the referee between them — Conlan's reaction when hearing the judges' decision said it all.
He flipped out. Then, he flipped the bird at the judges. After that, he spoke to Irish broadcaster RTÉ, and he did not hold back when the cameras were rolling.
AIBA cheats… f**king cheats. That's me [finished], I'll never box for AIBA again, they're cheating bastards, they're paying [off] everybody.
I don't give a f**k for cursing on TV. That's the end of my Olympic gold. My dream has been shattered now. I have a big career ahead of me. These ones [AIBA] are known for being cheats; they have always been cheats. Amateur boxing stinks from the core right to the top.
Conlan stayed true to his promise and signed with Top Rank.
To date, the exciting featherweight has put together a record of 11-0 with 6 KOs.
Amazingly, this will be just the second time he has fought in Ireland, following his win over Adeilson Dos Santos at the SSE Belfast in June 2018. This time, however, he will be fighting in his own neighborhood.
You couldn't write a redemption script any better than this.
What Makes Conlan Special?
The Belfast-born son of a Dubliner claimed that he would be "Ireland's greatest ever fighter," and it seems he has the talent to get very close to that mark.
As with anyone of Conlan's talent and appeal, his career is being carefully managed in order to ensure that he matures at the right pace. As it stands, the 27-year-old is very popular among his countrymen and is regularly tipped for greatness by boxing pundits around the world.
Conlan's reputation is one that has been built off the back of silky boxing skills, great offensive attributes, and the ability to avoid punishment.
Longevity in this game is generally afforded to those who know how to master the art of hitting while not getting hit themselves. Here, Conlan fits that bill.
But there is something more with the potential superstar. There is an x-factor that separates him from other fighters emerging on the scene.
He has been criticized in the past for a lack of power, but he has something special that will slowly improve with time.
Betting on Conlan vs. Nikitin
Look, backing Conlan to win at -2500 isn't going to get anyone excited.
Given that Nikitin is +1100, I can definitely understand why some will chance their arm on him.
Odds like these do reflect a gulf in class most of the time, but with Conlan's huge profile and partisan Irish fanbase, you can bet that part of it is influenced by these factors, too.
I have to say that I am a little surprised that Egis Klimas, Nikitin's manager, let this fight happen so early. The Lithuanian manages the likes of Vasyl Lomachenko and Sergey Kovalev, so he is a respected name in the sport.
I had presumed that Nikitin would have been given some time to pad his record out a little before this one happened, but that was not to be.
According to reports, Conlan wanted to settle the score with the Russian as soon as possible. It looks like he's got his wish.
The question is, how does he beat Nikitin, if indeed he does beat him?
Who to Back
Conlan is the obvious choice here, given that he has shown himself to be more than capable in his 11-fight journey in the paid ranks.
But Nikitin is arguably more powerful.
I would go as far as to say that the odds do not represent how close these guys are in terms of talent. I'm not saying Conlan isn't an excellent prospect, but is he really a -2500 favorite in terms of skill and talent?
"No" is the answer.
I am a big fan of Conlan and can see him having an excellent career inside the ropes. Still, I am not entirely comfortable saying that this fight will be an easy one for him.
In fact, with the history and the emotion between both guys — in addition to the fact that this fight is in West Belfast — the pressure on Conlan will be huge.
Could we be in for an upset, with Nikitin finding that one shot on the inside that ends the contest?
Unlikely. But if you are betting small, it would make more sense to consider a longshot than it would to back Conlan at -2500.
I'm picking Conlan to win this one by unanimous decision, but at those odds, I'd probably sit this one out and just enjoy the fight.
If you are looking for better odds, I have a suggestion for you at the bottom of this page.
Final Thoughts
Grudge match? Hell yes, this is a grudge match!
Finally, Michael Conlan has the opportunity to get his revenge over the man who ended his chances of winning a gold medal at the 2016 Olympics.
Nikitin has the chance to show that it was no fluke and will head to Belfast with nothing less than a win in mind.
Still, for those backing Conlan to win, -2500 seems a little like slim pickings.
If you're looking for value, I would recommend checking out my Manny Pacquiao vs. Keith Thurman betting guide instead.
Depending on who you are backing for this welterweight blockbuster, you are bound to stand a better chance at winning a few bucks than backing Ireland's featherweight prospect.
Well, that's the end of another preview. I hope you enjoyed getting to know these two fighters a little better. Whoever wins, I will be back to cover their next fight. I promise you that.
So, as they say in the Emerald Isle, Slán agus beannacht leat!