Hide Bonus Offers
| | | | | |
| --- | --- | --- | --- | --- |
| #1 | Bovada Sports | 50% Up To $250 | Visit Site | Bovada Sports |
| #2 | BetUS | 125% Up To $2,500 | Visit Site | BetUS |
| #3 | MyBookie | 100% Up To $1,000 | Visit Site | MyBookie |
| #4 | Everygame | 100% Up To $500 | Visit Site | Everygame |
| #5 | BetOnline Sports | 60% Up To $1,000 | Visit Site | BetOnline Sports |
Betting on Adesanya vs. Gastelum at UFC 236 – Odds, Predictions, and Pick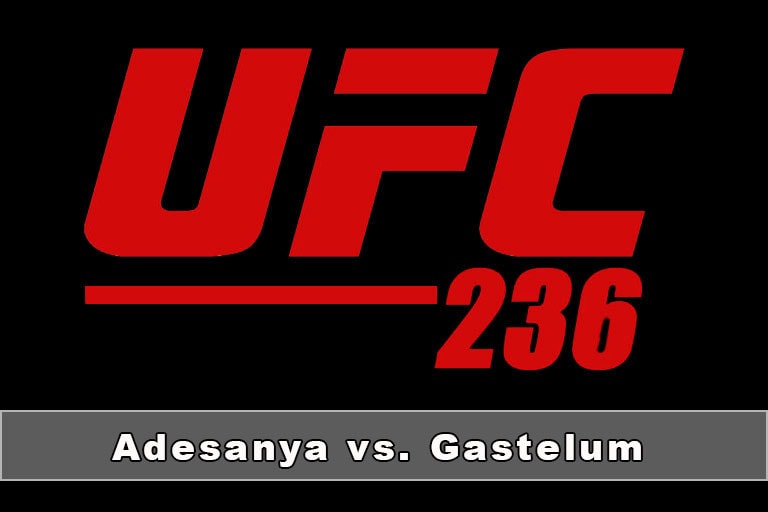 Adesanya vs. Gastelum has all the ingredients to be a contender for fight of the year.
Those betting on UFC 236's co-main event should certainly read this breakdown in order to better understand what they can expect in this blockbuster of a bout.
Of course, this fight was the result of an abdominal injury suffered by UFC middleweight champion Robert Whittaker ahead of his title fight with Gastelum. That fixture was scheduled as the main event of UFC 234 in Melbourne, Australia, only for the champ to withdraw.
Gastelum was left without a fight while the co-main event between Anderson Silva and Adesanya was promoted to the top of the bill.
Adesanya beat the Brazilian legend to a unanimous decision victory, earning him a claim to a title shot. Of course, Gastelum was still the number-one candidate to meet Whittaker, so here we are.
These are two of the most explosive middleweights in MMA today and will both be vying to prove who wants it most. UFC sportsbooks will be preparing for a storm of bets on this one, given how much of a spectator-friendly fight it will be.
Adesanya is the favorite to take the win on the night, even though Gastelum is more experienced and has arguably the better resume.
Let's start off by taking a look at the latest odds for UFC 236's co-main event.
Latest Odds for Adesanya vs. Gastelum
The following odds provided by Bovada are accurate at the time of writing but are subject to change.
Israel Adesanya to Win
-205
Kelvin Gastelum to Win
+165
I believe these odds will change the closer we get to the fight.
When it comes down to it, these fighters are very closely matched in many regards.
Adesanya is a clear favorite, even though his resume is not really as cultured as that of Gastelum. With an unbeaten 16-0 record in MMA and a kickboxing return of 32-0, he is seen as the real deal.
As for Gastelum, not only is he a fighter that deserves a little more respect than he is shown here in the bookmakers' odds, but there are many who believe that he is a step up in class for "The Last Stylebender."
Adesanya did, of course, beat Anderson Silva. While Silva is undoubtedly a legend of the sport, he is clearly well past his prime.
Let's take a look at each guy's attributes, their records, and break the fight down before you place your bets.
Adesanya vs. Gastelum – The Tale of the Tape
| Gastelum | | Adesanya |
| --- | --- | --- |
| 15-3-1 | PRO RECORD | 16-0-0 |
| American | NATIONALITY | New Zealander |
| 27 | AGE | 29 |
| 5'9″ (175cm) | HEIGHT | 6'3″(191cm) |
| 71.5″ (182cm) | REACH | 80.0″ (203cm) |
| 39.5″ (100cm) | LEG REACH | 44.5″ (113cm) |
Surprised to learn that Gastelum is the younger man heading into this bout?
You probably won't be the only one. If it feels as though Kelvin Gastelum has been around longer than Adesanya, despite his age, it's because he has.
Adesanya made his UFC debut in February 2018, while Gastelum's first bout for the promotion came all the way back in April 2013. It's safe to say that high-level MMA experience is definitely on the side of the younger man, as weird as that sounds.
That said, Adesanya has a few advantages in other departments.
He stands at six inches taller than Gastelum and enjoys a whopping 8.5 inches in reach. His leg reach is also superior at 44.5″ to 39.5″.
The Form of Both Men Heading into the Fight
Anyone betting on Adesanya vs. Gastelum will surely be keen to know how both men have gotten as far as an interim title shot.
The UFC has not always been the type of meritocracy that fight fans wish it would be, but there is a case that both men deserve their shots.
As previously noted, Adesanya is a relative newcomer to the promotion, having fought his first bout last year.
Gastelum has been around since 2013, although he has bounced between welterweight and middleweight during his 11 fights for UFC President Dana White and co.
Both men's last five fights paint a little picture of their progress to date.
But who has the momentum?
Adesanya's Last 5 Fights
Anderson Silva – Win by Decision
Derek Brunson – Win by TKO
Brad Tavares – Win by Decision
Marvin Vettori – Win by Decision
Rob Wilkinson – Win by TKO
Adesanya's last fight was a big one, at least on paper.
At UFC 234 in February, the New Zealander beat Anderson Silva in an exciting contest over 5 rounds. While showing some excellent skills, footwork, and a variety of strikes, Adesanya's win was far from amazing.
Silva, at 43, was not the same fighter as he once was. His record in his five outings leading up to the bout with Adesanya was 1-3-0-1 (No Contest).
Still, Adesanya got the job done and gave UFC betting enthusiasts a little glimpse of what he is capable of.
Prior to the Silva fight, Adesanya stopped Derek Brunson, who was the only fighter Silva has beaten since 2012.
Before Brunson, the Nigerian-born Kiwi earned decision wins over Brad Tavares and Marvin Vettori.
On his UFC debut in February 2018, Adesanya stopped Rob Wilkinson in the second round.
While he is 5-0 in the promotion, Adesanya is yet to meet a genuine middleweight contender. Against Gastelum, this will all change.
Gastelum's Last 5 Fights
Ronaldo "Jacare" Souza – Win by Decision
Michael Bisping – Win by KO
Chris Weidman – Loss by Submission
Vitor Belfort – No Contest (Overturned from a TKO win)
Tim Kennedy – Win by TKO
Although he was an underdog heading into the UFC 224 bout against "Jacare" back in May 2018, Gastelum surprised many by earning a split decision win on the scorecards.
Souza has been one of the most consistent and toughest opponents in the middleweight division for some time. Gastelum really stood up and made it count against the BJJ legend and earned himself an ill-fated title shot in the process.
Prior to the "Jacare" bout, Gastelum smoked the recently dethroned middleweight champion Michael Bisping in the first round of the contest. The shot heard around the world echoed from Shanghai, China, on November 25, 2017, just 21 days following the Brit's loss to Georges St-Pierre.
Although looking as though he was in the ascendency against Chris Weidman in July 2017, Gastelum was eventually submitted by the former champion in the third round of their bout.
Prior to that fight, Gastelum stopped another legend in Vitor Belfort. That elation was short-lived, however, when it was found that Gastelum had tested positive for marijuana metabolites. As a result, the decision was overturned to a No Contest.
This led to a suspension for Gastelum, which put a temporary stop on his momentum following a solid TKO win over Tim Kennedy in December 2016.
Adesanya vs. Gastelum – Striker vs. Wrestler?
The answer to this question is yes and no.
Adesanya is one of the most impressive strikers in modern MMA and has an arsenal of weaponry that inspires nothing short of envy among his peers.
Gastelum has a strong wrestling base with good jiu-jitsu, but he is not limited to this whatsoever. As we have seen from the southpaw over the years, he has serious power in those hands and can end a contest with just one punch.
Adesanya did not look troubled against the southpaws Anderson Silva and Derek Brunson — his last two opponents — but I believe Gastelum might cause him some trouble if he can get his angles right.
The problem against a fighter like Adesanya is that he is such a sublime striker. His footwork is excellent and among the best on the roster, and, as we have seen in his previous fights, he is very hard to land on.
With a solid background in kickboxing, the Kiwi is already far away from many of his contemporaries at middleweight.
Adesanya employs a lot of Muay Thai into his game and is particularly proficient when it comes to teeps, roundhouses, head kicks, and knees. His lateral movement and silky angles make him a nightmare for any linear fighter, as Derek Brunson learned. To top it all off, he also has hands.
The interesting part of this bout is how Gastelum's heavy hands and cardio — in addition to some pretty underestimated wrestling — will impact Adesanya's rhythm.
In short, we haven't really seen anyone challenge the New Zealander in the UFC.
How Will Adesanya vs. Gastelum Be Fought?
We know for certain that Adesanya will want to keep the fight on the feet.
If he can maintain his control over Gastelum from the outside, then he will look to point score over the course of the five scheduled rounds. The problem in doing this against Gastelum is that one shot — or even one takedown — can cause serious problems for "The Last Stylebender."
Gastelum has averaged 0.82 takedowns for every three rounds, meaning that the chances of him successfully landing one in this fight are pretty good.
Adesanya does have a decent takedown defense from what we have seen so far, but then again, he has not fought anyone with the wrestling prowess of Gastelum.
Although the American has a solid ground game, he will be confident of landing flush on his opponent at some point in the fight. However, I would be surprised if his gameplan did not include some way of walking Adesanya down to the fences in order to pressure him and tire him out.
To do this, Gastelum will have to deal with a very innovative striker who will use his height and reach advantages to maximum effect.
In order to land on Adesanya, Gastelum will need to close the distance and work his way inside with low kicks, hooks, and clever feints.
As we saw against Bisping, Gastelum has an exceptional talent in drawing a shot from an opponent at an angle before cutting over and countering with maximum effect. Adesanya will be under a lot of pressure from the younger man, and if he makes just one mistake at the wrong time, he could have his lights put out.
Adesanya vs. Gastelum – Fight Prediction
Those of us betting on Adesanya vs. Gastelum should be treated to an incredible fight, albeit one that is very difficult to call.
Adesanya is the latest in a long line of UFC starlets that is being tipped to completely dominate in the new era of the promotion. However, as we have seen with the likes of Francis Ngannou, Darren Till, Uriah Hall, and Sage Northcutt, the fight game is a brutal one.
Not to say that Adesanya cannot go all the way and establish himself as one of the greats in the future, but who has he fought (and beat) to justify such a tag?
Gastelum will be salivating at the prospect of facing Adesanya and knows he will be his toughest fight to date. As such, he will be confident of being the first fighter in the promotion to hand him a defeat inside the Octagon.
I can see Adesanya being put on the back foot a lot in this bout by the American. Even if he enjoys the advantages in the reach department, Gastelum's solid wrestling and punching pose a puzzle for the Kiwi.
As with any specialist kicker, the way to negate this weapon is to keep them constantly moving backward. Adesanya is tricky and awkward and has some excellent lateral movement, but he will be second-guessing himself at times against his opponent on the night.
I fancy Gastelum to land at least two takedowns in this fight and look to hit Adesanya's gas tank hard. The key to stopping a fighter like this, as Gastelum will surely know, is to wear them down and force them to make mistakes.
If Gastelum can find range and break Adesanya, he will win this fight.
However, if Adesanya can stay on the outside, mix it up, and use his decent takedown defense when caught out, he can easily outscore his opponent and collect the win on the cards.
If Gastelum has his arms raised at the end of this bout, it will be by stoppage. His last submission win was over Jake Ellenberger in 2014, and I don't think he will snap this against Adesanya.
If Gastelum lands early and forces the rising star to respect his power a little too much, I can see him making mistakes and opening a window of opportunity for the American to end the contest.
The value bet in this fight is Gastelum, and I am backing him to win.
Final Thoughts
Surprised at this pick? Well, you shouldn't be.
Although Adesanya has looked the business in the five fights he has had in the UFC, he has yet to face anyone of the caliber of Kelvin Gastelum.
The American has never been knocked out in his career, is the younger man, and has not been worked as hard as the New Zealander in the last 12 months, fighting just once compared to Adesanya's four bouts.
Not only does Gastelum have a better resume in terms of opponents beaten, but he is ranked above Adesanya. He has an excellent skill set and some very considerable power, too.
While this fight should be very close, I believe Gastelum is a step up in class for Adesanya.
As such, I could not justify backing "The Last Stylebender" at such short odds.
Nothing is ever guaranteed when it comes to betting on UFC fights, so it always comes down to working out the value bet through analysis. Understanding the factors that are more likely to play out in a fight helps us better prepare for where to put our money.
On April 13, I believe Gastelum will be on the money.