Hide Bonus Offers
| | | | | |
| --- | --- | --- | --- | --- |
| #1 | Bovada Sports | 50% Up To $250 | Visit Site | Bovada Sports |
| #2 | BetUS | 125% Up To $2,500 | Visit Site | BetUS |
| #3 | MyBookie | 100% Up To $1,000 | Visit Site | MyBookie |
| #4 | Everygame | 100% Up To $500 | Visit Site | Everygame |
| #5 | BetOnline Sports | 60% Up To $1,000 | Visit Site | BetOnline Sports |
Betting on the 2022 Rock & Roll Hall of Fame Inductees – Odds for Eminem and More

You can always bet on the Rock & Roll of Fame causing a little controversy, and 2022 is no different.
The Class of 2022 features several first-time nominees, including new-wave legends Devo, hip-hop stars Eminem and a Tribe Called Quest, as well as country icon, Dolly Parton.
When the odds for the 2022 Rock & Roll Hall of Fame were released, Parton was priced as the favorite. Much to the surprise of many, including herself. But will she make it through in her first attempt? We will have to wait until the inductees are announced in May 2022 to find out.
If you're looking to place bets on who is inducted into the Rock & Roll Hall of Fame now, let's get you up to scratch with the odds!
Latest 2022 Rock & Roll Hall of Fame Odds – To Be Inducted
Rage Against the Machine
+350
The odds come courtesy of the BetUS sportsbook.
I've cut the odds off at the top ten nominees for the Rock & Roll Hall of Fame (RRHOF), but you can find the full list of potential inductees on their betting site.
That's quite the motley crew (no, not them) of artists and bands on this year's ballot.
First up, we have Parton as the only eligible artist with minus money odds. Despite Parton being first eligible for nomination in 1992 — a full 25 years after her debut Hello, I'm Dolly — the "Jolene" star has received her very first nomination.
Eccentric Angelean, Beck, is next up at odds of +130. I've always been a huge fan of this guy, who has managed to keep his creative streak flowing all the way back to his Golden Feelings debut in 1993. Unlike Eminem (+140), who has enjoyed a pattern of hit-and-miss records since his magnum opus, The Marshall Mathers LP, released at the turn of the century.
From there on, we see a huge mix of potential inductees on the top entertainment sportsbooks for those looking to bet on the 2022 Rock & Roll Hall of Fame.
We could talk all day about the list of nominees for the RRHOF in 2022. Instead of covering them all, let's look at some of the best bets for the Hall of Fame as well as the more interesting names on this year's 17-artist strong ballot.
Dolly Parton
Formed: United States
Genre: Country
Key Album: Jolene (1974)
Odds: -125
I'm not a fan of Dolly Parton. I don't believe I have ever heard one of her songs all the way through. But I have known of Parton for as long back as I can remember.
But as the "9 to 5" star recently admitted, she's hardly what you would refer to as a rock and roll star. Then again, I haven't heard of any sightings of her clocking in at 9 am at her local Walgreens, either.
Regardless of her style, Parton is a legend of music. It might not be the type of groove that I go for when I'm gearing up for a night out, but judging by the 2022 Rock & Roll Hall of Fame odds — not to mention the plethora of previous inductees that span countless genres — she's not as out of place here as some might suggest.
Expanding on her initial response to being nominated, Parton suggested that she would release a rock and roll album if she makes the cut. I wouldn't want to hear that neither, but what a boss!
"I was absolutely floored when I heard that. I've never thought of myself as being rock and roll in any sense of the word — but I guess they judge it on the music and the influence certain songs have had, and I guess I've had songs with other people in that realm. But I don't know how they judge that.
I'm not expecting that I'll get in. But if I do, I'll immediately, next year, have to put out a great rock and roll album — which I've wanted to do for years, like a Linda Ronstadt or Heart kind of thing. So, this may have been just a God-wink for me to go ahead and do that. It's just nice to be nominated."
Rock & Roll Hall of Fame betting odds in 2022 are punctuated by the presence of Parton. Is that a bad thing? Well, not if you consider the overall picture. Besides, you don't have to be a rock and roller — or even stick to any one particular genre — to make the list.
Just ask this next guy.
Beck
Formed: United States
Genre: Miscellaneous
Key Album: Guero (2005)
Odds: +130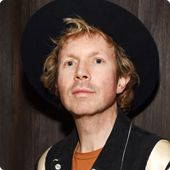 Despite the word genius losing almost all its impact in the modern age of music, I'm not afraid to apply it where this guy is concerned.
Through an unconventional approach to making music, multi-instrumentalist and likable weirdo, Beck Hansen, has carved out a place in audio history. The unorthodox trajectory of his back catalog proves that there is more than one way to skin a cat. And, of course, to make it sound easy on the ears.
The odds for the 2022 Rock & Roll Hall of Fame inductees appear to suggest that he has a strong chance of making it through the doors. And why not? His legacy is more than worthy of being alongside some of the greatest artists of all time, and, especially, those from his era.
Beck first caught major attention with the release of "Loser" in 1994. Taken from his sophomore release, Mellow Gold, critics bickered over the song and its even stranger, accompanying video.
Was this a trippy, Avante Garde rock classic? Or a blatant attempt to satirize the commercialization of "Generation X?"
Whatever your take on that track, time has proven that Beck probably did it because he, well, felt like it. Subsequent classics such as Odelay!, Midnite Vultures, and Sea Change exhibited the wide palette of colors and tones the Angelean had at his disposal.
From nu-folk to soul, or country to hip-hop, Hansen's ability to hop from emerald lily pads to stone-cold boulders without losing step stood him apart from almost every other artist from his generation.
The former Scientologist is one of the big favorites for betting on the Rock & Roll Hall of Fame Class of 2022. Obviously. And no, I'm not making that hacky "loser" joke…
Eminem
Formed: United States
Genre: Hip-Hop
Key Album: MMLP (2000)
Odds: +140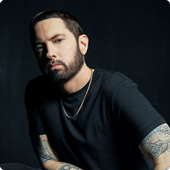 Born Marshall Bruce Mathers III to amateur musicians, Eminem would suffer a rough upbringing as a child.
Despite several hardships and setbacks, the young battle rapper landed the break of a lifetime when picked up by legendary hip-hop producer, Dr. Dre, in the late 1990s. His second full-length album, the infamous The Slim Shady LP, was released in 1999 to wide critical acclaim. And plenty of shocked parents.
Depending on the listener, the topics included the playfully profane to the downright disturbing, with colorful imagery and unique, boastful delivery.
Via his alter-ego, "Slim Shady," Mathers discussed everything from his painful upbringing, murder-fantasies, and abstract, jocular takes on (then) modern-American life.
#RockHall2022 Nominee and "Rap God" @Eminem shoves controversial topics from domestic violence to white privilege down America's throat. Learn more about Mathers and his provocative lyrics – and then cast your vote at https://t.co/keewGnXYfb pic.twitter.com/w6HmodJU2i

— Rock Hall (@rockhall) February 4, 2022
Powered by the beats of Dr. Dre, Eminem — a white rapper that stood out "like an orange hat with green bells" — became an overnight sensation with the release. But it was his follow-up, 2000's The Marshall Mathers LP, where the Detroit-based artist really hit his peak.
Two years later, he would win an Oscar as the star of the partially autobiographical movie, 8 Mile.
Mathers brought his posse, "D-12," to the fore in the early 2000s, exposing the world to the likes of the late "Proof," whose death would ultimately have a major effect on his psychological health and descent into alcohol and drug dependency.
Eminem's back catalog includes the following top-selling albums.
The Eminem Show (2002)
Encore (2004)
Relapse (2009)
Recovery (2010)
The Marshall Mathers LP 2 (2013)
Revival (2017)
Kamikaze (2018)
Music to Be Murdered By (2020)
Now fully sober, Mathers is still making music. But his later releases — discounting the intentionally provocative follow up to MMLP in 2003 — were more lyrically geared toward 'rapping about rapping,' and influenced by his recovery from substance abuse.
Eminem has made the ballot in his first eligible year and is one of the top favorites for induction into the 2022 Rock & Roll Hall of Fame. With 220 million albums sold around the world, he is one of the most significant musical talents awaiting the velvet rope to open for his entrance among the pantheon of the greats.
Rage Against the Machine
Formed: United States
Genre: Alternative/Metal
Key Album: Rage Against the Machine (1992)
Odds: +350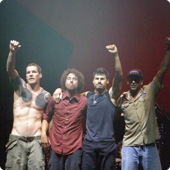 The growing popularity of MTV in the early 1990s provided artists that would have typically "belonged" in the underground with a mainstream platform.
One of the bands that used this exposure to its full extent was Rage Against the Machine. With the irresistible groove and punchy riffs of guitarist Tom Morello, the band quickly became a big underground success.
With Zach De La Rocha touted as one of the voices of his generation, fans bounced to the anti-establishment lyrics punctuated by one of the most reliable rhythm sections in the game.
Rage Against the Machine's self-titled debut release in 1992 was met with widespread critical acclaim. Considered as one of the chief sounds of the zeitgeist, De La Rocha's politically charged vocals appeared to resonate hard with Americans who were adjusting to post-Gulf War life.
At a time when apathy and nihilism were considered the norm, "Rage" urged listeners to fight against consumerism and corporate America…while going on to rake in millions from sales of their albums.
It is what it is, right?
Whether you were a believer in the substance of De La Rocha's lyrics, or just chalk up Rage's style to a fashionable, marketable gimmick, it's undeniable that this band had a huge effect on the musical landscape that emerged in the years following their key releases.
Those betting on the Rock & Roll Hall of Fame inductees in 2022 including "RATM" can benefit from some good odds. But with four failed attempts to make the HOF already, it's unlikely that they are a shoo-in.
More Top 2022 Rock & Roll Hall of Fame Contenders
If you're placing wagers on the Rock & Roll Hall of Fame inductees for 2022, it's worth getting acquainted with the competition. Well, for the most part, anyway.
There are a few big names outside of the four I previewed above. Here's a quick preview of some of the others.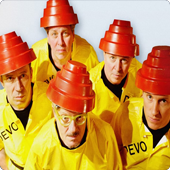 Devo – Ohio's post-punk/new wave pioneers achieved stardom with 1974's Are We Not Men? before cementing themselves among the most influential bands of the late 20th century with their unique brand of audio madness.
A Tribe Called Quest – Q-Tip, Phife Dawg, Ali Shaheed Muhammad, and Jarobi White were major players in reinventing the wheel that steered hip-hop to brand new heights.
Kate Bush – This British warbler was just 19 when she achieved worldwide fame for her single "Wuthering Heights." Bush became the first woman to score a number one hit in the UK with a self-written track.
Duran Duran – Bush is joined by Birmingham's pop legends, Duran Duran, in the British representation on the ballot. Although the odds for the 2022 Rock & Roll Hall of Fame are favorable, can they achieve induction in their first eligible year?
New York Dolls – Without the Dolls, punk as we know it would have never existed. The New Yorkers were also credited with being influential in the glam rock genre that would emerge from the punk scene.
Lionel Richie – The former Commodores vocalist became a household name in the 1980s with his mix of soul, funk, and pop. Richie is one of the artists that have received a nomination for the Rock & Roll Hall of Fame for the first time in their first eligible year.
Pat Benatar – The four-time Grammy Award-winning singer-songwriter is renowned for her commitment to touring and being a mainstay on the road. She is among the artists that have previously failed to make the HOF.
Check out the full list of the 2022 Rock & Roll Hall of Fame inductees if you're keen on seeing who else is on the ballot. Otherwise, let's skip on to the next section.
2022 Rock & Roll Hall of Fame Inductees Betting Picks
Alright, you should have a good grip on who is on the shortlist for 2022.
But when making betting picks for the 2022 Rock & Roll Hall of Fame, which way to go? I mean, all the artists nominated for induction this year have credible claims and the credentials to back it up.
You can be a diehard advocate of keeping it rock and roll — I'm looking at Ted Nugent here — or someone who is more "progressive" in thinking that the award should be open to any artist from any genre.
Personally, I can't take any institution that calls itself the Rock & Roll Hall of Fame seriously that has not inducted the likes of Alice in Chains, Bad Brains, Motorhead, Soundgarden, Thin Lizzy…alright, you get it. I'm a snob. With that said, I don't see any problem in making this a cross-genre thing, providing Ed Sheeran never gets within ten miles of the building…
Anyway, I'm not accepting an award here. I'm introducing my betting picks for the 2022 Rock & Roll Hall of Fame inductees. So, let's get to the point.
I'm going to make five picks for this year's Rock & Roll Hall of Fame inductees. They are as follows.
Dolly Parton (-125)
Beck (+130)
Eminem (+140)
Rage Against the Machine (+350)
Lionel Richie (+450)
You can have your say in who will be inducted into the Rock & Roll Hall of Fame in 2022 by visiting the fan vote webpage.
Wrap Up – Who Gets in This Year?
I'd say the five artists above all have great chances of making the grade.
Parton appears to be the clear favorite, and her commitment to being a downright awesome person, or so I have been led to believe, should be enough to get her in. There are fewer clear-cut bets for the Rock & Roll Hall of Fame in 2022 other than Parton, Beck, and Eminem.
As for the rest, Rage Against the Machine and Lionel Richie both look worth a shot at +350 and +450, respectively. But, if you're against the idea of placing multiple bets on the 2022 inductees, I'd stick with Parton and Eminem as the two most likely to get the nod.
Looking for more exciting betting markets like these? Well, why don't you visit our entertainment betting blog and see what the team has in store for you?
Until next time!