Hide Bonus Offers
| | | | | |
| --- | --- | --- | --- | --- |
| #1 | Bovada Sports | 50% Up To $250 | Visit Site | Bovada Sports |
| #2 | BetUS | 125% Up To $2,500 | Visit Site | BetUS |
| #3 | MyBookie | 100% Up To $1,000 | Visit Site | MyBookie |
| #4 | Everygame | 100% Up To $500 | Visit Site | Everygame |
| #5 | BetOnline Sports | 60% Up To $1,000 | Visit Site | BetOnline Sports |
Guide for Betting on the 2022 NFL Scouting Combine

All the talk in the NFL offseason is about free agency and the NFL draft. However, there's an important event before both of those. The 2022 NFL combine gives teams a better opportunity to scout the best players in college.
They have plenty of game film on these players, but the 2022 NFL combine will feature a variety of drills to test their skills. NFL combine events can make or break a borderline prospect.
If you want to wager on what happens on the NFL scouting combine this year, I've got you covered. Find out everything you'll need to know in this 2022 NFL combine betting guide.
Where to Bet on the 2022 NFL Combine
Unfortunately, 2022 NFL combine props and odds have been slow to come out. As of this writing, Bovada is the only sportsbook that has anything listed.
College players are eager to showcase their skill set in the NFL football combine. That could tip your hand for potential NFL combine betting.
Before you research how to bet on the NFL combine, you can look to the sportsbooks above for actual destinations to place your bets this year.
In order to bet on the 2022 NFL combine, we need to know when the events take place. Let's check out the key details.
2022 NFL Combine Schedule, Events, and Dates
When: Tuesday, March 1 – Monday, March 7
Where: Lucas Oil Stadium in Indianapolis, IN
How to Watch: NFL Network
There was some controversy surrounding a potential bubble for the 2022 NFL combine, but the NFL will no longer enforce a bubble. We'll see quarterbacks, wide receivers, and tight ends start their workouts on Thursday, March 3.
The following day, we'll move onto running backs and offensive linemen. The weekend will feature players on the defensive side of the ball. Defensive linemen and linebackers will take the field on Saturday. The NFL pro combine will conclude with defensive backs and special teams.
Now that we know when is the NFL combine, it's time to talk about the marquee events.
NFL Combine 2022 Events
40-yard dash
Bench Press
Vertical Jump
Broad Jump
20-yard shuttle
Three-cone drill
60-yard shuttle
The NFL combine drills can make or break an NFL prospect. The 40-yard dash is the most noteworthy event.
It's self-explanatory, with players running as fast as they can for 40 yards. The fastest NFL combine 40-yard dash is John Ross. He ran it in 4.22 seconds in 2017. It's a big event for wide receivers and cornerbacks.
Bench press is where we separate the men from the boys. Players lift a 225-pound barbell as many times as possible. Justin Ernest holds the NFL combine bench press record with 51 reps. He is the only player to have over 50 reps.
The vertical jump is all about how high a player can jump. This NFL combine event is excellent for pass catchers and defensive backs because it'll give us an indication about high-pointing the ball. Will anyone break Gerald Sensebaugh's record of 46 inches?
Broad jump is another jumping event, but instead of going straight up, you jump as far forward as possible. It's an important event for all positions because it measures your lower body balance.
The 20-yard shuttle might not receive as much attention as the 40-yard dash, but it's an important drill in the NFL football combine. Players have to maneuver around cones to test their quickness and agility. It's a big indicator for wide receivers' change of direction.
The three-cone drill tests the quickness and agility for offensive and defensive linemen. An edge rusher needs to show off his speed in this NFL combine drill, while an offensive lineman can gain trust with his impressive movement.
Another variation of the 20-yard shuttle and three-cone drill is the 60-yard shuttle. It effectively serves the same purpose in the NFL scouting combine. The only main difference is it's 40 yards longer.
Top 2022 NFL Combine Invitees
NFL scouts will have their eyes on almost every player in the NFL draft combine. However, us fans will focus on a few key players. Let's talk about the biggest names in the 2022 NFL combine.
Malik Willis
Most years, we have a good idea who will be the top quarterback off the board. That doesn't apply for the 2022 NFL draft, as we have four or five quarterbacks near the top. Lately, we've seen Malik Willis move up draft boards.
Which lucky squad will grab Malik Willis? ? pic.twitter.com/kLSWza2C7a

— PFF Draft (@PFF_College) February 15, 2022
Willis had an outstanding performance in the Senior Bowl. He still has to refine his skill set, but the NFL football combine is a great place to show he belongs in the top 10. His athleticism makes him an optimal quarterback in today's NFL.
How will he look in the NFL combine passing drills?
Drake London
The 2022 NFL draft has plenty of talent at the wide receiver position. We're still trying to determine which receiver will go first, but Drake London is starting to emerge as a great value option.
London doesn't receive as much attention as Jameson Williams or Garrett Wilson, but he is drawing high praise.
USC WR Drake London should be the top receiver off the board in April's draft. The Falcons at No. 8 and the Jets at No. 10 are interesting potential landing spots in the top-10. pic.twitter.com/UfsxdddMcQ

— Todd McShay (@McShay13) February 21, 2022
London is a monster at 6'5". He is great at contested catches, but his speed and agility will be the big question in the NFL pro combine. If he performs well in the cone drills, I could see him becoming a top 15 pick.
Kayvon Thibodeaux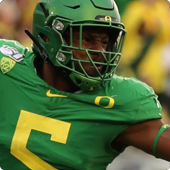 The battle for the No. 1 pick in the 2022 NFL draft is starting to favor offensive tackle Evan Neal. However, edge rushers Aiden Hutchinson and Kayvon Thibodeaux remain in the race.
Coming into the season, most people believed Thibodeaux was the best prospect in college football. Despite a great season, a few players have surpassed him.
At worst, Thibodeaux will be a top-five pick, but an excellent performance in NFL combine events could move him ahead of Hutchinson. The battle for top edge rusher will be a key storyline at the 2022 NFL combine.
Ahmad Gardner
Like the wide receiver position, defensive backs should fly off the board in the first round. Derek Stingley Jr. and Kyle Hamilton will be the top two off the board, but it wouldn't surprise me if Ahmad "Sauce" Gardner weren't far behind.
Two crazy stats Cincinnati CB Ahmad "Sauce" Gardner, who stands at 6-3, 200 pounds:

▪️He didn't allow more than 13 yards to any receiver in a game this past season

▪️He didn't allow a TD catch in his *entire* college career

? pic.twitter.com/fWjLIwMehI

— Field Yates (@FieldYates) February 21, 2022
Gardner posted unreal numbers with Cincinnati. There's a reason he is a top 15 pick in our latest 2022 NFL mock draft. The only downside to his game is his speed. He only ran a 4.74 40-yard dash in high school.
His 40-yard dash time in the 2022 NFL combine will significantly affect his draft stock.
Daxton Hill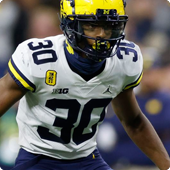 You may also be able to bet on where Daxton Hill goes in this year's draft. Perhaps he can use the combine to improve his standing, as our latest NFL mock draft had him near the bottom of the first round.
It's not often you see multiple safeties near the top of the draft board. Kyle Hamilton should be a top-five pick, but people need to watch Daxton Hill. Hill has a lot of great attributes and is starting to turn some heads.
Hill is an explosive player that has excellent ball skills. He is one of those players made for the NFL football combine. It shouldn't surprise anyone if he showed out in the NFL combine events.
I wouldn't mind placing a few NFL combine bets on Hill.
Popular NFL Combine Props
It's only a matter of time before the sportsbooks roll out NFL combine prop bets. Let's check out the most popular NFL combine bets for 2022.
Fastest 40-yard Dash Time
The 40-yard dash is the most exciting event in the scouting combine. Speed is the name of the game, and everyone wants to see which players can blaze down the field.
I doubt we'll see someone break John Ross' record, but can someone run a sub 4.3 40-yard dash? Wide receiver Calvin Austin could be a player to watch.
Read Memphis football's Calvin Austin III's update on training and reflection on the Senior Bowl and how fast he wants to run the 40 at the NFL Combine https://t.co/ZstnHuZBPI

— Commercial Appeal (@memphisnews) February 21, 2022
Austin is likely the fastest player at the NFL combine. His long strides and 5'7" height make him an attractive pick for the fastest 40-yard dash. The fastest 40-yard dash time will be a popular NFL combine wager.
Most Bench Presses
This NFL combine event is all about the offensive and defensive linemen. They'll show off their strength by pressing a 225-pound barbell. A few offensive linemen should have reps in the 40s, with Ikem Ekwonu being a name to watch.
Evan Neal is the consensus top offensive lineman in the draft, but Ekwonu isn't far behind. A big performance in this event could get people talking about him as the No. 1 overall pick.
Jordan Davis represents the best opportunity for a defensive lineman to have the most bench presses. I'd keep an eye on him for the NFL combine props.
Highest Vertical Jump
The vertical jump gives pass catchers and defensive backs a chance to show off their leaping ability. Now I shouldn't limit it to those positions. Linebacker Cameron Wake had the second-highest jump with 45.5 inches in 2005.
Here are my top contenders to have the highest vertical jump at the NFL scouting combine.
Drake London
Daxton Hill
Derek Stingley Jr.
I touched on Drake London and Daxton Hill in my last section. Derek Stingley Jr. is the top defensive back in the NFL draft. A big reason is his leaping ability.
Player Props
We see player props with anything NFL-related, and the NFL combine is no exception. You'll likely see many combine bets for 40-yard dash time. Quarterbacks, running backs, wide receivers, and cornerbacks should have NFL combine betting odds.
The offensive and defensive linemen should have NFL combine prop bets for bench press.
Lastly, we'll see enhanced odds for NFL combine records. It'll be a long shot for a player to break one of these records, but if you're feeling risky, you can take that bet. The top players should see many NFL combine bets.
Rich Eisen's 40-yard Dash Time
Rich Eisen's 40-yard dash time is a unique aspect of betting on the NFL combine. It doesn't focus on the players, but NFL journalist Rich Eisen.
Eisen has been running the 40-yard dash in his suit since 2005. The 40-yard dash has served as a fundraiser for St. Jude's Children Research Hospital since 2015. It's always amusing to see his runs against NFL prospects.
Rich Eisen vs. DK Metcalf in the 40-yard dash is priceless ?

Oh and Rich had a 5-yard head start… pic.twitter.com/CiaFWLKBLM

— FanDuel (@FanDuel) March 4, 2019
We'll likely see this NFL combine prop bet around six seconds. Since 2013, Eisen has gone over that mark in every odd year. Coincidentally, he has gone under six seconds in the even years.
These are the most popular props for the NFL combine, but there are more where they came from. As mentioned, Bovada has pushed out a slew of prop bets for the 2022 NFL combine, and I broke down the very best options for bettors to target.
Check out my favorites below.
How to Bet on the 2022 NFL Combine
It's tough to do NFL combine betting if you don't have the available resources. Let's quickly break down the best ways to sign up for NFL combine betting.
Signing Up to Bet on the 2022 NFL Combine
The first step towards betting on the 2022 NFL combine is finding a site you can trust. Everyone should feel comfortable with their betting site because it's their money.
From there, they can visit the site and sign up with their email and password. That'll give you access to NFL combine bets. That way, this NFL combine guide will be helpful for bettors.
Now that we've gone over the sign-up process, let's check out a few betting tips for the 2022 NFL Combine.
Don't Bet on a Player Breaking a Combine Record
The sportsbook should release odds for a player to break the record for fastest 40-yard dash time, most bench presses, etc. It'll seem tempting to go with the value on these bets, but there's a small chance we see a record fall.
Honestly, I'm not sure if anyone wants to break the 40-yard dash record. The fastest players in the combine haven't had much success in their NFL career. Check out the five fastest players in the NFL draft combine.
John Ross
Chris Johnson
Dri Archer
Marquise Goodwin
Jacoby Ford
Chris Johnson had a great career, but no one else on this list made a significant impact in the NFL.
Some people will want to take a risk with the value bet, but I'd advise against it. I don't see any player topping a record in the 2022 NFL combine.
Research the Skillset for Each Player
This is a universal betting tip, but I feel like it applies more with the NFL combine betting. We see so many great prospects in college football, so it's easy to believe everyone will show up to the NFL combine with an excellent performance. However, that's not always the case.
Earlier, I talked about Ahmad "Sauce" Gardner as one of the top cornerbacks. Theoretically, that means he should have a great performance in the 2022 NFL combine, but we talked about his slow speed.

Top Tip
If the NFL combine prop bets release odds for his 40-yard dash time, it might be a good idea to bet the over. That's what you'll gain from doing the research.
You'll see more and more situations like this. Doing this extra research will help you maximize your earnings on the 2022 NFL combine.
Betting on the NFL Combine in 2022
The 2022 NFL combine gives fans another opportunity to bet on the NFL. I'm sure everyone is missing the game action, so this will be your first chance to bet after the Super Bowl. It also won't be much time before NFL free agency.
Hopefully, you learned more about betting on the NFL combine with this betting guide. As mentioned, Bovada has 2022 NFL combine wagers available right now, so if you want to get in on the action early, they should be your first stop.
Bet on the NFL Combine at Bovada

Visit Site