Hide Bonus Offers
| | | | | |
| --- | --- | --- | --- | --- |
| #1 | Bovada Sports | 50% Up To $250 | Visit Site | Bovada Sports |
| #2 | BetUS | 125% Up To $2,500 | Visit Site | BetUS |
| #3 | MyBookie | 100% Up To $1,000 | Visit Site | MyBookie |
| #4 | Everygame | 100% Up To $500 | Visit Site | Everygame |
| #5 | BetOnline Sports | 60% Up To $1,000 | Visit Site | BetOnline Sports |
Betting on the 2019 Ballon d'Or Winner – Early Odds and Pick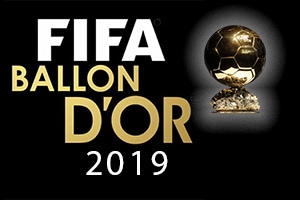 The Ballon d'Or is one of the most prestigious awards a player can receive outside of competition.
Don't know your Ballon d'Ors from your marble floors? Don't let the flowery French patter confuse you — this award is essentially the recognition that you were the best player on the planet in that calendar year.
Not you, of course! I mean the winner of the award.
Anyway. Given that a few players have really stood out above the rest this season, I felt it would be a good idea to flirt a little with the odds on offer.
Sure, the winner of the award will not be announced until December, but the conversation is in full swing as to who should be crowned the top guy in world soccer.
With Virgil van Dijk looking heroic in Liverpool's UEFA Champions League win, there are many who feel he deserves the gong. One of the award's usual suspects, Lionel Messi, is also being touted as the man who deserves the crown.
Of course, there are other players that have a genuine chance of winning this prestigious award, given their own contributions to club and/or international soccer this year.
We might only be halfway through the year, but as history has shown us, those who have enjoyed strong seasons that concluded prior to the summer tend to win.
Luka Modric, for example, had an excellent 2017/18 but was seriously off-form in the early stages of 2018/19.
For this reason, it can be smart to get your bets in early before the award ceremony approaches.
Let's see if these odds tempt you.
2019 Ballon d'Or Winner Odds
Here are the latest odds courtesy of 888sport. You can get a more extensive list of nominees by visiting this betting site, which will also give you real-time odds if you fancy a flutter.
Lionel Messi comes in as the early favorite, despite having an absolute nightmare against Liverpool in the UEFA Champions League semi-final second leg.
One of the men responsible for Messi's misery, Virgil van Dijk, is the second favorite.
It's not surprising to see a couple of other Liverpool players in there, and the same goes for the captain of the UEFA Nations League Champions, Cristiano Ronaldo.
Sure, there is plenty of soccer to be played between now and December, but the only major tournaments that will conclude by then are the Copa America and the Africa Cup of Nations.
Messi, Mane, Salah, and Alisson will all feature in those tournaments, which gives them an extra chance at scoring more points ahead of December. That said, if all of those players fail to perform at those tournaments, it could work against them.
Technically, the award will take a player's performances from January 2019 through to December into the equation. Still, as mentioned earlier, the performances in tournaments such as the FIFA World Cup and UEFA Champions League tend to take precedent.
So, for a little bit of fun, I'm going to rank each of the top ten contenders for this award, from least likely to most likely to win.
Their achievements and stats will be based on the calendar year to date, so keep that in mind, too.
Kylian Mbappe – Paris Saint-Germain and France
Odds to Win +1700
Rating: Unlikely to Win
First up is PSG's wonderkid, Kylian Mbappe.
If anything, Mbappe's rating as highly unlikely to win speaks volumes about the talent on this list.
The 20-year-old French phenom bagged himself 20 Ligue 1 goals in 2019 and has completely destroyed defenses with his superb speed, dazzling footwork, and keen eye for goal.
I don't believe Mbappe stands much of a chance of winning the award this year, given that he didn't really light up the Champions League. Given that PSG was kicked out of the competition by United, that can't really be his fault alone.
Still, you can count on this guy winning the award at some point in the future. His efforts in 2019 have been impressive, but there are players on this list who deserve it more.
Eden Hazard – Real Madrid and Belgium
Odds to Win +3000
Rating: Unlikely to Win
One of those individuals on that list of players who deserve to win is Real Madrid's new man, Eden Hazard.
While the Blues lament the loss of their greatest talent, La Liga is certainly looking forward to seeing what he can bring to Spain.
Having won the UEFA Europa League in a very solid season for Chelsea, the Belgian maestro will also feel confident of having a shot at the trophy on account of some excellent performances in the EPL.
To many soccer fans across the globe, Hazard is up there with the elite. In fact, I would go one further and say that he is probably just behind Messi and Ronaldo in terms of natural ability and pure star power.
Madrid has certainly gotten their hands on a special player.
Mo Salah – Liverpool and Egypt
Odds to Win +1700
Rating: A fair chance of winning
While Salah may not have enjoyed the same free scoring exploits as last season, he had a solid campaign for Liverpool.
The final game of 2018/19 saw the Egyptian icon win the Champions League having picked up a loser's medal in 2018. It was nothing less than he and his teammates deserved, especially since they lost the league to Manchester City by the narrowest of margins.
This was the year that Salah showed just how much of a team player he can be. Sure, he might have suffered from the effects of "second season syndrome" at the start of the campaign, but his goals were crucial to Liverpool's very impressive 12 months.
Talking of crucial, Salah's penalty in the Champions League Final gave them the platform to go on and win that game.
Sure, it hasn't all been rosy for Salah this season. He flattered to deceive in some games, but he more than made up for it in others.
If the Liverpool darling can push Egypt far in the Africa Cup of Nations this summer, he would improve his case for winning the Ballon d'Or.
Raheem Sterling – Manchester City and England
Odds to Win +2000
Rating: Possible
What a season it has been for Raheem Sterling.
The Manchester City attacker has matured with class in a year that has seen him come good for his teammates in every sense of the meaning.
The former Liverpool man's inspirational anti-racism campaign has seen him attract the attention of some outside of the game. His no-nonsense approach to soccer this year also won him the captain's armband for England's Nations League semi-final against the Netherlands.
Sterling's goals and assists were crucial to City landing an unprecedented English domestic treble this year. His actions on and off the pitch have also been nothing less than inspiring.
Sterling is, without a doubt, a great price at +2000. Especially at a time when institutions are looking to players like him for assistance in tackling racism and delivering social change.
Cristiano Ronaldo – Juventus and Portugal
Odds to Win +1700
Rating: Possible
Sure, Cristiano Ronaldo hasn't quite had the type of season that we are used to, but he is getting on a little.
That said, another Ballon d'Or win for one of the greatest men to ever lace up boots is not completely out of the question. If Ronaldo was to win again, he would have six — which is more of these awards than any other player.
He hasn't quite set the world alight with Juventus since joining last season. His goal ratio of seven and his five assists in 2019 isn't quite the stuff of a Ballon d'Or winner, but don't rule him out.
He did score a ridiculous hat-trick against Atletico Madrid in the Champions League — having predicted that he would do just that — and also bagged a couple of other crucial goals along the way.
Where Ronaldo might look the part to the Ballon d'Or panel is for his UEFA Nations League win with Portugal. His hat-trick against Switzerland in the semis and a decent shift in the final means that the iconic forward will be among the first names betting enthusiasts will be considering.
That name alone could see him make the top three, at least, but will it be enough to help him make history?
Alisson Becker – Liverpool and Brazil
Odds to Win +3000
Rating: A strong possibility
Is there a better goalkeeper on the planet right now?
Some laughed when Jurgen Klopp broke the world transfer record for a goalkeeper to bring Alisson to Anfield, but they are not laughing now.
The bedrock of Liverpool's excellent season has been their defense, and as the last line of that defense, the Brazilian international has been sublime.
The EPL Golden Glove-winner ended the campaign with 21 clean sheets and just 22 goals conceded. He stepped up for his team and was an integral part of both their Premier League and Champions League runs.
Allison's performances in the Champions League semi-final second leg and the final showed what he is made of.
The shot-stopper will take part in the Copa America with Brazil this summer and can, like his teammate Salah, solidify his case for winning the Ballon d'Or.
Sadio Mane – Liverpool and Senegal
Odds to Win +1500
Rating: A strong possibility
Sadio Mane is some player.
Yes, he has had his doubters in the past, but going by his performances this season, there are very few who rate him as anything less than a dangerous threat. Defenses are more than aware of what he can bring to the table when on form.
Mane has been a consistent thorn in the side of centre backs this season, scoring some very crucial goals in Liverpool's admirable campaign. He won the penalty in the Champions League Final, too, lest we forget.
The Senegalese trickster's goals meant that he shared the Premier League Golden Boot with his teammate Salah and Arsenal's Pierre-Emerick Aubameyang.
While he is a decent outside bet to be the EPL top scorer next season, I think he is excellent value at +1500 to become the first ever African Ballon d'Or winner.
A strong showing in the Africa Cup of Nations with Senegal just might seal it for him.
Bernardo Silva – Manchester City and Portuguese
Odds to Win +3300
Rating: Likely to win
What a year it has been for Bernardo Silva.
A domestic treble and a UEFA Nations League winner's medal is surely enough for any player that doesn't want to be branded as greedy.
While the usual suspects of Aguero, Sterling, De Bruyne, et al. get most of the attention, Silva has been simply phenomenal for City. He has been everywhere this season, supplying goals, assists, and key runs to help Guardiola's men dominate almost everything in front of them.
Silva was awarded Manchester City's player of the year for the 2018/19 campaign for his contributions.
The same can be said for his exploits in a Portugal jersey. After all, without Silva, they would have probably not gone all the way.
His Player of the Tournament accolade says all that needs to be said, right?
A Ballon d'Or would be the perfect cap to a stellar year for the 24-year-old.
Odds of +3300 scream of incredible value here!
Lionel Messi – Barcelona and Argentina
Odds to Win -143
Rating: Highly likely to win
In 2019, Lionel Messi hit the back of the net a total of 30 times for Barcelona.
In pretty much every competition he has been involved in, he has been the best performer.
Most players in the history of the game will never have a career highlight reel that can touch what the Argentine genius has accomplished since January 1.
Sure, he was accused of going missing in Barcelona's incredible capitulation at Anfield in the Champions League, but overall, he has had an incredible year.
Like Ronaldo, Messi has five Ballon d'Or trophies to his name. Unlike his biggest rival, he has a better chance of making it to six.
If Messi wins the Copa America with Argentina, he wins this award. Make no bones about it.
Virgil van Dijk, Defender – Liverpool and Netherlands
Odds to Win +105
Rating: Highly likely to win
Virgil van Dijk is the best defender currently playing the game.
The PFA Player of the Year was a rock in the heart of a Liverpool team that won the Champions League and missed out on the league by the most ridiculous of fine margins.
The Dutchman just seems to get better with every year that passes. It is scary to think of how much he can still improve.
Oh, and get this for a statistic — not one player has dribbled past him this year. Not one. Not Messi, Ronaldo, Hazard…
The list goes on and on.
If Liverpool had won the league, van Dijk would be far and away as the favorite for the Ballon d'Or. If the Netherlands had won the Nations League, the same would apply.
Still, given how peerless he has looked this year, I think his name is already on it.
Well, that is unless Messi wins the Copa America or van Dijk cuts his hair and loses his superpowers in the new season.
My Pick
Given the campaigns that some of these guys above have had, it's going to be tough for anyone to call the winner.
With that said, I do believe the two outstanding candidates are Messi and van Dijk.
While these two are highly likely to win the Ballon d'Or in 2019, we have seen some surprising winners in the past.
Now, it is important to remember that coaches and captains of national teams — in addition to international journalists — all get to vote on the winner. If this helps you to figure out who you think will be top dog, then use that when deciding who to back.
Right now, 888sport is offering odds of +3300 on Bernardo Silva, which I find to be absolutely incredible, given the year he has had. I definitely think a punt on Silva is worth a few dollars, anyway.
As for my overall pick for the Ballon d'Or, however, I'm going for Virgil van Dijk.
If you want to know why, simply scroll up a little. Or check out some of his highlights of 2019.
In Conclusion
The Ballon d'Or is essentially the ticket to soccer immortality.
Only the best of the best receive this accolade. It is certainly not handed out with every promotional pack of Cheetos, regardless of what your thoughts on it might be.
While there is still some time for some of the players above to further their claims for the award, how much can really change between then and December?
Well, that remains to be seen. If we do see some kind of freaky performances that cast one of the outsiders into contention, I'll be back here, letting you know about it before December.
So, until then, we will have to see how the likes of Messi and Salah get on in the Copa America and Africa Cup of Nations.
Keen on getting some bets on ahead of these tournaments? Why not check out my colleague Jerry's awesome piece on Copa America outright betting?
Or how about heading over to our Africa Cup of Nations odds, predictions, and updates page in our betting HQ to help your chances of making a buck or two?
So, that's me done for now. Until next time!