Betting Offers & Promotions for the Cheltenham Festival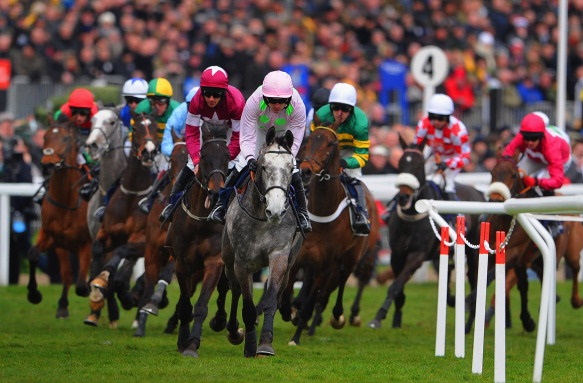 The Cheltenham Festival starts this week, and I simply have to write a related post as this is my favorite horse racing event of the year. Much as I love the festival, though, I won't be sharing any betting tips with you. I've had some brilliant results from betting during this week over the years, but my overall record is inconsistent to say the least. I don't want to be responsible for costing any of you your hard earned money, and a big part of the fun is trying to pick your own winners anyway.
I should point out that I'm far from alone when it comes to my inconsistent betting results at Cheltenham Festival. There are many gamblers with more horse racing expertise than me that struggle too, as this is rarely an easy week when it comes to picking winners. The festival can be very unpredictable, which adds to the excitement for sure but makes it hard to turn a profit.
There is a great way that you can increase your chances of making a profit though, and that's what I'm going to focus on in this post. If I could offer you just one piece of advice for betting on the Cheltenham Festival, it would be to take advantage of as many special offers and promotions as you can. The leading gambling sites all offer a number of these during Cheltenham week, and if you're smart you can gain some real benefit from them.
Below I have highlighted a small selection of the best offers available this week. I would definitely recommend you take a look at these, and it's also worth doing some shopping around to see what else is available too. Pretty much all the top gambling sites will have at least a couple of offers running, and they aren't necessarily limited just to betting on the races. Some sites will also have casino, poker and bingo promotions that are related to the festival in some way.
Cheltenham Offers at Bet365
Bet365 always has several betting promotions running at any given time, and for Cheltenham week there is some excellent value to be had at this betting site. The four offers that are of particular interest are as follows:
Best Odds Guaranteed
Price Promise
4/1 Offer
Enhanced Place Terms
The "Best Odds Guaranteed" offer is simple, but can be very useful when it comes to getting maximum value for your winners. If you take a price when betting on your selection, and that selection goes on to win at a higher starting price, you will be given the better odds when your returns are calculated. This can make a significant difference to your winnings in some circumstances, as it is not at all uncommon for prices to lengthen during the day.
The "Price Promise" promotion is equally simple. Basically, Bet365 constantly checks the prices of other major bookmakers and then adjusts their own to ensure that they are always the best price. This means that you can place a bet here without having to compare your options as you know you will be getting the best odds. Please note that this offer only applies to races which are being shown live on Channel 4, and this will not necessarily be every single race during the festival.
The "4/1 Offer" is also specifically for races shown on Channel 4. With this promotion, if you back a winner at odds of 4/1 or higher you will be given a risk free bet on the next race. What's more, if you back another winner at 4/1 or higher with your risk free bet then you will be given another risk free bet too. The value of these free bets can soon add up if you manage to pick a few winners.
With the "Enhanced Place Terms" promotion, Bet365 is offering a quarter of the odds for all successful place bets. This will mean bigger returns than you might otherwise get if you win a place bet or an each way bet in a small field race.
The above offers are all available to both new and existing customers at Bet365. If you don't already have an account, you can also take advantage of the sign up offer of up to £200. You can sign up here, or read our review of this betting site here.
Cheltenham Offers at William Hill
At the time of writing this post, William Hill has announced two Cheltenham specific betting offers. It is quite possible they will have more promotions during the week though. The first offer is for the first race of the festival – the Supreme Novices' Hurdle – and it's a great one. Basically you can get a guaranteed return by betting on this race, as any losing bets will be refunded as a free bet.
The second offer is running throughout the whole week, and is called "Cheltenham Festival Happy Hour". Each day, between 12pm and 1pm, William Hill will be enhancing the price of at least one runner for that day or giving enhanced place terms on at least one race. There could be some decent extra value available with this promotion, so it's well worth logging in during the specified time to see what's on offer.
These two offers are also available to new customers and existing customers, and there is an enhanced sign up offer for new customers too. For this week only, you can get £30 in free bets just by betting £10 or more. You'll need to sign up here, and use the bonus code C30. If you'd like to find out more about this betting site, please read our William Hill Review.
Cheltenham Offers at Titan
Titan Bet has a very fitting offer for the Cheltenham Festival this year. If you're not aware, this festival will be Tony McCoy's last. He has been one of the most popular jockeys for many years, but he is retiring at the end of this season. Titan Bet has marked this by offering a McCoy related promotion, giving away free bets every day that he rides a winner.
To qualify for this offer, you have to place a bet of at least £10. Every day you do this, you will be eligible for a £10 free bet should McCoy win a race that day. The maximum amount you can claim is £10 per day, and all free bets have to be placed using a mobile device.
This promotion is open to all Titan Bet customers. New customers can also claim a sign up bonus, of £30 in free bets. Our Titan Bet Review provides more details on this betting site, and you can visit the site directly by clicking here.