Betting Odds and Breakdown for Week 9 of the 2021 NFL Season

Just when you felt you had the NFL pegged, a few teams had to mess things up.
The Green Bay Packers made sure there would be no more undefeated teams. The New York Jets somehow nabbed their second win over the year. And the Eagles mopped the floor with the Lions.
Okay, that last one was at least somewhat predictable. I don't know if too many people had the Packers upsetting Arizona, though, and virtually nobody had the Jets taking out the Bengals.
Going into last week, though, Green Bay's line moved by three points, and the Jets had a thick point spread work in their favor. Waiting on the Packers line moving was smart, but hitting New York's moneyline early was the right call.
It's a bit of a song and dance, but it's always worth checking out the early NFL betting lines. You get to see what's worth targeting, and whether or not you need to act now.
For what looks good right away in week nine, join me as I break down the top matchups with pricing.
Early NFL Betting Odds for Week 9
Jets (+10.5) -105 vs. Colts (-10.5) -115
Texans (+7) -110 vs. Dolphins (-7) -110
Patriots (-3) -105 vs. Panthers (+3) -115
Bills (-14) -115 vs. Jaguars (+14) -105
Browns (+2.5) +100 vs. Bengals (-2.5) -120
Raiders (-3) -110 vs. Giants (+3) -110
Chargers (-3) +100 vs. Eagles (+3) -120
Packers (+3) -115 vs. Chiefs (-3) -105
Cardinals (-2.5) -115 vs. 49ers (+2.5) -105
Titans (+6.5) -114 vs. Rams (-6.5) -106
Bears (+6.5) -110 vs. Steelers (-6.5) -110
You can find the week nine NFL odds above at BetOnline. It's still one of the best sites for early odds, and it also happens to offer some of the best pricing you'll find online.
Right away, week nine has the feel of a competitive week. It could be tough to beat what we just saw, of course.
Excluding Monday Night Football (as I'm writing this before the Chiefs and Giants square off), eight of the games from week eight were one-score games, one was decided by a pick-six, and several went down to the final seconds or even overtime.
It's likely going to be another tense week in the NFL, and some tight opening lines don't make things any easier on bettors. To find out what stands out – and how you may want to bet – let's proceed with a quick look at every week nine NFL matchup.
New York Jets vs. Indianapolis Colts
Jets (+10.5) -105
Colts (-10.5) -115
Jets to Win (+420)
Colts to Win (-525)
Over 46.5 (-110)
Under 46.5 (-110)
In Mike White we trust? Laugh now, but the Jets just upset what many felt was a very good Bengals team.
They did it on the heels of White exploding for over 400 passing yards, as he also generated an improbable 34 points in quite an amazing debut as an NFL starter.
Jets backup QB Mike White threw for 405 yards and 3 TD in his first career start to upset the No. 1-seeded Bengals.

? Any. Given. Sunday. pic.twitter.com/Y7gEL4tuPz

— B/R Gridiron (@brgridiron) October 31, 2021
While likely an anomaly, White gets another crack at stardom, as head coach Robert Saleh already named him the starter for Thursday Night Football.
It's hard to love his chances on a short week at Indy, though. The Colts are going to be licking their wounds after a back-breaking loss to the rival Titans, but this has "get right" written all over it.
The spread still feels tricky, but White's absurd performance could goat bettors into a spread bet that probably isn't wise. For what it's worth, Indy is 5-3 against the spread in 2021, and the Jets are still the Jets.
Cleveland Browns vs. Cincinnati Bengals
Browns (+2.5) +100
Bengals (-2.5) -120
Browns to Win (+130)
Bengals to Win (-150)
Over 46 (-110)
Under 46 (-110)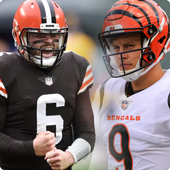 Baker Mayfield and company can't get out of their own way. The Browns temporarily stopped the bleeding on Thursday Night Football in week seven, but a loss to the Steelers slid them to the bottom of the AFC North.
As bad as it's been, the Browns have a real shot at reviving their 2021 season in week nine, when they face the division-leading Bengals.
Cincy laid an egg of their own last week, as they lost to the Jets of all teams. Joe Burrow and co. are still the more complete team as things stand, but this is a really tight line for a divisional clash.
Bettors should tread lightly here. Cincinnati is the more talented squad, but they're also unproven.
Cleveland also knows a thing or two about controlling the clock and grinding out wins. Last week's battle with the Steelers totaled 25 points, and the Over is just 4-4 in their eight contests in 2021.
Houston Texans vs. Miami Dolphins
Texans (+7) -110
Dolphins (-7) -110
Texans to Win (+265)
Dolphins to Win (-315)
Over 46 (-110)
Under 46 (-110)
Oh, what could have been. NFL fans could have been gifted the mother of all revenge games in week nine, had Miami and Houston agreed upon a Deshaun Watson trade.
It's still possible something changes, of course, as Miami has been the frontrunner for some time now.
A deal of sorts could still go down with someone else, as well, but it isn't likely to be between these two teams. Instead, it's Davis Mills or Tyrod Taylor under center for the Texans, and two teams who desperately want to lose.
Tua Tagovailoa keeps trying to will Miami to wins, and his presence probably keeps the Dolphins as the best bet here. Houston is getting a bit too much credit with this spread, as Miami may finally be looking at their best chance to get a second victory since week one.
All things considered, the spread might be a bit too light, and the game total is a tad too low. I'd be hammering the Dolphins and the Over in week nine.
Las Vegas Raiders vs. New York Giants
Raiders (-3) -110
Giants (+3) -110
Over 47.5 (-110)
Under 47.5 (-110)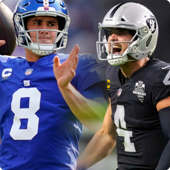 This is a tough game to peg at first glance, seeing as the Giants aren't done with their week eight game yet. Leading into it, though, Big Blue is just 2-5, and have been devastated by injuries.
New York could always get some healthy bodies back for week nine, of course, and they'd be hosting a Las Vegas team that had to can Jon Gruden a couple weeks ago.
The Giants are impossible to trust, to be clear. They're 1-3 at home, and they're just 3-3 ATS as underdogs in 2021. Las Vegas, meanwhile, leads the way in the AFC West at 5-2.
We're going to find out in the coming weeks whether parting with Gruden was for the best, but I'd imagine the Giants shouldn't be an incredibly tall task for them.
The early line looks light, and bettors could hop all over the Raiders and get a nice price.
New England Patriots vs. Carolina Panthers
Patriots (-3) -105
Panthers (+3) -115
Patriots to Win (-150)
Panthers to Win (+130)
Over 43 (-110)
Under 43 (-110)
Is it possible that the Patriots are a lot better than anyone knows? I can't rule it out. New England has a chance to get back up over .500 this week, and they appear to be heating up.
The Pats have won two in a row, and it seems people ignore that they've had intense losses to good teams like the Buccaneers and Cowboys.
Both of those losses came by a combined eight points, while they lost to Miami by one back in week one. New England could quite easily be closer to 7-1 right now, if things went slightly differently.
Tight end Jonnu Smith probably said it best a few weeks ago.
"We're 2-4, but we know we're not a 2-4 team".
Players say stuff like that all the time, but New England has literally been in every single game this year. Their only two-score loss was an eight-point game with nine minutes to go against New Orleans.
None of this is predictive of what is to come, and it's worth noting that the assumed return of Christian McCaffrey could rescue Carolina. Still, Sam Darnold hasn't looked good without his star running back, and betting against Bill Belichick rarely feels good.
All things considered, the Pats look pretty friendly at these early week nine prices.
Buffalo Bills vs. Jacksonville Jaguars
Bills (-14) -115
Jaguars (+14) -105
Bills to Win (-1000)
Jaguars to Win (+660)
Over 48.5 (-110)
Under 48.5 (-110)
Nothing could get me to bet on the Bills at their ghastly -1000 moneyline in week nine. In that same breath, there is no way I want the Jags at +660, either.
Buffalo is talented enough to blow Jacksonville to the moon and back, and James Robinson may not be on hand for this game.
#Jaguars RB James Robinson has a bruised heel, per HC Urban Meyers. Meyer doesn't know how long Robinson will be out or the full extent of the injury.

— Doug Kyed (@DougKyed) October 31, 2021
Josh Allen should make quick work of Jacksonville's weak defense, so the obvious bet is the Bills by two scores.
Buffalo got off to a slow start last week, but ended up taking care of business against the rival Dolphins. That's all they've known this year, too, as they're a strong 4-2-1 against the spread in 2021.
Los Angeles Chargers vs. Philadelphia Eagles
Chargers (-3) +100
Eagles (+3) -120
Chargers to Win (-150)
Eagles to Win (+130)
Over 50.5 (-110)
Under 50.5 (-110)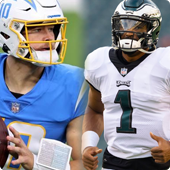 My initial instinct here is three-fold; the Chargers have to stop the bleeding, I refuse to buy the Eagles, and this game should be very explosive.
Neither defense is all that scary, while the Bolts have been far too contained over the past two weeks. That's a lethal combo, so the Over is at serious risk here. The Over is just 2-5 in Chargers games this year, but I don't really care.
The spread is too light for L.A., too. People were crowning them a bit prematurely, but they've dropped two straight, and it needs to end.
Jalen Hurts hasn't won me over. The Eagles trounced the Lions, but he had very little to do with it, and everyone dismantles Detroit. Bettors should just be all over L.A. and the Over before pricing bumps.
Green Bay Packers vs. Kansas City Chiefs
Packers (+3) -115
Chiefs (-3) -105
Over 55.5 (-110)
Under 55.5 (-110)
Of course this game features the highest total of the week nine NFL betting slate.
The top NFL betting sites aren't just trying to convince you that this game will be high-scoring, though. This is a huge showdown between Aaron Rodgers and Patrick Mahomes, and the points should be flowing.
Aaron Rodgers should have had 38 points hung on Arizona last week, and the Packers have been leaving points on the board all season. KC is desperate, but their defense is so bad that I doubt it matters.
Mahomes and co. are still at home and should score plenty, though. I tend to favor the Chiefs at home, just because of their talent, how much this game means to them, and that nobody wins forever.
It will be interesting to see how the lines change from here, but the Chiefs and the Over look great at first glance.(standout text)
Arizona Cardinals vs. San Francisco 49ers
Cardinals (-2.5) -115
49ers (+2.5) -105
Over 47 (-110)
Under 47 (-110)
This is perhaps the biggest game of the week that could be impacted by line movement. Arizona just lost for the first time all year last week, and now they're on the road against a key rival.
San Francisco played the Cardinals well in a tight 17-10 loss a few weeks back, and they'll be hard-pressed to get a big win at home in this spot.
Bigger than any of that, of course, is the status of Kyler Murray's ankle.
Kliff Kingsbury said @AZCardinals QB Kyler Murray's ankle would be reevaluated early this week for his status.

Fox's @JayGlazer echoed that Sunday, but said Murray "legitimately" sprained the ankle and missed games are possible:https://t.co/egW5sRcyZW

— Darren Urban (@Cardschatter) October 31, 2021
I tend to think he's fine, but Murray being out or not himself would mess this line up. My early thoughts are that the Under is very much in play, but Arizona getting back on track still makes the most sense.
Tennessee Titans vs. Los Angeles Rams
Titans (+6.5) -114
Rams (-6.5) -106
Titans to Win (+225)
Rams to Win (-265)
Over 54 (-110)
Under 54 (-110)
Sunday Night Football will be rocking in week nine. Derrick Henry and Aaron Donald will butt heads at the line of scrimmage, while A.J. Brown and Jalen Ramsey will go to war on the outside.
While there is a place for some defensive star power here, this has the makings of a shootout.
This game somehow trails the Packers vs. Chiefs showdown, but it could easily end up being the highest scoring game of the weekend.
Both teams are red hot, and both teams have had very few instances where a defense truly stifled them. Tennessee beating this spread obviously stands out (they're 6-2 ATS this year), while the Over is very much in play.
Chicago Bears vs. Pittsburgh Steelers
Bears (+6.5) -110
Steelers (-6.5) -110
Bears to Win (+230)
Steelers to Win (-275)
Over 40 (-110)
Under 40 (-110)
SNF is for those who love offensive football in week nine. Monday Night Football is for those who hate it.
While I love points as much as anyone, there is a special place in my heart for ugly, defensive-minded football. You will certainly get a heavy dose of that in week nine, as the Steelers and Bears are not scary offensively, and both teams boast solid defenses.
Pittsburgh has been more impressive of late, and the Bears have the non-luxury of getting head coach Matt Nagy back.
Don't expect a ton of points here, but maybe don't go racing to bet the Under on a game that isn't even clearing 40 points when it comes to the total.
This one could be unwatchable, and perhaps may be best left avoided by bettors. That said, the Steelers look like solid bets to win, but they're not running away with this one, which keeps Chicago in play ATS.
Betting on the NFL in Week 9
As noted, I push out my early NFL odds breakdown before Monday Night Football, so there are some games not included here.
There wasn't pricing for the Dallas game, and nobody knows just yet what to make of the Saints with Jameis Winston injured. Both could be nice spots to access some betting value, but you'll have to wait to tap into it.
For now, hopefully my early week nine NFL odds breakdown points to a little value or some suggested bets. There are some games where waiting or flat out avoiding makes sense, but there are quite a few spots where the price may never be as good as it is right now.
If you'd like a little more assistance with betting on the NFL this week, check out our free NFL picks page.
September
Casino of the Month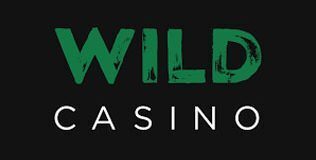 Welcome Bonus
250% up to $5,000