Hide Bonus Offers
| | | | | |
| --- | --- | --- | --- | --- |
| #1 | Bovada Sports | 50% Up To $250 | Visit Site | Bovada Sports |
| #2 | BetUS | 125% Up To $2,500 | Visit Site | BetUS |
| #3 | MyBookie | 100% Up To $1,000 | Visit Site | MyBookie |
| #4 | Everygame | 100% Up To $500 | Visit Site | Everygame |
| #5 | BetOnline Sports | 60% Up To $1,000 | Visit Site | BetOnline Sports |
2018 Super Bowl Betting – Can Any Rookie QB Take His Team to Victory?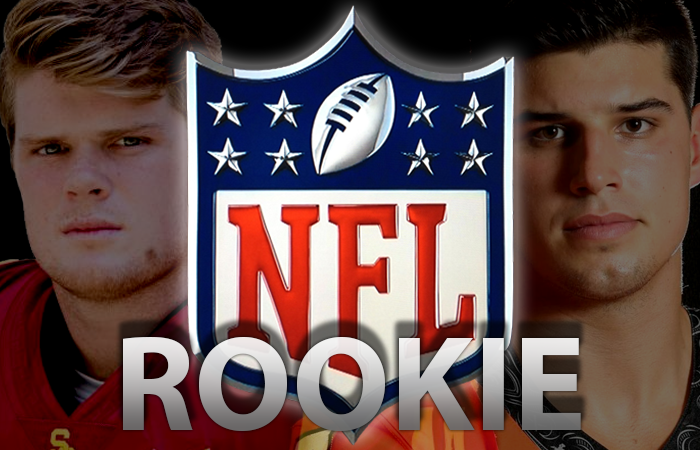 Every NFL season brings along a new opportunity for teams and players to buck trends. Whether it's crazy individual records or team success, the new season opens the door to history being tested.
There is one stat that combines the two: the fact that a rookie NFL quarterback has never won or even started in a Super Bowl.
ESPN did a piece two years ago when they felt Dak Prescott could nip that statistic in the bud. He couldn't, and two years later, the rookie quarterback jinx lives on.
This can be pretty damaging for rebuilding franchises, as history virtually makes it certain that you won't be going the distance if a first-year passer is under center.
It makes good sense, too.
Rookie quarterbacks are often raw, and even when they're relatively polished, they can still struggle with defensive concepts, timing, accuracy, pocket presence, and simple execution.
It's not easy to win games when defenses can key in on your passing game and when your quarterback turns the ball over, takes sacks, and fails to come through in the clutch late in games.
Needless to say, most teams aren't going to get very far with a first-year guy on the job, let alone make it all the way to the big game.
The best rookie quarterbacks are often drafted by bad teams as well.
Most of those teams got that elite rookie passer because of how terrible they were the prior season. It doesn't take a rocket scientist to assume they were more than a quarterback upgrade away from a title run.
That negative trend could come to an end one day in the near future, though.
When it does, sports bettors are going to want to be out in front of it. If they can correctly project that first rookie quarterback to win a ring, after all, they could be in for some massive winnings.
Betting on one of the top favorites is probably still the way to go, but teams have risen up to be shocking Super Bowl threats in recent year.
Whether you think a rookie will be the reason for another meteoric rise, of course, is up to you.
To help you decide, let's break down the top rookie quarterbacks and their situations, gauging their team's Super Bowl 53 odds at BetOnline and how likely it is for them to make a deep playoff run.
All odds that are referenced in this article were taken from BetOnline on 6/4/2018. These odds may have changed since the time of this writing.
Buffalo Bills – Josh Allen (+8000)
A.J. McCarron is projected to man Buffalo's offense to get 2018 going, but he's far from a lock to stick there through the entire season.
Josh Allen is the main reason why, as he's got the size, athleticism, and cannon arm NFL teams covet. Allen wasn't accurate in college and didn't face stiff competition, though, so it'd make a lot of sense for the Bills to bring him along slowly.
Even if Allen does see a lot of field time in his first year, it's almost certainly for a losing club. The Bills did end a nasty postseason drought last year, but their path to glory may take a few years.
I don't see Buffalo as a realistic title threat even with Allen under center, and if he sees a lot of starts, this probably isn't even a playoff team.
New York Jets – Sam Darnold (+10000)
You get a little more value with Darnold in New York. He has an easier path to starts in 2018, as he's a more NFL-ready passer and has a brittle Josh McCown and Teddy Bridgewater ahead of him.
I trust Darnold more, as he seems like he can come in and learn a system and execute early on.
The Jets still aren't a viable Super Bowl threat, however, and wagering on anyone except the Pats coming out of the AFC East remains a steep reach.
So, as much as I like Darnold, there's no betting value to be had here.
New England Patriots – Danny Etling (+625)
Speaking of the Pats, they could be an interesting pick with the steady Danny Etling being drafted late in this year's draft.
Brian Hoyer would be the first man up in the event of any Tom Brady injury, but Etling was a winner in college and has the tools to be a solid starter in the right situation.
The only problem here is that it'd take a severe Tom Brady injury to get Etling onto the field.
It's worth noting that Bill Belichick has thrice worked magic in terms of replacing a starting quarterback in the past, but if the Pats are stuck trying to win a title with Etling, they're in serious trouble.
Cleveland Browns – Baker Mayfield (+6600)
I want to believe in the Browns with Baker Mayfield in charge, but there are several things killing the hype.
The first is the fact that Browns head coach Hue Jackson seems dead set on keeping Mayfield on the bench in year one.
He has a good reason for doing that, too. He's had a heck of a time trying to get even one win over the past two seasons, and that's largely been due to throwing rookies into the fire each week.
Tyrod Taylor isn't going to get the Browns a title in 2018, but he at least could make them somewhat competitive.
Perhaps Mayfield makes them interesting if forced into action as well, but the AFC South isn't an easy division, and some felt like he was a huge reach at #1 in this year's draft.
Mayfield is talented and will probably see some time on the field this year, but he's not about to lead the Browns to their first ever Super Bowl as a rookie.
Baltimore Ravens – Lamar Jackson (+4000)
Welcome to the first realistic option for a rookie quarterback to lead his team to a title.
I know Joe Flacco is the main guy here, and that's probably not changing going into 2018, but if he gets hurt, the dynamic Jackson could be a nightmare for opposing defenses.
The main thing working in Jackson's favor is that nobody knows what to expect from him. He can keep defenses guessing with his athleticism, and he can hurt you over the top of your defense.
In theory, Jackson is a talented dual-threat passer that the NFL may struggle to adapt to initially.
Depending on when he would end up taking over under center, that might give him a shot at figuring things out enough to make the Ravens a serious threat.
Baltimore has always been a strong defensive team, so if their defense is elite again and Jackson can move the ball, the Ravens couldn't be completely written off.
Whether you're going for Jackson here or not, the Ravens at +4000 are interesting.
Pittsburgh Steelers – Mason Rudolph (+1200)
This is another one that is very appealing, seeing as Ben Roethlisberger tends to get hurt a lot and isn't getting any younger at age 36.
Big Ben seems to want to keep playing, but Father Time calls everyone eventually, and there's no way to know if he'll get hurt or not.
The Steelers clearly are at their best when he's healthy, but at +1200, they still might be viable even if Rudolph is thrust into action.
Landry Jones is still going to be Big Ben's top backup, but if he falters, a team with title hopes may be forced to turn to their big-armed rookie.
Rudolph isn't a finished product, but he can win from within the pocket and has a litany of weapons to work with.
The beauty here is that Rudolph would be working with a stacked deck, and should anything happen to Roethlisberger, Pittsburgh's title odds would take a severe hit.
If the Steelers are suddenly at +6600 with a rookie leading the way, it'd be difficult to completely ignore them.
Just remember, the Steelers went 15-1 with another rookie (Big Ben) leading the way at one point, only to fall in the AFC title game that year. Roethlisberger got close, though, and even went on to win a title the very next year.
Cincinnati Bengals – Logan Woodside (+10000)
This is a throw-in, simply because the Bengals are probably running out of time with Andy Dalton as their top quarterback.
He was playing like an MVP just a couple of years ago, and he has a fairly talented offense around him, but the Bengals as they stand are tough to trust.
Woodside is an interesting prospect, but it's tough to imagine him doing anything differently.
The odds are fun, and they'd dip even further if Dalton got hurt, but think about the bigger picture: you'd be betting on a Marvin Lewis-coached team.
Considering Lewis has yet to win a single playoff game in Cincy – let alone a title – the Bengals would be pretty terrible bets to get to Super Bowl 53 with Woodside under center.
Tennessee Titans – Luke Falk (+5000)
Falk is an interesting case, simply because he was previously a highly-regarded talent but ended up sliding to the Titans in round six.
A lot of help would be needed to even get Falk on the field, as a healthy Marcus Mariota gives this team their best chance to win.
Mariota being benched is out of the question, while even an injury would give veteran passer Matt Cassel a crack at leading the starting unit.
Falk has some talent, but I doubt he finds himself in a big role as a rookie in Tennessee – if ever. If that were to happen, a young Titans team probably wouldn't be able to lift him enough to reach the playoffs.
Dallas Cowboys – Mike White (+3300)
White is an interesting case, simply because we did see Dak Prescott come in and nearly accomplish the impossible just two years ago.
While there are questions about White's mobility and pocket awareness, he can stand tall in the pocket and deliver tough throws. His big arm and elite college production make him an interesting case in the event Prescott sustains an injury.
More than anything, Dallas has an elite offensive line and one of the best rushing attacks in the NFL. With a talented and rising defense, White wouldn't even be asked of much as he avoided mistakes and matured on the fly.
I doubt Prescott gets hurt, but if White was inserted, I actually wouldn't hate a flier bet on the 'Boys.
This price isn't bad for where Dallas even stands as is, but it'd surely be inflated if Prescott went down for the year.
New York Giants – Kyle Lauletta (+3300)
I also don't hate Lauletta. Eli Manning is only getting older, so situations where he gets hurt or benched are going to pop up more than he'd like to admit.
Beating out Davis Webb is a must for Lauletta, but that's far from impossible considering it's quite arguable he's the superior talent.
Lauletta shredded the Senior Bowl and looks like a very interesting prospect based on strong college accuracy and a better-than-advertised arm.
With Odell Beckham Jr. to throw to and a stud rookie rusher in Saquon Barkley next to him, Lauletta would be better off than some would think.
I don't even like the G-Men making it to the Super Bowl with Eli Manning, though, so I obviously wouldn't be going hard after them if Lauletta took over.
Arizona Cardinals – Josh Rosen (+7500)
I think you do need to look at the top rookie quarterbacks and assess a few things: their chances of starting, their talent level, their supporting cast, and where their teams are without them.
Arizona is in one of the better spots, as David Johnson is a stud running back, Larry Fitzgerald heads an underrated receiving corps, and the Cardinals also have a very talented defense.
The Cardinals already offer elite value as +7500 Super Bowl 53 bets, and that's with the oft-hurt Sam Bradford starting.
There is a very good chance Bradford succumbs to some type of ailment in 2018, which could easily put Rosen on the field as a rookie.
Will a Rookie QB Win Super Bowl 53?
I think this record will stay alive in 2018. There is just so much working against NFL quarterbacks in general, let alone ones that come in as first-year players.
Everything needs to break just right for a team to win the title, too, while most rookie passers do not have the supporting cast needed to make a massive leap immediately.
As unlikely as this is, I do think there are a few specific wagers to consider if they come to fruition. Of them all, though, I like Rosen with the Cardinals the most.
Rosen enters the league with a lot of talent and a huge chip on his shoulder.
Despite Arizona being in a bit of a rebuilding phase, they still have one of the more dynamic rushers in the league, one of the best receivers to ever play the game, and a pretty aggressive defense.
If Rosen can quiet the critics and develop as expected, there is actually a pretty good chance the Cardinals compete in the NFC West and even make the playoffs.
Depending on how well he performs, a title run at +7500 or greater might be worth a look.
I think a few flier bets are always worth a try, but ultimately, I doubt any quarterback wins a Super Bowl in 2018.
In fact, it's very likely this negative trend is one that lives on for some time. It's going to take a pretty remarkable situation to allow a rookie passer to piece it all together, too, and I just don't think the NFL is going to get that yet this year.
As a fun NFL betting pivot, perhaps bettors should consider looking at passers to back going into their second season.
Big Ben won a title in year two, and Carson Wentz almost did it last year. Several quarterbacks have flashed their elite ability as rookies, only to really come into their own the very next year.
Sometimes it can come together that quickly, and often times, the experienced, veteran teams prevail. That may be the big takeaway here:
Should bettors bet on the Pats again
or go with a young team ready to leave their mark?
It will be an interesting debate for the next few months, but as things stand, I think we can safely rule out any rookie quarterback winning it all this year.