Hide Bonus Offers
| | | | | |
| --- | --- | --- | --- | --- |
| #1 | BetOnline Sports | 60% Up To $1,000 | Visit Site | BetOnline Sports |
| #2 | Bovada Sports | 50% Up To $250 | Visit Site | Bovada Sports |
| #3 | BetUS | 125% Up To $2,500 | Visit Site | BetUS |
| #4 | Everygame | 100% Up To $500 | Visit Site | Everygame |
| #5 | MyBookie | 100% Up To $1,000 | Visit Site | MyBookie |
Betting on the Next Philadelphia Eagles Head Coach – Who Will Replace Doug Pederson?

Credit to Jeffrey Lurie for making the right decision. Philly fans who believed Doug Pederson deserved to keep his job simply based on winning a Super Bowl are too busy resting on their laurels.
The fact of the matter is the Eagles have consistently underachieved every year since, and the debacle in week 17 was inexcusable. As were a bunch of other decisions Pederson made en route to a 4-11-1 campaign – but that's a topic for a different discussion.
This post isn't about Doug Pederson and why he was let go – it's about betting on his potential replacements in Philadelphia.
Let's start with the odds for the Eagle's next head coach.
Odds For the Next Eagles Head Coach
Eric Bieniemy has been linked to multiple coaching jobs, but his current focus is leading the Chiefs back to the Super Bowl. Bieniemy's right-hand man and the current QBs coach in Kansas City, Mike Kafka, is another name that will captivate Howie Roseman.
As you continue scrolling the list of Eagles head coach candidates, you'll notice a trend. Almost all of these individuals are "offensive-minded" guys. The key is whose vision will align with that of Lurie, Roseman, and the rest of the Eagles front office brass.
After speaking with two people close to former #Eagles coach Doug Pederson, it sounds like this is what it boiled down: Pederson was sick of people telling him what to do.

— Ian Rapoport (@RapSheet) January 11, 2021
Clearly, Pederson's plans did not coincide with the man who was cutting his checks.
Now for three names who appear to be great fits.
Lincoln Riley +550
It was almost as if the news was synchronized. The moment Doug Pederson was fired, rumors emerged that Lincoln Riley was one of the Eagles head coach candidates.
Oklahoma head coach Lincoln Riley is already linked as a possible candidate for the Philadelphia Eagles:https://t.co/tMrRQUyEtB pic.twitter.com/qBRjz5WBia

— 247Sports (@247Sports) January 11, 2021
Reuniting Riley with Jalen Hurts stands out at first glance, but hiring Riley goes a lot deeper than that.
Groomed by Bob Stoops in Norman, the former Texas Tech QB is the utter definition of an offensive guru. Nothing suggests his offensive philosophies wouldn't translate at the next level – especially considering the success Baker Mayfield and Kyler Murray have enjoyed thus far.
Put it this way.
My mom was born and raised in Philadelphia (her name is Phyllis), and I've been rooting for "The Birds" since I was a kid. I've been begging for the ownership to can Pederson and hire Riley since the middle of the 2020 season – well before the outrage that was caused in week 17.
Maybe my premonition will actually come to fruition!
Joe Brady +600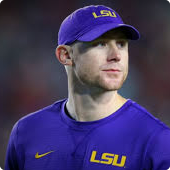 When I originally made my NFL head coach predictions in 2021, Doug Pederson was still being employed by Philadelphia. Now that the search for the Eagle's next head coach is on, I'm inserting Joe Brady's name back into the ring.
The Panther's hotshot offensive coordinator is an enamored HC candidate, and his ability to design a spread-out offense will likely intrigue the Eagles executives. Philly's roster contains some nice assets, namely Miles Sanders and Dallas Goedert, plus Jalen Reagor (1st round pick in 2020) is still waiting to be fully unleashed.
In other words, the orchestra has the pieces in place to put on a masterful performance. Perhaps Brady makes sense to act as the conductor.
Brandon Staley +750
If there's one defensive-minded contender who could land in Philly as the next Eagles head coach, my money's on it being Brandon Staley. The Rams DC was in charge of the NFL's top-ranked defense, both in terms of yards and points allowed, and former players have spoken glowingly regarding Staley's legitimacy as a potential head coach.
Brandon Staley is a genius btw. Played for him in Chicago during his first year in the NFL. During his 2nd year, he helped our team to a 12-4 record + top defense. Rising star. Loves his wife, loves his kids, loves his players. Hoping he goes to an organization that lets him lead

— Sam Acho (@TheSamAcho) January 10, 2021
Just 38, Brandon's fast rise up the NFL coaching ranks is based purely off hard work and results. The Jets have already completed their interview process with the northeastern Ohio native, and other teams will likely call come calling for his services as well.
Frankly, if Jeffrey Lurie can't "lure" Lincoln Riley from Oklahoma, my hope is that "The Iggles" find a way to pry Brandon Staley from Los Angeles.
Will Doug Pederson Coach in 2021?
Those hungry for more of these NFL prop bets should head to the top-ranked NFL sportsbooks now. After you bet on who will be the new Eagles head coach, you can bet on whether or not Pederson will be hired elsewhere (as a head coach) in 2021.
Here are the odds for whether Doug Pederson will be a head coach in 2021.
I'm going with "no," although I'll throw out one team that could be desperate enough to pull the trigger.
The J-E-T-S.
Still hungry for more?
How about betting on Cam Newton's next team or if Carson Wentz will be in an Eagles uniform next season? It's all there for the taking.