Betting on the New York Yankees Win Total in 2021

New York's pitchers and catchers reported to Tampa last week. As of Monday, the entire Yankees squad has arrived at George M. Steinbrenner Field to get ready for Spring Training. What does this mean for online sports bettors?
It means that MLB win totals have been unleashed.
This post is all about the number attached to the Yanks and whether or not they're likely to go over or under the total.
Before we evaluate New York's 2021 aspirations, let's take a close look at "that number."
What Is the New York Yankees Win Total in 2021?
There's a big discrepancy between betting on the Yankees' win total online or in Vegas. Caesars installed the Yankees 2021 win total at 97 games, while the best online sportsbooks tempered expectations down to 95.5.
Only the Dodgers have a higher number, which reflects the hierarchy in the latest World Series odds.
Assuming the 2021 MLB seasons goes off without a hitch, and New York is able to complete 162 regular-season games, they'll need to win 59.3% of their contests for the over to cash (online).
Let's use the Yankees' recent win-loss records to see how realistic that'll be.
New York Yankees Regular-Season Record/Winning Percentage Since 2013
Season
Wins
Losses
Winning %
2020
33
27
.550
2019
103
59
.636
2018
100
62
.617
2017
91
71
.562
2016
84
78
.519
2015
87
75
.537
2014
84
78
.519
2013
85
77
.525
Just twice have the Bronx Bombers eclipsed the magic number of 59.3% in the last eight seasons, although both instances occurred during the last three years.
Why Betting on the Over Makes Sense
The Yanks have reached the century mark in victories in each of the last two full seasons. And they didn't have Gerrit Cole on their roster in either one.
Due to make $36 million in 2021, Cole's on the shortlist of the best pitchers in baseball and is a prime AL Cy Young award candidate. Coming off three straight seasons registering a sub-3 ERA, Gerrit's as dominant and durable on the mound as it gets.
Aroldis Chapman anchors the back-end of a trusty bullpen, Luis Severino should return this summer, and the Yanks have one of the five best lineups in the MLB. Arguably the most complete team in all of the American League, a sturdy set of batters from top to bottom is what makes New York so tough to beat day in and day out.
A few stats from the 2020 campaign allude to their lineup's productivity.
1st in the AL in home runs
1st in the AL on-base %
2nd in the AL in runs scored
Worth noting is both Aaron Judge and Giancarlo Stanton have been focusing more on yoga and less on lifting weights during the offseason. The intention is that more flexibility gives the two behemoths a better chance at staying on the field.
Why Betting on the Under Makes Sense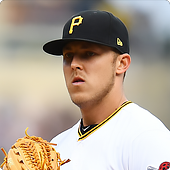 Gerrit Cole's a beast, there's no denying that. However, the more you study the rest of the rotation, the more question marks arise.
Trading for Jameson Taillon created lots of excitement in the Big Apple, and there's a chance he could shine during his first season in the Pinstripes. Jameson was solid in 2018 when he won 14 games (3.20 ERA across 191 innings), but let's assess what's happened since.
Taillon lasted just 37.1 innings in 2019 before being shut down with a forearm injury. He was 2-3 with a 4.10 ERA with his lowest SO9 (strikeouts per nine innings) ratio of his career. He missed the entire 2020 season after undergoing a UCL revision surgery. In short, there are no guarantees Taillon will be able to deliver a substantial number of innings in 2021.
Moving along to another newcomer on Aaron Boone's staff, don't count any chickens before they hatch regarding Corey Kluber either. Corey's pitched even fewer innings than Taillon has since 2019, and he's been even worse during that sample-size.
Those who think Jordan Montgomery is a nice fallback option, let's shed some light on that theory.
Montgomery's ERA since 2019 is 5.25. he's won a total of four games since 2017.
Once you account for the competition in the AL East, specifically a much-improved Toronto squad, surpassing 95 wins starts to sound like a pretty tall order.
New York Yankees Win Total Prediction in 2021
I'm not real bullish on my New York Yankees win total prediction, but my gut tells me they'll win over 95.5 games. Just barely, though.
We can pencil Gerrit Cole in for at least 18 on his own, and don't forget that Domingo German went a lights-out 18-4 in 2019. German missed all of 2020 due to suspension but is locked and loaded to return.
D.J. LeMahieu was retained and remains atop the fantasy baseball 2B rankings, and Luke Voit will be looking to lead the majors in homers for the second consecutive year. The only potential weakness of this club is the uncertainty behind Cole in the rotation, but those worries can be put to bed early on if Taillon and Kluber are logging meaningful innings.
If you plan on pulling the trigger on this MLB win totals bet, you're "best bet" is to side with over.