Hide Bonus Offers
| | | | | |
| --- | --- | --- | --- | --- |
| #1 | Bovada Sports | 50% Up To $250 | Visit Site | Bovada Sports |
| #2 | BetUS | 125% Up To $2,500 | Visit Site | BetUS |
| #3 | MyBookie | 100% Up To $1,000 | Visit Site | MyBookie |
| #4 | Everygame | 100% Up To $500 | Visit Site | Everygame |
| #5 | BetOnline Sports | 60% Up To $1,000 | Visit Site | BetOnline Sports |
Betting on MLB Home Run Totals in 2019 – Odds, Predictions, and Picks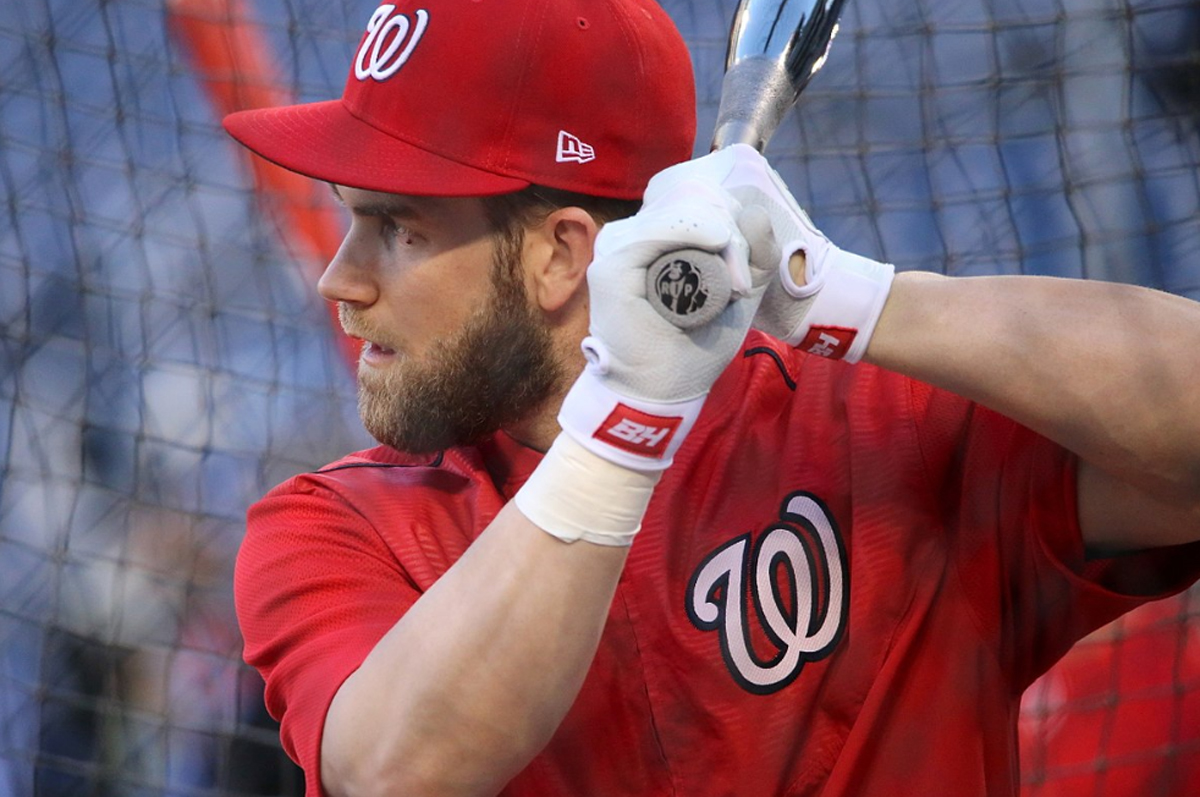 Bryce Harper finally ended the madness. He's going to the Philadelphia Phillies, and the NL East should be scared.
The former Washington Nationals star made a seemingly lateral move inside his division, but one could argue the Phillies are primed for a meteoric rise.
Philadelphia almost did that last year, but they missed the cut behind the Atlanta Braves.
Adding Bryce Harper gives them a real shot at competing for a World Series in 2019, and playing in Citizens Bank Park also allows Harper the chance to reach a career high in long balls.
Naturally, a masher going to a hitter's park is the perfect segue into a fun MLB betting opportunity.
Home Run Totals Betting
Betting on the Phillies is one thing that will heat up at the leading online sportsbooks, to be sure, but another way to jump on this news is to target MLB player prop bets.
The one that stands out the most is MLB player home run totals, especially since MyBookie.ag is offering so many that feel like easy money.
The upside isn't amazing, of course.
You're looking at -105 to -125 prices no matter which star masher you're dealing with. However, there are a ton of MLB player home run props at My Bookie, and depending on how many you bet on, you could clean up.
But this isn't a time to blindly toss money at big names for no good reason. Instead, let's take a look at this huge list and pluck the very best values off the board that are likeliest to actually deliver.
From Bryce Harper to Charlie Blackmon, let's go over the top home run totals that should get you into the green at the end of the 2019 MLB betting season.
Bryce Harper – Over/Under 33.5 Home Runs
You might as well start with the $330 million man, who is pledging the next 13 years of his life to swing a bat for the rising Phillies.
It remains to be seen if he'll have a better shot at nabbing a World Series banner in Philly than he did in D.C., but he sure can mash the ball and will be heading to a park known for coughing up homers.
Harper topped this mark (34 homers) last year, and just three seasons ago, he cranked 42 out of the park. With huge expectations coming his way and a great park to hit in 81 games of the year, Harper is a very good bet to hit this palatable over.
Giancarlo Stanton – Over/Under 39.5 Home Runs
I get the logic behind too much of a good thing can be a bad thing. Giancarlo Stanton and Aaron Judge are basically the same guy and all. But having two mashers like that — not to mention the rest of New York's loaded roster — means pitching around them really isn't an option.
Not all of them, at least.
Even in a would-be down year where he plummeted from his absurd 59 home runs from 2017, Stanton still launched 38 balls over the fence. That's still elite territory, and his first go-around in NYC wasn't nearly as good as many anticipated.
Big moves can take an adjustment period, but Stanton is a monster hitter with loads of upside when you look at his power. He benefits from a hitter's paradise at Yankee Stadium, too, while the long line of viable sticks on his team makes him a threat to go yard every single night.
Chasing 40 feels like some low-hanging fruit after Stanton nearly joined the 60-home-run club, but it'll have to do on a team this stacked. I think he can get there.
Nolan Arenado – Over/Under 37.5 Home Runs
Speaking of guys who just got paid, Nolan Arenado also locked up a major extension with the Colorado Rockies, keeping one of baseball's best young talents in Colorado until potentially 2026.
Arenado has already been a long ball fiend, as he's averaged 40 homers a year over his last four seasons. That tear alone puts him in play for this over/under mark, and the park he calls home (Coors Field) will continue to play a helping hand in aiding his hard shots over the fence.
This is a guy that can still get the job done on the road (15 homers last year away from home), but Coors might be the most explosive park in all of baseball, and he'll hit the plate there 81 times a year.
Given the consistency, elite talent, and park factor, Arenado feels like one of the safest home run over/under locks.
Jesus Aguilar – Over/Under 30.5 Home Runs
There are certainly some other viable bets to consider in the top range (guys aiming for 35-40 homers), but I don't mind dropping down a bit to start picking off what feel like gimme bets.
Aguilar has to be one of them, as he's part of a nasty Milwaukee Brewers lineup that can destroy the opposition with their raw power.
This is one of the best mashers the Brew Crew has to offer, as he crushed 35 balls into the stands in his first season as a full-time player in 2018 and actually split his production pretty evenly (18 at home, 17 away).
That's surprising, especially since Miller Park is such a hitter's haven. It's also encouraging, as Aguilar's power should only improve at his home park, but his numbers hitting on the road suggest he will only be getting better.
The 28-year-old is arguably just scratching the surface of what he can be, and after easily topping this home run total a year ago, he's a threat to crush it again in 2019.
Freddie Freeman – Over/Under 24.5 Home Runs
Freeman is in the vein of Mike Trout in the sense that they are so efficient and do everything so well that they're not overly reliant on their immense power.
That's a good thing for teams like Freeman's Braves, but his lack of dependency on hitting home runs can get bettors to scurry away from this prop.
I understand the hesitance to take the plunge with Freeman, but he nearly topped this total in a year where he just got walked a ton. You know he can smash this mark, though, as he put up 28 home runs in 45 fewer games the year prior.
Freeman has the ability to crack out 40 home runs if he's dialed in and stays healthy. He certainly is a solid bet to shoot for at least 25-30.
Nicholas Castellanos – Over/Under 20.5 Home Runs
Finally, we come down to the 20-homer range, where Detroit Tigers slugger Nicholas Castellanos is the best player on a team full of nobodies. He's no spare, however, as he brings nice power to the table and flexed his long ball muscle last season with 49 total homers over the last two years.
Both seasons saw Castellanos easily top his over/under for 2019, and I struggle to believe this year will be any different. The 26-year-old could be primed for a true breakout season (30+ homers), and he's arguably the main source of offense for this Detroit roster.
Castellanos may not deliver a banner year, but 21 home runs out of the Detroit masher may be one of the better over/under home run bets out there.
Summary
There are many more home run totals to consider betting on at MyBookie, and I'm sure there are other MLB prop betting websites that offer other wagers.
I come away from this thinking two things: that the guys above are my favorite bets that should pay off and that you might be able to make a case for everyone going over. Maybe not everyone, but it could be close given the way baseball has changed over the last couple of years.
For the most part, I want guys with elite power that tend to push the ball, seek the long ball, and also are fly ball hitters. You should also be targeting guys who are in easier divisions where they face bad fly ball pitching and/or operate in ballparks that are conducive to explosive offense.
These are my favorite options when it comes to MLB home run betting in 2019, but feel free to dream big and bet on additional plays. Whatever you do, hopefully I could set you on a winning path.
Good luck with your 2019 MLB prop bets, and enjoy the season!