Hide Bonus Offers
| | | | | |
| --- | --- | --- | --- | --- |
| #1 | Bovada Sports | 50% Up To $250 | Visit Site | Bovada Sports |
| #2 | BetUS | 125% Up To $2,500 | Visit Site | BetUS |
| #3 | MyBookie | 100% Up To $1,000 | Visit Site | MyBookie |
| #4 | Everygame | 100% Up To $500 | Visit Site | Everygame |
| #5 | BetOnline Sports | 60% Up To $1,000 | Visit Site | BetOnline Sports |
Betting on Mike Trout's Statistics for MLB 2019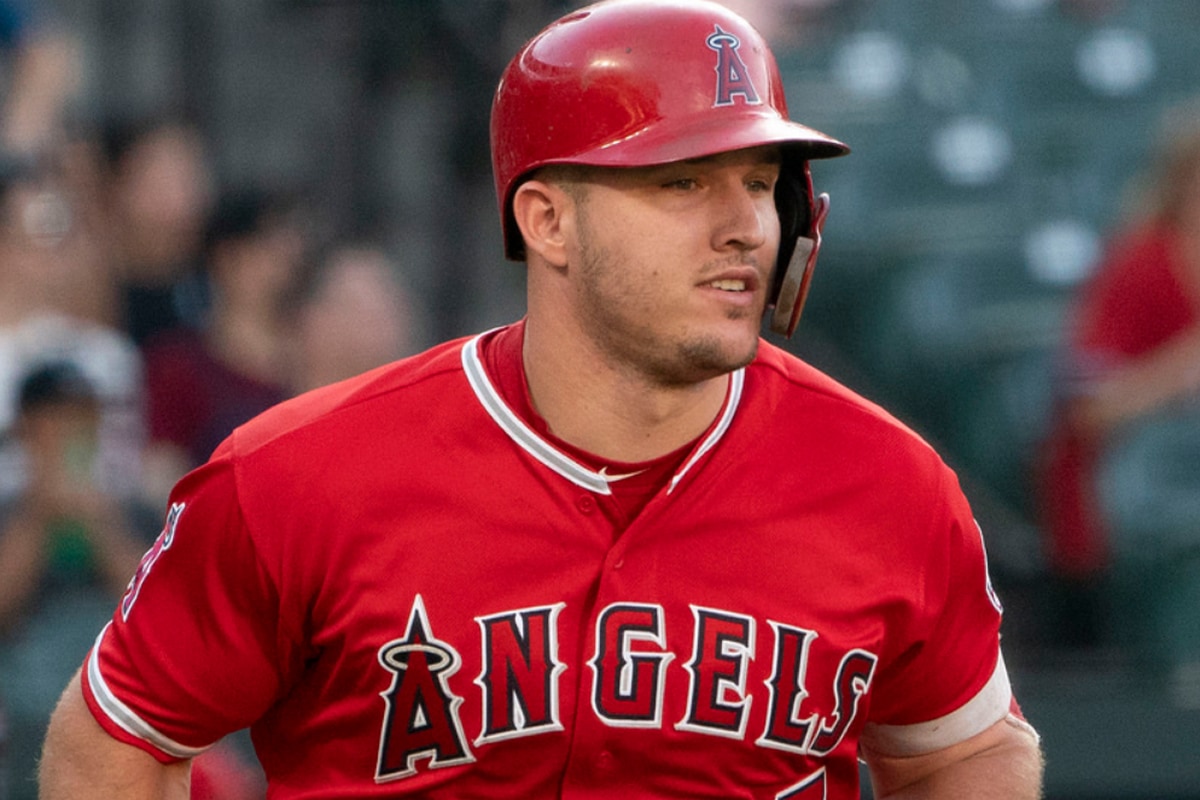 The Angels are going to pay Mike Trout $430 million over the next 12 years.
Despite not winning a single playoff game thus far in his career, the 27-year-old outfielder now has the richest contract in professional sports.
It's hard to fathom, but one could argue that the Halos actually got a discount.
Just scour the top-rated online betting sites and start looking at the lines that are set for Mike Trout's production in 2019. It won't take you long to realize why this dude is considered the best player in the Majors.
The guy hits homers and steals bases with the best of them, yet still hits over .300 year after year while displaying intense discipline at the plate.
You can look around the league and try to find a better and more complete player, but you won't have much luck. Let's start examining what we can expect to see from Trout during the upcoming regular season and find out if there are any advantageous spots where it's worth booking some action.
Betting on Mike Trout's Batting Average
Let's start with the facts.
Mike Trout is a career .307 hitter and a guy who has hit .306 or better for three straight seasons. Since becoming a full-time player for the Angels in 2012, Mike has endured sub-.300 seasons only twice —when he batted .287 and .299 in 2014 and 2015, respectively.
The oddsmakers have set the line for his 2019 BA at exactly .300, although you can see the discrepancy in the pricing.
Clearly, the bookies agree with the consensus that Mike Trout will bat over .300 this year, which is why we have to lay -130 if we plan on pegging the over. I wouldn't personally guarantee that Mike hits over .300 in 2019, but I would lay up to -145 that he does.
It's clear to me that Trout is smack dab in the middle of his prime, leading me to believe that very few things will keep him from maintaining a BA "in the threes."
Betting on Mike Trout's Number of Hits
If we had a crystal ball that told us exactly how many games Mike Trout will play in 2019, we'd have a much easier time knowing which way to lean in the following bet.
Take a peek at the following table. You can see that so long as Mike doesn't miss a chunk of games, he appears to be a solid bet to go over 163 hits.
| Year | Games Played | Hits | Walks |
| --- | --- | --- | --- |
| 2012 | 139 | 182 | 67 |
| 2013 | 157 | 190 | 110 |
| 2014 | 157 | 173 | 83 |
| 2015 | 159 | 172 | 92 |
| 2016 | 159 | 173 | 116 |
| 2017 | 114 | 123 | 94 |
| 2018 | 140 | 147 | 122 |
However, the fact that he's fairly unprotected in the Angels lineup has caused pitchers to pitch around Mike much more over the last two seasons. After leading the American League with 15 intentional walks in 2017, Mike was "sent to first base" a whopping 25 times in 2018.
Acquiring Justin Bour should allow for Mike to see a few more pitches than normal, and the pitching in the AL West (aside from the Astros) is pretty scarce. Assuming Trout stays healthy and plays 150+ games, we could potentially cash the "over ticket" with a couple of weeks to spare.
Betting on Mike Trout's Home Run Total
Mike Trout burst onto the scene when he hit 30 homers as a rookie in 2012. Averaging 34.2 homers per year since the start of 2013, Mike's been a home run-hitting machine ever since. Trout's career high in home runs came in 2015 when he smacked 41 long balls, but launching 39 jacks in just 471 ABs last season might have been his best power display yet.
I'd say the total that SportsBetting.ag set for Mike Trout's home runs is a pretty fair number, so we have to ask ourselves this: Is this bet worth paying the -115 juice?
Well, imagine if we see Trout avoid the injury bug in 2019. He could hit 40+ dingers, no problem. However, the data says that Mike averages one home run per 16.13 at-bats over the course of his MLB career.
Simple math tells me Trout needs at least 564 at-bats to end up surpassing 34.5 homers this season, a number of ABs Trout hasn't accounted for since 2015. With that being said, I can make a case for either side, meaning laying -115 on the over or the under doesn't make much sense to me.
Betting on Mike Trout's RBI Total
I've checked competing sites to find the best line I could, and most of the MLB sites that I trust have the same line set for Mike Trout's RBI total in 2019.
As good as Mike Trout is and as much as I have boasted about him on this page, eclipsing 98 RBIs hitting second in the Angels lineup might be a bit too ambitious — even for someone as gifted as Trout.
For starters, Mike is likely going to hit second in the order, not third or fourth where more RBI chances would present themselves. Secondly, Kole Calhoun is set to lead off and be the man hitting right in front of Trout. When I see that Calhoun batted .244 in 2017 and followed that up with a .208 campaign in 2018, I'm a bit reluctant to think that Mike will have ample opportunities to drive runners in.
For those of you interested in betting on the AL MVP race, I see Trout being on the short list of potential winners when the season is winding down. But he can get there with 80-90 RBIs when you take into account everything else he brings to the table.
Betting on Mike Trout's Run Total
Here's a quick example of why shopping your lines is so vital when it comes to placing sports bets. Start by looking at the total number of runs that BetOnline.ag has set for Mike Trout to score in 2019.
What if I told you that MyBookie.ag offered the same wager with the same betting odds, only they set the total at 115.5? This gives you the option of betting on Mike exceeding 105.5 runs in 2019 or investing in him falling short of 115.5 runs.
I see more value in the "over 105.5" when you take everything into consideration. Here's a guy who has led the American League in on-base percentage for three consecutive seasons, and we know he can fly on the base paths.
An extended stint on the IL is about the only thing that's going to stop Mike from crossing the plate at least 106 times. For that reason, I'm rolling with the over.
Betting on Mike Trout's Number of Stolen Bases
Feel free to place bets on stolen base totals on a number of different MLB players. In terms of how many bags Mike Trout will swipe in 2019, here's the price we have to work with.
I've revealed that Brad Ausmus is planning on putting Mike second in the order. With Justin Upton hitting third and Justin Bour batting cleanup, I suspect that the Angels' new skipper will get aggressive when Mike gets on base.
I already alluded to the fact that Trout has led the AL in OBP from 2016-2018, but I didn't mention that Mike stole a Major League-leading 49 bases during his rookie year. Nor did I tell you that he stole 22 bases while missing 48 games in 2017 or that he swiped 24 bags in a shortened 2018 season.
I don't see many scenarios in which Trout is held under 20 steals, but I see a lot in which he winds up with 30+.
Final Remarks
It's hard to quantify how good of a baseball player Mike Trout is or how important he is to the Angels franchise. We know the Halos front office had no problems shelling out $430 million to ensure he stays in Anaheim, and we know he has absolutely no weaknesses when it comes to the sport itself.
Suggesting betting the over in four of the six Mike Trout-related props wasn't me going crazy. It has nothing to do with being a fan or wanting to root for the Angels' center fielder.
It's just me trying to point all of you in the direction of turning a profit.