Betting on Julio Jones' 2021 Team – Why the Packers Make Sense

The Julio Jones trade rumors have been percolating for some time now. There had been faint whispers about a potential Julio Jones trade before last year, but most Atlanta Falcons fans wouldn't hear it.
After another down year, however, this offseason gave way to louder, more realistic conversations involving Jones' future.
Before long, the Falcons front office admitted they would entertain the possibility of dealing their superstar wide receiver. And just recently, it came out that the Falcons "would like to deal" Matt Ryan's favorite target.
There is a question of when a prospective trade could go down, as well as where Julio Jones could be traded to. Right now, the best sites for betting on the NFL favor the Baltimore Ravens (+275) as the most logical landing spot.
While Baltimore does make some sense, I am here to tell you why the Green Bay Packers should trade for Julio Jones in 2021.
Green Bay Needs to Make Aaron Rodgers Happy
The number one reason why the Packers need to trade for Julio Jones is to make their star quarterback happy.
Aaron Rodgers has not actually come out and said a word publicly, but Adam Schefter broke the news during the draft, saying A-Rod did not want to play for Green Bay anymore.
There has since been some doubt as to how dire the situation is, but there is uncertainty in Wisconsin right now. Until the fence is mended, the green and gold may be looking for ways to appease their disgruntled quarterback.
I recently touched on the Aaron Rodgers saga, and looked for ways for the two sides to come to an understanding.
There are some extreme measures that could (need to?) be taken here, but one fairly easy route to a resolution could be getting Rodgers a new toy.
Rodgers has griped in the past about not having enough weapons, or not having a say in the team's personnel moves.
Trading for Julio Jones would likely check both boxes for Rodgers and making a move like this – one that would require major financial hoop-jumping – would show the reigning MVP Green Bay is serious about winning right now.
The Packers Are Built to Win Right Now
Aaron Rodgers may want a laundry list of things to happen before he returns to the Frozen Tundra. Or maybe it's all blown out of proportion.
But if Rodgers is staying in town, chances are part of his reasoning is that he feels the Packers are incredibly close to a championship.
It's hard to refute the logic, too, seeing as the Packers have two straight NFC title game appearances, and were awfully close to punching a ticket to Super Bowl 55 last year.
Green Bay filled more holes in the draft this offseason, and it's quite arguable landing Rodgers one more massive weapon like Julio Jones could put this team over the top.
The Packers just got done enjoying a special season where they had the most efficient offense in all of football. Now just imagine how nasty that unit could be if they added the dominant Jones to the mix.
If Green Bay weren't already so close, I wouldn't vouch for a Julio Jones trade. However, the Packers are probably the second-best team in the NFC (provided Rodgers stays) and adding Jones could boost their ranking.
It Stops Someone Else from Getting Him
This isn't the best stand-alone reason. By itself, this should not be why Green Bay swings a trade for an expensive Julio Jones.
However, it would be a bit of a perk. Use the past two drafts as nice examples, with the Packers missing out on elite wide receiver prospects and watching other NFC teams snatch them up.
Last year, Brandon Aiyuk went to San Francisco, and Justin Jefferson went to the rival Vikings. This year, Seattle snagged D'Wayne Eskridge, Philly got DeVonta Smith, and the Giants selected Kadarius Toney.
It'd be a surprise if Rodgers was unaware about the stat involving first round receivers he's had to throw to over the years.
Only 1 of Aaron Rodgers 364 career passing touchdowns was thrown to a receiver selected in the 1st round of the NFL draft (Mercedes Lewis in 2019).

Per @EliasSports That is the fewest such touchdowns by any of the 45 quarterbacks with at least 200 career passing touchdowns

— trey wingo (@wingoz) April 28, 2020
Suffice to say, Rodgers wouldn't have minded getting some extra help the past couple of years.
All the guys I mentioned could have provided a sizable boost for Green Bay's already potent offense, and maybe could have been the difference in the NFC title game.
Instead, they have made (or will make) plays for other NFC teams. Grabbing Julio Jones would entice Aaron Rodgers to stick around, and it'd help enhance Green Bay's already strong chances of competing for a title.
But if the Packers traded for Julio Jones, it'd also ensure another NFC rival doesn't do it first.
Sports Bettors Would Get Amazing Value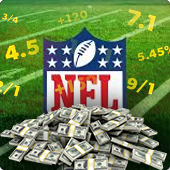 There are a few obvious reasons why the Packers should trade for Julio Jones, but one great reason has nothing to do with the organization.
Can the Green Bay front office just throw the casual bettor a bone? Do not get me wrong, the Packers have done right by bettors that have backed them lately.
The team has a combined 26-6 regular season record over the last two years, and they won a playoff game in each of the last two seasons, as well. But the value here is obscene.
Jones could appease Rodgers, he would be a huge addition to an already championship-caliber roster, and he also comes in at a sick +900 price for bettors over at BetOnline.
The Packers shouldn't (and would never) actually make such a bold move to help sports bettors make some extra cash, but bettors themselves wouldn't be mad about it.
Matt LaFleur Knows the Impact Jones Could Have
Maybe you can file this into some of the other reasons for why Green Bay needs to trade for Julio Jones, but I think it's kind of its own thing.
Most people attach 49ers head coach Kyle Shanahan to Jones, but an overlooked tidbit is that current Packers head coach Matt LaFleur also coached him in Atlanta.
LaFleur was with the Falcons in 2015 and 2016, playing a hand in two massive years for Jones, including the year Atlanta got to the franchise's second ever Super Bowl.
Here were the numbers for Jones the two seasons LaFleur was down in Georgia.
| | | | |
| --- | --- | --- | --- |
| Season | Receptions | Receiving Yards | Touchdowns |
| 2016 | 136 | 1,871 | 8 |
| 2015 | 83 | 1,409 | 6 |
LaFleur also had a hand in Matt Ryan winning an MVP that year, and we obviously have seen the impact his system has had in a career resurgence for Rodgers.
Jones would be an amazing fit in this offense, he knows LaFleur, and the two have worked well together. They could do so again – at an extremely high level – in Green Bay.
Predicting Who Will Trade for Julio Jones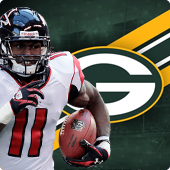 There is a lot of chatter about where Julio Jones will play in 2021. The Ravens hold the best odds to trade for Julio Jones right now, while some people like the Titans (+600), Patriots (+450), or 49ers (+300) as viable landing spots.
I cannot argue against any of those options, and considering what a beast Jones can still be, I would imagine half of the league would show interest.
Compensation is going to complicate things, and the money is a big issue. That said, the team that may need a big splash move the most right now may be Green Bay.
The Packers retained most of their core players to give it another go this year, but they have yet to convince the most important person to stay.
Landing Jones could do that, and then some, as the Packers eye a trip to Super Bowl 56.