Betting on Jimmy Butler's Next Team – NBA Free Agency Odds and Predictions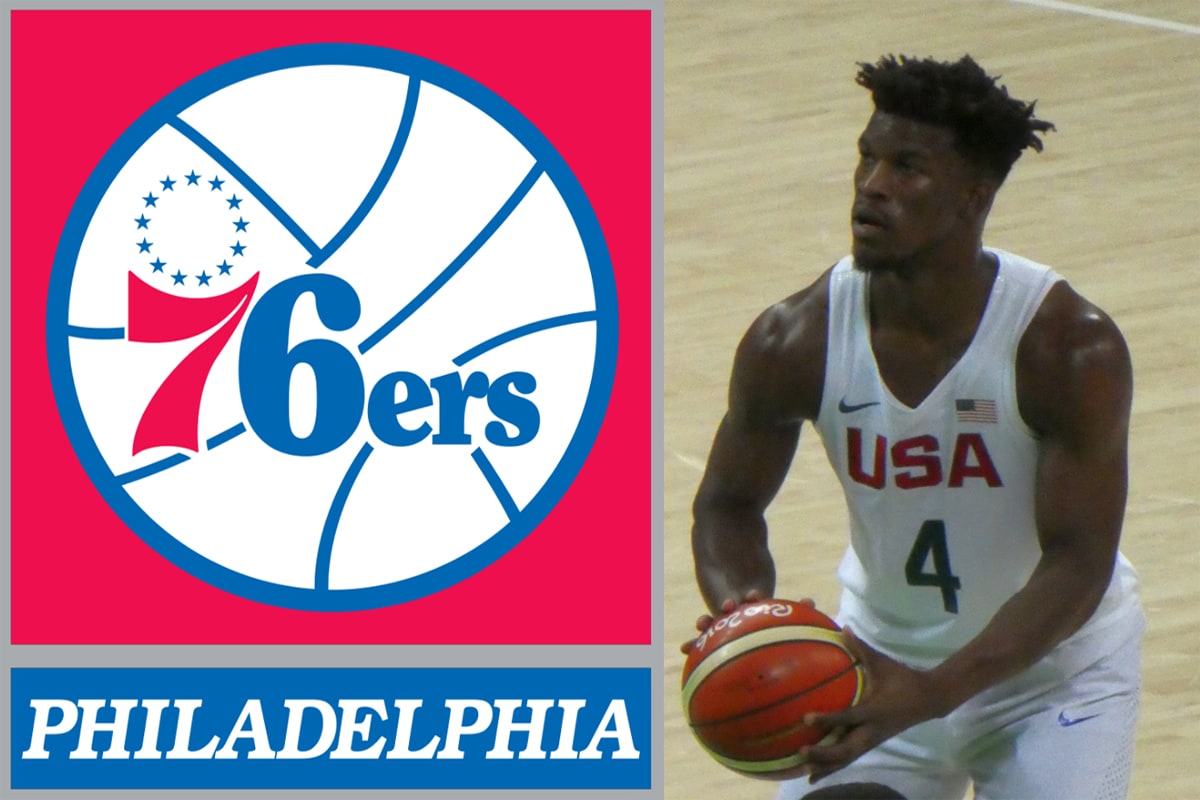 Jimmy Butler can sign a five-year deal worth $188 million if he chooses to stay in Philadelphia.
Should the 29-year-old swingman opt to sign elsewhere, the most money he can sign for is $141 million over four years.
But let's pump the brakes.
Is Butler even worth a max deal at this point in his career?
As the third option in Philly, things never panned out the way Brett Brown had envisioned, which leaves us all scratching our heads.
Should the Sixers "pay the man his money," or should they let Jimmy walk and move forward building around Joel Embiid and Ben Simmons?
Jimmy Butler's Next Team – Check out the Odds
Born in Houston and educated in Milwaukee, Jimmy Butler doesn't have specific ties to any one certain area. This isn't a situation like Kyrie Irving signing with New York or Brooklyn because he's from the neighborhood and wants to be close to home.
I see Butler taking his talents to the place that he feels gives him the best opportunity to win an NBA championship. As the pricing reflects below, staying put in the City of Brotherly Love might just end up being his best option.
Does It Make Sense for Philly to Re-Sign Butler?
On paper, yes. In the real world, I'm not so convinced.
The way I see it, Jimmy has too much of an alpha-dog personality to resign himself to being the third wheel on a championship contending team. It's clear that Joel Embiid is the most dynamic player on Philly's roster, and all signs are pointing toward the franchise making Ben Simmons their centerpiece.
Being relegated to the third option for an entire season probably isn't what Butler has in mind, especially considering that the Sixers failed to advance to the conference finals this year. One could argue that if the core five (Butler, Embiid, Simmons, Harris, Redick) in Philadelphia had a full summer working together under their belt, they could produce a pretty spectacular product on the court.
But is Jimmy keen on waiting around to see if that pans out?
Should a team like Brooklyn or LA come knocking on his door and have a max offer in hand, I think his curiosity will take over. Plus, the chance at starting fresh on a clean slate might be just what the doctor ordered.
Can LeBron and Jimmy Coexist in La La Land?
There's a chance we may get to find out because, at this rate, the Lakers aren't looking like they're going to get their hands on one of the "prized possessions" in July. Kawhi Leonard and Kevin Durant have all but crossed the Purple and Gold off their lists, and things are starting to point toward Klay Thompson staying in Golden State.
Which NBA team Kemba Walker signs with is still up in the air, but I don't see the Lakers anywhere near the top of his wish list.
If the New York teams have their hearts set on pursuing the likes of KD, Kyrie, and/or Kemba, we could very well see the Lakers as the only team willing to cough up max dollars for Jimmy Butler. Quite frankly, it could be a situation where Los Angeles gets rejected by the top dogs and is left with no choice other than to award Butler with a big contract.
The Tyronn Lue deal fell apart, and the Lakers got stuck with Frank Vogel. Should things not go LA's way this summer, then just like their head coaching search, they'll be looking at Plan C and Plan D in the free agency market.
That could mean LeBron and Jimmy wind up together after all.
Is Jimmy to the Knicks a Possibility?
Only if Butler is content knowing that he wasn't their first choice. The Knicks aren't making it a secret that they want to get their hands on both Kevin Durant and Kyrie Irving during the offseason. It's not a foregone conclusion that the Knicks will get their way, but it's more than obvious that Jimmy Butler won't be the first person they call when the calendar turns from June to July.
But let's scale it back and look at the big picture.
Kawhi has pretty much narrowed it down between Toronto and LA, and I really think Kevin Durant is on his way to Brooklyn. If Kemba goes to Dallas and Kyrie ends up with the Knicks, New York will still have a max slot open.
Combine that with the fact that they'll be yearning to lock up a two-way wing player with a ferocious mindset, and here's what we get.
Jimmy Butler playing in Madison Square Garden for the foreseeable future.
Where Does Brooklyn Fit In?
I'm not here to contradict myself, so I'll keep this one short and sweet. Should the Nets ink KD into a max deal like I anticipate, Brooklyn won't even be on Jimmy Butler's radar.
Of course, there is a chance that Kevin stays in Golden State, although I just can't see that happening given the way things are playing out. And sure, there is at least some likelihood that Durant-to-the-Knicks comes to fruition.
However, when all the dust settles, I see Kevin landing in Brooklyn. I'm sure if the Nets miss out, then they'll be clamoring for Jimmy's service, but by then, it might be too late.
Could We See Jimmy Butler Playing for the Clippers?
You may not be hearing a lot of gossip surrounding the potential of Jimmy Butler playing for Doc Rivers in Los Angeles next season, but hear me out.
What happens if Kawhi stays in Toronto and Kevin Durant heads to Brooklyn? With Kyrie Irving likely on his way to New York and Kemba Walker teetering between staying in Charlotte or bolting for Dallas, who are the Clippers going to be left to go after?
They've already traded Tobias Harris, essentially in order to open up a max slot for someone else. I don't see D'Angelo Russell playing for the Clips, nor do I think Klay Thompson has any interest in leaving the Bay Area.
When push comes to shove and the free agents are picking their destinations, the Clippers can ill-afford to sit back as bystanders. If that means stepping up to the plate and sending a max deal Jimmy Butler's way, then so be it.
Any Other Landing Spots?
According to bleacherreport.com, Jimmy Butler thinks he'll get a max contract wherever he wants, and that could very well end up being the case.
I'm not going to completely rule out Dallas or Indiana, but they're definitely behind the rest of the pack.
Dallas is focusing on adding a complementary piece to play alongside Luka Doncic and Kristaps Porzingis, not a dude who is going to demand the ball and point fingers.
Myles Turner signed an extension worth up to $80 million in October, not to mention Victor Oladipo is owed $21 million during each of the next two seasons. This tells me that Indiana seems content to develop their young talent and try to win games organically.
So where does that leave this Jimmy Butler saga as we approach the summer months?
Jimmy Butler Will Sign With…
Due to a mixture of desire and process of elimination, I believe that Jimmy Butler will be in a New York Knicks uniform during the 2019/2020 NBA season.
I'm not sold that the 76ers think they can win the Finals with the current makeup of their team, especially with a squad like Milwaukee only getting better. With that being said, 188 million bucks is a lot of money to be throwing around for a player you are "unsure" about.
Meanwhile, Should KD land in Brooklyn, the Knicks will be insistent in their attempts of luring Jimmy Butler to town. Given everything that would be waiting for him upon his arrival in the Big Apple, it's not too far-fetched of an idea at all.
I happen to think it's the most likely scenario.
Going Away
Jimmy Butler isn't the only notable free agent who will be testing the market this summer. I've already highlighted several of these stars in our blog, and I promise to deliver more such posts in the coming days.
Nonetheless, the first order of business is to stay glued to the action in the NBA Playoffs and see what transpires. Once the fat lady is singing in the middle of June, we'll know more about where all of these studs will land.