Betting on the Hellmuth vs. Negreanu Heads-Up Match

The Poker Brat vs. Kid Poker is coming to a screen near you. Two of poker's most notable figures are set to duke it out on the felt in a heads-up match, sponsored by PokerGo's "High Stakes Duel."
While exact details of the format are yet to be hashed out, this is more or less a spillover from what happened in Negreanu's grudge match versus Doug Polk. Here's how this thing started to evolve.
Setting the Stage for Hellmuth vs. Negreanu
Had Phil minded his Ps and Qs when Brent Hanks asked him what he thought about the match between Polk and Negreanu, we likely wouldn't be here discussing a Hellmuth vs. Negreanu tilt. However, Phil, being the colorful and opinionated individual that he is, wasted no time getting his thoughts off his chest.
The full two-minute exchange can be viewed below, but what stands out is the very first sentence uttered from Phil's beak.
"Yeah, I was disappointed in the way that Daniel played."
Daniel was clearly irked by Phil's outspoken comments and quickly fired back.
Yo @phil_hellmuth you said you watched "zero" of the match but seem to have strong opinions on the play. I'll play you a heads up match live, online, at any stakes you feel comfortable with for as many hands as you would like. Wanna play big guy?February 10, 2021
The ball's now in Hellmuth's court to continue adding fuel to the fire.
Phil Hellmuth vs. Daniel Negreanu Odds
Daniel Negreanu: -250
Phil Hellmuth: +170
Once the top online gambling sites caught wind that a Phil Hellmuth vs. Daniel Negreanu heads-up match was in the cards, they quickly generated a line. Within a couple of hours of posting odds for Hellmuth vs. Negreanu, the bookies locked Daniel's price due to an influx of action.
Now that the dust has settled, "DNegs" is sitting at -250 while Phil is priced at +170. Whether they wind up playing a fixed number of cash game hands or an unhealthy number of sit-n-go's, look for money to be poured in on Negreanu.
With that being said, Daniel is yet to be convinced that Phil will even step up to the plate. Unless of course he's simply trying to goad the Poker Brat into playing.
While talking to the Las Vegas Review-Journal about the potential of the match, Negreanu offered the following.
"I think he's chicken, to be honest with you. I think he's scared. I think he knows he's going to look bad."
Let's hope that Hellmuth takes the bait.
Making a Case For Hellmuth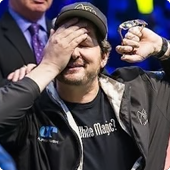 A good reason to be motivated to bet on Phil Hellmuth beating Daniel Negreanu is the handsome price tag attached.
+170 sets you for a fruitful payday, but be sure to monitor the status of the odds. Hellmuth could easily creep toward the +200 range by the time the match is made official.
Phil is by no means a heads-specialist, of course.
At the same time, he's far from a novice and has a pretty spiffy track record in similar formats. And he's not shy about letting the public know.
"I've won 29 out of my last 30 heads-up matches. I won the last heads-up tournament I played in. And so, I think I've only lost once to Cary Katz, our boss, at a World Series Tournament. And I remember I had aces and he had sixes."
Succeeding in heads-up poker requires you to be confident in your approach and not be intimidated by your opponent. Phil most definitely checks those bosses.
Also working in Phil's favor is his recent experience playing in High Stakes Duel on PokerGo in October. Hellmuth swept Antonio Esfandiari 3-0 and netted the $400,000 in the process. He even drew praise from his adversary.
"I'll be honest. I watched the playback and I was impressed. I didn't think Phil had it in him to play as good as he did. And he did. So my opinion of Phil has changed. I've always thought he was kind of a fish and I've regained a lot of respect for him."
Making a Case For Negreanu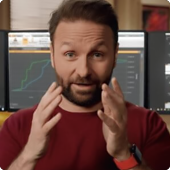 Let me reiterate – Phil is by no means a heads-specialist. Coaching or no coaching, Hellmuth would have been obliterated by Doug Polk over a 25,000-hand sample-size and likely would have lost even more money than Daniel.
Negreanu's $1.2 million-ish deficit against Polk seems like a ton of money, but when push comes to shove, he only lost around nine big blinds per every 100 hands played (9bb/100).
Believe it or not, this performance against Polk – indisputably one of the top HU No-Limit players in the world – should give Daniel loads of confidence heading into a match against Phil.
Aside from the invaluable information Negreanu gleaned from his match versus Polk, Daniel has a much better grasp on what it takes to prosper at this level.
"The people within the poker community know I'm not the best poker player in the world. I'm not, he's not. They know that the best player in the world is probably some kid who hasn't left his basement in two years because he's grinding every single day. And this is where I want to get Phil at some point, is to show some respect for this generation, because I think he disrespects them on a regular basis."
In a nutshell, Hellmuth doesn't have the ability to set his ego aside. He genuinely doesn't think he needs any training because he's already the best on the planet. Instead, he's been busy spouting off about what Daniel "could have" and "should have" done during his battle against Polk.
Something tells me those words are going to come back and haunt him.
Phil Hellmuth vs. Daniel Negreanu Prediction
Let's not beat around the bush. Daniel understands GTO strategy and what it means to be exploitive. According to Negreanu, Phil "still doesn't know what the hell GTO is."
Daniel spent countless hours studying and reviewing heads-up-specific tactics in recent months. His diligent preparation didn't lead to a victory, but it led to him significantly improving his heads-up play. Polk told Adam Levitan on the Establish the Run podcast that towards the ends of the 25k hands, he believed his edge over Negreanu has been substantially reduced.
Doug is a realist, and as I alluded to earlier, is in the upper echelon of all heads-up No-Limit players. If Daniel's play has risen to the point that he's now only a slight dog versus Polk in HU, he's got be a considerable favorite going up against Hellmuth.
I recommend latching onto Kid Poker before his price tag balloons.