Betting Guide for NFL Thanksgiving Day 2021 – Odds and Analysis

The 2021 NFL Thanksgiving Day schedule has been out for some time. However, it took half the season for bettors and fans to appreciate the games that would head their way.
Just like any other Thursday Night Football affair, the games on Turkey Day come on a short week. That hampers the product, and can distort how you view (and bet on) these contests.
Of course, where there is risk, there is also opportunity. You'll naturally be bombarded by family conversations, mashed potatoes, and turkey legs. But if you can carve out some time, you also may be able to win some money betting on 2021 NFL Thanksgiving games.
To assist you with that plight, I've pieced together a little 2021 Thanksgiving Day NFL betting guide. For where to bet, which NFL games are on Thanksgiving, and more, read on.
Where to Bet on NFL Thanksgiving Games
When it comes to betting on NFL Thanksgiving games, perhaps the most important piece of information is actually where to place your bets.
I'm not here to tell you these sites are the only options, but the NFL Thanksgiving Day betting sites listed above are undeniably among the best sites to choose from.
Some sites have special Thanksgiving Day-themed promos, too. MyBookie is out of them, as they're offering their 4th annual Turkey Day risk-free bet up to $250.
When it comes to bonuses, customer service, odds, and promotions, these are the best sites for betting on NFL Thanksgiving Day games.
It's up to you which site you call home, but if you start your search here, it's unlikely you'll come away disappointed.
NFL Thanksgiving Day Schedule for 2021
Chicago Bears @ Detroit Lions (12:30 pm ET)
Las Vegas Raiders @ Dallas Cowboys (4:30 pm ET)
Buffalo Bills @ New Orleans Saints (8:20 pm ET)
Once you find a reputable NFL sportsbook for betting on Thanksgiving Day games, you can look at the schedule and odds.
First, you probably will want to know who is playing on Thanksgiving Day in 2021.
The above 2021 NFL Thanksgiving Day schedule details the six teams involved in the festivities, with the Bears and Lions kicking off the action at 12:30 pm ET.
This is a fantastic choice as the first game, and it's usually the one nobody pays close attention to. Chicago and Detroit will face off on Thanksgiving for the 19th time. To this point, the Bears hold the advantage with a 10-8 record.
Next up are the Raiders and Cowboys in Dallas. Both sides are coming off of a lopsided loss, and this game features the healthiest total of all the NFL Thanksgiving Day games.
Lastly, there is a showdown at night between the Bills and Saints.
Sean Payton continues to try to work his magic, as the quarterback situation has been terrible in New Orleans. It will be worth monitoring if running back Alvin Kamara can make it back for this one – especially after seeing what Jonathan Taylor did to this Bills defense.
Buffalo is in a nice bounce-back spot (in theory) after getting stomped by the Colts, though.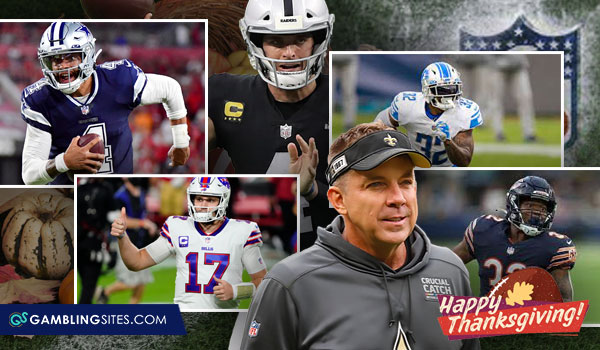 2021 NFL Thanksgiving Day Odds
You know where to bet on 2021 NFL Thanksgiving Day games, and the schedule is listed above. But how are these games priced?
I actually took a look at the early week 12 NFL odds on Monday, but the pricing for a lot of games has changed.
You can compare the pricing to what is current, but I'll rehash all three of these contests as I break down the 2021 NFL Thanksgiving Day game odds.
Bears vs. Lions
Bears (-3.5) -112
Lions (+3.5) -108
Bears to Win (-180)
Lions to Win (+160)
Over 41 (-114)
Under 41 (-106)
The first game on the docket has the Bears going into Detroit and hoping to take out the Lions. Detroit hasn't won yet in 2021, but they tied the Steelers two weeks ago and lost to the Browns last week by three.
Detroit isn't good, but they're at home on a short week. Chicago, meanwhile, may be without top quarterback Justin Fields due to a rib injury.
Bears' QB Justin Fields exited today's loss with an injury to his ribs. HC Matt Nagy said he was unsure whether Fields had broken ribs, or if the injury was a result of one hit or a cumulative effect of hits.https://t.co/1hyVMplZMT

— Adam Schefter (@AdamSchefter) November 22, 2021
Chicago still comes in as the favorites, as they have the better team. David Montgomery also has a strong matchup on the ground in front of him.
Raiders vs. Cowboys
Raiders (+7) -107
Cowboys (-7) -113
Raiders to Win (+260)
Cowboys to Win (-310)
Over 51 (-110)
Under 51 (-110)
Las Vegas has fallen on hard times since a surprising 3-0 start. It's been a trying year, as they lost Henry Ruggs II to an off-field issue, and head coach Jon Gruden was forced to resign.
Derek Carr hasn't kept things going smoothly, either, as he's struggled with turnovers as the Raiders slid to the bottom of the AFC West.
Dallas destroyed the Falcons two weeks ago, but they had that amazing effort sandwiched between two stinkers. This team at times looks like the best team in the NFL, and in other weeks, they barely look like they should make the playoffs.
Dak Prescott and co. will still be favored at home here, where they've gone 4-1 in 2021. They're also 31-21 on Turkey Day, all-time.
Bills vs. Saints
Bills (-4) -120
Saints (+4) +100
Bills to Win (-205)
Saints to Win (+175)
Over 46.5 (-108)
Under 46.5 (-112)
The final game of the night is priced like a slugfest, but I'll forgive you if you don't buy that being the end result.
New Orleans has dealt with major injuries all year, with star wide receiver Michael Thomas officially ruling himself out for the year not too long ago.
The Saints will hope to have running back Avin Kamara for this one, as he did get in some practice last week.
Alvin Kamara back at practice for Saints. https://t.co/WQcteJlwWN

— ProFootballTalk (@ProFootballTalk) November 17, 2021
New Orleans probably needs Kamara to make a game of it. The Bills have dropped some surprise losses in 2021, but they're a good bet to respond in this spot.
2021 NFL Thanksgiving Game Predictions
Lions Over Bears
Cowboys Over Raiders
Bills Over Saints
If you're just looking for NFL Thanksgiving Day predictions, here you are. If there were ever a time to go all-in on the Lions, it'd be at home, on a short week, against the Bears.
Chicago's defense can still be solid, and they can run the ball a bit, but it's unknown if they'll have starting quarterback Justin Fields. He's not 100% even if he does suit up, and Detroit keeps inching closer to that elusive win.
Division rivalry games often deliver unexpected results due to the teams knowing each other so well, too.
Dallas has been very good at home. They've also excelled in Thanksgiving Day NFL contests, and they simply have much more talent than the Raiders do.
Buffalo is better than they showed in a lopsided loss to the Colts. New Orleans is at home with a solid defense, but the Bills should be able to do enough to get a much-needed win.
The Saints are just 2-2 at home and are no longer looking like a playoff team with three consecutive losses. Not having a stable presence under center has been crushing for them.
Best Bets for NFL Thanksgiving Day 2021
Lions to Win (+160)
Bills (-4) -120
There are three games to target at the best sports betting sites, but I only really feel drawn to two bets. That actually makes sense given the short slate, and you never want to force yourself to make bets you don't love.
You need to believe in the bet, and the price needs to be right. The spread feels a bit tricky in the Dallas game, game totals having been zero fun to mess with in 2021, and I just want nothing to do with the Bears or Saints right now.
Buffalo and Dallas are going to bounce back in a big way. Both of these teams are supremely talented, and they really can't afford another loss.
Insert d'andre swift image to right
Detroit is the money maker on Thanksgiving Day, of course.
D'Andre Swift has been a monster for the Lions, and he's played a hand in nearly stealing a victory in two straight games. I like his chances to find success against the Bears, and I certainly don't trust Chicago on offense these days.
In fact, Bears coach Matt Nagy leads the way (-150 odds) as the next coach most likely to be fired. The debate is officially on, at the very least.
If that is going to hold up, I'd imagine an inexcusable loss is right around the corner. Detroit is at home on a short week, and it just feels like they're on the brink of Dan Campbell's first win. I'm willing to go for it here to get the holiday started off right.
Betting on NFL Thanksgiving Games in 2021
It is always difficult to bet on the NFL on a short week. Toss a holiday element into it, and betting on NFL Thanksgiving Day games is a bit of a nightmare.
While it can quickly turn into a mess, it's only bad if you don't know how to take advantage of it. Due to the short week and the holiday season, I tend to favor the home team here.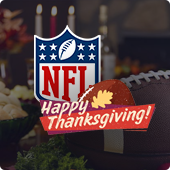 Using just my straight-up NFL Thanksgiving Day predictions, you can note that Dallas and Detroit are both at home. Less travel and more familiar preparation is absolutely an advantage in a setting like this.
Pricing is another key element. For this slate, it feels like the Lions are being disrespected at home, and some of the spreads are a bit tricky.
You have my favorite NFL Thanksgiving bets, but hopefully, this overall guide helps you get ready for Turkey Day.
Should you need a little more advice, check out our individual game picks and player props for Thanksgiving Day at our NFL betting picks page.
AUGUST
Casino of the Month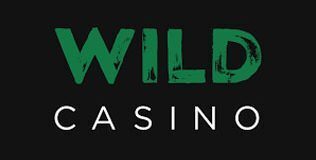 Welcome Bonus
250% up to $5,000
Read Review
Visit Site