Betting on the First Defensive Player Taken in the 2021 NFL Draft

The 2021 NFL Draft is dominated by the quarterback position. It's the position that is a lock to go first overall, and it's basically all anyone can talk about inside the top 5.
Okay, so that is pretty much every season, but where is the love for the defensive side of the ball?
Even when the elite defensive prospects demand our attention, it seems they still rarely get it.
While true, there is money to be made in caring about who the top defensive prospects are, and more specifically, when they'll be drafted.
Going into this year's draft, BetOnline is offering a fun wager that asks which defensive player will be drafted first.
To decide that, let's take a look at the latest odds and break down the potential defensive prospects that could hear their name called first on April 29th.
Odds for First Defensive Player Drafted in 2021
The odds for which defensive player will be taken first in the 2021 NFL Draft are likely built around two things: prospect talent and the general need in the NFL.
This draft is understandably more offensive driven, largely at quarterback and wide receiver, while offensive linemen and running back look to be deep positions, as well.
I'm not saying there aren't good defensive prospects in this draft class, but the number of "can't miss" defensive studs isn't where you'd normally guess.
Surtain II does stand out as the best cornerback prospect, and if a defensive back goes inside the top-10 or top-15, it's likely going to be him.
Jaycee Horn is better in the eyes of some, of course, and he'd be a threat to trump him if a team has a need for a cover man. At +350, that makes him a compelling value bet.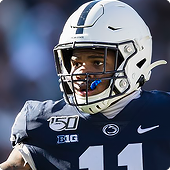 Micah Parsons feels like a more logical pivot for bettors, of course. He's also the top-ranked player at his own position (linebacker), and he's also in that argument for being the best overall defensive prospect.
Teams looking to improve over the middle of the field will certainly eye Parsons.
Paye and Phillips feel like (and are priced like) long shots.
They are both interesting defensive line prospects, but they're not projected to go early in round one, and don't look like better bets than the guys ahead of them here.
This is just a loose assessment based on odds assigned by the top NFL betting sites, and pointing out each player's overall talent level.
Team needs could play a pretty big role in which defensive player gets drafted first, too.
Which Teams Need Defensive Help?
Beyond the odds, scouting reports, and mock drafts, one great way to assess which defensive player will be drafted first in the 2021 NFL Draft is to assess which teams actually need defensive help.
The talent can often dictate this, as some teams will draft a luxury if a player is simply too good to pass up. However, at the top of the draft, a lot of the teams are in dire need of a franchise passer.
This quarterback class is extremely loaded, while teams will also be interested in the many explosive wide receivers and stud offensive linemen.
Even the best defensive prospects are at risk of sliding a bit in this draft, but a few teams could eye a defensive stud early.
The teams in greatest need of defensive help that aren't already likely looking to take an offensive player include the following.
Broncos (9th)
Cowboys (10th)
Vikings (14th)
Miami and Cincinnati pick sooner and could use some help on defense, but they also should be in the market for o-line or wide receiver assistance.
That, and it's pretty arguable Surtain is the best defensive prospect in this draft, and teams collectively aren't going to reach for him inside the top-10.
Ultimately, the Broncos stand out as the most logical team to look to improve their defense first, and if they made the pick, a star cover man would make sense.
Dallas would be next up, and I'd peg them as a good bet to eye a safety or game-changing linebacker. Minnesota picks a few slots later, and if they don't target offensive line help, they could go after a pass rusher.
Assessing Each Defender's Chances
The top NFL betting sites picked these defensive prospects as options for a reason, so sports bettors should turn over every stone here and consider all of them.
Here's a quick look at what all of these defenders bring to the table, and why they'd make sense as the first defender chosen in the 2021 NFL Draft.
Patrick Surtain II (-110)
The stud Alabama cover man is easily the best defensive back in this draft class.
He's gone up against some of the stiffest tests in college football, and has the ideal blend of size, speed, and ball skills NFL front offices look for.
Micah Parsons (+190)
Parsons has the second-best odds to be the first defensive prospect selected because he's the top linebacker and may even rival Surtain II to be the best overall defender.
He's a flat-out scary force at times, too.
LB1 Micah Parsons running downhill is a scary sight

(h/t @Hugorso) pic.twitter.com/CL4bnpHi4K

— PFF Draft (@PFF_College) April 13, 2021
Some might not love the Penn State stud in every scheme, but he is a freak athlete with natural instincts and underrated versatility. He is appropriately priced here.
Jaycee Horn (+350)
Horn is a little closer to Surtain II than some care to admit, as he offers good size and elite athletic traits.
Much like Surtain II, Horn has elite NFL pedigree, and has the fluidity, toughness, and range to be a stud shutdown cornerback at the next level.
Inferior awareness and tackling probably keep him at bay as the second-best corner, however.
Kwity Paye (+600)
Paye is admittedly down the defensive player rankings when you look at this group, but the former Wolverine is perhaps the best defensive end in this year's draft.
This dude lives in the offensive backfield.
The Michigan standout profiles best on the outside of a 3-4 scheme, but he has the pass rushing chops and athleticism to be used just about anywhere.
Jaelan Phillips (+1400)
Don't ignore Phillips, who offers compelling odds, nice size, and high-end athleticism.
The Miami star has a checkered injury history but has proven he can get after the quarterback and offers nice fluidity.
Predicting the First Defensive Player Taken in 2021
In terms of team need, draft hype, and prospect talent, there are really just three viable options here: Surtain II, Parsons, and Horn.
Putting Horn in the conversation is being nice, too, so you're really just looking at defensive-needy teams eyeing a stud linebacker or the top corner in the draft.
With linebacker being a position that's easier to replace, my vote is for the favored option here in Surtain II.
He's the most complete cornerback prospect in this draft, and also probably the best overall defender.
If you are looking to bet on which defensive player will be drafted first in the 2021 NFL Draft, Surtain II fits the bill.